Even if you never pour oil down your sink, pick out all those wayward grains of rice, and fish out hair from your drain cover, one of the drains in your home will eventually get clogged.
It's just a nasty reality of living in a place with plumbing.
Toilets, laundry sinks, showers, kitchen sinks, and even washing machine lines are all victims of clogged pipes and drains.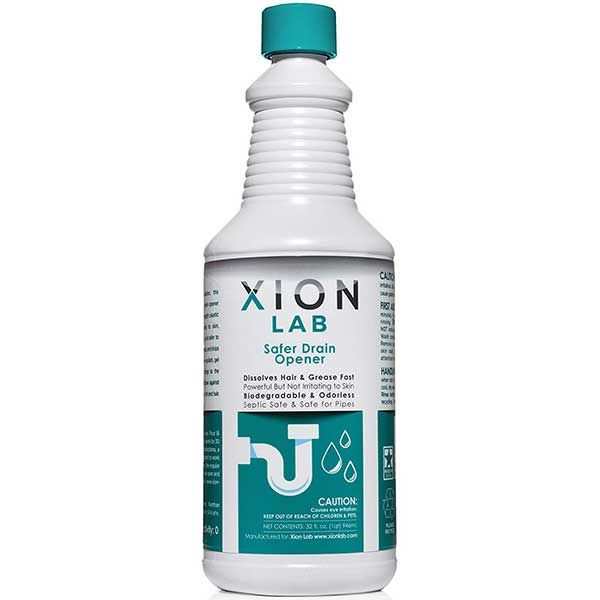 Though there are things we can do to delay the onset of a clogged drain, a clogged drain is not altogether avoidable.
Food, hair, grease, lint, paper, and other organic matter can all collect in your drains, traps, and pipes and cause a slow draining kitchen sink or bathtub.
And we all know how much of a hassle it can be to brush your teeth in a sink that's always on the verge of overflowing or how annoying it is trying to keep a slow-draining bathtub clean.
But before you take to Google in search of a five-star rated plumber, there are some things you can do at home to remove the clog at a fraction of the cost. Figure out what's causing your clogged drains, and then check out some of the best drain cleaners on the market.
Here is a List of the Best Drain Cleaners in 2021
1. XIONLAB Safer Drain Opener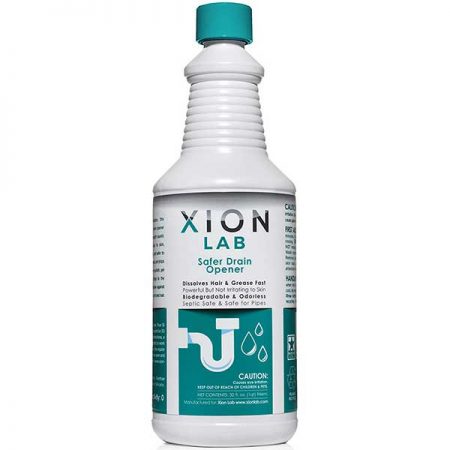 My review: Struggling with a hair-clogged drain? Open it up with XIONLAB's liquid drain cleaner. The thick gel clings to the blockage and works to eliminate clogs caused by fats, grease, soap scum, lint, hair, and oils all at once. Whether you need help unclogging a drain in the sink, shower, or bathtub, XIONLAB delivers. Just pour the formula down the drain, allow it to work for 30 minutes, and flush with hot water.
And you don't have to worry about it damaging your septic tank because the formula is non-corrosive and safe for use with all types of plumbing. And best of all, if, for some reason, you are not 100 percent satisfied with the product's effectiveness, you can return it for a refund of the entire purchase price.
Just keep in mind that if you're looking for the best drainer cleaner to dissolve clogs caused by plastics, paper, or food particles, this will not work.
2. Professor Amos' SuperFast Drain Cleaner and Drain Opener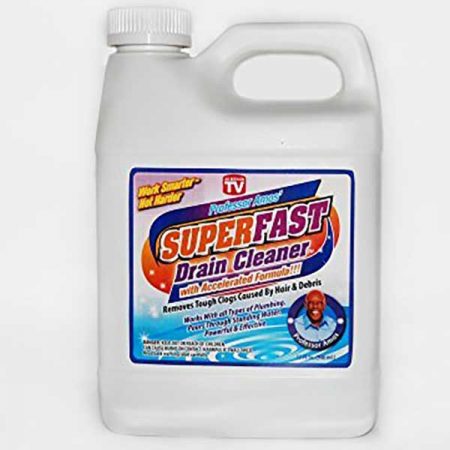 My review: Break up food buildup, grease clogs, and hair accumulation in drains with Professor Amo's SuperFast Drain Cleaner. The product works by liquifying oil, grease, and hair that builds up in drains. Just pour some of the fast-acting liquid down the drain, allow it to sit for fifteen minutes, and let it work its magic. While dissolving and breaking down clogs, this product also deodorizes by blasting bacterial buildup, removing drain flies, and eliminating unpleasant odors.
Whether the clog is in the bathroom, laundry room sink, shower, kitchen sink, or tub, this product is safe to use. It's also harmless to your septic tank and great to use in apartments, salons, barber shops, and old homes. However, you should not use the product in garbage disposals, toilets, or dishwashers.
3. Green Gobbler Ultimate Main Drain Opener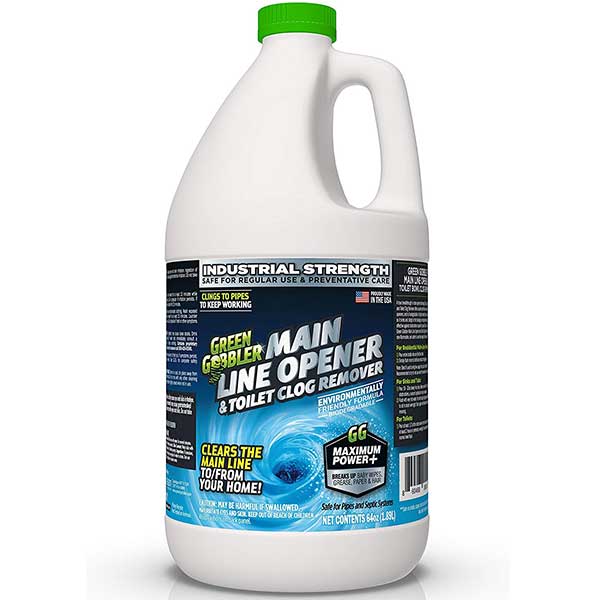 My review: Though the name of this product sounds like something out of a comic book, its fast-acting effectiveness is no joke. The high-density liquid clings to pipes while liquifying drain obstructions such as lint, paper, hair, fat, oils, and other organic matter.
The product works by changing the pH level of the obstruction and is primarily designed for toilets. However, you can also use it on sinks, tubs, and other main drain lines. You can use it in boats and RVs, too. For best results, use the entire bottle overnight, while water usage is at its lowest. The following day, use your plumbing as normal.
If you need a product that can be used for a kitchen drain without damaging the garbage disposal, check out Green Gobbler Dissolve, the next product on this list.
4. Green Gobbler DISSOLVE Liquid Hair Remover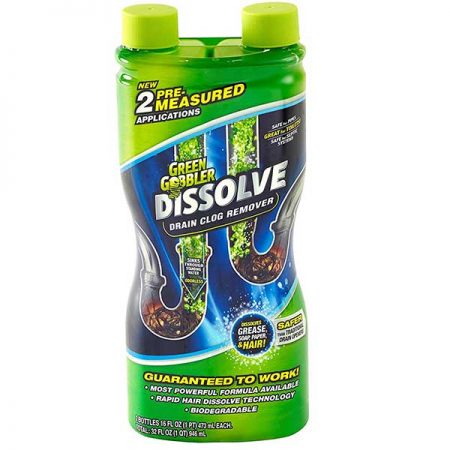 My review: Specifically designed for use in kitchen sinks which also have a garbage disposal, this highly-effective formula gobbles up hair, soap, paper, and grease without damaging your disposal. Just use it in the same way you would use the product if you didn't have a garbage disposal.
Working within minutes, this drain cleaner is safer than formulas which use chemicals like sodium hydroxide. You also don't have to worry about any toxic chemical smells as this formula is odorless and non-flammable. It's safe for all types of pipes, your septic tank, and is biodegradable as well.
The bottle's dual chamber means you won't have to bother with measuring cups. If you're using the product as a sink drain cleaner or to unclog your tub, just empty one chamber into the drain. If you're using the product as a toilet clog remover, you'll have to use the entire bottle.
5. Liquid-Plumr Clog Destroyer Plus + Hair Clog Eliminator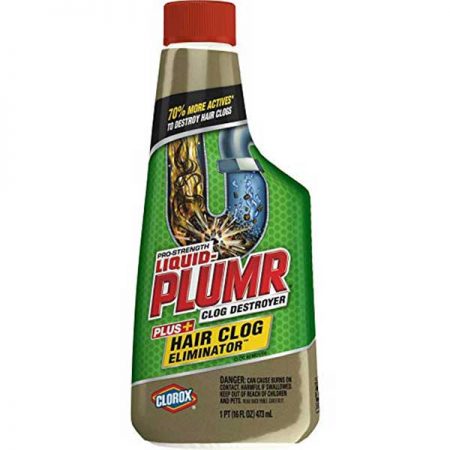 My review: Safe for use with all septic tank systems and all pipes, including PVC, plastic, metal, copper, and old pipes, Liquid-Plumr effectively removes hair clogs from bathroom sinks, kitchen sinks, showers, and bathtubs.
The thick gel works by coating your pipes' walls to destroy the thickest and biggest of hairballs. Just pour the entire bottle down the brain, and within 15 minutes, your pipes will be clog-free. Just be sure to flush with hot or boiling water. And unlike many other drain cleaners, this one doesn't have a toxic and offensive smell.
Please note that you should not use this product for washing machines or laundry basins as it may compromise the outlet hose on your washing machine. Only use Liquid-Plumr's hair clog eliminator on fixtures containing a plumbing "trap."
6. Black Diamond GET SERIOUS Grease Trap Treatment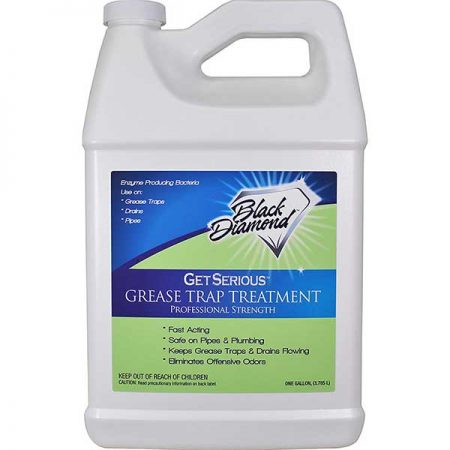 Our Review: A commercial-grade grease trap cleaner, this will burst through grease-clogged pipes with ease and effectiveness. The product uses bacterial cultures which produce enzymes that break down organic matter, converting them into water and carbon dioxide. Regularly using Black Diamond's Get Serious Grease Trap Treatment allows the bacterial microorganisms to take up residence in the pipes. These colonies prevent or reduce the accumulation of fats, oils, and greases, which can, over time, cause a slow draining kitchen sink.
While Black Diamond's grease trap cleaner can eliminate clogs, it is best used as a preventative measure against grease clogs. For best results, use this product at a time of day when water usage is at its lowest (i.e. overnight). The product is safe for grease traps, drains, and pipes of all composition. It also won't cause any damage to your septic tanks. And although it is commercial grade, feel free to use it in your home as well.
7. DrainScrub Powder Enzyme Drain Cleaner by Helix Laboratories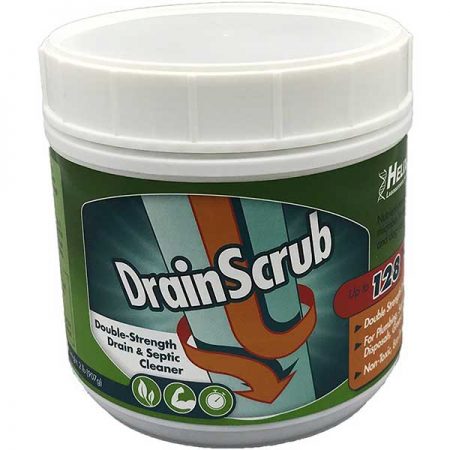 Our Review: While human waste, food remnants, soap scum, grease, and other organic waste might sound disgusting to you, it's food for the bacteria that make DrainScrub so effective. The best drain cleaner in powder form, you can use it in toilets, garbage disposal, outhouses, RV holding tanks, septic tanks, showers, tubs, sump pumps, and everything in between. You can use it on all types of pipes including older galvanized pipes as well.
This drain opener even has extra vitamins and micronutrients to ensure that the enzyme-producing bacteria have a balanced diet. A proper diet allows the bacteria to have a fast metabolism, which, in turn, means that your drain can get unclogged quicker.
Water-to-powder ratios vary depending upon the location of the drain, so be sure to follow the directions on the container. For best results, refrain from using the sink, shower, tub, or other clogged drains for at least six hours after applying the treatment.
8. Instant Power Hair and Grease Drain Opener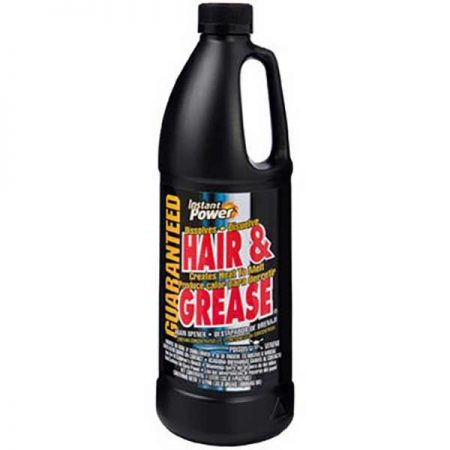 Our Review: Designed to liquefy grease, hair, paper, and other organic matter, this is one of the strongest drain clog removers that is non-acidic. It works by creating heat that melts the grease that creates a slow draining kitchen sink. Instant Power's product works great on all types of pipes, including PVC, and is safe for your septic tank. You can use it in your showers and tubs as well. Unlike many other drain clog removers, this formula does not smell harsh and toxic and will even remove pet hair from a clogged washing machine line!
For best results, use the product overnight, when water usage is at its lowest. The longer the product remains in the drain, the more buildup it will dissolve. When you're ready to flush the drain, do so using extremely hot, perhaps even boiling, water.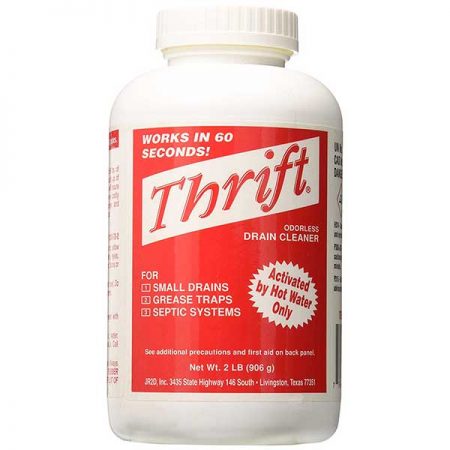 Our Review: Super fast acting, Thrift Drain Cleaner can clean out a drain line in just 60 seconds. It works for sewer lines, drains, grease traps, and septic tank systems. And you don't have to worry about it damaging your pipes because it's safe to use with chrome, metal, and plastic pipes.
Not only does the product work to remove clogs, but it is also a preventative measure. Regular use of the substance allows colonies of enzyme-producing bacteria to take up residence in your pipes. This means that using the product will, over time, make your pipes less susceptible to clogging.
Powder-to-water ratios are determined by the area in which the product will be used, so be sure to follow the instructions on the back of the bottle. Please note that this product shouldn't be used in toilet bowls or garbage disposals.
10. Roebic K-87 Soap, Grease, and Paper Digester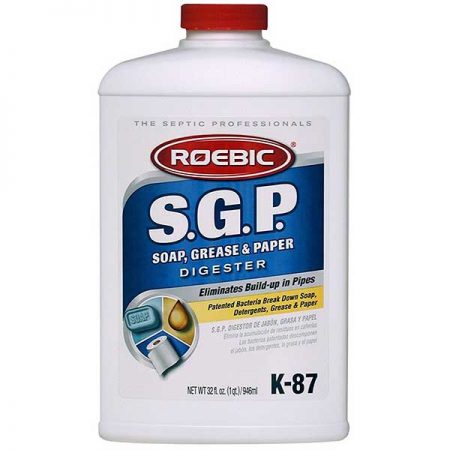 Our Review: If you're struggling with a drain clogged by paper, grease, or soap scum, Roebic's K-87 Digester can help. Use it in shower, laundry, and septic system drains and in all pipes, regardless of composition.
Not only does this drain opener remove clogs, but it also helps create colonies of beneficial bacteria in your pipes. These bacteria, as they live and reproduce in your pipes, feed on organic matter to help ensure that you don't have issues with clogged pipes in the future.
The product has a light, slightly earthy scent, so you need not worry about harsh, toxic-smelling chemicals in your home. When you open the bottle, you might notice that the formula is clear but sometimes appears hazy and murky. Don't worry. It just means that the bacteria colonies are alive and well.
11. FlexiSnake Drain Weasel Sink Snake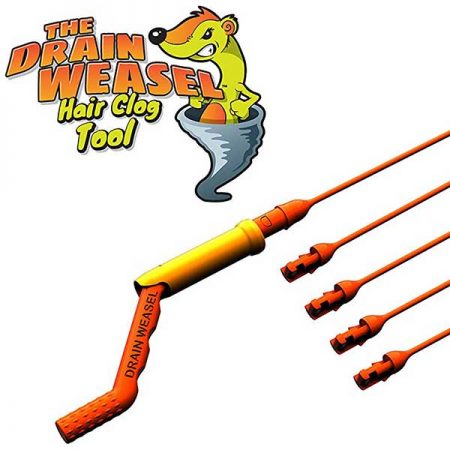 Our Review: Unclog your drains like a professional plumber with this set by FlexiSnake. The kit includes a rotating handle and five micro-hook refill wands. Simply slide the wand down the drain, rotate the handle, and let the Drain Weasel do the rest.
The magic is in the micro-hooks which grab onto hair, dirt, and build-up, all without damaging your pipes or catching onto drain parts. Because the wand measures 18-inches and is incredibly thin, you can reach the deepest of clogs in the narrowest of pipes. The bathroom sink, shower, and the bathtub — Drain Weasel can tackle them all.
Unlike liquid drain cleaners, which can contain harsh and foul-smelling chemicals, the Drain Weasel is 100 percent chemical-free. Furthermore, this product works in mere seconds, unlike some liquid drain cleaners, which can take up to eight hours to dissolve grime and build-up.
And best of all, if you're not satisfied with the product's effectiveness, FlexiSnake offers a money back guarantee.
12. Omont Drain Snake Clog Remover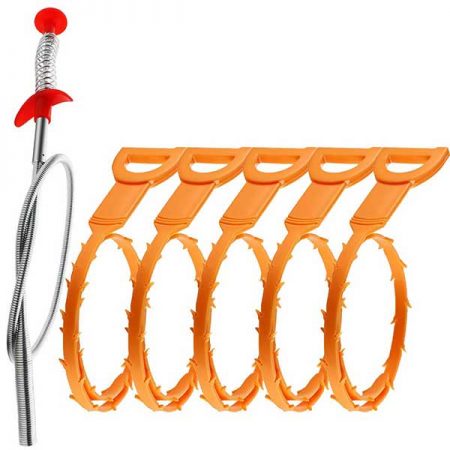 Our Review: The drain snake set by Ormont includes a stainless steel cleaner and five disposable plastic snakes. An excellent alternative to liquid drain cleaners, which can be harsh and toxic, the plastic drain snake by Ormont is 19.7 inches long and 0.31 inches wide. This ensures that you can reach most clogs, no matter where it's located.
Ideal for your sink's, shower's, or bathtub's drain, the multiple teeth on the snake allow the tool to efficiently grip hair, dirt, food, and other blockages out of your drains and pipes. Just be sure to wear gloves and possibly a face mask because the amount of gunk you'll be pulling out of your drains is totally disgusting but oh, so satisfying.
The stainless steel cleaner is also easy to use. Simply insert the claw part of the cleaner into the drain. Open and close the claw to retrieve rubbish from the drain.
13. Vastar Drain Snake Hair Drain Clog Remover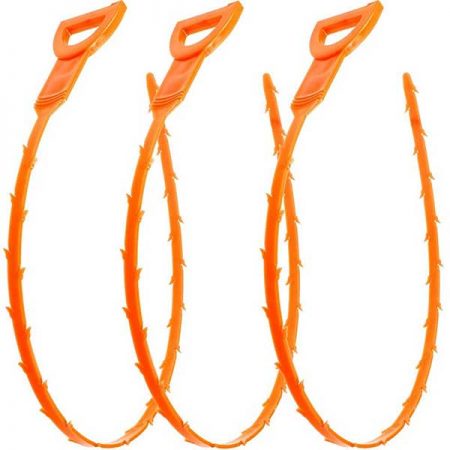 Our Review: Flexible enough to bend into all kinds of strainers and pipes yet sturdy enough to withstand snapping, Vastar's drain snake is affordable and effective. Measuring 19.6 inches, the flexible snake, along with its many barbs, can glide into pipes and pull out balls of hair, food, garbage, soap scum, and other types of buildup which cause slow drainage.
Vastar's drain snake is super easy to use. Insert it into your drain, twist it so that the burrs can grip the blockage-causing substances, and pull it out.
It's non-toxic and chemical-free, and you can even use the drain snake without removing the stopper. Use it one time and then toss it in the trash or clean off the gunk and reuse it for future clogs.
14. FlexiSnake Drain Millipede Hair Clog Tool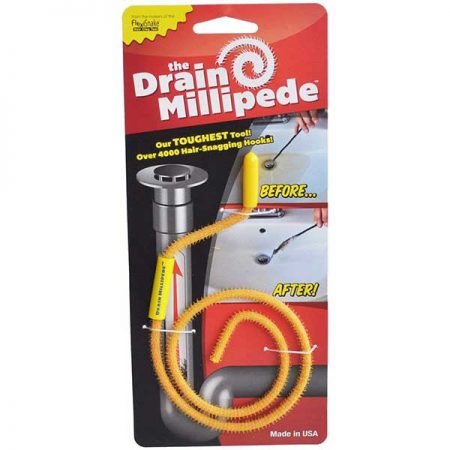 Our Review: Kin to FlexiSnake's Drain Weasel, the Drain Millipede is 18 inches long and features over 4,000 hook and loop micro-hooks that allow you to easily retrieve hair, gunk, and other forms of buildup from your home's drains. With a flexible steel core, the Drain Millipede can coil up into a small, pocket-sized drain cleaner and can be uncoiled whenever you need to use it. Unlike the Drain Weasel, you can use the Drain Millipede multiple times. Just clean it using warm water, soap, and an old toothbrush.
The Drain Millipede is super easy to use. Just insert, spin, and remove the clog. Ideal for most bathroom drains, you can typically use the tool without having to disassemble the stopper.
Please note that the product is designed to remove hair clogs in bathroom sinks and showers. Users should not expect grease, fat, and food clogs to be cleared by the Drain Millipede.
Homemade Drain Cleaners
Despite claims by manufacturers that their products are not harmful, there is a certain peace of mind that comes when you make your own products and know exactly what goes into them. A natural drain cleaner might be your best bet if you're on a tight budget or simply like to know what products you and your family are inhaling and ingesting. With that said, here are a few recipes for homemade drain cleaners. Before using any of these, make sure you unscrew your drain screen and remove any visible blockages.
Baking soda and vinegar are essential for any DIY cleaning product. Here's are a few natural drain cleaners that you can make with items you likely have in your pantry.
Baking Soda and Vinegar

Pour one cup of baking soda into the drain.
Add ½ cup vinegar into the drain, and immediately cover it with a plug or rag.
Let the mixture sit for 30 minutes, and don't use the sink during this time.
After 30 minutes, flush the drain with hot (possibly boiling) water.
Tough clogs might require multiple cleansings. You could also do this regularly as a preventative measure.
Baking Soda and Salt
Combine ½ cup table salt with ½ cup baking soda. Pour mixture down the drain.
Allow the mixture to sit for approximately 30 minutes, but the longer you let it marinate, the more buildup you'll unclog.
Flush with a pot of boiling water.
Salt + Borax + Vinegar
Pour ¼ cup salt and ¼ cup Borax down the drain.
Follow with ½ cup vinegar.
Pour a pot of boiling water down the drain.
Allow the mixture to sit for an hour.
Once the mixture has cleared, allow hot tap water to flush away any remaining solution.
The Bent Wire Hanger Method
If the only thing in your pantry is ramen noodles, and you don't want to spend any money, then surely you own a wire hanger (or can get a free one from your local dry cleaner). The bent wire hanger is simple and surprisingly effective.
Just straighten out a wire hanger to the best of your ability. Then, bend one end to create a small hook. Push the bent end past the drain cover (or remove the drain cover altogether), and start fishing. When you've cleared out as much buildup as possible, flush the drain with hot or boiling water.
So there you have it: the best drain cleaners on the market and some you can make at home using common household items. Did you purchase any of these? Which was your favorite? Have you made any of these DIY drainer cleaners? Do you have a drain cleaning recipe of your own that works like a charm? Let us know by commenting below!
Drain Cleaner Buying Guide
Things to think about when choosing a drain cleaner
What is causing the blockage?
There are many kinds of obstructions that could cause a blockage in your drain. Food, soap scum, oils, fats, plastics, hair, and paper are all key culprits when trying to identify the cause of a clogged drain. Toothpaste, shaving cream, heavy items (i.e. tiny toys kids put in the drain) are also common causes of drain clogs. When shopping around for the best drain cleaner, first determine what is causing the blockage. The best drain cleaner for hair might not be the best drain cleaner for grease, for example.
Since you don't have x-ray vision and can't see through your pipes, a good starting place for figuring out what's causing the blockage is good ole common sense. Got a clogged drain in the shower or tub? Hair is probably to blame. Is the kitchen sink draining a little too slow? All those pieces of food you shoved down the drain after doing dishes are back to haunt you.
Where is the blockage?
Before purchasing or using any liquid drain cleaner, be sure to read and follow the directions on the label. Some drain openers are better suited for dissolving grease whereas others work to clear paper build-up. Certain drain openers are safe to use in garbage disposals and others are not. Some can fix a slow draining toilet whereas others might wreck your porcelain throne, so be sure you read and adhere to the product instructions.
What kind of chemicals are used in the cleaner?
Some of the most effective drain openers are acids. While they are fast-acting and clear the blockage quickly, they are toxic, can cause pipe corrosion, and are dangerous for the user.
On the other hand, enzyme drain cleaners are safe to use but can take a long time to work. They function by introducing enzyme-producing bacteria into the pipes which digest food buildup, soap scum, grease, and other organic matter.
It's also important to know which chemicals are in your drain cleaner because pipes can be made from different materials (PVC, copper, metal, plastic, etc.) and some pipes don't do well with certain types of chemicals. Again, make sure you read and follow all the listed instructions. If necessary, do additional researcher or contact the seller before using.
What's your budget?
All of the products on this list will cost far less than calling up a plumber, so that's always a win. But in general, plastic drain snakes will cost less than liquid drain cleaners.
Tips for using drain cleaners
Do not use around small children.
Most liquid drain cleaners have some kind of scent. Even if the scent is mild, it's best to avoid using these around children and pets.
The longer you leave the product in the drain/pipe, the more effective it will be.
Although many products tout their ability to instantly eradicate buildup and residue in your pipes, generally speaking, the longer you let the product sit in the drain and pipes, the better. If possible, use liquid and powder drain cleaners at night, when your water is least being used. This will give the product time to fully break down grime, hair, grease, and other clog-causing agents most effectively.
Do not use around open flames.
Most people know not to use chemicals around open flames, but in case you need a reminder, don't use drain cleaners around open flames. Though many claim to be non-flammable, just play it safe and avoid using drain cleaners if there's a fire nearby.
Store in a safe place.
Many of the products on this list are non-toxic. Nevertheless, it would not be a good idea for children or pets to get ahold of them. Be sure to store products like these out of reach of children and pets.
Use gloves and safety glasses when handling.
Again, though many of these products are non-toxic, getting some in your eye or otherwise ingesting the product could be dangerous. Latex gloves and eye protection are always a good idea in the event that some product splashes onto your hands or face.
Always read the label.
Not all drain cleaners are created equal. Some are acidic. Others use natural bacteria. Some can be used in garbage disposals; others cannot. Be sure to thoroughly read (AND FOLLOW) all of the directions on the label before using.
Kevin Wabiszewski is the cofounder of this website and currently lives in Pittsburgh PA. In his free time, he enjoys working out, writing, building things, sharing information with readers online and helping them find the best possible products. He has a Bachelor of Science Degree and is a former United States Marine. If you have any questions for him, just let him know in the comments section!