Most of us put off gutter cleaning for as long as we can. Sometimes we don't even get around to it until it's too late. We're busy with work and living our lives.
Besides, gutter cleaning is nasty, and considering it often requires a ladder, can also be dangerous. And no one wants to end up in the back of an ambulance.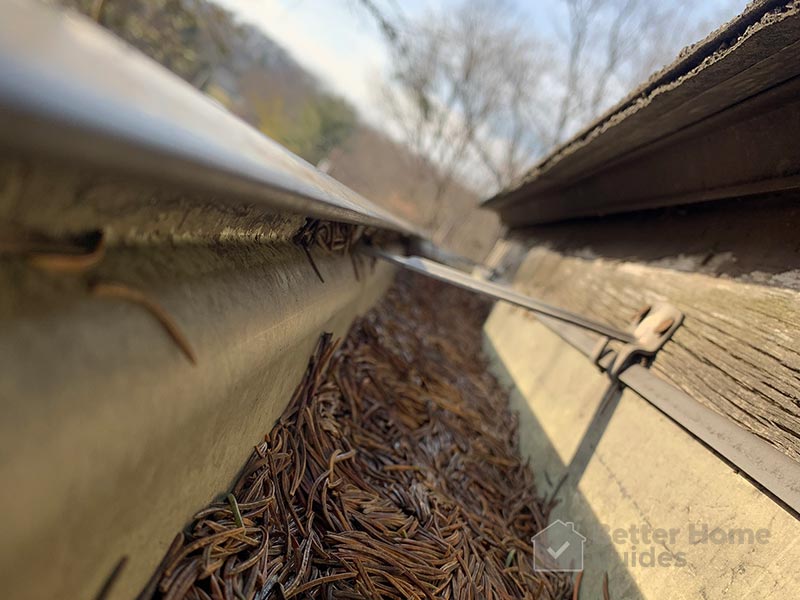 Fear not, my friends. The old ways of doing things are long gone. No longer do we need to risk our lives. Gone are the days of having to use a ladder.
In this guide, we will be going over a wide variety of gutter cleaning tools. That way you can clean those gutters whichever way suits you best.
Here is a List is the Best Gutter Cleaning Tools
1. BE Pressure 24 Telescopic Wand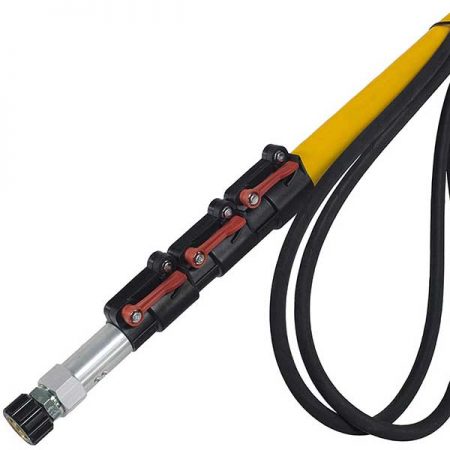 My review: This telescopic wand is similar to a pole extension. But it attaches to your pressure washer. Water to flows through it and out of whichever gutter cleaning attachment you choose to use. Giving you a great gutter cleaning option from the ground. This wand gives you more than enough power to remove debris and get a beautiful sparkling clean.
Read more

Pressure Washer and Support Belt Included: No
Type: From the ground with a pressure washer
Weight: 14.86 Pounds
Key Features:
No ladder required
Enough power to clean gutters
Enough power for a variety of house chores
2. Powerfit PF31052B Gutter Cleaner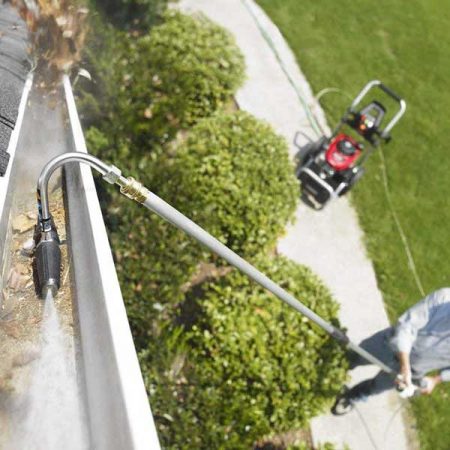 My review: This pressure washer gutter cleaning attachment is a great choice. You first place the tool inside your gutter. The two nozzles shoot water in both directions of your gutter. Clearing any debris in its path.
The quick-connect coupler makes for easy attaching and detaching. If this is the option you choose you will need to have a powerful pressure washer. Because there are two nozzles shooting in opposite directions your water pressure is reduced. A pressure washer of 3,000 PSI is highly recommended.
Read more

The shank that inserts into the wand can be a little too short to fit some wands.

Pole/Telescoping Wand Included: No

Type: From the ground with a pressure washer

Weight: 8 Ounces
Key Features:
A very quick and easy option
No ladder requried
Made by a reputable manufacturer
3. BE Pressure Washer Gutter Cleaner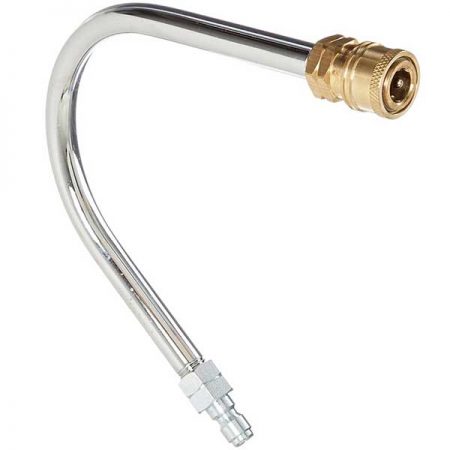 My review: One of the best options for cleaning your gutter with a pressure washer. You want to buy this attachment, a lance, and a telescopic wand separately. With one nozzle you clean your gutters from the ground. The hook design provides an ideal angle to clean your gutters.
You might need to do some simple modifications. Because of the quick connect the tool has a tendency to swivel around when there is no pressure. An easy fix is to tape the attachment to your lance. Your other option is to buy an O-Ring from your local hardware store. Using an O-Ring sized 8.8 x 1.9mm will cause friction and stop the attachment from swiveling.
Read more

Once you clean your gutters this is also a great option for cleaning the side of your home. Because you won't be spraying water up from underneath your siding.

Wands and Additional Attachments Included: No

Type: Pressure Washer

Weight: 7.2 Ounces

PSI: 4,000
Key Features:
Easily clean gutters from the gound
Quick connect feature
Makes cleaning quick and easy
4. Gutter Sense Gutter Cleaning Tool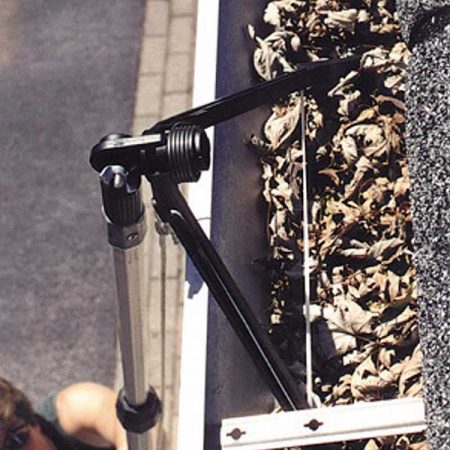 My review: The Gutter Sense is a product of similar design to the GutterWhiz. Having a claw that opens and closes. Using the attached rope from the ground you open and close the claw to remove debris. Then raking and removing debris when you're done.
The Gutter Sense is a great tool to use when the debris is wet. Making it easier to grab large clumps of debris. With the Gutter Sense, you can still clean homes that are two stories.
You'll find the Gutter Sense is an easy tool to adapt to. Quickly finding a technique that suits you well. Making it so you can clean a 70-foot gutter in under 45 minutes.
Read more

Some people find that this tool can be tiring. An easy fix is to buy a fishing pole rod holder. Then attach it to your belt. This way you take the strain off your arms.

Pole Included: No

Type: From the ground

Weight: 8 Ounces

Wide Paddles: 2.5 inches

Wide Tong Spread: 14 inches
Key Features:
Simple and safe
No ladder required
Wide tongs to retrieve large amounts of debris
5. Gutter Whiz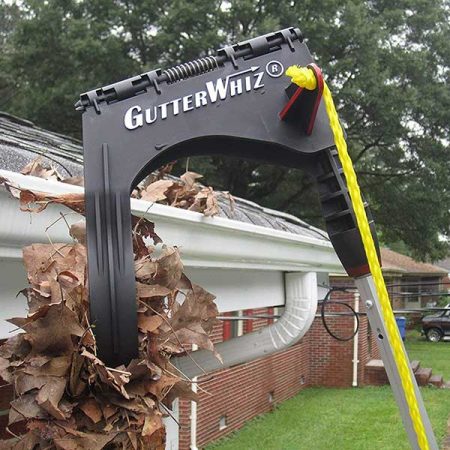 My review: The GutterWhiz is a product of similar design to the Gutter Sense. Having a claw that opens and closes. Using the attached rope from the ground you open and close the claw to remove debris. Then raking and removing debris when you're done.
Gutterwhiz also allows you to take images of your gutter from the ground with your phone. This way you know what portions are clean. What needs to be cleaned. As well as any trouble areas. Simply pull the rope attachment and the Gutterwhiz snatches up anything in its path. Whether you're grabbing leaves, pine needles, pine cones, or toys.
Read more

Pole included: No

Type: From the ground

Weight: 1.8 Pounds
Key Features:
No ladder required
Leightweight
Take pictures from the ground
6. Miloo Telescopic Retractable Extension Pole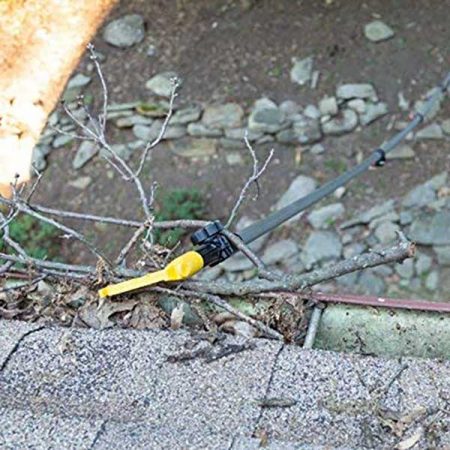 My review: The Miloo Telescopic Pole is one of the absolute best tools you can have for a wide variety of home improvement and work tasks. You combine this tool with a wide variety of attachments.
With an extended length of 24 feet, you can reach almost anything. Not only can you clean the gutter with a variety of the best gutter cleaning attachments on the market. You can use this lightweight tool for many purposes. With an endless amount of attachments for many tasks.
The list of projects you can use this pole for doesn't end. Everything from paint rolling, retrieving items, or picking fruit.
Read more

The Miloo Extension Pole is well worth the money. They're a highly rated, American company with a rock-solid warranty.

Attachments included: No

Type: From the ground

Length: 6 to 24 feet

Weight: 3.75 Pounds
Key Features:
Made by an American Company
180 degree rotating tip
24 foot length
7. Chomp Smop Gutter Tool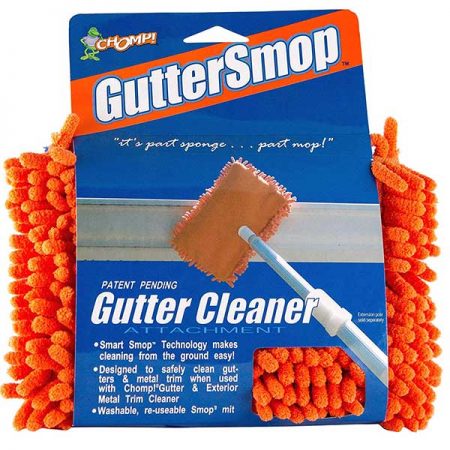 My review: The Chomp Smop is a 90% cotton/10% nylon gutter cleaning tool. Similar to a microfiber cloth or a car cleaning mitt. The Chomp Smop was designed for cleaning your gutters. With this purpose in mind, they created a cloth and attachment to fit any standard extension pole. Allowing you to clean the exterior of your gutter from the comfort of the ground.
This is the tool you need once you're done cleaning your gutter. Luckily, the GutterSmop is also perfect for siding, trim, and windows. Giving you an easy to use tool for your whole home.
Read more

The build makes GutterSmop reach every nook and cranny. It's surprising how easy it is making your home sparkling new. With the GutterSmop you can cut your work time by up to 90%. You won't break your back because of how extremely light this attachment is. Being washable and reusable you keep your costs low.

Pole Included: No

Type: From the ground

Purpose: Cleaning the exterior of the gutter

Weight: 4 Ounces
Key Features:
Easy to maintain
Use on gutters, siding, and windows
Great for black streak removal
8. Worx WA4092 Blower Gutter Cleaning Kit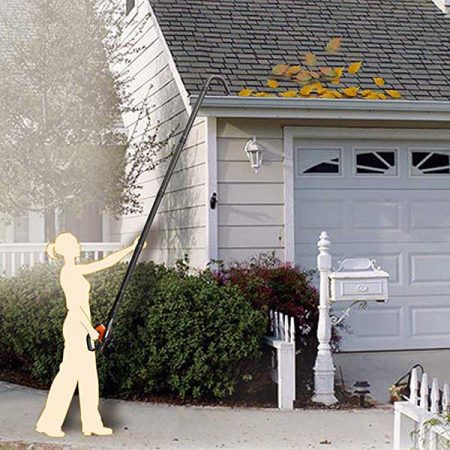 My review: What a fantastic way for you to clean your gutters quickly and safely. With the Worx Gutter Cleaning Kit, you clean your gutters from the ground and use a blower. This is an extension pack that you use with a blower you already own. The kit has an 11-foot reach and fits most major blower brands. Whether your blower is electric, gas, or cordless.
You can complete the task of cleaning your gutters within 10-15 minutes. The best method is if you wait for the leaves and debris to be dry.
Windy days are the best for gutter cleaning with this method. This way the leaves will blow away from your home.
Read more

On a day without wind, the leaves can end up on your roof and back in the gutter. A good measure is to wear a hat and goggles/glasses. So you don't get debris in your eyes.

Blower Included: No

Type: From ground with blower

Weight: 4.6 Pounds
Key Features:
11 foot reach
Fits with most major brands of blowers
Fits electric, cordless, and gas blowers
9. Gutter Getter Cleaning Scoop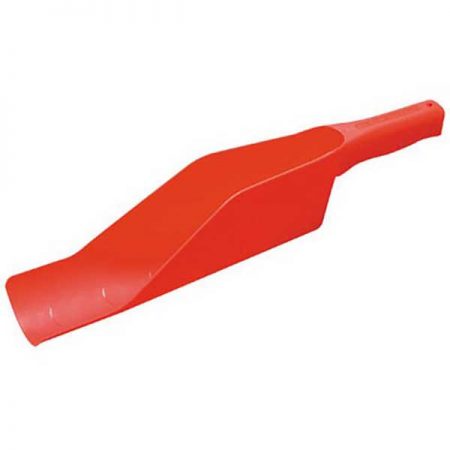 My review: If you don't mind climbing up a ladder this can cut your cleaning time down by 75%. Many people who choose to clean their gutters from a ladder, choose a couple of options. They either use their hands, or they use a tool that wasn't made for the job. The most common tool is a garden shovel. Since garden shovels and similar tools aren't designed for the task, they do a terrible job.
Not only that, but you won't have to worry about tearing your gloves or damaging your hands. You can use this tool completely without using gloves.
The Gutter Getter Cleaning Scoop fits about any gutter because of its flexibility. Allowing you to squeeze into tall and narrow gutters.
Read more

For wide gutters, all you need to do is press down to fit. This low-cost option is a no brainer for those who choose to use a ladder.

Type: Using with a ladder

Weight: 3.84 Ounces
Key Features:
Fits almost any gutters
Measurement markings present
Great value
10. Ladder-Max Standoff Stabilizer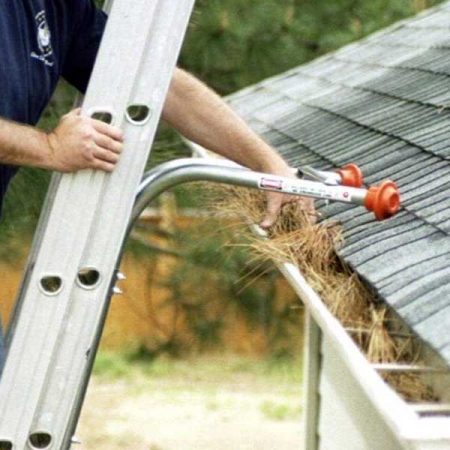 My review: If you are using an extension ladder, you should also use a ladder stabilizer. A ladder stabilizer is going to protect your gutter, siding, and paint from damage. There's a reason they are the #1 selling ladder standoff in North America. Not only will you protect your home. But this stabilizer is one of the most stable and convenient options for safety.
After your first time setup, the installation can takes seconds. Make sure you are always using ladder best practices and never overreach.
Read more

Ladder Included: No

Type: Ladder safety and gutter protection

Weight: 7.7 Pounds
Key Features:
Made in the USA
#1 Selling gutter cleaner in North America
Stability and convenience
11. Water Rocket Downspout Gutter Cleaning Tool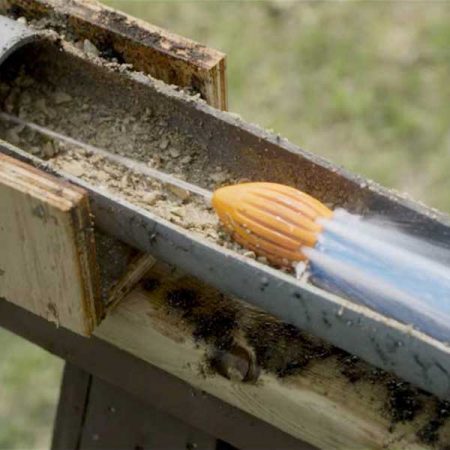 My review: Clogged downspouts can be one of the most difficult challenges to fix. Having clear downspouts is also very critical. With the Water Rocket, you turn a nightmare into a piece of cake.
This neat little tool attaches to any garden hose. The Water Rocket can shoot water up to 1,200 PSI. Meaning there's plenty of power to clean debris.
Water shoots from the back of the Water Rocket and propels itself down the downspout of your gutter. Water also shoots out the front clearing debris out of its way.
Some people also use the Water Rocket for cleaning the gutter itself. Which makes it an easier process because you don't have to move your ladder several times. You can clean your 30 Foot gutter in as little as 15 minutes or less. With the right hose, you can even use the Water Rocket on gutters that are 60 feet long. With this tool, you must have a stiff hose or you won't be able to reach far. Shrinking hoses won't work for this attachment.
Read more

If you don't have a plan for where the water will be going. You could find yourself collecting water on the ground.

Hose Included: No

Type: Cleaning downspout

Weight: 1.4 Ounces
Key Features:
Fits almost all garden hoses
Flushes out everything you can't reach
No need to constantly move a ladder
Great for cleaning completely blocked pipes
12. Gutter Getter Gutter Cleaning Kit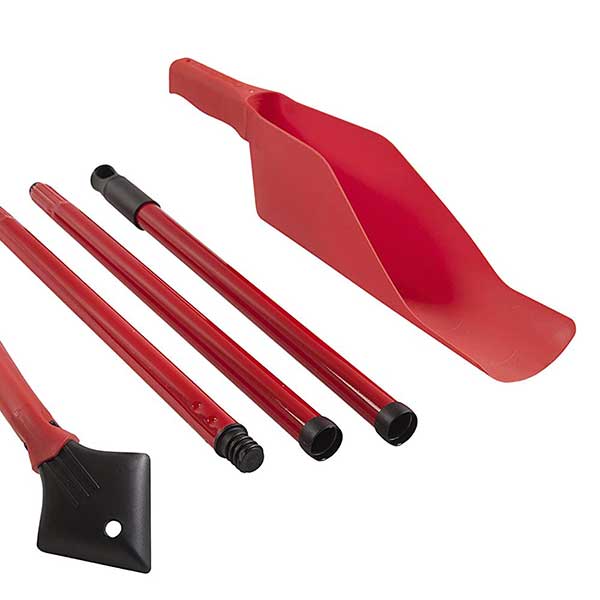 My review: This is by far one of the best options on the market to clean your gutters with a ladder. The tool that makes this kit so great is the rake. The rake head comes with 3 pole pieces.
When you attach the pole pieces to the rake head you have a reach of 5 feet. Allowing you to clean 10 feet of gutter in both directions before you move your ladder again.
Type: From a ladder
Weight: 1 Pound in total
Key Features:
Easy to use
Manufactured in the USA
Has a rake reach of 5 feet
Why should you keep your gutters clean?
Imagine it's raining cats and dogs outside. The weather is so bad that you don't even want to check the mail. The only thing you could imagine doing is staying inside. Finding your favorite blanket, wrapping up nice and snug. Then hitting the latest reruns of your favorite show.
Pause right there for a second. What's actually going on outside? The skies have opened up and are unleashing torrents of water. There are cascades of water spilling like the Niagara Falls from every side of your home. Beating your landscape to a pulp. Your flower beds and lawn becoming craters.
What does this mean though? Where is the water going? Not cleaning your gutters can lead to a grocery list lot of problems. Damaging your siding, landscape, and your plantings. The worst and most expensive is the damage you're doing to the foundation of your home.
Foundation saturation is not only one of the worst things that can happen to your home. It's also one of the most costly repairs. Costs can skyrocket beyond $10,000. On average you'll find yourself forking up $5,838. An expense that's avoided by cleaning your gutters.
This is only the beginning. Clogged gutters will often overflow causing ice dams on the roof. Forcing all this built up water into your home. Giving you a nightmare of issues.
What about your trim and siding? Is your gutter overflowing to the brim with debris? Imagine all the weight and pressure pushing down against your gutter. Every rainstorm, snowstorm, and windy day, your gutter is getting heavier and heavier. Causing your gutter to become loose. Destroying and rotting your home.
Even the debris itself is of great concern. There's a good chance the debris in your gutter is decaying right now. This is an open invitation to ants and mosquitoes. What kind of damage can carpenter ants do to your home? That's before considering the cost to get rid of them. Which ranges anywhere from $250 to $1,400 per extermination.
How often should you clean your gutters?
Your best bet is to have your gutters cleaned at least once a year. Twice a year is an ideal minimum. Doing your gutter cleaning once in the Spring and once in the Fall. Depending on the size of your home and how many trees you have nearby. You may need to clean more than this.
The best line of attack is to give your gutters one solid deep clean. After that give your gutters a routine and speedy clean from time to time. Whenever you have the chance to keep up with regular maintenance. Never let them get out of hand. This will make cleaning easier each time and leave a headache free regular maintenance.
Is professional gutter cleaning a good option?
Sure, you and I could give Mr. Gutter Cleaner a call. But how much is it going to cost us? Professional gutter cleaning can leave us with $75 to $450 less in our pocket. Each time we find ourselves picking up that phone.
Even at only $100 each time, I can find myself forking over $300 every year. I'd rather take that money and invest it into gutter cleaning tools themselves. The internet has given us access to professional tools at an affordable price.
How about gutter covers?
Gutter covers can be a very good option for some. You've got choices such as mesh screens, clip-on grates, and porous foam. You're likely to experience slow clogging when you choose to use gutter covers. Meaning you'll have to do regular maintenance to keep them clear.
Most of the time gutter covers are going to cost you more than the gutters themselves. Costing between $6-8 per running foot installed. You can expect to pay $1,500-$2,000 for professional installation.
If you choose to use gutter covers. You want to use gutter covers that are easy to remove and install again. This way gutter cleaning is still a breeze.
Taking into consideration the cost and maintenance. Cleaning your own gutters or paying a professional is the best option for many.
Safety first
You and I both know that cleaning your gutters isn't the safest task to complete. No matter which way you choose to clean your gutters. You should have some safety precautions in mind. Especially if you choose to use a ladder. Whatever you do, don't ever clean your gutters from the roof.
Below are some safety guidelines:
General Safety
Never clean from the roof
Don't overreach yourself
If the weather is bad you can always wait to clean your gutters
Ladder Safety
Choose the right ladder
Use a standoff stabilizer
Make sure you are always on a firm foundation
Safety Equipment
Goggles/Safety Glasses
Rubber Shoes
Gloves
Hat
Ladder standoff stabilizer
Gutter Cleaning Tips
Use a plastic tarp to keep your lawn clean and make cleanup easier.
No matter which of the gutter cleaning options you choose. Flush your gutters and downspouts with a garden hose/pressure washer every time.
Wear a shirt with long sleeves.
Clean your roof before cleaning your gutters. If you don't do this all the debris will wash down into your gutters. Clogging them again.
If you decide to get a leaf catching system. Make sure that it is easily removable. So your gutter cleaning is a quick breeze.
Ways to clean gutters / Types of gutter cleaning
Using a ladder and a variety of tools. Grabbing and removing leaves and debris from eye-level.
Using a wet/dry shop vac with an assortment of tools and attachments. Sucking up the leaves or backing them out of your gutters.
Using a long reach universal kit attached to a blower. Pushing leaves out from your gutter while standing at ground level.
Attaching tools to your water hose/pressure washer and spraying the leaves out.
Using a long-reaching pole to remove leaves and debris from the gutters. While standing at ground level.
How to get the best gutter cleaning tool
Pole & pole length: There's a wide variety of tool attachments for poles. These poles are great for general home improvement tasks as well as professional use. You'll find poles to be very versatile and efficient.
You'll find poles in a wide variety of lengths. Extra long poles (24 feet and longer) are great choices. Allowing you to get to hard to reach places throughout your whole home.
Adjustable poles are a great option. Which can be extended or shortened based on where you're cleaning. This helps the straining on your muscles by shortening them when needed.
Pressure Washing: If you choose to use a pressure washer with a variety of gutter cleaning tools. Your pressure washer needs to be powerful enough for specific tools.
When you clean your gutters with a pressure washer your siding is usually covered in debris. So be ready to give your home a quick pressure wash. When you pressure wash your siding don't spray upwards from underneath. Some of the tools below will allow you to spray downwards against the siding.
Quality: No matter which of the gutter cleaning tools you choose. You need a tool that can withstand regular use. You also need a gutter cleaning tool that won't damage your gutter. Whichever tool you choose, it's a good idea to choose a reputable company.
The weight of the cleaning tool: Is the tool lightweight? Having lightweight tools is going to keep the strain off your body. Allowing for a much easier and efficient clean.
Conclusion:
You don't need to climb a ladder to clean your gutters anymore. If you're scared of heights or don't want to risk falling off a ladder, you have many options. Above we have listed many of the best options on the market for gutter cleaning in 2019.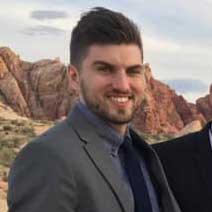 Hello, my name is Chris and I was born and raised in Western Pennsylvania. I'm an engineer with experience in medical technology, steel and materials, and nuclear power industries. I have been with my current employer for more than 5 years developing digital control systems for nuclear power plants.
I'm also a homeowner with a growing range of home renovation experience. My goal is to take all my technical knowledge and first-hand experience and translate it into high-quality content to support all of your home guide needs. Whether it be step-by-step guides, technical consultation, or product reviews, my aim is to make all your home projects a great success!