A lot of us are spending more and more time at home these days.
Did you know the Environmental Protection Agency (EPA) estimates that on average, the air in our homes is two to five times dirtier than the air outside!
To make matters worse, if you're too busy to regularly dust, mop, vacuum, disinfect, and clean your home, the air inside your home could potentially be up to 100 times worse than the outside air.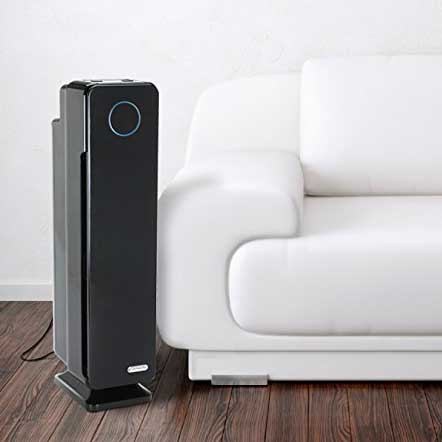 Investing in a home air purifier may sound like a good idea, and it is, but you'll first want to read up and plan ahead so that you spend your hard earned money on the solution that is right for you.
Since we're spending so much time at home, why not do what we can to breathe the cleanest possible air? That's where buying a quality air purifier comes into play and in this guide, we'll cover their effectiveness, how they work, which air purifiers are best for which air pollutants, and where you can get the best deals on the best home air purifiers the market has to offer today.
Air Purifier Purchase Check List 
The quick and dirty checklist you need to study up on before pulling the trigger on a fancy new air purifier!
Measure the space you'll need purified and choose an air purifier that is optimized for that space. Units are marked as per square foot.
Identify the main culprits of air pollution affecting you. Some examples include mold, pet dander, pet hair, dead skin cells, industrial pollution, allergens and pollen, dust, cooking odors, cigarette smoke, etc.
Create a target list of air pollutants you want to filter out. There's no reason to spend a ton of money on a 6-in-1 device if you only want to reduce one or two types of pollutants.
Study how your unit purifies the air and stock up on the correct air filters for your device. You'll need to replace these every six to eight months. Make sure you always have excess filters on hand and also make sure you aren't using an ozone generator or air ionizer too close to humans or pets as these can be unhealthy.
Calculate the operational cost and make sure you can afford to fully utilize the air purifier you're considering. Filters can be expensive and operating powerful air purifiers will definitely have an impact on your electricity bills.
Identify where and how you plan to utilize your air purifier. It's important to note how the purifier takes in air and where the air is expelled so that you can place it in your home properly, without restricting or blocking its air flow.
Here Are the Best Air Purifiers for Your Home
1. iTvanila Air Purifier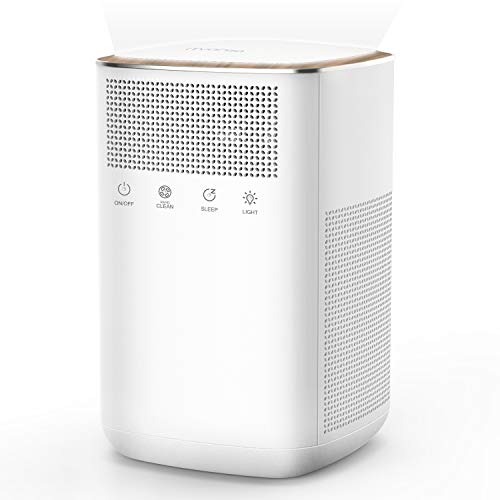 Purification method: HEPA filter
My review: This is the lowest priced air purification system I would recommend and although low price, this little thing is very powerful! It utilizes a 3M HEPA filter rated at 99.97%. The overall build is a small modern box style form factor that is both attractive and easily hidden. The hidden fan is plenty powerful to circulate air around a small bedroom and even at full power, it remains virtually silent.
I would recommend this air purifier for a kids bedroom. It seems to be purpose-built for this anyways with a quiet fan and a handy little night light.
The "actual" filters for these units seem to have been out of stock for quite some time, however, these filters are compatible with this unit and work fine. They're also super cheap!
Key Features:
Industry best 3M HEPA Filter
Night light
A powerful circulating fan that runs as low as 28db in night mode
2. Levoit LV-H132 Air Purifier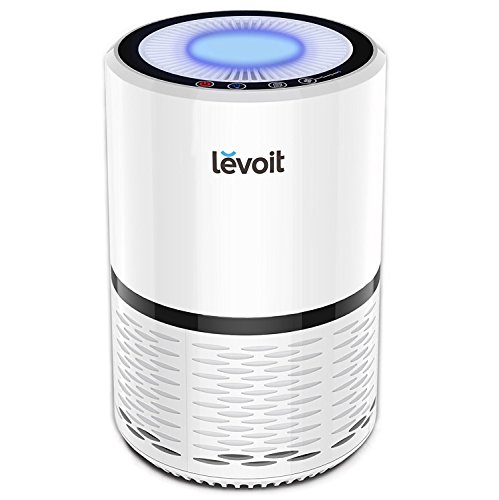 Purification method: 3M HEPA Filter
My review: The Levoit home air purifier is a small unit that packs a major punch to pollution! At first glance, the small cylinder shaped form factor is neat and modern and is also easily hidden or set on top of a desk. These use the same filters as the previously reviewed air purifier which can be found here.
This air purifier also has a nice little night light and works great in small bedrooms or home offices. It has the option to choose between 3 different fan speeds, all of which are fairly quiet and offer a good range of air circulation. The filters for these are cheap. I'd expect to spend roughly $50 a year in operating costs.
Key Features:
Industry best 3M HEPA Filter good for 6-8 months
Night light
2-year warranty and lifetime support
3. GermGuardian AC4825 3-in-1 Full Room Air Purifier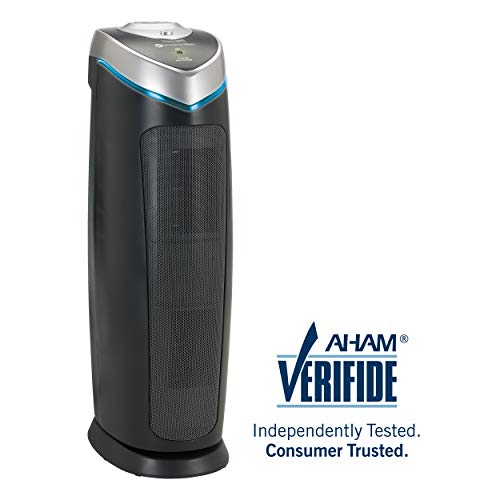 Purification method: Activated Charcoal, HEPA Filter and UVC Sanitation
My review: The GermGuardian has long been known as a fantastic budget air pollution defense system for the home. It's capable of purifying the average size room with ease and utilizes both HEPA filtration and UVC sanitizers, ensuring that small particles are trapped and germs are neutralized. The HEPA filter used here is a two-stage system that has a carbon filter included!
The construction is that of a 22" tower form that is both modern and sleek in nature. The air flows almost silently through the back and out the front and since the system sits on a swivel, it'll circulate air throughout the entire room!
You'll need both the activated carbon filters which you can find here and the HEPA filter which you can find here. It isn't the cheapest air purifier to run, at roughly $75 annually, but it is effective and powerful!
Key Features:
Two-stage HEPA and activated charcoal purifying system
Energy Star and AHAM certified
Purifies 167 square feet four times an hour
4. Pure Enrichment PureZone 3-in-1 Air Purifier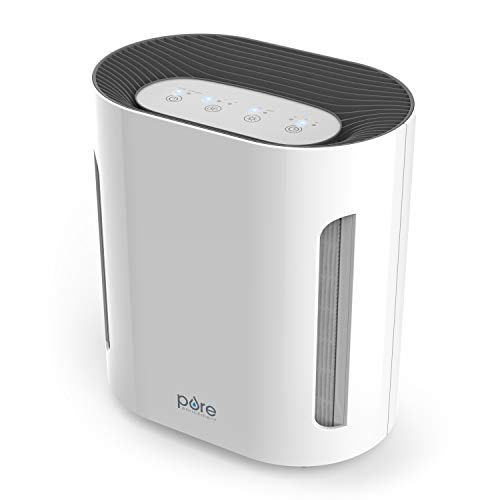 Purification method: Activated Charcoal, HEPA Filter and UVC Sanitation
My review: A cylindric cube form factor, the PureZone 3-in-1 is both elegant and modern while packing in all the comfortable features I like to see in an air purifier. Utilizing an activated carbon filter, UVC, and HEPA filtration, this thing is bound to pump out some very fresh air and the HEPA filters it uses aren't very expensive! What's nice about this air purifier is that you could hide it behind furniture and forget about it, only to replace the filters every 6 months or so. The auto shut off timer is a very nice feature that I like to have on any air purifier to ensure I don't accidentally leave home while its on.
You can find the replacement filters here. The PureZone should cost you about $40 a year in operation costs.
Key Features:
3-speed fan and automatic 2, 4, or 8 hour shut off timer
5-year warranty
Whisper quiet operation mode
5. GermGuardian AC5300B 3-in-1 Large Room Air Purifier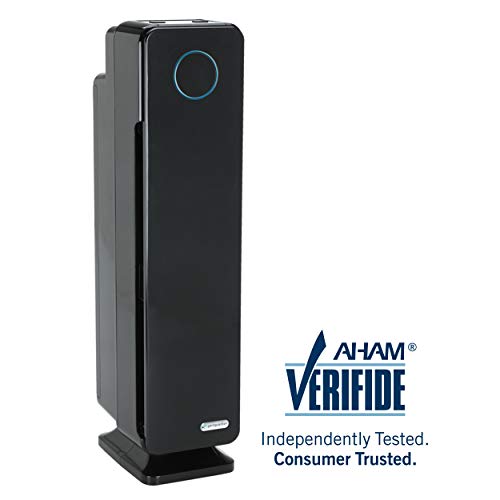 Purification method: Activated Charcoal, HEPA Filter, and UVC Sanitation
My review: Another GermGuardian, and for good reason, they make quality air purifiers that everyone can afford. A huge plus is the modern tower design. Tower air purifiers have been around for a while but these things really compliment a room's decor without being distracting or sticking out like a sore thumb.
This 24" 3 speed 3-in-1 is a do it all tower of power guaranteed to nab 99.97% of all pollutants in your room. The UVC sanitation is optional on this device which allows you to save power if you don't choose to use it and is compatible with titanium dioxide.
To run this bad boy you'll need these HEPA filters and these charcoal pre-filters
You'll probably need to spend about $60 a year to run the GermGuardian towers.
Key Features:
Optional UVC and Titanium Dioxide systems
Energy Star and AHAM certified
5-year warranty
6. SANIA NBO-J022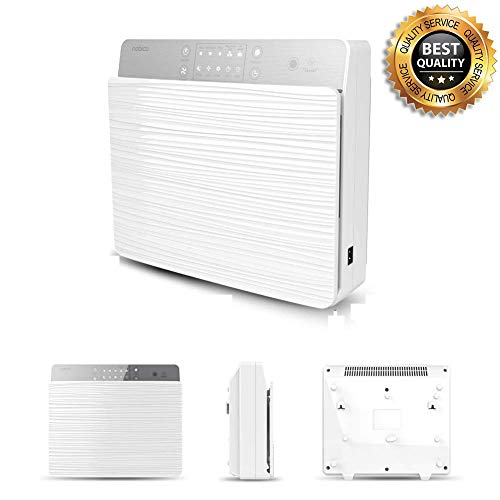 Purification method: Activated Carbon, HEPA Filter, cold catalyst, and UVC Sanitation
My review: SANIA has several highly regarded air purifiers so make sure you check them all out! The NBO-J022 really stands out, though, because of its included wall/ceiling mounts. It also includes a special tank that you can use to put in essential oils or other aromatherapy products which I thought was pretty unique compared to the other air purifiers on this list.
It gets better, though, with a proprietary air detection system capable of testing the air itself and reporting the health of the air to you via a light on the face of the module. This means you'll know when to run the air purifier and when you probably won't need it, saving you money on electricity.
Overall, I just really like how sleek and modern this air purifier really is. With touch controls and an easy interface, this is one of the best wall-mounted home air purifiers I've ever reviewed. It pretty much covers all the basics too by utilizing activated carbon, cold catalyst, HEPA filters, and optional UVC systems.
Key Features:
An intelligent air detection system
Built-in aromatherapy tank
Dual silent fans
7. Winix 5500-2 PlasmaWave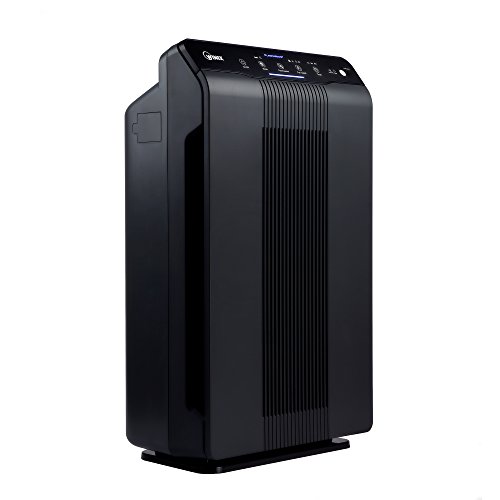 Purification method: HEPA filter, Carbon AOC filter, PlasmaWave proprietary UVC
My review: The Winix 5500-2 is no joke, this thing is built to utterly destroy all air pollutants! Something that really stands out with this is its proprietary PlasmaWave technology, which is really just a cool way of saying UVC sanitation! The fact that its carbon filters are washable and reusable though is actually pretty cool and will certainly save you some cha-ching down the road.
This air purification system is sure to trap 99.97% of all particles, break down dangerous vapors and gasses, and annihilate odors. It's not small and it's not exactly hideable but it does appear to be very modern and likely fits in with your other home appliances. The Winix comes equipped with smart sensors that gauge the quality of the air for you and will adjust its operation automatically according to its readings.  For you picky sleepers, it comes with 4 fan speeds and a silent running sleep mode.
They aren't cheap, but here's the filters you'll need.
These are fairly cheap and washable, but they likely need to be replaced at least once a year still.
The Winix 5500-2 is going to run you about $80 a year to run and although higher than most on this list, it's well worth it as its capable of doing the job of 3 of the smaller air purifiers on this list.
Key Features:
CADR rated for 360 square feet
Automatic operation adjustment using smart sensor air testing
Washable AOC carbon filters
8. Hathaspace 6-in-1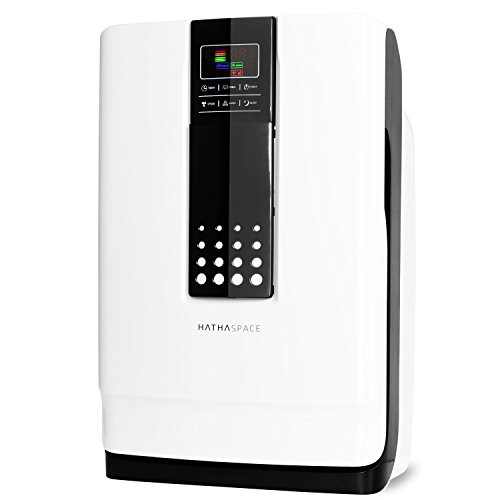 Purification method: HEPA Filter, Air Deodorizer, UVC Sanitation, Antibacterial Filter, Activated Carbon Filter, Nano-Cold Catalyst.
My review: The Hathaspace air purification system seriously does it all. There isn't much more you could ask for out of a sub $200 home air purification system. It checks all the boxes for purification methods that work well in homes and it's jam-packed with helpful features such as its night mode that dims the lights and makes the unit run virtually silent. Aside from that, this unit provides accurate air quality data to inform you of the quality of the air you're currently breathing and whether or not you should turn on the machine.
All of these features inside of a beautifully elegant freestanding design inclusive of a handy dandy remote controller. This is my most recommended unit!
Of course, since it's a 6-in-1 device, it's going to rack up the annual costs fairly quickly. I'd budget for roughly $150 in yearly costs.
The HEPA, anti-bacterial, activated carbon, and cold catalyst filters come in a package for this device and can be found here.
Key Features:
Air Quality Sensor providing real-time air quality data
Whisper sleep mode lowering operation volume to 18dB and dimming the lights
6-IN-1 system is guaranteed to deodorize and neutralize just about all pollution
9. Coway AP-151HH Mighty Air Purifier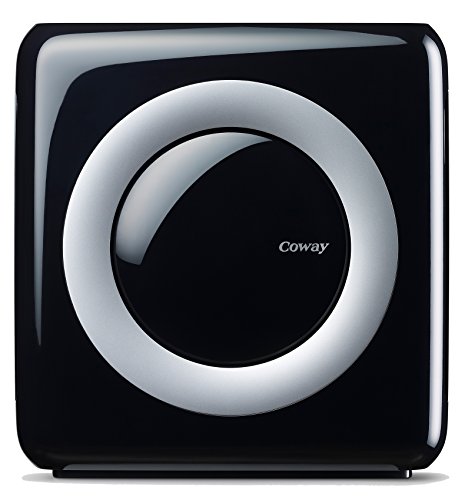 Purification method: Pre-Filter, HEPA Filter, Air deodorizer, Vital Ionizer
My review: Available in black or white, this unit is absolutely beautiful. It's sleek and minimalistic in nature and is a free-standing cube style construction. Although the design is a great talking point, something i'd like to focus on is the ionizing technology. This is the only home purifier on the list that encompasses ionizing technology and it uses a fan system to do so. This system creates its own ozone and should not be used in extremely small spaces as the ozone it emits can be harmful to human health.
So long as you place the unit away from where you'll be spending lots of time and let it purify a large room, the ozone issue will be a nonfactor and actually, is one of the most proven and effective methods of air purifying to date. The ionizer combined with a pre-filter for hair, fluff, and fur, along with a HEPA filter and air deodorizer makes this home air purifier one of the most effective on the market. Insanely high air purifying efficiency comes at a slight cost, though, as you'll need to endure its 24.4dB – 53.8dB noise range and pay for its 77w consumption rates.
Replacement parts for the Coway air purifiers do not come cheap and can be found here and here.  Expect to shell out over $200 a year in operating costs. Worth it? As long as you utilize it correctly and appreciate the cleanest and freshest air you'll ever breathe, I'd say yes!
Key Features:
Proprietary ozone generating ionization technology
BAF allergen and chemical removal certified
Timers, filter replacement indicators, air quality indicators, 3 fan speed modes, and automatic adjustment mode
10. BlueAir Blue Pure 211+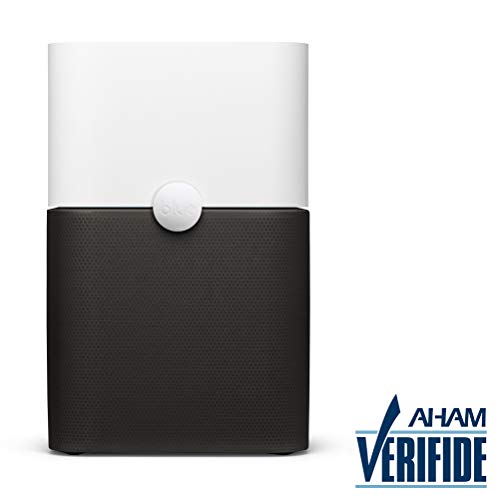 Purification method: Pre-Filter, HEPA Filter, Activated Carbon
My review: It's expensive and it's not the most feature packed or technologically advanced unit on the list, so what gives?
Well, no other unit can come close to its air-purifying range. At 620 square feet, this thing can purify entire apartments and if the price is too steep, it does come in cheaper, smaller versions such as 540 square feet or 161 square feet.
This is the most personalized air purifying system on this list as it allows you to choose between several different color configurations. It comes with black and gray, though, and you'll have to buy the other colors. The way the colors are changed is simply by using a different colored pre-filter. It kind of looks like a hipster trash can, which can be good or bad depending on your current home decor.
The pre-filters are washable and the unit comes equipped with 3 fan speeds. These air purifiers are ultra energy efficient and extremely quiet, making them a lot more comfortable to use than most other air purifiers on the market today.
Simply put, these are not the most cost-effective, but they are extremely simple to use, highly effective in reducing indoor pollutants, and they look great in just about any set of home decor.
Speaking of cost-effectiveness, you can find the filters here.
Key Features:
Extremely quiet operation while servicing up to 700 square feet
Two washable pre-filters included that are color changeable
360 airflow design that is Energy Star certified
11. Oreck ProShield Plus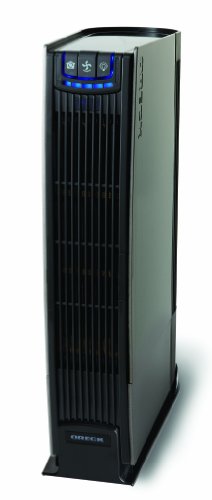 Purification method: Pre-Filter, Truman Cell Filtration, UVA, Ionizer, Air Deodorizer, Thermal Induction
My Review: The Oreck Proshield is purpose-built to relieve just about any air pollutants or odors that could possibly ever invade your home. It's got all the goodies such as remote, multiple speed settings, night mode, silent running, and comes in a nice compact rectangular form.
One of the biggest selling points here is that, unlike most other air purifiers on this list, the Oreck ProShield doesn't utilize a standardized HEPA filter. Instead, they engineered their own patented filtration technology called the Truman Cell Filtration System. These filters can be cleaned and reused, giving them a huge cost advantage over HEPA filtration systems.
Furthermore, their integration of the Helios Odor Shield filter safely eliminates all odors whether they come from the meal you just prepared or the dog coming in after a play date with a mud hole.
Operating this beast is much cheaper than you'd think. Since the expensive filters are reusable, you'll only need to replace the odor filters which you can find here. The package I've linked to on Amazon includes an extra replacement odor filter and unlike other air purifier filters, these are capable of lasting up to a year. Expect to spend around $50 annually running this air purifier!
This air purifier is only rated for about 80 square feet. It's meant to clean a small amount of air excessively well, so I would only recommend this for small office space or bedroom usage.
Key Features:
6-in-1 filtration capabilities with patented Truman filtration and Helios Odor Shield
Filters can be cleaned and reused – Significant cost savings over time
3-year warranty
12. Bissell Air400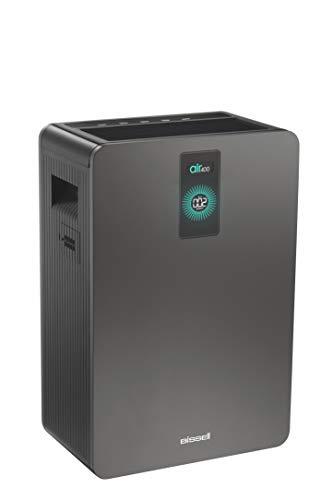 Purification method: Pre-filter, Activated Carbon, HEPA Filter
My Review: Bissell is a very well known long-standing brand with a reputation for creating easy to use and highly effective home goodies. The 3-in-1 Air400 certainly lives up to this reputation and offers 3-cycle per hour air purification in rooms up to 400 square feet in size. Despite the unit being incredibly powerful and offering a lot of air flow, the unit runs surprisingly quiet (under 30dB) and is very efficient on electricity.
Ozone free and an absolute dust and dander sucker, this air filtration system is perfect for those of you have pets that sleep in the same room as you.
Expect to spend about $100 a year operating the Bissell Air400. The carbon filter replacements can be found here and the HEPA filters can be found here.
Key Features:
Extremely powerful circulation capabilities
Front facing digital display
Cirqulate patented technology utilizes a particle sensor to autonomously monitor air quality and adjust air circulation as necessary
13. IQAir Atem Personal Air Purifier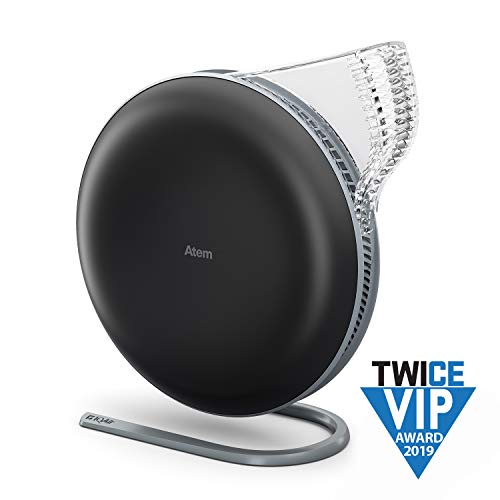 Purification method: HyperHEPA Filter
My Review: This is a very interesting offering in the world of air purifiers and I think it's the future of mini designs. This thing is so small that you can throw it in your gym bag and purify the whole locker room before you leave! Purpose-built to sit on your desk, this purifier looks incredibly modern while purifying roughly 200 square feet of space. Although it only utilizes one filtration method, the HEPA filter, that particular filter is incredibly powerful and is capable of filtering out ultrafine particles as small as 0.003 microns.
This nifty little device is available in black or white and will run you roughly $50 in electricity costs. Unfortunately, at this time, the only way to purchase new filters is to contact the company directly. These are high-grade medical use filters and are sometimes not available.
Key Features:
Medical grade HyperHepa filtration system
Extremely lightweight and small yet plenty powerful for a bedroom
Available in black or white
14. Alen BreatheSmart 75i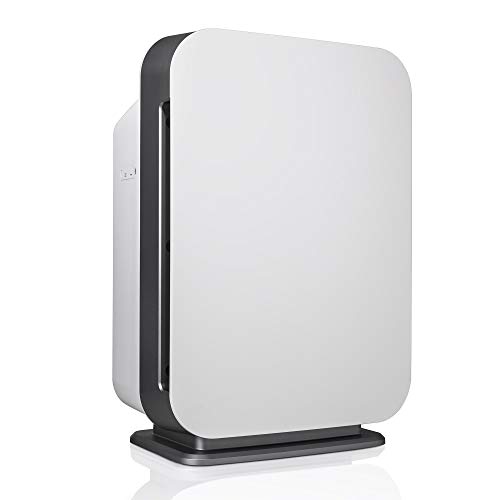 Purification method: Pre-Filter, HEPA Filter, and Microbial Options available
My Review: One of the most powerful air purifiers on this list, the Alen BreatheSmart 75i is capable of filtering air in spaces up to 1300 square feet every 30 minutes! This should cover most average sized apartments with ease and since they utilize advanced HEPA filtration technology, you can be sure that all particles as small as 0.03 microns are filtered every 30 minutes. Even on turbo speed, the unit is incredibly quiet, remaining under 30dB at all times.
This machine is engineered by NASA Airflow specialists and is guaranteed to be one of the most efficient air purifiers on the market today. Expect to spend roughly $100 a year in operation costs.
The filters on this system are a bit complicated but in short, they offer four options that you may choose from, all lasting roughly 12-15 months. The filter options are as follows: Pure Antimicrobial, Fresh Antimicrobial, Heavy Odor Antimicrobial, and Pet Antimicrobial. Each one has it's own set of properties so make sure you check those out before ordering to ensure you get the perfect filter that fits your needs.
As a final note, the unit is offered in 10 different color schemes, some of which feature beautiful wood finishes. Some of the best color schemes I've seen on any air purification systems!
Key Features:
A whopping 1300 square foot filtration capability
Whispermax technology keeps the noise level under 30dB, even at any of the 5 fan speed settings
Lifetime warranty
15. Odorstop Air Scrubber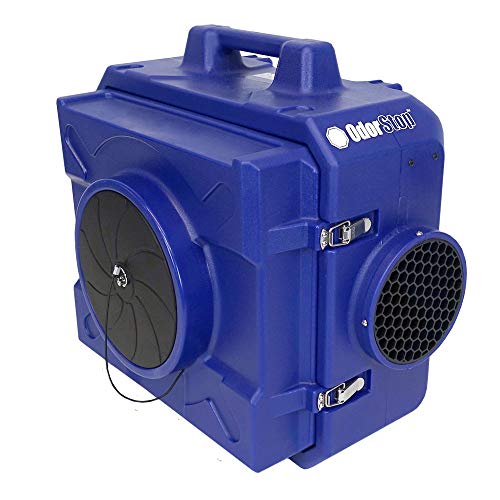 Purification method: Pre-Filter, Optional secondary filter such a microbial insert, and HEPA Filter
My Review: To be clear, this is an air scrubber and not so much an air purification system. This is a fantastic unit for those of you choosing to remodel your home or you find yourself often times doing projects that create a lot of air pollution, such as painting, woodworking, deconstruction, automotive work, etc.
This air scrubber utilizes a 1/3HP thermally protected electric powered motor to keep the air breathable as you work. You can find the pre-filters here and the HEPA filters here, which both cost a hundred bucks a pop.
Key Features:
30' power cord
Optional insertable filter
Industrial and commercial grade air scrubbing unit protected inside a roto-molded housing
16. IQAir HealthPro Plus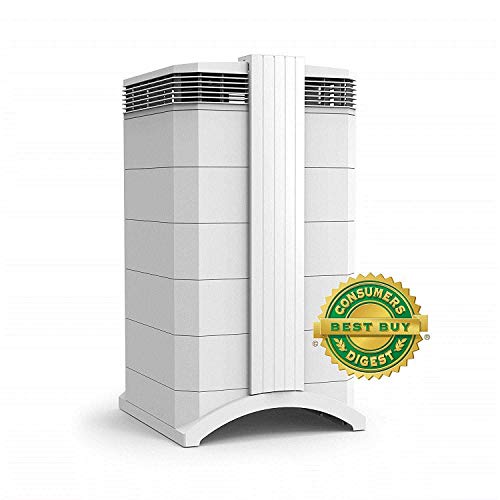 Purification method: Medical-Grade Hyper HEPA Filtration System
My Review: The Swiss tend to know their air purification engineering quite well! This beast is a sure fire way to ensure the air you breathe anywhere in your home is clean and crisp at all times. Utilizing that hospital grade HyperHEPA filter, this thing rips from the air anything larger than 0.003 microns. They claim these filters are 100x more efficient than standard HEPA filters which makes perfect sense, considering they won the Consumers Digest Best Buy award multiple times. All of this power comes at a tradeoff, though, which is its massive footprint. It'll cost you about four square feet to operate but it filters up to 1125 square feet every 30 minutes! The airflow from this unit is 360-degrees, ensuring that wherever you place this massive thing, it's going to gobble up everything and purify it!
Despite its size and capabilities, the electrical operating costs can be quite low. At its lowest setting, only 27 watts are used, which would cost you just a few cents per day. If this unit is simply too large for your accommodation, they offer a compact version so make sure to check that out as well!
The cost of the filters is the big catch here. The PreMax filters will run you roughly $75 and last roughly 8-12 months. The V5 odor shield lasts about the same but costs $100 and the HyperHEPA filters will run you roughly $200.
I'd expect to spend around $450 a year in operation costs total. Expensive to some, but a small price to pay for exceptionally unmatched air quality.
Key Features:
By far one of the most effective AND efficient devices you can place in your home
Utilizes medical-grade HyperHEPA filters
Extreme power efficiency gives you unmatched performance with very little impact on your electrical bills
Buying Guide
What is an Air Purifier?
Charles Anthony Deane came up with a crazy invention consisting of a copper helmet attached to a flexible collar and piece of cloth. This contraption was then connected to a leather hose in the back of the helmet that supplied the user with "clean" air using bellows. This was the worlds first air purifier, invented in 1830, and lucky for us, the designs and methods used today are far more advanced!
Simply put, modern-day air purifiers utilize electricity to operate a suite of internal fans to suck in air and run that air over filters that remove airborne particles such as dust, mold, pollen, bacteria, and pollutants. After the air travels through the filters, the fan system circulates that air back into the room.
Quality air purifiers can operate 24/7 almost silently and won't impact your electricity bill any more than using a fan of equivalent size. The designs available have come along way and most of them have a similar appearance to that of a tower fan.
How Does an Air Purifier Work?
Answering this question depends largely on which unit you choose to purchase and use. Determining what primarily pollutes the air you breathe is also an important consideration as some methods that air purifiers use are better suited for specific pollutants. Basically, there are either active or passive methods of air cleaning and several options in each of those categories.
Active air purifiers use a special ionization technique to clean the air. There are several sub-categories here and its difficult to explain them all since many manufacturers today have "proprietary" methods. I will cover a few of the most popular active air-purifying methods below.
Many units on the market today also use thermodynamic sterilization (TSS). This method is an air convection means of hyper-heating the air up to 200 degrees Celsius using a ceramic core with microcapillaries. This results in over 99.99% of all airborne particles being incinerated including mold spores, fungus, bacteria, pollen, dust mites, viruses, etc. After the air is heated and cleansed, it passes over a series of heat transfer plates, otherwise known as heat sinks and then is released into the room.
Titanium Dioxide is typically used only in tandem with another method, such as UVC or UVGI. These are nanoparticle technology that, when combined with calcium carbonate, are capable of neutralizing all acidic gasses. Typically, titanium dioxide is mixed into a porous paint and is used as a photocatalyst to decompose acidic gasses contaminating the air you breathe.
Another active method of air cleansing is the use of ultraviolet germicidal irradiation (UVGI). This method forces air into a chamber that utilizes shielded UV lamps. UV lamps are used to kill airborne pollutants and ensures that microorganisms cannot reproduce.
Immobilized cell technology is a rather new type of air purifier that uses a type of reactive biomass to attract particulates in the air and break them down using enzymes. These are typically pretty expensive and require a fair amount of maintenance.
Ionizer purifying technology utilize electrical surface or needles to generate electrically charged air molecules that attach to airborne particles by electrostatic. After attaching, they are then attracted by a charged collector plate where artificial ozone is created to oxidize the pollutants. These are typically only found in expensive home purifiers. There are two versions, fan and fanless. Fan based versions are more efficient at purifying the air but are usually noisier and require more power than fanless options.
The last active air-purifying method I'll cover is an ozone generator. We won't talk much about these as they are better suited for entire home or industrial use, however, it's pretty neat to learn about them! Basically, these create their own ozone by using a powerful oxidant gas which oxidizes other chemicals in the air. This essentially "shocks" the air, and isn't safe for habited areas. Units that create ozone less than 0.05 ppm are considered safe and are usually implemented in tandem with another purifying method such as ionizer purifying technology.
Passive air purifiers utilize air filters to simply trap and retain pollutants, releasing only clean air on the other side of the filter. When shopping for home air purifiers, most of the options available to you will most likely be passive type air purifiers. These are usually the cheapest and most effective for small spaces, such as bedrooms and home offices.
Probably the most popular and most widely available passive system is the HEPA filter method. Simply put, air travels through a very dense filter that traps and retains airborne pollutants. High-efficiency particulate arrestance (HEPA) filters are the most common filters today and have a 99.97% efficiency rating. These HEPA filters are capable of trapping and ridding the air of particles as small as 0.3 micrometers. After a duration of time, you'll need to remove and either clean or replace filters which can be a little costly.
Another passive system utilizes activated carbon and is also a very popular method of cleansing the air. Activated carbon home air purifiers work by using an extremely porous material to adsorb volatile chemicals on a molecular scale. These purifiers are far better at trapping small particles but aren't the best in trapping large particles. This method essentially transfers chemicals from their gaseous form into a solid form and then traps those solids inside of itself. Although not very effective on their own, when used in tandem with other filters, most commonly HEPA filters, these can prove to be quite effective. Just like filters, you'll need to replace the activated carbon from time to time.
How do You Know if You Need an Air Purifier?
A quick look at this handy air pollution ratings map and you'll be able to see right away how clean the air is in your specific area. If the box nearest you isn't green on an average daily basis, you're being exposed to toxic air pollutants.
Even if your area proves to have rather clean air for most or all of the year, you still may need a home air purifier. Take a look at what the EPA says about indoor air quality here.
If you have severe allergies, especially in the spring or fall seasons, you can utilize an air purifying system to rid your home of the pollen causing those itchy eyes and mucous membrane flare-ups.
Having a difficult time keeping your house free of dust? Home air purifiers can also help reduce the amount of dust in the air by trapping it and only allowing clean air to circulate.
Living with a smoker or using a wood burning stove and/or fireplace? Air purifiers work incredibly well filtering out smoke and particles left in the air caused by combustion. We all know how bad second-hand smoke is not only on our health but on our paint, furniture, carpet, walls, etc. Air purifiers won't allow you to smoke in your home 100% harm free but they will help filter that tainted air a great bit.
We mentioned having a perfectly clean home as a big positive in being air pollutant free. Although having less dust, mold, bacteria, etc in your home definitely help, the methods you use to battle those things may actually create their own air pollution. Just about any cleaning product you use that you can smell will leave the air tainted by harmful chemicals.
Do you use laundry detergent, dish soap, bleach, grout cleaner, window cleaner, spray on deodorant, anything aerosol, etc? All of those things greatly pollute the air you breathe. Keeping your home clean to rid it of air pollution is a bit of a catch 22 and at the end of the day, it's simply best practice to clean that air and there is no better way than buying and using a good air purifier.
As a final note here, bacteria can easily be found floating around in the air in the average persons home. Investing in a quality air purifier for your home may just be the difference between you staying healthy or coming down with an illness! This may prove especially useful if there are more people than just you in the home. If someone that lives with you gets sick, chances are that the air purifier you've bought is your last line of defense from whatever they've brought in with them.
Do Air Purifiers Actually Work?
There's a lot of debate on whether or not buying a home air purifier is actually worth the money. The answer isn't always clear and if your home is positioned in an area that experiences little to no industrial pollution, you have little to no allergy issues, no one in your home smokes, you have no pets, and you are capable of keeping your home flawlessly clean, you probably won't benefit much from an air purifier. Doesn't sound exactly like your situation? Yeah, that's not the case for me either, so let's discuss this in more depth.
Before answering the question in the header, we have to consider whether there is an actual problem. Luckily for us, science has come a long way and we have many bright people studying the effects of air pollution. We know for a fact that particulates in the air cause major health issues including cardiovascular illness, respiratory illness, additional stress on the heart and lungs, damaging cells, accelerated aging of vital organs, loss of lung capacity, shortened lifespan, etc. The list goes on and on and if you're curious, you can read more about the myriad of health effects that air pollution causes here.
Since we can viably prove negative health effects caused by the air we breathe, we can now decide how effective air purifiers actually are. Answering this question is a little tricky, though, and will vary depending on the air purifier you decide to use. For the most part, though, we can undeniably answer the question with a big fat YES.
We've already discussed the methods air purifiers use so we won't go into much detail here as you can simply read up on those above, however, there are some very convincing methods of air purification that are scientifically proven to be effective.
Let's take a look at HEPA air filters. To be classified as a HEPA air filter and get that shiny little badge of air purifying honor on the box, the filter must be capable of removing 99.9% of all particles larger than .3 microns in size that pass through it. That means that your HEPA air filtering air purifiers are guaranteed to be capable of ridding the air of harmful particles.
Those thermodynamic sterilization systems we discussed before? They are guaranteed to kill mold spores, bacteria, and viruses. These systems literally work by incinerating harmful things in the air!
Like I mentioned before, answering this question isn't easy, but for the most part, most people stand to benefit greatly from buying an air purifier and utilizing it properly in their homes. How effective they really are depends on which type of air purifier you're using, it's build quality, and if it's capable of reducing the type of air pollution you're targetting.
If you're still not convinced, allow me to tell you a little story about myself. I traveled in Asia for a few years and throughout my travels, I frequently stayed in the more metropolitan areas of Taiwan and China, both of which suffer harshly from horrible air pollution. It was so bad, in fact, that you could mop the floor, go to bed with the windows open, and in the morning you would find a black film of nasty dust lying on that freshly mopped floor! It was absolutely disgusting and if you ever wanted to open your windows, even for just a few hours, you'd have to wipe the entire place down or face the wrath of that disgusting black soot all over your stuff.
After a few months of "just dealing with it", I got fed up and bought myself an air purifier. That poor thing had to work its butt off but I was sure happy with the results. My floors no longer had the black soot all over them and I noticed immediately that I was able to breathe much better inside my own home. After a few months, I took a look at the filters inside my air purifier and wow, they were stuffed with that black dust of doom. I'm sure glad I wasn't breathing in and having to touch that stuff on a daily basis for so long!
I tell you this story because, unfortunately, I think a lot of you will or have suffered a similar problem. Air pollution has been getting worse and the problem in my story isn't just in Asia. This black soot can be found anywhere industrialized and every day we see more and more of this issue around the world.
It's incredibly unfortunate, however, the truth is that those of you who do not use an air purifier at home are likely already suffering tremendously more than the people who use air purifiers. It's a sad unfortunate truth, but it's our reality until we come together to solve this issue. Until then, don't cheap out on your health, invest in a quality air purifier as soon as you can!
Battling Odor
Having a home air purifier doesn't just protect you from deadly air pollutants, although that should be enough of a reason to get one! Have you been using those canned aerosol smell good stuff to cover odors in your home? Bad! Bad! Bad! Although they may cover up terrible farts and that horrible fish smell from last nights fish fry, you're polluting the air and yourself!
Instead of wasting money spraying down everything that smells bad with your favorite fragrance in a bottle, you can just use an air purifier! That's right, they fight air pollution the same way they fight odors. Many users report their home smelling fresher just a day after plugging in and turning on a home air purifier. There's nothing better than a clean breath of air that doesn't smell like that pile of gym clothes hiding in the corner!
The Cost of Air Purifying
Do you already spend money on a gym membership, healthy food, vitamins, and the doctor to keep you healthy? Spending money on health is a pretty regular thing and most people have spent money on at least one of those previously mentioned things without much consideration but when it comes down to buying a quality air purifier, you always hear the "I don't want to spend money on a silly air purifier".
Well, an air purifier is likely just as critical to your health as the other things you spend money on already. There is no better financial investment than the investment in your own health. Look at purchasing a nice air purifier as an investment in your future health!
Buying an actual air purifier for your home will likely run you between the prices of $50 and $1000. The range is wide because there are so many different options and so many different variables you need to account for. If you're in a small one bedroom studio, you likely won't need a very powerful unit, but if you're looking to purify an open living room fit for a Super Bowl party, you'll need a tower of power to purify all of that space!
As with pretty much everything, you do get what you pay for in the world of home air purifiers. The more expensive air purifiers typically have more power, resulting in more air being treated and treated better at that. You also have to consider quality and longevity as well as their operating costs.
But wait, there's more! That's not usually the saying you want to hear when discussing cost, but it's true. Running air purifiers have costs past just the initial price tag and perhaps shipping. Of course, you're going to spend a little on electricity and I can't really tell you how much since electricity varies in cost and each unit will use a different amount of electricity itself.
It's time for a little math (if you care about how much air purifying will cost). This is the equation you'll need:
(Watts/1000)  X  (KWH-Kilowatt Hours)  X (8760) = Annual Electricity Cost
For example:
Example home air purifier requires 50 watts.
50 divided by 1000 = 0.05
Multiply this number by the number of Kilowatt Hours (KWH) you are billed by the electric company. You can find this on your electric utility bill, or you can use 0.10, which seems to be a safe average for most people in developed western countries.
0.05 x 0.10 KWH = 0.005
Multiply this number by the number of hours the unit will run during the entirety of the year. Let's say, for the sake of this example, you will want to run your air purifier nonstop, so 8760 is our target (24 hours x 365 days).
0.005 x 8760 Hours = $43.80
In this example, our air purifying unit that requires 50 watts to run will cost us $43.80 a year if we run it every hour for an entire year. Most gym memberships cost roughly $50 a month, or $600 a year. I'd say investing in a quality air purifier and breathing in healthy air is more than worth the extra $44 a year in electricity!
This, unfortunately, isn't the end of your costs, though. If you buy an air purifier that runs on a filter or something else that you have to replace often, you'll need to consider those costs as well. Most home air purifiers that utilize a HEPA air filter will need to be changed twice a year on average. These filters, however, can drastically range in cost, so no math here as you'll simply need to look up what your specific model of air purifier requires.
Oh, and if you thought you could just drag the filter out and beat it off the ground until lots of dust falls out and then throw it back in, you're kinda wrong. I mean, obviously, you're clearing some of the debris from the filter, but at the end of the day, the best parts of those filters will remain crammed with pollutants and you won't be able to remove them no matter how you try without damaging the filter itself. Just buy a new one every six months (or what the manual says).
Speaking of changing your HEPA filters, remember that the filter has been accruing bacteria and viruses for the duration of its usage. I'd recommend removing and disposing of the filter outside of your home, otherwise, all the hard work that air purifier has done will end up flying around in the same room again!
Fun (Not so Fun) Facts
If you still aren't convinced investing in a quality home air purifier is a good idea, check out this random list of interesting stuff I've found through my research.
Research shows that the average sized home can collect roughly 2lbs of dust a week.
Visible particles constitute roughly 10% of air indoors.
Particles found on furniture and those in a ray of light are usually larger than 50 microns.
To the average human eye, it's barely possible to successfully visualize particles in perfect visual conditions as small as 10 microns.
Particles of 1 micron or less adhere to surfaces by molecular adhesion. Unless physically disturbed, they stay in place.
Larger particles tend to settle out of the atmosphere due to weight.
Tiny respirable particles can remain floating in the air indefinitely and may never settle until they enter your lungs.
Roughly 99% of all particles are in the size range of 5 microns or less. These particles tend to remain in suspension or settle out so slowly that only quality air purifiers using HEPA air filters are effective in removing these particles.
The average person breathes in about 16,000 quarts of air per day. Each quart contains some 70,000 visible and invisible particles. That's over a billion particles per day that our lungs have to filter out!
Particles that you have breathed in take up space in the lungs that would otherwise be taken up by air. This means your lungs have to work much harder to supply your body the oxygen it needs if the air is polluted.
Some particles that contain heavy metalloids may become lodged and build up in the lungs, potentially never leaving.
The average human lung can hold almost six liters of air and particles at once. The higher the number of particles, the faster your lungs must cycle to provide your body with adequate oxygen.
A 9′ x 12′ carpet or rug will collect roughly 10 pounds of dust per year!
100% of all respiratory ailments and disease are caused by inhaled particulate.
Our immune systems are only capable of so much at any given time. If your immune system has to work extra hard to protect your body from the air you breathe, how can it protect you from anything else?
Despite the marketing hype around ozone generators, ozone is actually extremely harmful to your body in the same way it destroys air pollutants.
Air purifiers actually work better when placed up high, off the ground, where the dangerous particles are floating about.
A lot of people are allergic to mold. Penicillin is a very common type of mold. If you're allergic to penicillin you'll be sensitive to mold and will benefit from an air purifier.
Here are four common indoor molds: Cladosporium, Penicillium, Alternaria, and Aspergillus.
Exposure to mold can be to blame for your laziness! Mold can cause lethargy and impact your ability to concentrate.
Wrap Up
Since freelancing, blogging, online work, and remote working positions are becoming more and more popular, spending extended amounts of time at home is becoming more of a reality for millions of people.
Of course, I cannot review every single home air purifier as there are just too many to do so and new ones are developed every day. If you think I've missed an important system or something new comes out that performs better than the ones I've recommended, feel free to let us know in the comments and I'll try to get my hands on it!
Thanks for reading and I truly hope you decide to be proactive in protecting your health by investing in a good air purifier. I've been personally using air purifiers in my home for the last ten years and I hope that everyone can reap the benefits that I have experienced.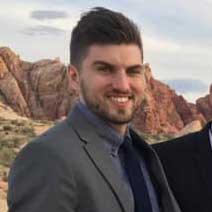 Hello, my name is Chris and I was born and raised in Western Pennsylvania. I'm an engineer with experience in medical technology, steel and materials, and nuclear power industries. I have been with my current employer for more than 5 years developing digital control systems for nuclear power plants.
I'm also a homeowner with a growing range of home renovation experience. My goal is to take all my technical knowledge and first-hand experience and translate it into high-quality content to support all of your home guide needs. Whether it be step-by-step guides, technical consultation, or product reviews, my aim is to make all your home projects a great success!