Today's savvy homeowner knows that home automation is the way of the future.
Adding tech to your home, whether it is audio, video, or a full-on robot, can help ease the burdens of homeownership and make day to day tasks easier.
Maybe you are looking to boost the security in your home.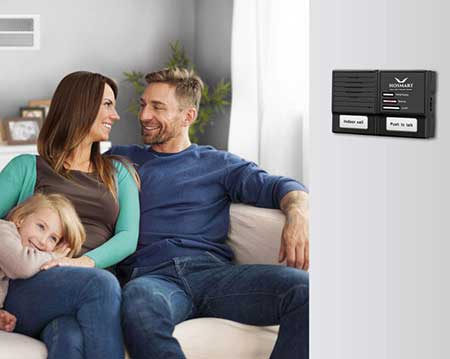 Maybe you have a home-based business and need a way to communicate from floor to floor without leaving your workspace.
Either way, you stand to benefit from setting up a wireless home intercom system.
I am going to start this guide with a list of my favorite intercom systems, but if you don't know where to start, be sure to check out the buying guide below the list of products. You can use the quick navigation menu below to jump straight to the buying guide.
Here Are the Best Wireless Home Intercom Systems
1. Echo Show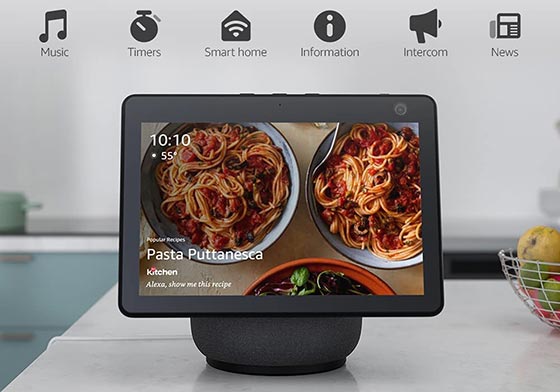 | | |
| --- | --- |
| Estimated Price | $250 |
| Type | Audio/Video |
| Screen Size | 10.1″ HD Screen |
My Review: If you like home automation, you can't do any better than Amazon's Echo Show. It includes audio and video intercom capability, but that is just the beginning. With this system, you can connect to Amazon's virtual assistant Alexa, call other users in your home or around the world, access the internet, update your shopping list, play games, and control other smart devices in your home. And you can do all of this (and more) using only your voice. If you have your hands full or are unable to get to the actual station, having voice activated technology is great!
The downside of this device is that it requires a wifi connection, making it less secure than stand-alone systems. At $250 per unit, it is also one of the pricier options. If you want to outfit your home with multiple stations, your bill may quickly approach $1000. This doesn't include your monthly wifi service available through your provider. My advice is to wait for special Amazon deal days, where you can often get discounts on their range of smart products. Getting more than 1 or 2 stations is a sizable investment in your home's technology.
Key Features:
High Definition 10.1 Screen
Can also be used for other activities
High quality speakers
2. Wuloo Intercoms 5280 ft Range 10 Channel 3 Code Wireless Intercom System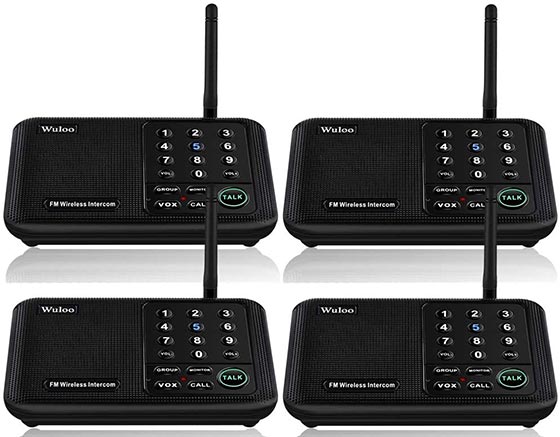 | | |
| --- | --- |
| Estimated Price | $110 |
| Type | Audio only |
| Screen Size | None |
My Review: If you're looking for an affordable and dependable long-range intercom system, this is one of our favorites here at Better Home Guides! With an advertised range of 5280 ft, even if the practical range is lower, it is still a great system. Customers in 3-story homes with basements have reported no issues with the signal getting all-around their home. With 10 channel options and a secure connection, it can be used in a variety of applications.
At around $110 for 4 stations, it is also relatively budget-friendly. Do note that there is also a 6 unit bundle on the Amazon product page. If you have a workshop or home office on a more remote part of a larger property, this is a great system to use. It can also be mounted on the wall while remaining a wireless station, giving you even more options for use. While it doesn't have a ton of extra special features, this is overall a great system that gets the job done. As a bonus, the company's customer service is very responsive. Some customers have found the instructions a little confusing and hard to understand. But a quick internet search can help you find numerous tutorials and guides for just about any product on the market.
Do note that Wuloo also makes a similar version called the Wuloo 888 which can be found here. The 888 version features 100 compared to 3 codes on the version shown above and in the video below. For most homeowners, 3 codes will be more than enough. If you'd like to see a YouTube review of the Wuloo 888 you can find it here.
Key Features:
4 or 6 pack bundles are available.
Great budget option
5280 feet range (1 mile)
Great for Home, Office, or Business
3. Hosmart ½ Mile Long Range 7-Channel Security Wireless Intercom System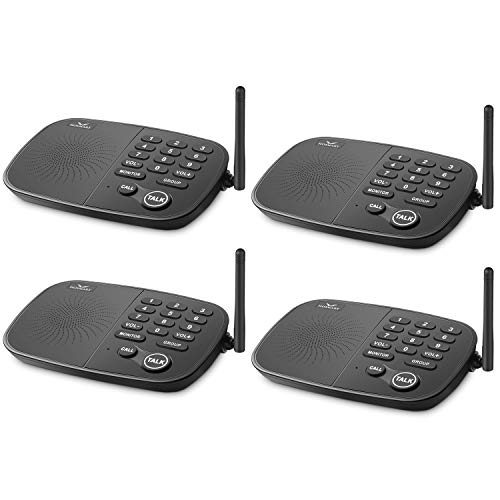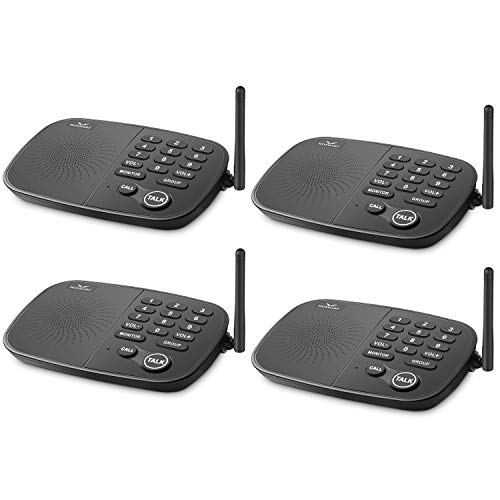 | | |
| --- | --- |
| Estimated Price | $119 |
| Type | Audio-only |
| Screen Size | None |
My Review: On the other end of the spectrum is the reliable Hosmart audio-only system. The budget-friendly intercom starts at $40 for a single station. It boasts an impressive ½ mile range and 7 available channels. If you opt into the 3 or more station package, you can use up to 10 channels. The audio quality, range, and reliability are all said to be excellent. The price for quality was another key feature that customers really liked.
The Hosmart system doesn't have all the bells and whistles that other smart systems have but it does provide reliable intercom capability from a company with over 30 years of experience in the industry. It is also compatible with other brands' products, making it a really smart purchase.
Key Features:
Long range capabilities
10 channel secure wireless system
Group call function
4. Samcom 20-Channel Wireless Intercom System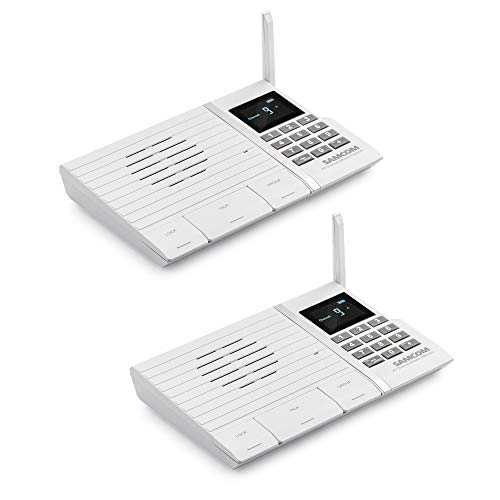 | | |
| --- | --- |
| Estimated Price | $80 |
| Type | Audio only |
| Screen Size | None |
My Review: With an impressive 20 channels, this is a system that can grow as your needs change. If you have a large home or need numerous stations available, this is a great set up. Even if you don't but plan on needing an upgrade, this is a system worth investing in from the beginning. With individual and group calling between stations, a high number of users can be talking in private conversations at once. It also has a digital display to help you know exactly which channel you are calling. The range is 1000 feet, which is shorter than some others, but may be what you need. The company also offers a lifetime warranty on their products, providing peace of mind for any consumer.
The stations start at $100 for 2 stations, making it just slightly more expensive than the Hosmart system. But the additional flexibility that comes with more available channels seems like an easy upgrade for the additional $10 per unit. Customers say that the range is as advertised or better, making it a great option for those in large homes with a high number of users.
Key Features:
Durability
Odorless
Easy to use
5. Calford Digital 3-Channel FM Wireless Intercom System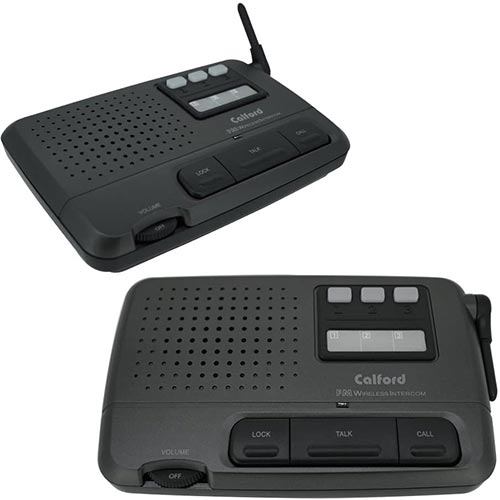 | | |
| --- | --- |
| Estimated Price | $200 |
| Type | Audio only |
| Screen Size | None |
My Review: This very simple and basic system doesn't come with many special features, but also comes with a great price tag. At just $65 for a two station system, it does exactly what a home intercom system is designed to do—talk from one station to the other.
Many customers say that they bought for users who are less comfortable with technology. It has a simple set up and use, making it perfect for users who don't need much more than a simple talk function. If all you need is the most basic communication capability, this system is exactly what you are looking for. It is also user-friendly and ready to use right out of the box.
Key Features:
Secure digital communication
Speakers are pretty good quality
10 channels
6. Ring Video Doorbell 2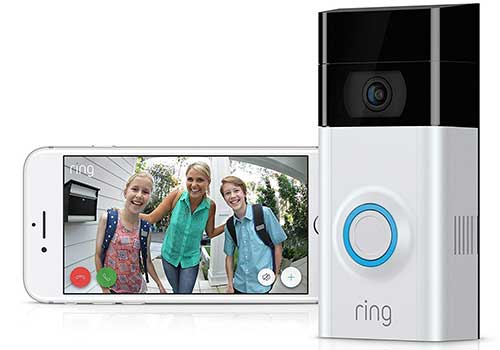 | | |
| --- | --- |
| Estimated Price | $160 |
| Type | Audio/Video |
| Screen Size | Best used with smartphone |
My Review:  A video doorbell can be an important part of an overall home intercom system that is focused on security and the Ring doorbell is the standard against which all others are compared. What I love about the Ring doorbell is how customizable it is with other components. By itself, it provides audio and video connectivity between your front door and your smartphone. As the user, you can see and hear who is at the door and respond to them using the system's speaker. If you want additional options, pair it with the Echo Show, Echo Dot, or other speaker to make it an even more robust part of your home security system. You can also check in on the feed remotely, making it a great option for those who are frequently away from home. It can alert you if motion is detected at your door.
At $200 per device, you are paying for the convenience and connectivity that it provides. It is an expensive component but unless you have a really complicated home setup, you probably only need one doorbell. The other components can be more affordable and come with their own cool features. Just like the Echo Show, the Ring doorbell requires wifi connectivity for operation. This means that it is less secure, something to consider if that is an important feature for you.
Key Features:
Wireless or wired capabilites
Works with Alexa
Speak to visitors from phone, tablet, or computer
1080PHD video
7. TekeyTBox 1800 Ft. Long Range 10-Channel Digital FM Wireless Intercom System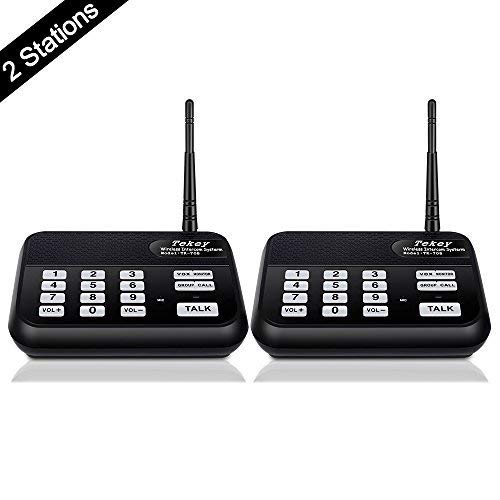 | | |
| --- | --- |
| Estimated Price | $160 |
| Type | Audio only |
| Screen Size | None |
My Review: Another budget friendly option, the TekeyTBox home intercom system provides basic functionality at a great price: $55 for a 2 station system. The 1800 foot range is adequate for most in-home needs, although reviews say that it may be spotty in larger homes or yards that have things that interfere with the signal. Customers can use the TekeyTBox station to complete group calls or individual calls on up to 10 channels. The product description includes a battery option, making it portable, but user reviews say that the battery life is not great and is better thought of as a back-up power source. It is one of the larger systems, which may also impact portability. Unless you plan on carrying a book-sized receiver around with you, I recommend looking for other products if portability and battery life are important to you.
Key Features:
Long range and mult-channel
Anti-interference signal technology
Group call functionality
Great value
8. Infant Optics DXR-8 Video Monitor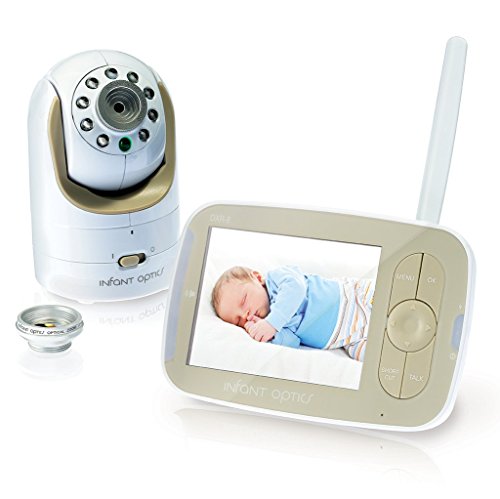 | | |
| --- | --- |
| Estimated Price | $165 |
| Type | Audio/Video |
| Screen Size | 4 Inches |
My Review: I personally have used this system for years with two babies and other home communication needs. While not marketed as a home intercom system, it is capable of two-way audio communication and one-way video, making it ideal for use in a child's room or home office. It is a stand-alone system so you know that the video and audio feed is secure. The camera can also be turned remotely, an especially useful feature in a large room. Customers are able to add on additional video monitors and even a wide-angle lens. The audio/video monitor is portable, making it easy to take around the house if needed.
I used the video feature frequently and liked that it had a night vision mode. For a sleeping infant who needs a dark room, this is a very important feature. The Infant Optics system is not designed for outdoor use, however, so if you need that capability, you should probably keep looking.
Key Features:
Viewing direction remotely controlled
DXR-8 Monitor
Interchangeable lens function
9. Optex IVPDH IVision+ Wireless Intercom with Video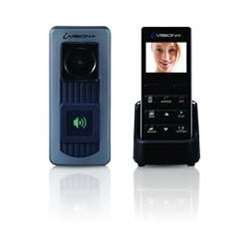 | | |
| --- | --- |
| Estimated Price | $345 |
| Type | Audio/Video |
| Screen Size | Small LCD monitor |
My Review: This video capable system allows users to see and hear what is going on in different parts of their home. The camera unit is frequently used as a doorbell, with weather resistant features that make it ideal for outdoor use. Just like other video doorbells, it allows you to see and talk to people who are at the door without having to go open it or potentially let them into your home. For that reason, it is a great option for those interested in security.
The Optex IVPDH IVision+ does not offer smart phone connectivity but does have a separate handheld receiver and charging cradle. The handheld portion is roughly the size of a cordless home phone with a similar setup. If you are okay with the aesthetic of having a phone-looking device on your desk or counter, this may be a good option for you. The price point for features is not great, though. It starts at $232 and doesn't come with the connectivity options of the Ring video doorbell, pushing it further down the list.
Key Features:
Great inercom system for home or business
Integrates with the OPTEX wireless 2000
Handheld wireless unit
10. LaView Wireless Video Doorbell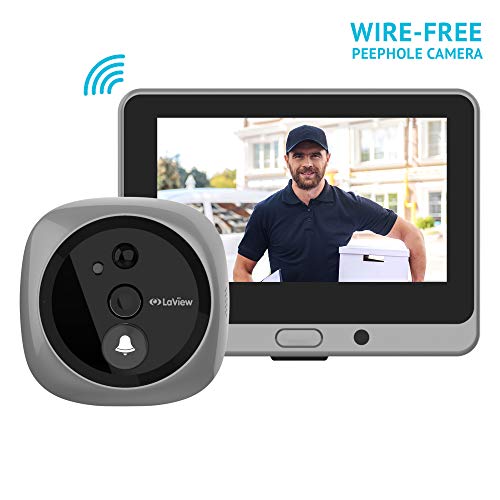 | | |
| --- | --- |
| Estimated Price | $150 |
| Type | Audio/Video |
| Screen Size | 4.3 inch touch screen |
My Review: Video doorbells are becoming more and more popular, meaning an increase of products on the market and the frequency that they show up on this list. As more products hit the market, the technology has improved and the price has dropped. The LaView video doorbell offers many of the features that competitors do at a lower price point, $170 for a peephole camera and handheld monitor. Using this system, you can see, hear, and talk to those at the door. It also triggers a notification to a smartphone when motion is detected at the door.
Some users found installation of the peephole camera to be a little bit confusing and the overall history of the system is not as robust as other products on the market. Others found the customer service experience frustrating when they did have questions or trouble with their product. If the system works for you, including the extra steps needed for installation, then give this wallet-friendly option a try. Just be aware that any issues may take a while to remedy through the company.
Key Features:
LED Touch Screen
Wire Free
Night vision and two way audio
11. Samcom FPCN10A GMRS Walkie Talkie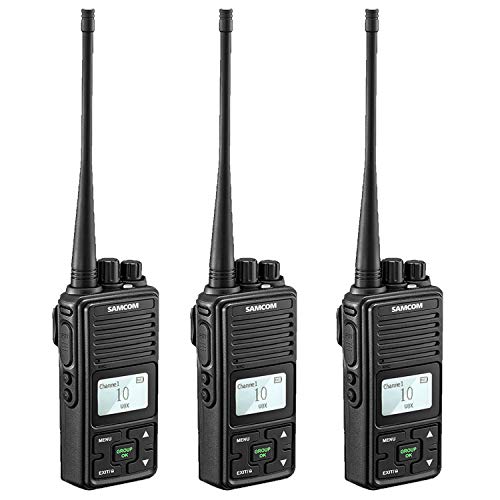 | | |
| --- | --- |
| Estimated Price | $140 |
| Type | Audio only |
| Screen Size | None |
My Review: It is worth mentioning a great walkie talkie system on this list of wireless home intercom systems. Walkie talkies can provide individual user or group communication, just like larger home intercom stations. They have the added benefit of additional battery life, as they are typically designed to be used on-the-go for many hours at a time. Most need to be charged at a base station, which can be done overnight. The Samcom system features 20 channels, a 2-3 mile range, belt clip, and weather-proofing. They also come with a lifetime quality warranty from a reliable company.
Walkie talkies are generally handheld systems, which may not suit the needs of a family looking for something they can mount on the wall or keep on the counter in particular rooms. Most homeowners don't consider them to add anything to the aesthetic of the room. Some can be bulky and heavy to carry, making them less portable than other good portable options that are part of traditional home intercom systems. You will have to decide if the increased battery life and weather resistance is worth having a bulky walkie talkie around.
Key Features:
Very good range
Can be used for many purposes
3000mAh rechargeable battery
12. Hosmart 1500 ft. Wireless Doorbell Intercom System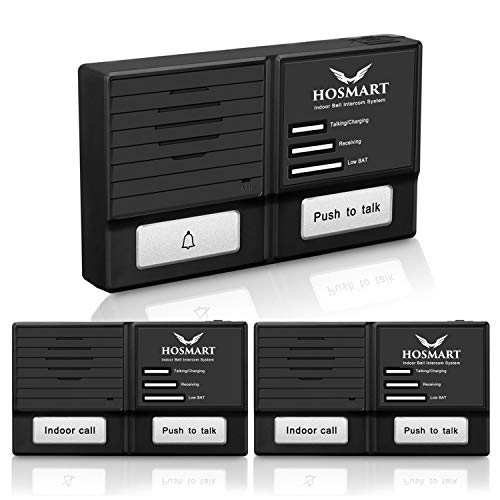 | | |
| --- | --- |
| Estimated Price | $199 |
| Type | Audio only |
| Screen Size | None |
My Review: This simple system literally has two buttons at each station—a call and a push to talk. It does not come with multiple channels but is a good option for a basic doorbell-to-receiver intercom system. It is also weather and water resistant. If you want to hear your doorbell from outside of your home, such as in the backyard or workshop, this is a great way to do it.
At $96 for two stations, it is a little bit expensive for how basic the features are but is still a good product from a great company. It is also compatible with other Hosmart HY777/787 stations. Many products are available on the market with more features for the same price (or less), pushing this one further down the recommended list. It is still a reliable home intercom system that you may want to consider.
Key Features:
Two receivers
Holds up well in harsh weather
1500 feet range
13. Guardline Wireless Intercom System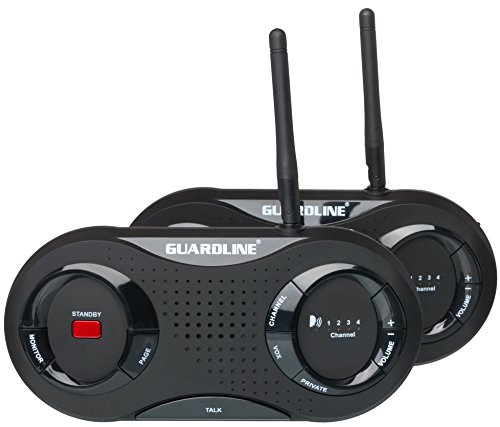 | | |
| --- | --- |
| Estimated Price | $70 |
| Type | Audio only |
| Screen Size | None |
My Review: This futuristic-looking intercom system is made by a small Seattle-based business. They promise easy setup that can be done in under 2 minutes. The range is a decent 500 feet, which is adequate for most moderate home and office use.
But customer reviews have said that many had issues with that range actually performing. Customer service seems to be great, though, so concerns are resolved quickly. My concern with a newer company, even one with great service, is the possibility of them going out of business. If that happens, support for your new home intercom system will no longer be available. If having a cool aesthetic from a good product is important, consider the Guardline intercom system.
Key Features:
Easy to set up
Multi-purpose modes
Portable and expandable
14. Qniglo Wireless Intercom System 10 Channel ½ Mile Long Range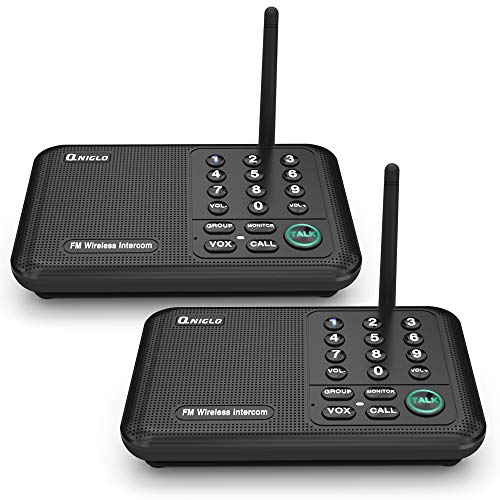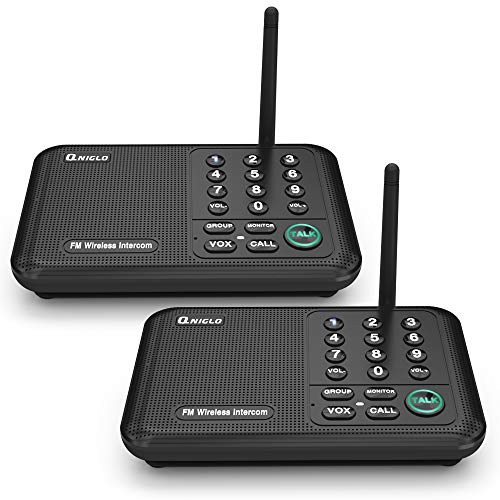 | | |
| --- | --- |
| Estimated Price | $60 |
| Type | Audio only |
| Screen Size | None |
My Review: Another audio-only intercom system, these stations have up to 9 available channels and an 1800 ft. range in open areas. It needs a wall-plug to operate, making it a non-portable option, but is otherwise easy to set up and use. Users also found it to be a durable system—one customer even noted that it continued working great after her young children dropped it. The Qniglo home intercom system comes with a 45-day money back guarantee and 18-month warranty from the company.
Key Features:
22 Channel intercom system
LCD display screen
1800 feet range
15. Ruise Wireless Intercom System Secure Interphone Handsets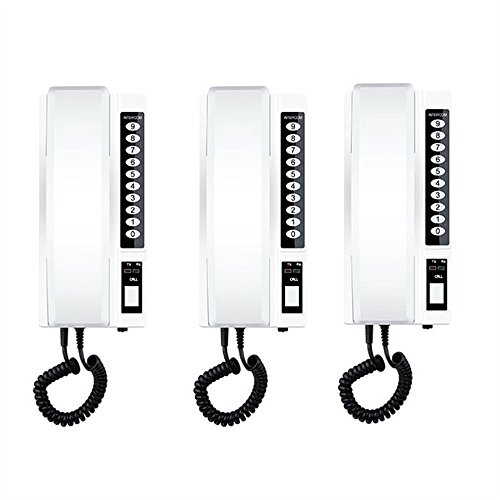 | | |
| --- | --- |
| Estimated Price | $150 |
| Type | Audio only |
| Screen Size | None |
My Review: This home intercom system is wireless but relies on handsets that are wired to each base, making it a little bit misleading. It doesn't require changing the wiring of your home for installation but it isn't exactly portable, unless you plan on carrying a phone-style handset around your home. Customer reviews are generally positive but not many opted into this purchase. At $142 for 3 stations, it is on the more expensive side for how simple the system is. It also looks just like a rotary phone, something that many homeowners shy away from as technology moves away from these types of devices. It is a good, reliable system but is rooted in the past rather than the future.
Key Features:
Built in rechargable battery
800 meter range
anti-interference signal
Intercom System Buying Guide
What makes a home intercom system great?
A intercom system is any system of products that allow people to communicate remotely with each other in the home. This can include talking through a speaker and receiver, seeing each other on video, or a combination of both. Some home intercom systems are portable, while others are designed to be wall-mounted or remain on a table or desk.
Why wouldn't someone just call down to another person, you may ask. There are number of situations where this is impractical. It may even be disruptive to your home environment. If you have a home-based business, you probably want to remain as professional as possible. Yelling to family members or coworkers in other areas of your home does not present that professional impression. For those with a mobility concern or disability that prevents them from moving around easily, a home intercom system can help them communicate during routine and emergency situations.
Home intercom systems are becoming more and more common upgrades to homes, from small to large. The uses are varied and many come with additional features that homeowners want, such as security monitoring. Home intercom systems that include video capability are in extra demand. Even though they are on the pricier side of what is available, many homeowners like the extra feeling of security that having a visual gives them.
Wireless Technology in Home Intercom Systems
One of the biggest concerns about home intercom systems, especially those that operate wirelessly, is security. How easy is it for malicious individuals to "hack" the system? Can other people see or hear the feed and know when I may be away from my home? Are neighbors watching my elderly parent or baby sleep on the video monitor system?
Most wireless systems use your home's wifi network to connect to each other. This means that if your wifi network is secure and properly installed, your home intercom system is protected as well. The more smart features your home intercom system includes, the greater the vulnerability to outside users accessing it. One of the coolest features is also one of the greatest security risks. I'm talking about a home intercom system's compatibility with your smartphone. If security of the system is something that is a priority for you, think twice before purchasing a system designed to be used with a smartphone or with an internet connection.
If you want to go a step above with security, you can find systems that use an encrypted channel to talk to each other. It offers an additional layer of protection that potential intruders would need to electronically get through to see or hear what is going on in your home. These systems may require a password or more complicated setup, which is why many offer professional setup and installation. Unless you are a tech wizard, having a pro connect your system and explain it to you can be money well spent.
The most secure options are stand-alone systems that only connect to each other. Each intercom receiver is only talking to the other receivers on the system. This means that it does not offer smartphone connection options, talk to apps, or is accessible from outside of the basic range. You will need to have access to the receiver nearby in order to use the system. Some people prefer the convenience of a wifi connection or smartphone compatibility; you just need to consider your needs and preferences when looking at special features.
Power for your system
Wireless home intercom systems do not need to be hardwired to the internet but still need a source of power to run. Almost all have the ability to plug into an outlet, which is commonly recommended if possible with your application of the system. This ensures that it stays connected and doesn't run out of power at a critical time. In an emergency, the last thing that you want to see is a "low battery" warning on your home intercom system. A simple solution is to keep it plugged in overnight and when not in use to make sure that it is ready to go with you around the house when needed.
In the event of a power outage, however, it is helpful to have a battery feature. If your system has a back-up battery, make sure that the battery life meets your needs. Baby monitors are one of the most common systems that include a portable, battery-powered capability. If your system has a video monitoring option, having the video feed on continuously will run the battery down faster than using only the audio.
Home automation—the way of the future
Watching The Jetsons cartoons in the 1960s, it seemed like the age of flying cars and robot maids was a far-fetched dream of a distant future. But the day of home automation is much closer than creators ever thought possible. While Roomba vacuums may not be as lovable as the Jetson's robot housekeeper, Rosie, you can't deny that they take care of vacuuming just like the beloved character on the show. Talking alarm clocks, drones, smart watches—all are technological advances considered fantastical in the 1960s that exist today.
Home automation refers to technology that allows homeowners to control features of their home remotely. Today's devices automate everything from lights to sprinkler systems. Using a smart phone app, users can program lights to come on at certain times, lock their home from across town, or even turn off a coffee pot that is left on when they go to work.
Many of these devices can be interconnected. Hubs that act as a central control point are often needed. These can be through a smartphone app or a stand-alone device. The same security concerns exist for overall home automation as with wireless home intercom systems.
Home intercom systems can be stand-alone or integrated parts of an overall home automation system. "Smart homes," those with multiple devices and systems working together, often include security features and communication found in home intercom technology. This can mean that the video feature on a home intercom system can be activated from a smart phone or even programmed to start recording at certain times.
Home intercom systems add value to your home
If you plan on selling your home in the near future (and even if you don't), a home intercom system can be a valuable addition that increases your home's value. Many buyers like seeing additional security features, such a video doorbell monitoring, or the ability to communicate with the home. For those with a disability or special circumstance, it may be a requirement for their lifestyle needs. It also assures potential buyers that you take pride in your home and its upgrades.
Other alternatives to a wireless home intercom system
Before we review the best wireless home intercom systems on the market, it helps to know what other wireless communication options are available.
The most widely available product that serves a similar purpose is a hard-wired home intercom system. A wired home intercom system can be less expensive and have more available stations. The obvious drawback to this type of system is the costly and labor-intensive installation. If you already have a hard-wired system in your home, you may consider putting in another similar one when it is time to replace or upgrade. But if you are looking at a new system, chances are a wireless one is the way to go. Installation will be much, much easier (just plug and go, in many cases).
Wireless systems also allow homeowners to take the system with them if they move. All that you need to do is pack up the stations and your wifi equipment. When you get to your new home, just unpack and connect to start using right away. If you have a wall-mounted station, taking it down is often as simple as taking a picture off the wall. You are left with a small hole to patch and paint over. After you do that, no one will know that your wireless home intercom station was ever there. Unless you want to go through the costly task of removing all wires and patching walls, a hard-wired system will stay with the home when you sell it.
Types of Wireless Intercom Systems
Audio:
Audio intercom systems allow users to communicate verbally from one area of the home to another. Most are equipped with a two-way speaker and control panel. These tend to be more basic home intercom models with fewer special features, but sometimes that is all you need. Some audio-only systems do offer smartphone and home automation connectivity, but most are stand-alone systems.
Pros:
Many options from a variety of trusted brands
More systems with a high number of channels available
The technology has been available longer, allowing companies to refine their products
Typically more budget-friendly
Cons:
No video monitoring capability
Simple interface has fewer special features
Not a good choice if you want to use your system for security monitoring
Video:
Video systems have both video and audio available. They share many of the same features as audio systems, with some additional extras. Systems that connect to wifi or other smart devices may allow for outbound calling as well. The most high-tech options even connect to the internet, allowing users to do everything from check email to play games.
Pros:
Video monitoring capability (security systems, childcare)
Connectivity with other devices and home automation
Additional smart features
Cons:
Usually more expensive than audio systems
Fewer options for multi-channel or commercial systems
Can be less secure, as many rely on wifi for their advanced features
Special Features to Consider
Those interested in a wireless home intercom system have a wide range of options available. The most important thing to know before making a choice is deciding what special features you may need or want. Consider how you plan to use the system and where each station will be. The most common special features and considerations are outlined below.
Multiple channels
Some home intercom systems use a small number of channels to communicate. The most basic models only have one channel available for all stations. This means that users can talk to all other stations on the system but can't make a private call from to another. Multiple channels allow users to call another receiver on the system or the entire system. Depending on your needs, this may be a feature that you need to look for. Office use or home use in a large family often means that multiple channels are needed to keep private conversations, well, private.
For those that need more point-to-point calls, a system with multiple channels may be the way to go. Some of the most advanced home intercom systems offer up to 20 individual channels. This means that 20 different users can call each other individually without broadcasting to the entire network. They can also call small groups of users or even the entire system, if needed. This may be overkill for normal home use, but you should think about your needs in this area.
Before purchasing a home intercom system, it is also best to consider how you plan to use the system in the future. You may be happy with a small number of channels now, but what about in a few years? If you have plans to expand your family or have aging parents move into your home, you may be wishing that you had sprung for a system with greater capabilities. Rather than needing to replace your system every few years, it can be best to invest in a home intercom system that you will be able to use for the long term.
Long-Range
If you have a particularly large home or a remote building on your property that you want connected to your home intercom system, you may need to find a system that boasts a long connectivity range. A shed or workshop is a great place to have a home intercom station. This is especially true if you plan to do projects that involve power tools, fire, or any other sort of potentially dangerous activity. A home intercom system can allow you to call back for help in an emergency, even if you are unable to leave the space. Video monitoring systems can even allow those back at home to keep an eye out for emergencies that may prevent you from calling for help at all.
If your home has brick or plaster walls, which are thicker than modern drywall and take more power for signals to get through, the range of your system may be even shorter. Read through customer reviews to see what sort of range they found when actually using each system and compare it to the advertised range. Often, the advertised range is based on the signal traveling through open space rather than through walls, foliage, and other obstacles that may decrease the actual range.
If your system uses your home wifi, you may have the option to purchase an additional wifi repeater to boost the range. This is an added cost but may be worth it to get the best performance out of your new home intercom technology. Home intercom systems that do not use a wifi network rely on the technology within the units themselves to communicate with each other. Know the range of your equipment before you buy and make sure it is sufficient for your needs.
Connectivity with other devices
On the security side, a stand-alone system that only connects to other devices within the home intercom system is the most secure and hardest for potential intruders to get into. But some users who do not have as intense of security needs or concerns would prefer a system that talks to other smart devices.
Some of the newest products on the market connect with other home automation devices. Some are able to play music, watch videos from the internet, or control smart devices throughout the home with just a verbal command. Systems that connect to a smartphone are becoming increasingly popular. These products allow users to access their video or audio feed remotely, using any wifi connection. This is the least secure way to use a home intercom system but may be just what you need.
Night mode
If you plan on using your home intercom system video feature in a dark room, such as with a sleeping baby or elderly person who needs monitoring, it is important to know if that video has a night vision mode. Some are able to automatically switch to a night mode, allowing users to still see into a dark room. If your system has a night mode, it should be clearly outlined in the product details.
Reliability
While not a "special feature," looking for a reliable product is definitely a consideration to think about when purchasing a home intercom system. If connectivity is spotty or the battery life drains quickly, you will end up not being able to count on your equipment when you need it. Unclear audio and video is one of the most common complaints of unhappy customers. Make sure that you can clearly hear the audio, see the video if your system has that feature, and that it does not drop the signal frequently. Online customer reviews can be a great resource when picking a system for purchase.
Uses for Wireless Home Intercom Systems

Communication:
This is the bread and butter of the home intercom system. They are all used for some sort of communication, whether it is actively speaking to other users or passively watching or listening to what is happening in your home. Think about your communication needs when looking at features. Do you need the option to communicate with a lot of users? Do you need to see and hear what is going on in another room? Do you need to be able to call from down the block? All of these communication needs will dictate the type of system that is best for you.
Home Security:
Many of those who are looking into wireless home intercom systems want the security features included in many of today's products. If you plan to use your system to maintain and monitor your home's security, you will probably want a system with a video feature. These tend to be more expensive than audio-only options. Think about what will fit in your budget and prioritize those features. Home intercom systems that can be used to monitor the security of the home, like video doorbells, are one of the best selling features in home automation when it comes time to sell your home.
Baby Monitor:
Baby monitors have a market all their own, but many home intercom systems can be used to keep track of children in the home. Common features that parents look for in a home intercom system that can be used as a baby monitor include a video monitoring feature and the ability to take the monitor with them around the home. Common concerns include protecting against unwanted watchers, making stand-alone systems that do not use the home's wifi network a great option. The same considerations and systems can be used to care for the elderly in the home as well.
External Monitoring:
Do you love home automation and get excited about the ability to control your home from your smart phone? An external monitoring compatible system may be the right thing for you. These products allow you to see and control them from anywhere using just a simple wifi connection. These are generally not as secure, as they rely on wifi networks to stay connected. But it does give you the option of calling into your home from down the street or even across town.
Wireless Doorbell:
Home intercom systems can be used to communicate between rooms and areas of the home. They can also be used as a smart doorbell. Video doorbell options that connect to a home intercom system are especially popular, as they allow homeowners to see who is at the door before opening it. This can keep homeowners safe. Many also have a record feature, meaning video can be accessed if an intruder attempts to come into the home or a package is stolen off the front porch. These video recordings have been used to catch criminals and alert neighbors to potential threats.
Outdoor Installation:
Some systems are especially made to work outdoors in the elements. If you need an intercom system that includes your patio, yard, or other outdoor space, make sure that it can withstand the rain, sun, and wind that comes with living in these areas. Dust and temperature fluctuation can also impact the quality of audio and video, even making the station inoperable if they get bad enough. Customer reviews of usage can again be a valuable resource to see how different products stand up to the elements.
Wrap Up
Home intercom systems are part of the future of home automation. Whether you are looking to boost your home's security, check on an elderly relative or young child, or just communicate with your family members during the day, a wireless home intercom system can be easy to install and use. The important thing to consider before purchasing is what do you need your system to do.
Video or audio? Outdoor or indoor use? Need extra security features? Think about what special features you may want or need, as well as how much you are willing to spend on a system, to find the perfect set up for your needs. As home automation technology continues to improve, new features are sure to develop and hit the market. Prices also come down as this technology becomes more efficient to produce and competition increases.
Have a wireless home intercom system that you love? Or even one that you wish performed better? Let me know in the comments so I can check it out!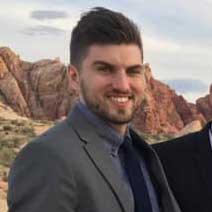 Hello, my name is Chris and I was born and raised in Western Pennsylvania. I'm an engineer with experience in medical technology, steel and materials, and nuclear power industries. I have been with my current employer for more than 5 years developing digital control systems for nuclear power plants.
I'm also a homeowner with a growing range of home renovation experience. My goal is to take all my technical knowledge and first-hand experience and translate it into high-quality content to support all of your home guide needs. Whether it be step-by-step guides, technical consultation, or product reviews, my aim is to make all your home projects a great success!