Fortunately for us, air compressors are no longer these massive heavy pumps with a tank attached that has to be plugged in to receive power.
The design of the air compressor has come a very long way and now, even if you're miles away from an electrical outlet, you can safely and reliably fill up a sagging car tire or a flat basketball!
Portable air compressors should be apart of everyone's emergency tool kit and in this guide, we'll discuss how they work, why you should always have one, and where to get the best deals on the top performing portable air compressors the market has to offer today!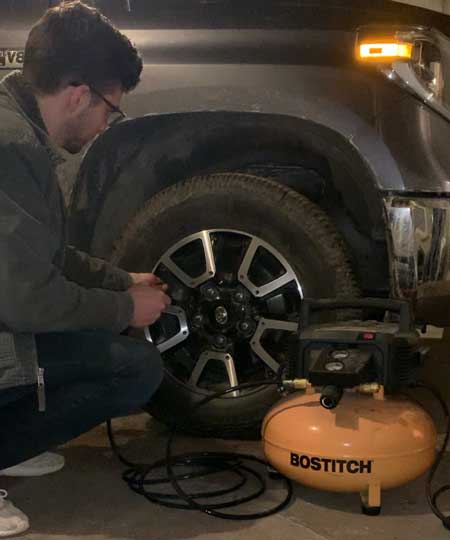 I'll also throw in some do-it-all power stations that I most definitely recommend that everyone have at least one of!
Before we get started, it's important to note that we're going to cover some general air compressor basics, but we'll be focusing on the small personal type of portable air compressors. These probably won't be best suited for contractors that need 20-gallon+ tanks to run industrial equipment all day. This guide is focused on those of you who rarely need an air compressor but may benefit from having a small compact compressor at the ready for the small things that need a little burst of air to get going!
Here Are the Best Portable Air Compressors
1. EPAuto 12V DC Portable Air Compressor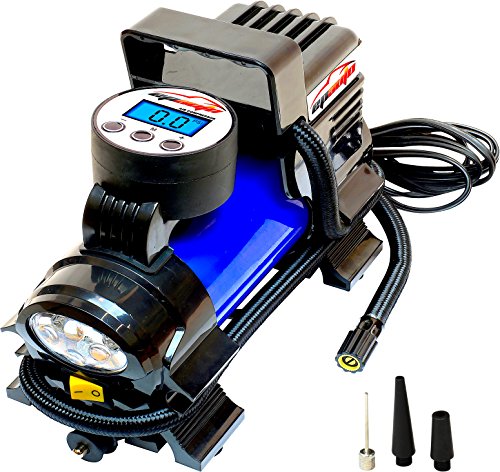 Price: Around $35
My Review: This tiny little thing is a home run at $35 for anybody that doesn't need serious inflating power. It's got everything you need to get started including a braided hose, a handy set of tip attachments, tire inflator, a handy dandy built-in LED flashlight, and a multi-display digital gauge showing PSI, KPA, BAR, and KG/CM.
It's not completely portable, though, as you'll need to plug this bad boy into a DC 12v outlet and it'll require between 120-180w. The maximum working pressure is only 100 PSI, so although cheap and still a very good deal, you'll need to wait several minutes to inflate a car tire, which is fine and is the tradeoff you'll always have to make between price and performance. As an added bonus, this unit is significantly quieter than most similar air compressors and it's available in 3 colors!
The unit doesn't come with a standard outlet plug but you can buy adapters that work just fine if that's what you need.
Key Features:
Auto shutoff function to prevent over-inflating and overheating protection.
Easy to read digital multi-display
Includes carry case, braided hose, and standard tips for inflatables
2. Kensun Portable Air Compressor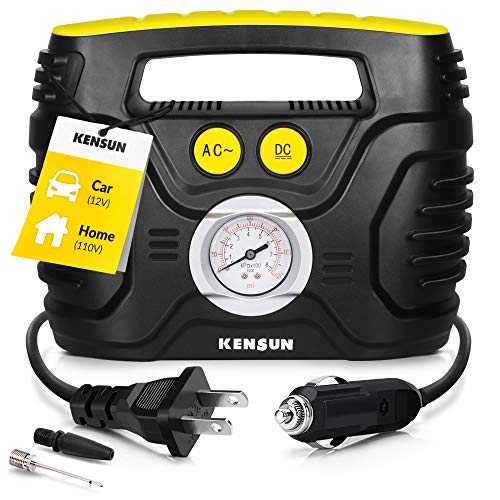 Price: Around $60
My Review: The Kensun offering is fairly similar to the EPAuto except is packaged in a more portable appealing form factor and offers 10 PSI more in terms of power. It'll come with a braided hose as well as your standard inflatable attachments and is perfect for a "throw it in the trunk" kind of air compressor as well as an easy carry around the house type of unit. Speaking of use around the house, this air compressor not only comes with a 12V DC car plug but also a 110V AC outlet plug making it much more useful than the aforementioned compressor for only about $10 more.
Key Features:
Dual motor design in a very small easy to carry hard plastic case
Built-in analog pressure gauge
Capable of utilizing both AC and DC power methods
3. Oasser Mini Air Inflator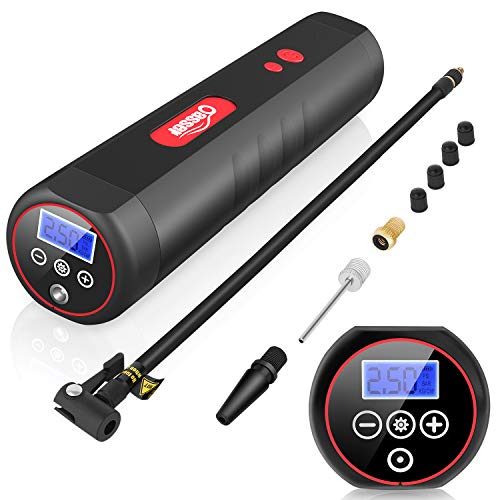 Price: Around $50
My Review: This thing is awesome!
It's so tiny that you can throw it in a backpack or even stuff it in your pocket and take it with you on a bike ride! This air pump has implemented a 2000mAh battery making it completely portable and independent of a power source. I was awfully shocked to find out that this tiny pocket size air compressor has enough juice to fill an entire car tire with battery life left to spare. Incredible!
As a bonus, it also doubles as a handy LED flashlight and utilizes a very easy to read backlit digital display for PSI, BAR, and  KPA. Included in the package is a charger for both your cars 12V socket and a 110V outlet. Furthermore, you'll get a nice fabric carry pouch and all the standard inflatable attachment goodies as well as a heavy duty tire inflator braided cable.
Key Features:
2000 mAh Battery with both 12V and 110V chargers
Mini form factor – fits in your pocket!
120PSI capable in one of the smallest battery operated units available on the market today
4. Viair 88P Portable Air Compressor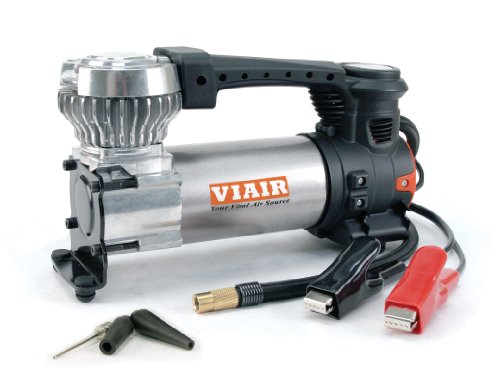 Price: Around $65
My Review: Tiny but mighty, the Viair portable air compressor is a serious contender with a budget price tag. Before we get started, I'll mention that it's not battery operated and will need to be plugged directly to a car battery via included alligator clamps.
Something I first noticed was that it was much smaller than I had anticipated from the pictures. Interestingly enough, this requires the connection of a car battery, which doesn't make it ideal for home use but more so as a unit to throw in the trunk of your car and use during emergencies. It's got more than enough power to inflate a car tire and with it's included heatsink, you won't need to wait for cooldowns between fill-ups.
Although this particular unit is built to be used on a car battery, you can find the same unit with different power configurations on their Amazon page.
Key Features:
Battery hookup via alligator clamps
Includes standard a 16' air hose
10' power cable and 3 piece inflatable adapters
5. Carywon Digital Cordless Air Compressor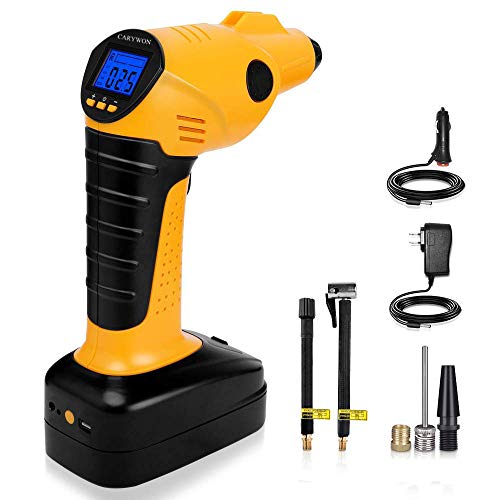 Price: Around $70
My Review: This device is especially handy both in the car and in the home as it's battery operated and plenty powerful for most small jobs. With the capability of 150PSI, inflating a car tire should only take a couple of seconds and you'll have plenty of battery spare with the included 2000mAh rechargeable lithium battery pack. There is a bunch of these handheld battery operated air compressors but I really like that this one has an easy to read backlit digital display, a handy LED flashlight and includes chargers for both 12V sockets and 110V outlets.
As a last hoorah, the battery pack is removable which is great because you can swap in a fresh battery quickly while your dead batteries charge.
Key Features:
Includes 12V and 110V chargers as well as 3 piece standard inflatable attachments, LED
flashlight, 2000 mAh battery pack, and preset auto shut off features
A backlit LCD display that can be switched to PSI, KPA, or BAR.
6. DieHard Portable Power Bank and Air Compressor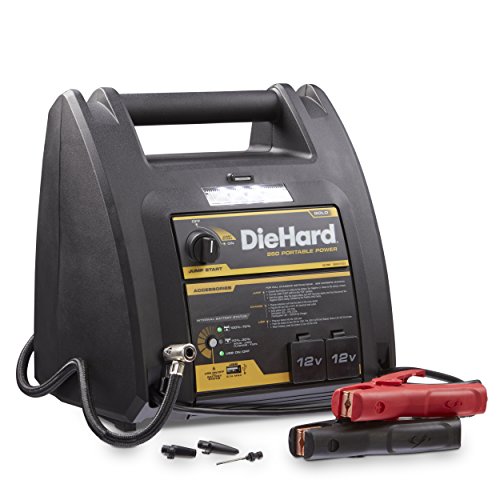 Price: Around $140
My Review: I absolutely love these multi-function air compressors and if you decide to pick one up, you'll see why! With a built-in power bank capable of 950 amps, you can jump-start your car, charge your phone, air up all four tires, and you'll have a flashlight to do all of this in the dead of night!
The air compressor is plenty powerful at 150PSI to take care of most low-level jobs and the unit as a whole is small enough to fit inside a duffle bag. I really enjoy using these when working on the house too as you can run power tools and air tools off of it since it has 2 12V sockets and plenty of air compressing power! These units are my personal favorite and I never leave home without one.
Key Features:
Multi-use design including jump starter, 12V sockets, 150PSI air compressor, phone charger, and built-in flashlight
Includes alligator clamps, analog air pressure guage, 24" braided air hose, and 3 pieces inflatable attachment package
A small elegant form factor makes it easy to carry around the house and use power tools
7. Stanley J5C09 Power Station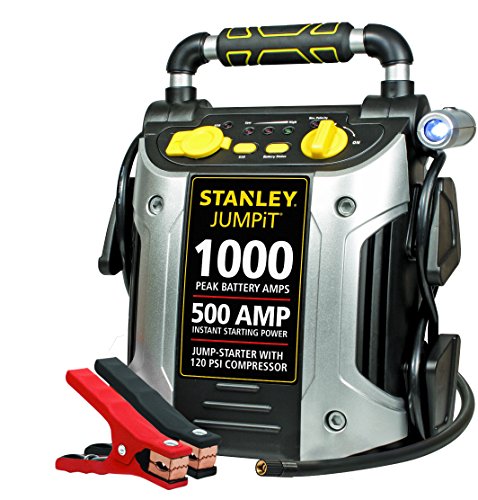 Price: Around $110
My Review: My personal favorite and longtime truck companion, the Stanley Power Station has saved my butt more times than I can count. I think I've owned mine for over 6 years now and it still runs as well as it did the day I bought it, only now its much cheaper, lucky you!
Available in both 700 and 1000 peak amp designs, the Power Station is capable of jump-starting pretty much any vehicle, filling those tires to the top, charging your phone for several days at a time, running spotlights and power tools off the 12V socket, and includes a very handy LED flashlight that sits on a swivel.
Really, I could write an entire guide just on this one piece of awesomeness. I truly believe everyone should own this product and despite the few negative comments on Amazon (those people must be crazy), I would continue to buy this exact unit if mine ever died, which it has proven it refuses to do!
One note if you buy this bad boy, you'll need a power cord with a standard female connection to charge this unit as it doesn't come with one. Odd, right? I guess everything has to have one con! You can pick one up here.
This thing also has a 1-year warranty so please, I highly encourage you to pick at least one of these up and always have it available in case of emergency. I probably wouldn't be writing this right now, or even be alive (perhaps a slight exaggeration), had I not had this with me!
Key Features:
Easy to carry lightweight form factor that encompasses a "do it all" standard, including a jump starter, 120PSI air compressor, phone charger, 12V socket, flashlight, and alligator clamps.
Available in either 700 or 1000 peak amps with a compressor or 600 peak amps without a compressor
Reverse polarity alarm notifies you if the connection is flawed
8. Porter Cable Oil-Free Carry Compressor Kit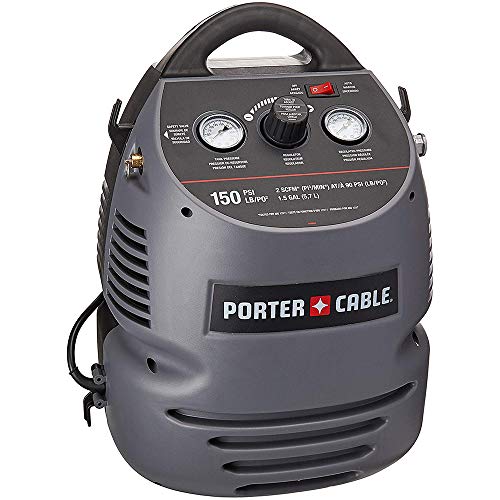 Price: Around $130
My Review: I don't think I need to tell our handy folk how tough Porter Cable products are, but for those of you that are new to stocking up on tools and cool handy equipment, Porter Cable is an absolute leader in rugged designs and easy to use products.
This compressor is surprisingly very light at roughly only 20lbs and not very big despite hiding a 1.5-gallon air tank inside. It's oil-free which means its near maintenance free and is capable of 150PSI power! Included is a very nice 25' coiled hose and all the standard attachments you'd expect in an air compressor package. The unit has rubber coated feet which makes it great for throwing in the car or using on hardwood floors.
A bit of honesty here, I love the air compressor but I hate the hose included. You might like it, but instead, I use something like this. My only other complaint is that it has an odd balance to it, so you'll want to make sure you aren't tugging at the unit too had otherwise it'll fall over.
As a final note, these low priced small air compressors that come with tanks usually have air leakage problems but as with all Porter Cable products, I never noticed an issue with over 3 years of service. I also put this poor thing through hell and back and the guy that bought it off me is probably still to this day getting great service from it!
Key Features:
Shrouded 1.5 gallon tank with water drain valve capable of 150PSI
Quiet operation at a low 79 dB
25' coiled rubber hose included along with tank pressure and regulated pressure gauges
9. Bostitch BTFP02012-WPK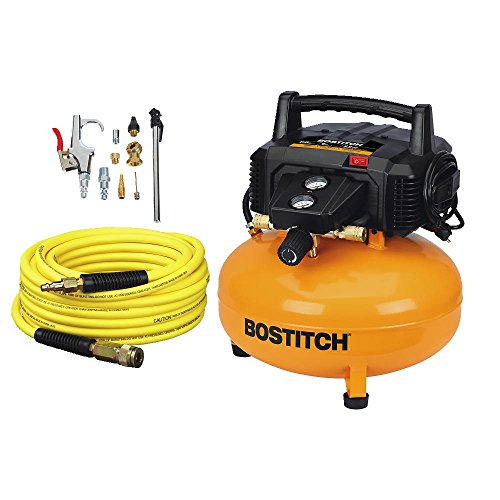 Price: Around $170
My Review: It's yellow so it must be Dewalt, right? Nah! I prefer the Bostitch air compressor in this regard as I feel its got a bit higher build quality for roughly the same price. That giant yellow bulge is a 6-gallon 150PSI capable tank sitting under an oil-free compressor equipped with the gauges you need and a carry handle to boot. Shes certainly not light, but an average person could carry it several hundred yards if need be and it'll come with just about everything you need such as a 10 piece inflation kit, blow gun attachment, and a 50' PCV air hose. Not bad for under $200!
This little thing is very mighty and likely more than what the average person would ever need for home usage. You can run just about any air tool off this thing for several hours at a time and it'll still be running relatively cool and calm. Filling up that massive 6-gallon tank takes only a few minutes and only blasts your ears with roughly 80dB of sound, which is far better than most of its competitors.
I'll be honest, though, it was tough competition between the Porter Cable C2002 as I also really like that air compressor too. They both do the same job and are pretty much identical so take your pick. Heres the link to the Porter Cable variant.
With these, you can plug them in and fill the tank and then unplug them and carry them around your house or even throw them in the car to be used later. They'll hold all 6 gallons of air for a very long time and offer pretty good usage as both plugged in and portable usage.
Key Features:
6-gallon tank at 150PSI
Oil-free compressor kit with everything you need to get started, including an air gun and 50' hose
Usable both plugged in and unplugged (so long as the tank has air)
10. Dewalt DXAEPS2 Professional Power Station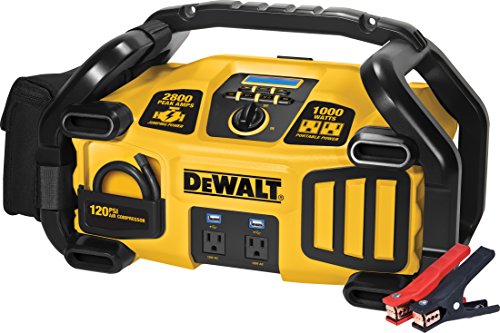 Price: Around $260
My Review: Ahhh Dewalt has finally gotten its place in my reviews and rightfully so! I mentioned before how much I absolutely love these power station style portable air compressors and the Dewalt DXA comes in big. This bad boy offers a whole lot of functionality in a very easy to carry form factor.
Where to start, it does so much! The jump starter is capable of 2800 peak amps which is more than enough for pretty much any regular vehicle and the power bank can keep a phone charged for weeks at a time! As a special bonus, this thing includes two handy outlets and two 3.1 amp USB ports right on its face, allowing you to pretty much use any electrical device you could ever imagine (except microwaves, it doesn't like that).
The air compressor is plenty powerful and incredibly quiet as far as these power stations go! It's capable of 120PSI and has a nifty little spot to coil up the included air hose. The LED screen provides all the information you could ask for about air pressure and of course, it comes equipped with a nice little LED work light.
Just like our Stanley power station, you'll need a female connector from a power cable that isn't included to charge this unit so make sure you pick one of those up. I like this female connector here.
Speaking of the Stanley Power Station, let me make this choice very easy for you. If you don't need the extra power that the Dewalt Power Station provides, buy the Stanley, If the Stanley isn't enough, buy the Dewalt. The compressors are essentially the same, which is why we wrote this guide in the first place. Easy? Easy!
Key Features:
One of the most rugged and durable power stations available
LED flashlights, LCD display, 120PSI air compressor, inflatable attachment kit, 2800 peak amp jump starter, detachable storage bag, alligator clamps, air hose, 3.1 amp x2 USB, 2x 110V
Outlets all included
Buying Guide
What Are The Unit Abbreviations?
Before we get started, I'd like to whip up a quick little guide to the most popular abbreviations you'll likely run into when reading the rest of this guide or when shopping. These abbreviations are important as they will likely provide key information and statistics about the particular air compressor. A lot of merchants and manufacturers like to use these abbreviations in the assumption that everyone already knows what they mean, however, if you're new to buying or owning an air compressor, it's unlikely you know what they all mean.
Thanks to marketing (sarcasm), manufacturers and merchants like to use whatever numbers they think people like to see. This means they may use one calculation over another just to be able to put a bigger, fancier number on the box to make it appear more powerful. This causes a lot of confusion for new buyers as the bigger number doesn't always mean it's the better compressor.
Rotations per minute (RPM). How fast something is rotating or cycling per minute.
Pounds per square inch (PSI). This simply means how much pressure the inside of the tank is capable of withholding or the pressure the air compressor can discharge.
Cubic feet per minute (CFM). The amount of air the intake port of an air compressor is capable of pulling in per minute.
Displaced cubic feet per minute (DCFM). This is a mathematical formula that helps to calculate the bore, stroke, and RPM into a CFM number. The formula is as follows: Bore x Stroke x RPM/2200 = DCFM
Standard cubic feet per minute (SCFM). This is defined as the measured flow of free air converted to a standard set of reference conditions (14.5 PSIA, 68 Degrees F, and 0% relative humidity). This number is typically the best to use when comparing compressors.
Actual cubic feet per minute (ACFM). A measurement of the volume of air that is transferred through an orphic plate. This can also mean how long it takes to pump up a large air compressor tank. This is widely accepted as the most accurate number, however, isn't always used.
What is an Air Compressor?
Harnessing the power of electricity (the focus of this article), diesel, or gasoline, an air compressor works by converting energy into potential energy stored in the form of highly pressurized air. There are several methods in which this process is conducted but in lamens terms, the energy used to create pressure inside the tank then turns into kinetic energy when the valve is opened, allowing the air to rush into the hose and then into whatever you've connected the hose to.
These devices can be used in a myriad of functions. To name a few, air compressors are used to fill up the innertubes of a tire, to inflate sports equipment, to fill up your child's balloon, to operate pneumatic air tools such as a nail gun, operating paint guns, filling air tanks used in paintball or air rifles, and many other applications.
Air compressors are a prized possession among many mechanics and handymen, however, anyone can use them with some very basic research and a little trial and error. Air compressors have long been known to be heavy, take up a lot of space, and in general, are just inconvenient to own for most people. That is until the portable air compressor was invented, of course!
Portable air compressors have given anyone the ability to inflate in a hurry and on the go. These devices take up very little space and although the tradeoff for portability is overall air capacity and air pressure, portable air compressors have enough strength to fulfill most everyday air compressor uses.
When shopping for either a stationary air compressor or a portable air compressor, it's likely that you'll run into classifications that you probably haven't ever heard of before. These classifications are incredibly important in your choice of which compressor to purchase and will determine how powerful they are and how they can be utilized to fulfill your needs.
These are the most popular pressure classifications:
Low-pressure air compressors (LPACs), which have a discharge pressure of 150 psi or less (The focus of this article)
Medium-pressure compressors which have a discharge pressure of 151 psi to 1,000 psi
High-pressure air compressors (HPACs), which have a discharge pressure above 1,000 psi
Aside from pressure classifications, there are also operative classifications that determine how the air compressor operates which are as follows:
Centrifugal compressor
Turbo compressor
Compound Compressor
Rotary-screw compressor
Rotary Vane Compressor
Scroll Compressor
Single-Stage Reciprocating Compressor
Two-Stage Reciprocating Compressor
How Does a Portable Air Compressor Work?
Portable air compressors are a bit different than their stationary brethren. The obvious difference is that they're significantly smaller, less powerful, and, well, portable!
The truth is, portable air compressors come in a bunch of different shapes, sizes, and obtain their power from different sources. Some of the portable air compressors on the market harness an internal battery that once charged can supply them with power without the need of being plugged in.
Others typically have a 12V adapter which is the little connector you jam into the cigarette port in your car. So long as that port has power, with the aid of your car's battery and alternator, you'll be able to use the compressor and/or charge it if it utilizes a battery pack.
The inner workings of a portable air compressor are basically the same as a regular air compressor. They gobble up a bunch of air inside of a tank which creates pressure and then once the valve is opened, that pressure allows the air to rush out into whatever is connected. Some of these units don't have tanks and rely solely on the power of the motor to provide air pressure. You can find a more detailed explanation of how portable air compressor work here.
Portable air compressors are typically found in the LPAC category, meaning they can discharge up to 150 PSI or less.
Do You Need a Portable Air Compressor?
I'm quite biased and I would say the simple answer is yes, everyone needs one! Of course, you could live your entire life without having one and other than some inconveniences every so often, you'd probably be fine.
This is a tough question to answer because there are so many variables and I think the answer will be highly dependant on your lifestyle. If you own a car or really anything with tires, having a portable air compressor can be a real lifesaver. If you're driving around in the middle of nowhere and you realize you have a tire low on air, having a portable air compressor can be the difference of you making it home or having to wait hours for roadside assistance. There are hundreds of reasons I could give to support the idea of having a portable air compressor with you.
Personally, I never leave home without one! Not so hard though when you simply leave one in your truck toolbox, and if you're strapped on space in your vehicle, it may be a tough choice. Admittedly, I don't always use my portable air compressor and can go months without even touching the thing, however, when the time comes and I do really need it, I have the peace of mind knowing I have one charged up at the ready.
Another thing to consider is that many tools run on compressed air. There are so many in fact that I won't be able to list them all here, however, if you're a handyman you likely already have a pretty good idea. Aside from just filling tires and basketballs, your portable air compressor could really save the day.
Let's say you have to change the tire completely as it's been punctured. You're tired and you don't feel like using the torque bar to take off each lug nut and instead, you can use an impact driver to easily zip them off and back on!
These are just small insignificant examples of what you can do with a portable air compressor. The uses for these are darn near endless and also depend on what attachments are available to you, what air tools you carry around with you, and your handiness level.
As a final note, I always like to say an ounce of preparation is worth a pound of "dang it why didn't I buy one when I had the chance". Yeah, I don't actually say that, but you get the point. Being prepared is always the way to go and it's much better to have one and not need it than to need it and not have one. They're cheap, you can find good portable air compressors for as low as $35 and the small ones only weigh a couple of pounds and take up maybe a square foot of space. If you skip out on this weekends beer binger, you can pick one up and have one ready for a very long time.
What Size Portable Air Compressor is Right for You?
Another rather difficult question to answer! This, again, depends on you! Are you planning to carry a portable air compressor around so that you can fill up a balloon at a moments notice or do you need to refill the air of every tire on an 18 wheeler on a daily basis?
I think most people will likely be fine with an LPAC as a portable air compressor. Sure, they may take a little more time than a full blown air compressor to top off your cars innertubes, but they do get the job done and they don't take up much space.
How Powerful Should Your Air Compressor Be?
When shopping for portable air compressors, you'll end up seeing a lot of ratings similar to that of motors, called horsepower (HP). The higher the number, the faster the compressor is capable of filling its tank.
Most portable air compressors will be 2HP or less. Remember, the more horsepower, the heavier it's likely to weigh and the bigger that motor will be. Heat is also an issue and of course, the more horsepower, the more heat that will be generated as a byproduct. We'll talk about waste heat a little later on in this guide so keep reading!
What Size Tank do You Need?
In dealing with portable air compressors, if your primary need is to inflate small things like a single car tire or a basketball, you don't even need a tank! The air compressor motors' strength alone should be fine in dealing with small jobs so long as it doesn't overheat. Most hare equipped with overheat auto-shut off functions nowadays, so that's nearly a non-issue!
If you do buy a compressor with a tank, you should know that they are measured in Gallons. Tank size is the primary contributor to size and weight, so plan ahead carefully. If you don't need a tank because you don't use tools that require a lot of air to operate, I wouldn't advise buying a compressor with a tank.
For the most part, compressors with tanks that are actually useful aren't really "portable" and are better suited to be used as permanent installments. The main benefit of having a tank is having access to reserve air. This in itself has two primary advantages.
The first being that the compressor's motor doesn't have to work as hard to provide large amounts of air on demand, instead, the air can flow from the tank and the motor only needs to work when the tank pressure is low. This helps with your heat issues as well as noise reduction. No reason to fire up the motor and wake the neighborhood if you only need a quick spurt to top off a tire!
The second advantage of having a reserve of air is that the compressor becomes much more powerful. With tankless air compressors, the power of the motor is all you're going to get in terms of output, but with a tank and a reserve of air, you can utilize multiple heavy-duty tools for a significantly longer period of time before you severely stress the units motor.
How to Manage Heat
Heat is the primary killer of most tools, electronics, motors, and pretty much all things that have moving parts. It's no secret that running your air compressor consistently at high temperatures greatly reduces the longevity of its components and ultimately, it's lifespan.
If you're using a compressor that has no tank or a tank that isn't adequate for the job at hand, your only real option is to give it a break and let it rest. If you can feel heat flowing off the unit and the motor is working at maximum capacity, lay off for a few minutes and let that sucker cool off!
Buying an air compressor with a built-in heatsink can help. Heatsinks can be found on many electronic devices and basically work by helping to transfer waste heat to a platform with more surface area, letting the surrounding air carry off excess amounts of heat. Most air compressors will likely have some kind of heatsink, however, heatsinks can only do so much and sometimes, even with a heatsink, you'll have to revert to the above notion of taking a break.
A compressor that far exceeds the demands of the job will almost never require heat management, so keep in mind what task you're putting your compressor to work on. Most portable air compressors on our list are capable of most home remedies and basic tasks, even if they need a break or two to complete them.
Most of the portable air compressors that we recommend will come equipped with auto shut off functions for overheating protection. There are so many great options with this feature that I don't recommend buying one without these safeguards.
Oil vs Oil-Free
Simply put, if you have never fixed a thing in your life, grab yourself an oil-free unit and be done with it.
Just like your car, if you have an air compressor that utilizes oil, you'll need to frequently change that oil to ensure safe and reliable operation. Oil gets dirty and degrades over time and if you fail to change the oil, the motor will endure large amounts of irreparable damage until it meets its death. Oil-free units require much less maintenance as they do not require oil changes. Most of the portable air compressors we recommend in this guide will be oil-free!
The primary difference here is longevity and, again, how you choose to use your air compressor. Oil-based air compressors will last significantly longer if they are properly maintained because the oil can lubricate the moving parts inside the motor.
Oil-free air compressors don't have the liberty of the extra lubrication that oil graciously provides, meaning that over time their motors and moving parts will begin to breakdown exponentially. Oil-free pumps have a much shorter lifespan than units that use oil, but they're also usually cheaper and easier to replace.
If you plan on using your air compressor every single day for multiple heavy jobs, oil units are going to provide you with a much higher level of reliability and they also have better heat dissipation. For the average Joe that wants peace of mind and simply keeps a small personal air compressor on hand for emergencies, oil-free is probably the way to go.
As a final note, I hope I didn't scare you away from buying an oil-free unit. Yes, it's true that they don't have the capability of lasting as long as oil units, but for most people that seldom use their air compressors, quality built oil-free units can most certainly last for several years.
Final Tidbits to Watch Out For
Since air compressors can be used in so many different ways on so many different items, manufacturers can't possibly know what to include that suits everybody. If they included every hose, coupling, fitting, attachment, etc, the packages would cost significantly more and people would end up throwing away half the stuff included anyways.
Instead, try to think and plan ahead for the life of your air compressor. If you can identify its main job and the things you'll likely use the most in conjunction with your air compressor, you can figure out what extra goodies you need to pick up when you make your purchase.
Not every compressor comes with hoses. Crazy thought, right? However, some people have special hoses they prefer to use or they use their compressor for something that doesn't even require a hose. Now, the units on our list all come with hoses (except one), but if you decide to go rogue and choose something we didn't review, make sure it arrives with hoses or you'll have a very heavy paperweight.
Have you ever driven a car without a speedometer and tachometer? It's really difficult to maintain a legal speed when you have no idea how fast you're going, right? That's kind of the same issue you'll have if you buy a unit without pressure gauges and you fail to pick some up. Without pressure gauges, you'll have no idea how much air is inside the object you're filling and, to your dismay, you could easily cause major damage or catastrophic failure of the item by overfilling.
Yes, tires can and do explode, so please do not try to fill anything highly pressurized without the proper gauges. No, eyeballing is not a safe or recommended method, don't be a cheapskate, ensure you have access to the correct information to get the job done!
Speaking of pressure gauges, they aren't all built equally! Although most gauges "get the job done", there are some fancy ones with extra goodies such as backlighting, glow in the dark capabilities, reinforced windows, digital displays, and additional information.
As a final tidbit of information, you may want to know as an air compressor noobie, air compressors can be LOUD! Even the tiny ones! Now, they haven't ever really bothered me, however, if you have to pull over and top off a tire with a sleeping baby on board, I'd bet you'll likely end up waking that little demon!
Not all air compressors make the same amount of noise, though, and usually, to figure this out, you'll just have to read customer reviews or physically go to a store that allows you to test them. Maybe you can find clips on Youtube and kind of determine how loud they are from there? Eh.. there's really no great way of figuring out which one is the quietest. Some of them might tell you the decibels, but that seems to be a rarity in this market.
One thing is for certain, though, you cannot base sound off of size, power, or any other attributes. I've used massive heavy duty air compressors that produce half the amount of noise as little mini compressors. It all really just depends on the build construction and motor configuration. I'd recommend finding units that run under 80dB if possible.
Wrap Up
Alrighty, we've covered all of our favorite mini portable air compressors and we've thrown in some power stations to boot. Now you have no excuse not to get to work!
Aside from that, being prepared is always the way to go and if you have a few extra bucks to spend, picking up any of the units on this list will set you up for your basic air compressing needs for many years to come.
Of course, I can't possibly get my hands on EVERY portable air compressor and there are probably a bunch more in the making so if I've forgotten an outstanding unit or something new comes along and blows away the compressors on this list, please don't hesitate to let me know in the comment section!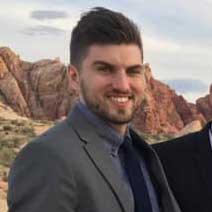 Hello, my name is Chris and I was born and raised in Western Pennsylvania. I'm an engineer with experience in medical technology, steel and materials, and nuclear power industries. I have been with my current employer for more than 5 years developing digital control systems for nuclear power plants.
I'm also a homeowner with a growing range of home renovation experience. My goal is to take all my technical knowledge and first-hand experience and translate it into high-quality content to support all of your home guide needs. Whether it be step-by-step guides, technical consultation, or product reviews, my aim is to make all your home projects a great success!