If you're about to start a large painting project, one of the best ways to save time is by investing in a paint sprayer.
While sprayers aren't necessary for every job, they certainly have their place.
In this guide, I'll share everything I know about these devices, including my favorite accessories, painting tips, and of course a list of sprayers I think are great.
If you want to learn more about sprayers before seeing the list of sprays, use the menu below to skip to the buying guide.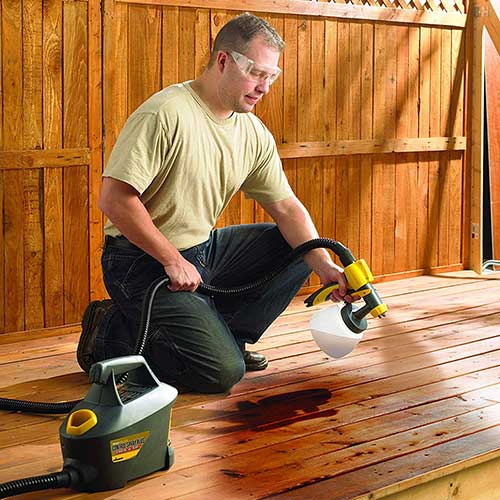 What is a paint sprayer you ask?
We aren't talking about the spray cans that you shake up. Paint sprayers, sometimes known as paint guns, are powerful machines designed to spray paint in the most efficient way possible.
The paint sprayer is actually an evolved form of the airbrush, a more artsy kind of tool. Paint sprayers are heavier duty, meant for completing home improvement projects or similar tasks. Using the old brush/roller method can be exhausting.
Plus, if movies have taught us anything, people who use paint rollers in their new homes will be visited by ghosts. Mean ghosts.
If you have a paint sprayer, you can do more than spray it at evil spirits. You can take long, dull painting sessions and turn them into quicker, easier events. It might even be a bit of fun!
Alright, lets get into the review.
Here Are the Best Paint Sprayers
1. Graco Magnum 262800 X5 Paint Sprayer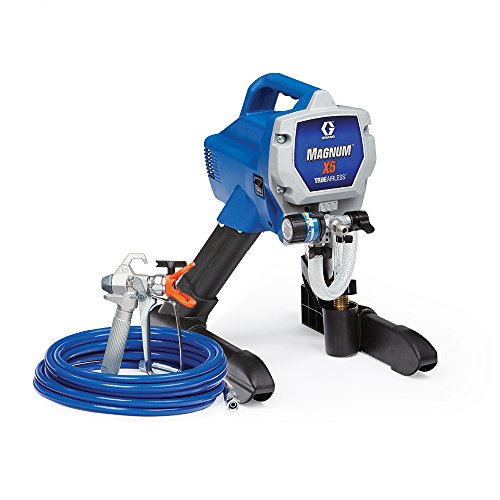 Price: Around $320
My Review: This is one hell of a paint sprayer for the money. It works equally well for homeowners or professional painters. Adjustable pressure? Check. Indoor/outdoor project adaptability? Check. Steel piston pump for rapid job completion? You get the idea.
The adapter can even be hooked up to a standard garden hose for easy cleanup. As much as we love this one, it's not ideal for larger projects. Medium and smaller will be your best bet with the Magnum (bang!)
It's very durable, so it ought to last you a long time and see a lot of use. It's a tad on the heavy side though. Make sure to take your paint breaks every so often. Don't get the hand cramp! The nice handle makes it pretty portable though.
Really a solid choice here unless you are going to be painting a life-size mural of Andre the Giant.
Key Features:
Fully adjustable pressure
Can spray paint straight from the bucket
Fast and easy clean up
2. Wagner 0518080 Control Spray Max Paint Sprayer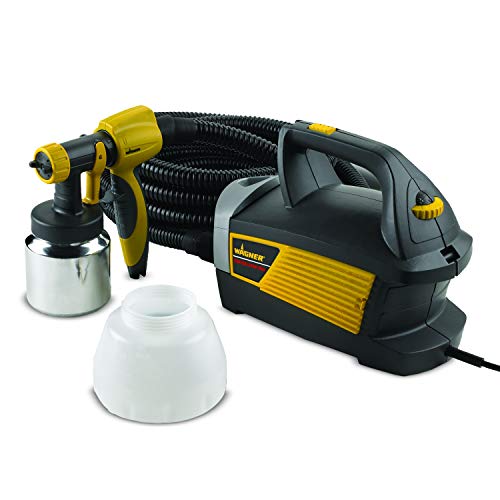 Price: Around $110
My Review: Here's another HVLP paint sprayer we like. Weighing in at 11 lbs, the actual gun component is super light and easy to handle. This is really smart design, since it helps to prevent the deadly hand cramp that paint sprayers are so famous for giving users.
Variable spray pattern width, pressure control, multiple spray patterns… Not bad! The plastic is about as durable as that of any plastic unit, but for the price, that's acceptable.
A short hose is definitely one of the noticeable cons here, but the ability to reach difficult areas with a light gun piece is so sweet that we had to include it on our list of the paint sprayers.
HomeRight C800766 Finish Max Paint Sprayer
Mmmm-mm! That is one delicious price. This is a dream come true for budgeting painters who need to get the job done. Is it the best paint sprayer the world has ever seen? Well, no. But it makes our list for the sheer value.
This thing is like finding pretty good Chinese takeout to feed a family of five–for ten bucks including tip. It's a steal! The HomeRight costs more than $10, but for a paint sprayer, this transaction feels just right.
It's versatile, adjustable, and has three separate spraying patterns. It's plastic, yes, but that's no surprise given the price point. Did you think the Wagner was light at 12-ish pounds? Try 3.4 lbs! If you have ever wanted to juggle paint sprayers at a painting party, this is your chance to do that without a hospital bill.
We kid, please don't juggle your painting machinery.
This is a HVLP unit, but it's best suited to home projects rather than commercial use. If you are looking for professional-grade equipment, go for durable and more expensive. Just in case you're worried about the longevity, there's a two-year warranty to ease your concerns.
If you're looking for a safe little option to hit up some home projects for cheap, or you're simply experimenting with paint sprayers for the first time, it's hard to go wrong with the HomeRight. Just don't expect it to single-handedly tackle all your neighborhood's painting needs for the next half a decade.
Key Features:
It's two stage turbine allows it to sprayed a wide range of materials
20 foot hose gives it a good reach
Spray cap can be adjusted for vertical, orizontal, or round.
3. Graco Magnum 262805 X7 Paint Sprayer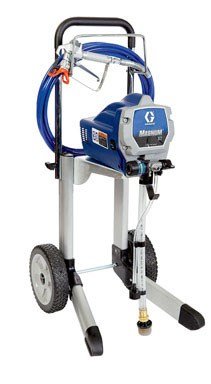 Price: Around $420
My Review: If paint sprayers were people, this one would ride a motorcycle and wear a spiked leather jacket. The Magnum X7 is a big boy, and it ain't your daddy's paint sprayer. Well, unless your daddy was a professional painter, in which case he ought to have been using one.
This is a professional-grade unit, stainless steel, hefty, and totable via wheeled cart. The pressure is totally adjustable, meaning it's got versatility out the wazoo. What is a wazoo anyway? This unit also connects to a garden hose for faster cleanups, and it has a little function called "Reverse-A-Clean" for clearing out the clogged tip of the hose. (This happens with paint sprayers, be ready).
The hose is a mite short, unfortunately. Which is odd, considering how professional-level all its other components are. It's 25 feet, which may not meet your needs. If that's the case, you can always buy a longer hose.
Other than that, the only other con we can mention is the one-year warranty. Probably, this unit is of high enough quality that this won't matter too much. But for the price, which is not exactly modest, it would have been nice to get a little more reassurance.
Key Features:
Fully adjustable presure and great paint flow control
Spray right out of the paint bucket
Easy to clean
Wheels make it easy to move around
4. Fuji Semi-PRO 2 HVLP Spray System (Highest Rated)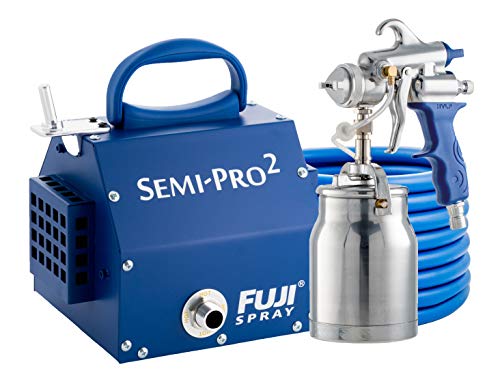 Price: Around $440
My Review: This is the gadget lover's paint sprayer. This unit is good enough for serious hobbyists and even a good chunk of professional painters for that matter. It's got a non-bleed feature in the gun as well as dedicated fan control. This latter allows for pattern size adjustment, small circular to wide and everything in between.
It disassembles easily, turning cleanup (one of the worst things about paint sprayers is the annoying cleanup) into a much neater and easier process. That's one reason this sprayer is a fan favorite. You can select your air cap size depending on what you're spraying. It can be used achieve different thickness levels as well.
For a very solid professional option, the Fuji is excellent at its price point. If money is no object, however, you might want to go full pro with a more expensive option.
Key Features:
25 foot hose
Adjustable pattern fan control
1Qt bottom feed cup
5. Graco 17C305 Pro210ES Cart Pro Connect Paint Sprayer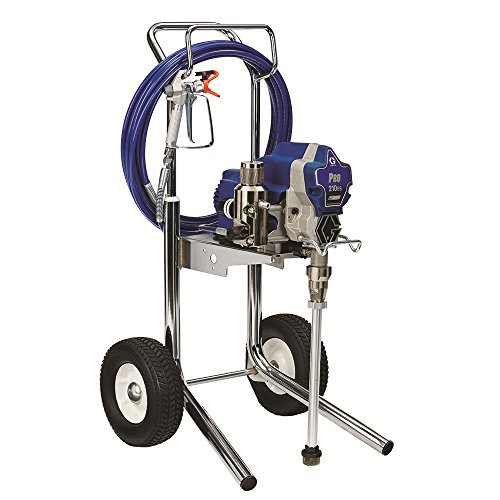 Price: Around $900
My Review: This is the most expensive sprayer on this list, but I know some of you have stacks of cash lying around, so I decide to include it on the list.
This is another entry from Graco, a heavy duty wheel-and-cart paint sprayer for professional use. If Granny is paying you to spray the exterior of her miniature toolshed, the Graco Pro210ES Pro is not your first choice.
It comes with an endurance pump, and it is designed for easy replacement if you need a new pump. Which you probably will, since this unit is meant to be use time and again. This is the chief workhorse on this list of paint sprayers.
Key Features:
Sprays almost 1/2 gallon per minute
Can spray everything from stains to acrylics
3000 PSI
6. Graco Ultra Corded Airless Handheld Paint Sprayer 17M359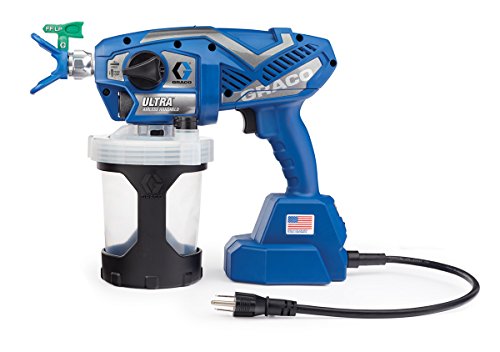 Price: Around $430
My Review: Contrary to so many others on our list, this one is actually aimed toward smaller jobs. Not too small, but relative to the average paint sprayer job size.
This is a handheld unit at a higher price point, but you can rest assured it isn't some cheap break-after-one-use deal. This guy will last you a good while and plenty of use if cared for properly.
It's fully repairable, spits out a good smooth finish, and cleanup time is minimal (as with most handheld units). The prep time is low too. This is as close as you get to eliminating the prep and cleanup phases that normally come with the high quality paint sprayer.
Key Features:
Great for small jobs
Triax Triple Piston Pump
Corded and cordless models available
7. High Power HVLP Electric Spray Gun with Detachable Container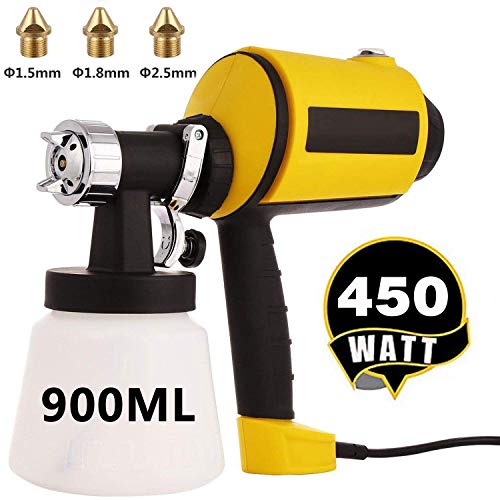 Price: Around $50
My Review: This is officially the cheapest item on our list. If you have significant budget restrictions, and plenty of us do, this is a solid option.
It comes with three different-size nozzles, which is a pretty big deal for a unit at this low price point. Everything comes apart for efficient cleaning, and due to the low price, it will need to be cleaned very carefully. Obviously, the materials are not as durable and resilient as those that make up more expensive paint sprayers.
So your best option here is to take care of this little guy like he's your firstborn child. With a wide application and a sweet price, this paint sprayer will get the job done.
Key Features:
450 Watts
Detachable canister
900ml container (almost one liter)
8. Graco Magnum 257025 Project Painter Plus Paint Sprayer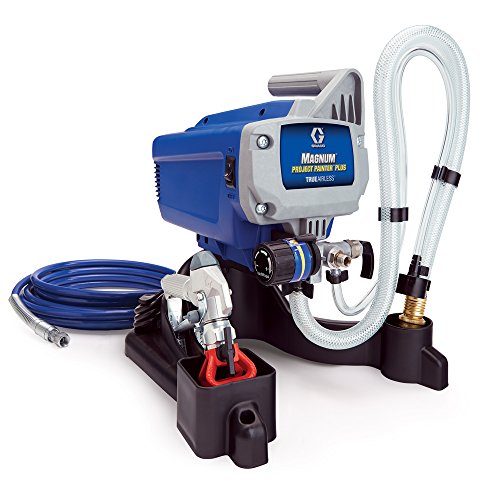 Price: Around $240
My Review: Graco makes it to our list again!
The Graco Magnum is a relatively compact and high-performance unit. It works well for painters of all experience levels, and the price is in a comfortable range–not so expensive as to bankrupt you, and not so cheap as to worry about the materials.
It's got a stainless steel piston pump for spraying unthinned paint at a high level of pressure, and a suction tube that allows you to spray right out of the paint bucket. Wow! This makes it way easier to start up than most units of its size.
It also connects to a garden hose, making this one of the least time-consuming mid-size units on this list!
Graco makes it to our list again!
This time, we're looking at a relatively compact, but fairly high-performance unit. It works well for painters of all experience levels, and the price is in a comfortable range–not so expensive as to bankrupt you, and not so cheap as to worry about the materials.
It's got a stainless steel piston pump for spraying unthinned paint at a high level of pressure, and a suction tube that allows you to spray right out of the paint bucket. Wow! This makes it way easier to start up than most units of its size.
It also connects to a garden hose, making this one of the least time-consuming mid-size units on our list of sprayers.
Key Features:
Spray directly from bucket
Easy clean up
Fully adjustable pressure
9. NEU MASTER N3140 Electric HVLP Spray Gun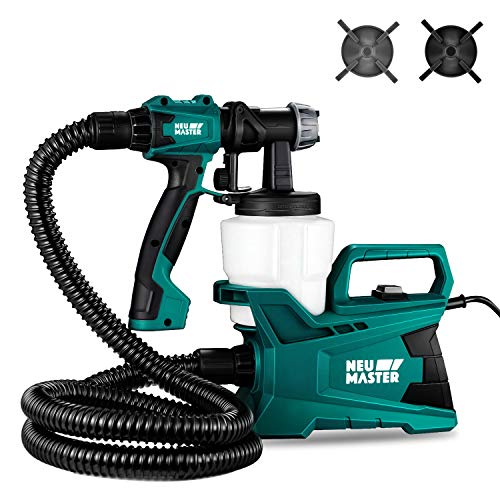 Price: Around $50
My Review: This paint sprayer unit can be attached to your shoulder via strap, or it can be left on the floor as you paint. For the price, this thing has pretty strong coverage. It's got a turbo fan for excellent airflow and expansive spraying.
It's beginner-friendly at a good price point and a lightweight body, pretty easy to use and clean as these things go. You get three spray pattern options and am adjustable flow rate, making it pretty versatile (another beginner-friendly quality).
We haven't tested it on every surface, but according to the manufacturer, you can use this unit to spray enamel paints, varnish, primers, clear enamels, car enamels, mordants and wood preservatives.
Not bad!
Key Features:
600 watts
Built in turbo fan
3 spray pattern options
10. Wagner 0529021 Flexio 890 HVLP Paint Sprayer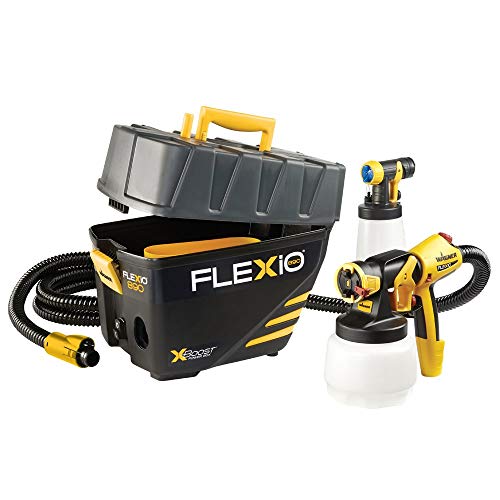 Price: Around $170
My review: They actually all have numeric sequences bolted into their names, so get used to it. This one sounds like the laser-toting cyborg version of a German composer.
This is easily one of the best paint sprayers, and it's handheld to boot! It's almost half the weight of the Magnum, so you can haul it effortlessly indoors or out. Despite its smaller size, this thing can put out like eight gallons of paint in an hour. Wow.
It comes with an adjustable control, two nozzles for different coverage, and a lengthy hose. The storage box neatly fits it all, making this an ideal unit to bring to painting parties. What, you don't go to painting parties?
Unfortunately, the lightweight nature is due largely to a plastic composition. Where the magnum will take a licking and keep on ticking, the Wagner is just shorter lived. Some reviews also attest to more overspray than what the company suggests, which we mostly agree with.
So don't be surprised if there's a deal of cleanup to do after your work. But the portability and versatility more than make up for it in our minds.
Key Features:
Great value
Sprays a wide range of materials
Clean up time is quick
11. Wagner 0529011 FLEXiO 570 Paint Sprayer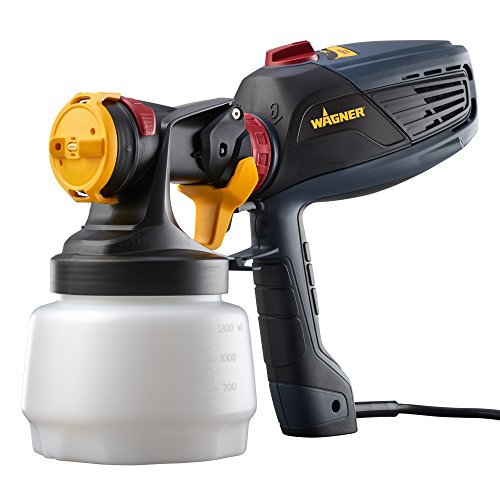 Price: Around $135
My Review: Ah, Wagner again! It's nice just to know that a unit is manufactured by a big name in the industry. Wagner has developed a number of models to provide a range of options for customers.
This unit can cover an 8ft x 10ft area in anywhere from 2-6 minutes, using about 7.2 gallons per hour at most. It's got a strong nozzle for extended lifespan, and it comes with the standard three spray patterns.
The neatest thing about this unit is that its turbine creates triple the power of similar paint sprayers, and it's got two different settings for adjustability. Handheld and strong? Pretty sweet.
The Wagner FLEXiO 570 is best used for indoor projects due to the stippled roller-style finish you get from it. If you'll mainly be using it for indoor stuff (or maybe deck painting), this could be your best bet.
Key Features:
Durability
Odorless
Easy to use
Here is a List of Our Favorite Accessories
12. Graco 30-Inch Tip Extension with Guard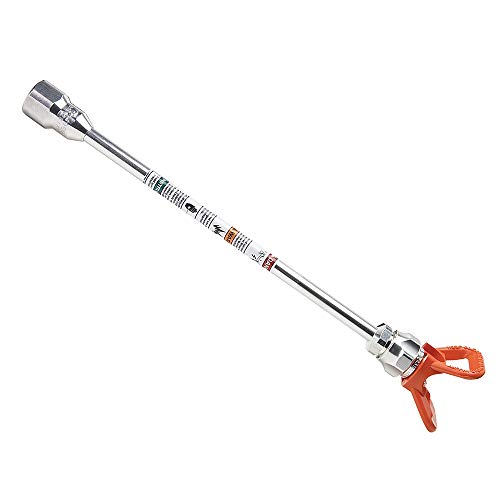 Where to get it: I recommend buying this product here.
My Review: As advertised, Graco's own extension piece is a time-saver and a fatigue reducer. If you have high, low, or other difficult areas to reach, an extension is your best friend. And its feelings won't be hurt if you forget its birthday, which already places it at least on par with most human friends.
Have you ever actually tried to paint, say, a ceiling with a brush or a roller? We have, and we do not recommend it. This is a hugely popular extension for a reason. On Amazon, it has a great rating average across a lot of different buyers.
It comes with an unclog feature for handy cleaning, it's durable, and the price is pretty solid for how effective and helpful this apparatus can be. Extensions can save you a ladder trip, which always risks the ladder fall. We don't know about you, but we are not fans of falling off ladders.
Ours didn't come with a spray tip, which is mildly annoying to discover once you get it. Just the spray tip holder. And if not tightened sufficient;y, it may have a leaking problem. Be sure it's on very tight, and you probably won't have any issues. All in all, excellent tool. Saves you time, effort, and back pain!
13. 3M Paint Project Respirator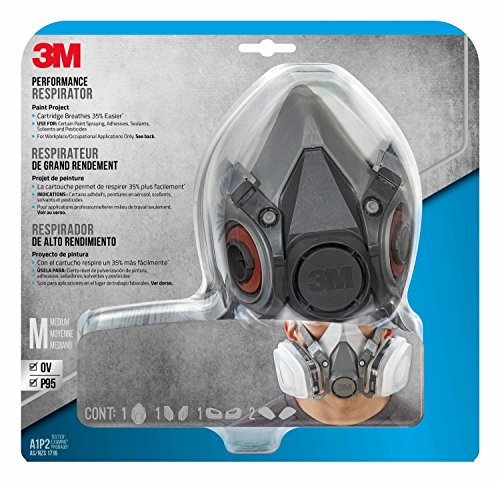 Where to get it: I recommend buying this painting respirator here.
My Review: Okay, can we just start by saying that this thing looks cool? We'd have bought this just to pretend we were Bane from Batman.
Looks aside, this is a great model, and respirators are just essential. Do not ever use a paint sprayer without a respirator. Those little cheap masks you can grab at the hardware store? Those will keep sawdust out of your mouth. Paint? Not so much.
This model comes at a great price point for how important it is to your safety. You absolutely do not want paint fumes entering your lungs at length. The 3M unit is easy to operate and it comes with cartridges and filters for initial use. Safe and simple.
There is a bit of a learning curve though, and you'll have to read through the instruction carefully if you're a first-time respirator user. So by "simple," we mean compared to some of the more complicated respirator models.
14. DeWalt Concealer Anti-Fog Dual Mold Safety Goggle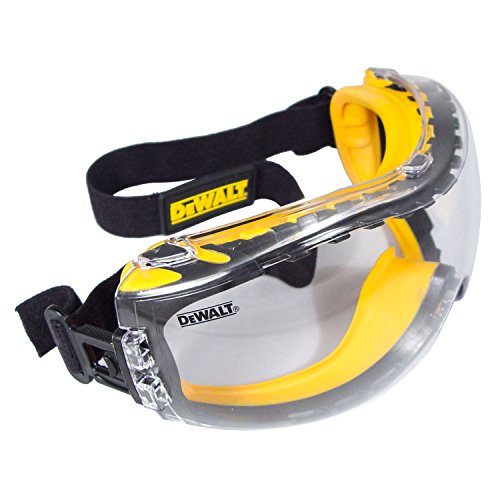 Where to get it: You can find these Goggles listed here.
My Review: This is our favorite protective eyewear for paint sprayer use. It's got anti-fog lenses, which are also hard-coated for scratch prevention. The rubber on the interior edges conforms to your face pretty easily, though they may take some fiddling before you get used to them.
They're about as comfortable as you can ask for. Remember you have to wear these things for extended periods while painting. Not much is going to feel comfy on your head for that duration, but these guys aren't too bad.
These goggles provide everything we've enjoyed from other, more expensive brands, and they will fit pretty easily over most glasses. The only real issue, which seems to plague all items of this type, is fogging.
It can be profoundly annoying to deal with the fogging issue, but again, we've yet to encounter the goggles that don't suffer that issue.
On the other hand, the lack of a nosepiece does lead to less fogging overall, and helps to fit these ones over your head while you wear the essential respirator.
15. C-Clear 21 Lens Cleaning Cleaner Solution

Where to get it: I recommend buying this product here.
My Review: Speaking of fog, here is our favorite solution to the fogging issue. The C-Clear is an easy little solution to the problem of foggy lenses. It works for plastic, glass, or polycarbonate lenses, cutting through grease and oil (as advertised).
Make sure to coat both sides of the lenses for best results. You can use microfiber cloth or paper to wipe the surface of the lenses, but we recommend a basic microfiber for best results.
It also works really well just as a lens cleaner in general. There is a bit of a smell that lingers for a little while after you apply the spray, so wait a few minutes for that to dissipate. That way you're not inhaling a chemical odor, which is kind of the reason you are protecting your face with goggles and a respirator to begin with.
You have to apply some care as you use it to wipe, since a half-job of cleaning the lens could leave a smear and more of a mess than you started with.
Paint Sprayer Buying Guide
Below, I have placed a video on paint sprayers that is VERY informative.
Do I Really Need a Paint Sprayer?
If your paint job is going to be a big one, this is your first clue. You may need a paint sprayer. Spray guns use a compressing unit to suck the paint out from a basin, pump it through the nozzle, and spray the paint onto your surface. Fast, easy, and efficient. Consider using one of these bad boys if you:
Will be covering a big surface, like the broad side of a barn.
Want to paint furniture. The fine spray produced by a paint gun will easily reach difficult sections like nooks and crannies. Try using a brush on a cranny if you want to get real mad real quick.
When Should I Not Use a Paint Sprayer?
You may want to avoid using a paint spray gun if:
It's a small paint job easily done with a brush. Setting up the sprayer can be a little involved, so they're better suited to longer projects.
You are on a budget or have limited access to paint. Paint sprayers use a good amount of paint, so they aren't suited to micro-managing.
You want to skip the prep. If you're spraying paint, you'll need to tape and cover a lot of surfaces. Sprayers are a little on the messy side sometimes.
You aren't feelin' the cleanin'. Paint sprayers require a cleanup process after you're done. If the project is a large one, you ultimately save time. If not, the cleanup is a waste of it.
Types of Paint Sprayers

Airless Paint Sprayers
These paint sprayers are motor-powered, and power is right–in the world of paint spraying, these are the Macho Man Randy Savages. The paint emerges from airless types at a very high pressure, making for a thick coat.
When the paint is sprayed from these units, it comes out in a fan of even particles, giving surfaces a nice even coat. The nice thing about that is, of course, fewer coats! Less work sounds good to us.
On the other hand, the flow is not naturally adjustable, meaning you get a thick coat or no coat. You can always apply a different tip to your airless sprayer, which is your next-best option.
Airless paint sprayers are capable of dealing with much thicker-quality paint than some other types of sprayer.
Decks, fences, large walls, and the outsides of houses are good projects for an airless paint sprayer. Basically,  big old projects that you want to get done quick-like. Avoid anything smaller or requiring a little more delicacy.
A word of caution here: While all paint sprayers need to be handled carefully, the airless sprayers require utmost caution. The pressure is so intense that it can actually break skin and spread paint into the bloodstream.
If you were wondering, paint should not enter your bloodstream. You'd require fast medical attention if such a thing were to happen. Be careful, folks.
Pneumatic/Compressed Air Paint Sprayers
This is the most common type of paint sprayer. Pneumatic models use compressed air to propel the paint stream. Like the airless version, this one produces a pretty smooth, even coat. They're great for furniture and other large household items that need a smooth finish. Smoother than, say, a wall or a ceiling.
They also boast natural adjustability, unlike airless sprayers. This makes them versatile, which is always a good thing. That versatility creates a little more of a challenge in learning to use them, but with a little practice this is negligible.
Unfortunately, pneumatic paint sprayers are also on the messy side. They create overspray (see our overspray section) beyond the limits of other sprayer types, and they use the most paint of any type!
The good news? These babies come cheap. At least, they come cheap by paint sprayer standards. If you've already got an air compressor lying around (for some reason), you get yourself a hose and a gun, and you're all set, pardner.
High-Volume Low-Pressure Sprayers
What a mouthful. Normally referred to as "HVLP," this is a kind of alternative to compressed-air sprayers, since the latter are heavy on the overspray. HVLP sprayers may be more expensive, but at least you don't have the overspray issue. They propel paint particles over a large air volume, traveling slowly and precisely.
These things are darn accurate, so expect a smooth, fine coat that allows for lots of detail. Less cleaning? Yes, please. Projects of a more elaborate nature are perfect for HVLP paint sprayers. You can really get those details just right.
And though they are more expensive than the pneumatic option, they also use less paint. If you paint often (like, really often), you'll break even and even save money in the long run.
You may be wondering what the downsides are. Well, HVLP paint sprayers are slow as molasses. Or a slug. They are definitely not the right choice for large-scale projects like house exteriors or long hallways. You wouldn't use a slug to paint your hallway, would you? Okay, that analogy stinks.
But you do get adjustable settings with HVLPs, so they are versatile, making them even better suited to detail.
Handheld Paint Sprayers: Pros and Cons
Pros
Handheld paint sprayers are super portable. We know, can you believe it? These units are compact, lightweight, and simple to handle for the most part. Easy transportation is a plus in our book, and it's not bad on the wrists either. Paint sprayers get heavy, so this is a definite plus.
Handheld paint sprayers allow you to quickly paint in smaller, more confined locations. The cordless handheld units are particularly suited to this. Unless you enjoy tripping over cords.
Handheld units tend to be cheaper than your average paint sprayer, making them excellent choices for buyers on a budget.
Handheld models are typically adjustable, so you can switch the thickness and pattern without messing around with a bunch of extra accessories. Simple and easy.
Cons
You have to be careful when it comes to these handheld units, since there are rather a lot of knock-offs on the market. Cheap, yes, but unreliable and ultimately costly when they have to be replaced.
Without doing your research, you may accidentally end up with a poorly-quality model that doesn't work the way it should. A budget is certainly something to consider, but don't set your sights too low. You get what you pay for!
Handheld paint sprayers tend not to be as powerful as the bigger models. If you are working on a larger project, a handheld unit may not be your go-to choice.
As they can't hold a lot of paint at once, handheld paint sprayers will typically need to be refilled at a somewhat annoying rate. Not ideal to be breaking from the project every so often to refill the unit.
Turbine Paint Sprayers: Pros and Cons
Turbine systems are found in certain types of paint sprayers. They're not in and of themselves a sprayer category, but some of the best paint sprayers use turbine systems. Check out the pros and cons of the turbine system below.
Pros
Turbine paint sprayers propel the the paint using a turbine system. The turbine ejects the air and the paint is carried on that air. Usually, the turbine contains a vacuum cleaner-style motor that eliminates theany need for compressors or airlines that would run into them.
For the most part, HVLP paint sprayers are where you will find turbine systems. They work well with turbines because they use a higher volume of air to propel the paint at levels of low pressure.
Significantly, many types of paint sprayers produce a good amount of overspray. Overspray represents wasted paint, which means the resources (both time and money) are amped up.
In the case of a turbine model, there is less airflow. This means that more paint will reach the surface you're spraying, and you won't waste as much paint as you might with other models.
This also means less pollution, so turbine models are the "greener" choice among the best paint sprayers.
Despite the improved rate of pollution, even turbine models require a good respiration mask while being used. Some amount of fumes will always be produced during the process.
Cons
Bring your earplugs, folks. The turbine models are way louder than most other paint sprayers. For people with hearing damage, this is bad news. In fact, it's not great for anyone who doesn't want to make a ton of noise while paint spraying.
For all the precision that turbine units offer, the final results are not overly thick compared to other painting units. This can mean more time spent spraying and making extra passes to compensate. No bueno.
The Proper Way to Use Paint Sprayers
If you've never tried using one, a paint sprayer can be daunting. Even sprayers with a simple design have some kind of learning curve, and it always seems like there is some complex process to the whole thing. Easier to just pick up a brush and do it how Granddad taught you, right?
You get past that mild learning curve, though, and you're golden.
Learning to Use a Paint Sprayer
Start by practicing on cardboard or a similar low-value surface. This way, any mistakes you make do not permanently adorn your household walls. Keep at it until you're able to get an even coverage. Once you have met this goal, you're ready to start painting for real.
Make sure you always use paint sprayers within the range of 45-75 degrees fahrenheit. This has to do with paint quality–it will not do good things to the paint if it's too hot or too cold. Painting right in the sun can cause it to dry too fast, and the paint won't bond properly.
The opposite happens when it's cold. The paint dries too slowly, and little bits of dust and other detritus will stick to it. The paint can also clog in the sprayer, and then you get no paint at all! Users often complain about the clogging issue, and for good reason.
It's annoying. Always check your temperature before using a paint sprayer.
Another tactic to prevent clogging is to stir the paint thoroughly. Find a stirring stick and really dig in there, no wrong answers. Seriously, mix it up like a DJ who's been sniffing paint fumes (do not actually sniff fumes).
As You Begin
So as you begin painting, you want to move the sprayer in long strokes before you trigger the spray. The reason you use the stroke method is to prevent paint from running. If it lands too much in a single spot, it piles up and runs.
Make sure you never get your active sprayer too close to the surface. At ranges of fewer than 10 inches, even a moving sprayer can dole out its product too heavily in one spot. Then you have your running paint issue again. No good.
Try to keep steady, because even tiny changes to the sprayer/surface distance can lead to significant changes in the paint's texture. This also means you can't tilt the sprayer at angles, and the best way to do it is to methodically swing the unit back and forth as you paint.
A Few Tips From the Pros
Professional painters have been using sprayers for a long time, and we experts have a few suggestions for new users. Keep some of these little operational tips in mind as you get to know your paint sprayer.
Mind Your Materials
While it is possible to use oil based paint products in modern paint sprayers, but keep in mind that they're flammable. Like, really flammable. User manuals will typically contain instructions for preparing your unit and preventing fiery incidents.
Pump Priming
Usually, a paint sprayer will come with a valve for two options: Priming and spraying. Switch the valve to "prime," activate the pump, and turn up the pressure valve until that pump gets moving.
Once the priming tube has paint flowing through it, you can relocate it to the paint bucket. Give it about 30 seconds for the air bubbles to get out of there. Then you are ready to get down to business.
Lock That Trigger
Once you;re done spraying, this is an easy one to skip. But it's important that you keep your trigger in the locked position and perform the proper pressure-relief procedures (outlined in your manual) prior to cleaning and maintenance.
Otherwise, you risk accidental injections–not fun, to say the least.
Happy Trails, Paint Tails
Test-spraying on a junk surface isn't just for newbies. Before you start painting, you must always test the flow on cardboard or a similar surface. This allows you to check for the presence of a paint tail, which is a kind of rounded corner at the edge of your sprayed paint.
It looks bad. It also means that your air pressure is too low. Keep testing your spray pattern until you don't see the tails anymore.
Take Five Already!
After a long period spent holding a paint sprayer, your hand might start to cramp. Allow yourself plenty of little breaks as you use your paint sprayer. Otherwise, you get cramped, shaky hands, and that's how you get mistakes.
Key Paint Sprayer Features
As you chase after your ideal paint sprayer, keep some of these features in mind. No project is exactly the same as another, so some features may have pros and cons depending on your long-term painting needs.
Garden Hose Connection
Connecting your paint sprayer to a garden hose can save you time. And by time, we mean a lot of time. Normally, you have to go through the huge hassle of paint sprayer hose cleansing.
Bits and chunks of paint can dry and harden in the apparatus, creating clogs. Hooking up a garden hose after the job is done will simplify things quite a lot.
You run the water through and basically auto-cleanse. Easy! Most paint sprayers are garden-hose compatible, so not much to worry about on that count.
Adjustable Pressure
Most paint sprayers come with an adjustable pressure feature. However, it's limited to pneumatic (compressed air) and HVLP sprayers. Airless paint sprayers don't come with adjustable pressure features, so you have to use different tips (see our Accessories section) to get the same effect.
However, with adjustable pressure settings, you can manage the spray speed, pattern, and thickness without the hassle of tip switching all day long.
If you have a variety of tasks or projects that need your paint sprayer's attention, adjustable pressure is incredibly helpful.
Size/Portability
Paint sprayers come in all different shapes and sizes. Some are compact and fairly easy to manage. Others you really have to lug around. The size of a paint sprayer has a lot to say about frequency of use and how long you use it.
If the unit comes with wheels and a handle, this can significantly ease the task of hauling it to and from locations. Wheel-and-handle units will be floor based, so you'll connect the spray gun to the floor-based apparatus as you do your work.
Some of the best paint sprayers have to be wheeled, given their weight. Some of these things can weigh up to 30 lbs! Others are tiny and run a mere 5 lbs. Those ones can be thought of like cordless drills or similar electrical tools.
Even though these latter are pretty light by sprayer standards, it can cause grip fatigue if you clutch them for multiple hours at a time. Still, they are overall a more convenient option than their heavier cousins.
That said, the heavy ones are undoubtedly more powerful. If you have a big project requiring professional-grade work, you're best off with a heavy wheelbound unit. For the average user, a mix of power and portability may be the solution. Some sprayers actually come in a backpack form, so you can just strap them over your shoulders and get to work! This can be tiring on the shoulders though.
Power Source
Paint sprayers are powered in a few different ways. There are electric sprayers, fuel-powered, and cordless. Many sprayers are hand-operated like staple guns or spray bottles.
Sometimes, paint sprayers require a separate power source for the compressor. So as you're shopping, be sure that's included if your compressor is separately powered.
Paint Sprayer Accessories
Fashionistas are not the only ones who need to accessorize. The best paint sprayers wouldn't make any top list without some sweet accessories to take them up a notch. Here are some of the common additions you should look for while you explore your options in paint sprayers. Of course, if your preferred sprayer doesn't have all of them, it's not the end of the world.
Tips
Paint sprayer tips are used to achieve different spray patterns. They can also be used for the management of different paints, depending on how thick they are.You'll ideally want a range of tips for your paint sprayer. This will give you plenty of options as you approach different projects.
They can even allow you to spray varnish/lacquer to seal your paint coats!
Hoses
This one is a little tricky because it depends entirely on the sort of paint jobs you undertake. If you are covering truly large ranges with your paint sprayer, you want a good long hose, at least 25 feet in length.
Versatility demands that you have a variety of hoses in your collection. You don't want to be stuck with a short hose. You'll also want to avoid having an unreasonably long hose dragging and flopping around the inside of your home.Probably keep two or three: Short, medium, long. Pretty simple.
Filters
Clogging is one of the most frustrating problems that plague paint sprayers–even the best paint sprayers. Filters are the accessory that you use to prevent clogging, so these are basically essential.
They can also help you to produce a nice smooth finish by reducing contaminant presence in the paint and preventing paint spatter. If that wasn't enough, filters extend the lifespan of your sprayer. Paint sprayers are not an insignificant investment, so that's pretty important.
Extensions
Unless you're an NBA player, you can find yourself struggling to reach high-up areas. You don't want to be hoisting a paint spray gun on high for too long. Especially since they can run a tad heavy, depending on the model.
Extensions can provide you significant comfort if the job involves continued thrusting of a spray gun into some distant crevice. In the worst cases, painting without an extension can lead to back issues, and good luck painting anything after those set in.
Protectants and Conditioners
Use these handy chemicals to prevent your paint sprayer from sticking, rust, freezing, and other exposure-type damages over time. These are essential for extending the lifespans of the best paint sprayers.
Tips for a Beautiful Paint Job
The surface you are painting ought to be clean, clear, and free of various debris. A smooth surface = a smooth paint job.
Surface scars and other lumps can be seen through the paint. One way to smooth down a surface is using sandpaper or steel wool. Wipe it down with a cloth afterward to clear the remaining bits.
Larger surfaces will almost always require several passes, even using the best paint sprayers. Try to slightly overlap your passes, giving the surface several light coats. This will allow the paint to dry between passes, and the final product will look much improved over a single heavy coat.
Remember to familiarize yourself with whatever paint you use. Different paints dry at different rates, so you don't want to level a second coat too early.
Patience is the name of the game. Apply multiple light, smooth layers. About three or so ought to do it. Your paint job will come out looking professional, and so will you. Unless you are covered in paint.
"Back brushing," sometimes known as "back rolling," is a painting technique in which the painter applies a second coat just after the first. Only this second coat is applied with a paint brush or roller. This can help to create a coat that is more even.
Backbrushing is usually best reserved for previously painted or stained surfaces.
This can prevent that sort of "patchwork" look that you get with some surfaces after spraying them.
Backbrushing is almost always a good idea when you are applying a sealant.
Do This, Not That
Here's our dos and don'ts section. Take a look below for some quick tips on paint sprayer use. It's almost as good as reading the instructions!
Do:
Practice technique! All spray patterns are just a little bit different from one another. Every time you try a new pattern, use the cardboard trick (spray a throwaway cardboard surface).
Use paint sprayers for furniture jobs. Some are better suited than others, but paint sprayers are generally a good option for furniture painting. They produce that fine mist for getting into the nooks and crannies.
Use paint sprayers for big projects like hallways, large rooms, building exteriors, etc.
Use protective plastic sheeting to cover surrounding items you don't want to coat in a fine mist of paint.
Paint solo. Unless you are working with other painters who have protective equipment, it's best to do undertake paint spraying when no one else is around. The fumes can be strong, and they are not anything you want in your lungs.
Use a paint sprayer when multiple surfaces need to be painted the same color. Paint sprayers can easily spray onto adjacent surfaces, so if it's all supposed to be the same tone, no biggie.
Use protective personal equipment, chiefly a mask or similar to keep your lungs clear of the paint spray. We can't overstate the importance of this one, folks.
Wear old clothing that you don't mind getting painted up. That being said, paint spraying is not an acceptable alternative to doing tye-dye if that is what you're after.
Nobody should want tye-dye clothing except perhaps to burn it.
Don't:
Use a paint sprayer if you don't go in for prep work and cleanup. This is a long-term instrument, so the prep and cleanup are worth your while for big projects. But it's still probably not for everyone. There's a lot of taping to do, and that in itself can run costs for supplies.
Use a paint sprayer to hit up little tasks around the home. It's too time-consuming. If you just need a little repainting of some surface, you're likely better off with a brush or a roller. Paint sprayers sometimes take up space, too. They may be more trouble than they're worth for minor touch-ups!
Use a paint sprayer if you are dedicated to avoiding paint waste. Sprayers are highly efficient, but you will always use more paint with a sprayer. Brushes and rollers aren't paint-sucking in the way that the sprayers are.
Avoiding Overspray
Overspray is the excess paint or varnish that gets sprayed or blown past the intended coating area of a surface. It's not uncommon for new painters (or even vets, really) to create a lot of overspray. At best, this creates a mess to clean up when you're done–and wastes a deal of paint. You may have noticed, paint ain't always cheap.
At worst, it can damage or ruin important nearby items. Overspraying can happen indoors or out. Follow these tips for overspray reduction. You know, unless you enjoy funneling money down the tube.
Nozzle Size
Large nozzles or needles propel more paint during the spraying process. Obviously, this leads to overspray and the accidental coating of your late grandpa's hand-made clock, and then you have to blame it on your family's gimpy shih tzu.
In order to avoid producing such lame excuses, make sure to check your nozzle size before undertaking a spray painting project. Basically, the larger the project, the larger the nozzle you'll need. In the case of an expansive surface that needs painting, overspray won't be much of an issue. There's so much surface to hit that there is essentially no overspray to speak of!
But if you're spraying a new coat to fix up that hand-made clock you ruined, a smaller nozzle will enhance your precision. This is a particularly good option because Grandma knows it was you.
Surface Distance
Distance is another factor to consider as you work to avoid overspray. The closer you are to your surface, the more paint reaches it. This is how you end up with overly thick, drippy paint. And if you're too far away, you end up with overspray. Generally, you want to keep a distance of six-to-ten inches from the surface you're spraying.
Create a Custom Spraying Booth
Get slightly creative and construct a homemade spray booth. A little cardboard, a little duct tape, maybe a little elbow grease, and voila! You have your own spray booth. Now the excess spray hits the edges of your cardboard walls, and not the surrounding surfaces you'd prefer to keep unpainted.
I Blew It. What Can I Do About Overspray?
Despite the utmost caution, overspray can still get the best of us. If you do end up splattering paint on the wrong surfaces, it is crucial that you clean it up fast. Spray paints dry real fast–much faster than oil paints, like those you get in the buckets.
Quickly, take a wet cloth and rub it on the oversprayed surface. If the paint has already dried (not unlikely, given how rapidly this occurs), mix the water with a strong soap like laundry detergent. Sometimes sandpaper can work, but you have to be very cautious with that stuff. Sandpaper's rough, gritty texture can really mess up the surface, especially plastic and wood materials.
If you overspray onto a glass window or similar surface, a professional-grade window or glass cleaner will do you right. You can even try a single-blade razor, although most other sharp objects end up scratching the glass.
Honestly, the best offense is a good defense. Prevent overspray from getting to unintended surfaces in the first place. Otherwise, you're left cleaning up the mess, and it's usually quite a challenge. This is assuming you can actually clean off the overspray at all.
Paint Sprayer Maintenance
Clogging is without a doubt the chief complaint among paint sprayer users. Even if we're talking about the best paint sprayers, you're going to have to be ready for a little maintenance. Or maybe a lot. It depends on your make and model.
Maintenance can go a long way toward limiting the clogging situation, so it's definitely in your best interest to be proactive about this. Paint sprayers can't be used and abused. They need a little tender loving.
Here are a few general maintenance tasks you'll have to get used to undertaking when you own a  paint sprayer:
Clear the tip guard.
Most paint sprayers come equipped with a tip guard to prevent the injection of paint into the skin. It has to be cleared every so often, since paint can easily bond and clog inside it.
Take your finger off of the spray trigger and use a cloth or rag to wipe it thoroughly. Do this before it has a real chance to dry.
Avoid accidentally injecting yourself. Keep your fingers off the spray tip while cleaning it. In fact, keep those fingers off at all times!
After every use, the paint sprayer has to be cleaned. What a hassle, right? Even if you are simply switching paint sources, you'll probably need to clean it.
If your sprayer can't be hooked up to a garden hose for simple cleaning,you will have to take the sprayer unit apart to get down and dirty.
Clogs can sometimes occur at the level of the filter, and these will have to be cleaned manually.
When all else fails… Read the instructions! The manufacturer always includes a manual. In it you can find maintenance techniques specific to your sprayer.
Safety
If your skin makes contact with the sprayer while it's doing its thing, you can get in serious trouble. The flow is so intense that it can break the skin! Then you get a high volume of paint in your bloodstream. This is a bad thing. Highly toxic.
Wear strong gloves to guard yourself and maybe even a full-body suit for extra coverage. If you accidentally inject paint, lacquer, or varnish into your skin, seek immediate medical attention. Like, right away. Every time.
Paint sprayers should always be used in well ventilated areas to help keep fumes at a low volume. It's also good for the paint in terms of drying smoothly.
Use a Respirator
Cheap dust masks are not gonna cut it. You need serious airway protection. A respirator with replaceable filters isn't too costly, and will last you through quite a few painting projects. Not only will you save money on excess dust masks, you won't have medical bills bursting through the roof.
Always use safety glasses.These will stop paint, lacquer, or varnish from entering your eyes, which you probably could have guessed without us telling you.
Spray It, Don't Say It
We hope you found our guide helpful, and that you can now select best paint sprayer for YOU. The prospect buying and learning to use a new machine can be intimidating, but with our handy guide at your side, you're equipped with the facts. Apply two readings for best results.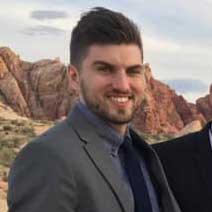 Hello, my name is Chris and I was born and raised in Western Pennsylvania. I'm an engineer with experience in medical technology, steel and materials, and nuclear power industries. I have been with my current employer for more than 5 years developing digital control systems for nuclear power plants.
I'm also a homeowner with a growing range of home renovation experience. My goal is to take all my technical knowledge and first-hand experience and translate it into high-quality content to support all of your home guide needs. Whether it be step-by-step guides, technical consultation, or product reviews, my aim is to make all your home projects a great success!