Gutters that line the roof of a house are not always considered one of the more important aspects of home upkeep, but they serve a vital purpose for homes in damp climates.
During periods of heavy rain, the gutters catch the water that runs off the roof and directs it away from the house, preserving the foundation. Without gutters, the rain can collect and end up damaging the house's structure.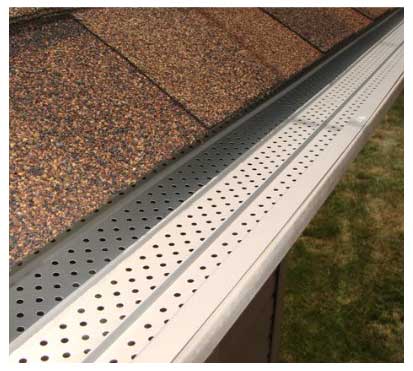 In order to keep gutters functioning, they need to be kept clear of leaves or other debris.
Do I Really Need Gutter Guards?
The answer to this question is, it depends. If gutters get clogged with debris, water can find its way into the roof and walls of the house, causing issues with mold, structural damage and other water damage. When the temperature drops below freezing, snow and ice can be even more of an issue.
On top of that, the sticks and leaves blocking the gutter can attract pests like rats and insects. Often, homeowners will turn to gutter guards to reduce the amount of manual labor needed to keep gutters clean and serviceable. The guards provide a cover for gutters, with holes or a filter that lets water continue running through while blocking debris.
Not all homeowners need gutter guards. Typically, guards protect the gutters from leaves, sticks, seeds or other debris from nearby trees. If a house is in an empty area without large trees within a 50-yard radius, debris won't be an issue. But many homes have trees that are close enough to either drop debris onto the roof or have their leaves blown into the gutters by the wind. If there are a large number of trees nearby or if the homeowners cannot manually clean their gutters out on a regular basis, gutter guards can prevent any major blockages in the gutters and reduce the need to frequently clean them out.
Here is a List of the Best Gutter Guards
1. The Wedge Downspout Gutter Guard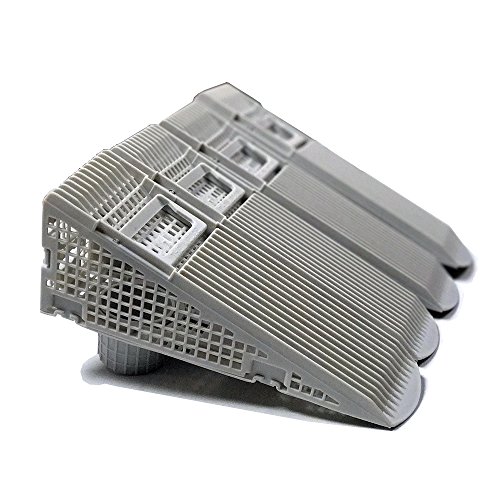 Price: Around $20
Our Review: The Wedge Downspout Gutter Guard is very much unlike other gutter guards; instead of sitting on top of the open side, it sits over the downspout and blocks debris from getting inside, all while allowing water to flow through holes and into the downspout. It's a very simple product to use and can be snapped together without the use of additional tools. The Wedge also includes connectors that can be used to connect two wedges for downspouts that are located away from the corners of a home or building. The biggest downside to using this product is that it does not prevent debris from getting into the gutters at all, only from blocking the downspout, so the gutters would still need regular cleaning.
Key Features:
Can be used for multiple types of downspouts (in corners and not in corners)
Less expensive than other gutter guards
Easy to use
2. Raptor by Gutterglove Gutter Guard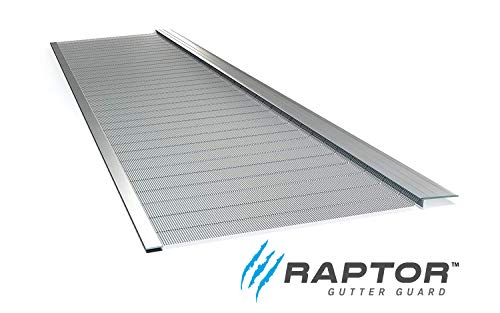 Price: Around $115
Our Review: The Raptor Gutter Guard is a stainless steel micro-mesh guard that promises durability (won't warp or rust with changing weather) and effectiveness. The small holes in the micromesh keep small particles, including pine needles and roof grit, from entering the gutters and clogging the water flow. On top of that, Gutterglove (the maker of this guard) provides a 25-year warranty for their product, ensuring that it is usable for years to come. It is easy to use and can be installed without the help of a contractor. The guard simply snaps into the gutter, with either foam tape or screws holding it to the outside edge, and can be reinforced underneath the roof shingles.
Key Features:
Durability
Comes in multiple sizes
Easy to use
3. AmeriMax Metal Lock-In Gutter Guard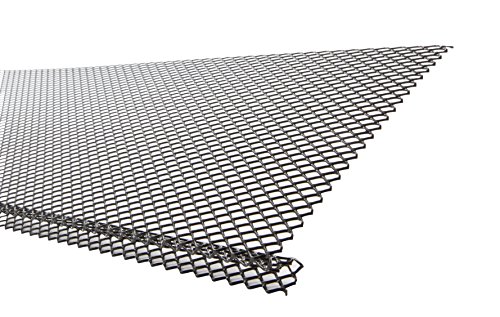 Price: Around $70
Our Review: The AmeriMax Metal Lock-In Gutter Guard may be one of the simplest gutter guards to install. Each section is a single piece of metal mesh, with a flat end that slides under the roof shingles and a curved end that snaps onto the outside edge of the gutter. The metal that it's made of is durable and can stand up to changing weather, but is also covered in a powder coat paint finish to ward off rust. AmeriMax covers their product with a 10-year warranty and claims that it can be used on three different sizes of "k"-style gutters: 4 inch, 5 inch and 6 inch. In addition, the snap-on curved end of the guard means that tools are not necessary for installation, making it easy for all homeowners to use.
Key Features:
Easy to use
Rust proof
No tools required for installation
4. AmeriMax Snap-In Filter Gutter Guard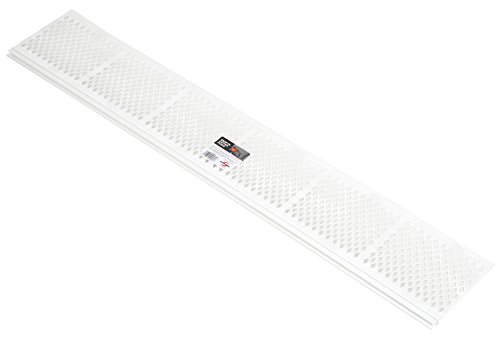 Price: Around $45
Our Review: For a more economical version of the lock-in metal guard, AmeriMax's Snap-In Filter Gutter Guard provides the same easy installation and protection from gutter clogs. The plastic material is lightweight and simply snaps on to the front lip of the gutter. The flat back edge can be reinforced underneath the roof shingles. Although the holes in the plastic are fairly big, the guard comes with a filter bonded on top to prevent smaller particles from getting through. AmeriMax says that it can be used with most "k"-style gutters.
Key Features:
Easy to use
Prevents smaller particles from clogging gutter
Affordable
5. Frost King Plastic Gutter Guard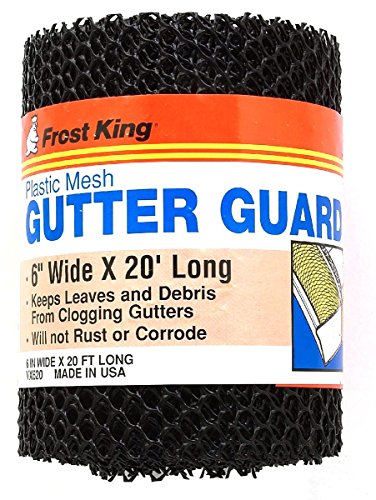 Price: Around $6
Our Review: One of the biggest benefits to using the Frost King Plastic Gutter Guard is that it is pliable and can be easily cut to fit any size gutter, even around corners. The plastic mesh is also one of the least expensive options. As it is all one piece, the guard is very easy to install, although tools may be necessary in order to secure the mesh onto the top of the gutter. The product reviews love how simple and inexpensive it is to use, but some homeowners say that smaller particles are still able to get through the mesh and into the gutters.
Key Features:
Works on many different sizes of gutters
Easy to install
Inexpensive
6. Smart Screen Aluminum Gutter Guard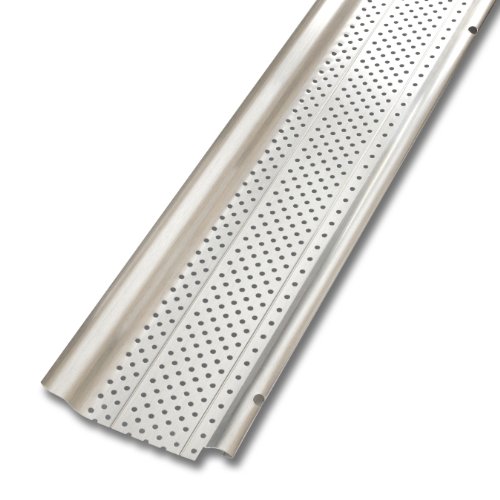 Price: Around $40
Our Review: The Smart Screen Aluminum Gutter Guard is made out of a heavy-duty and durable metal that claims to enhance the strength of the gutters. Although it can be snapped onto the top of the gutter, both the front and back edges can be reinforced to ensure that it stays in place through high winds or heavy rain. In addition, the rounded front lip that sits over the outside edge of the gutter directs the water into the gutter, although it may also keep debris from flowing off the guard and hold it on top. Reviews are largely positive and most love the easy installation and durability.
Key Features:
Durable & easy to install
Small holes in screen keep small particles out
Outer lip keeps water flowing into downspout
7. Leafs Out Micro Mesh Gutter Protection System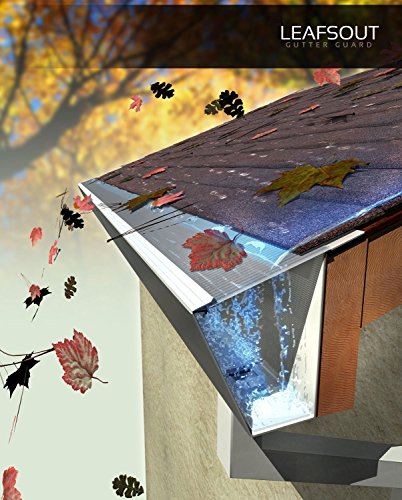 Price: Around $40
Our Review: The LeafsOut Micro Mesh Gutter Guard System is one of the top-rated gutter guards available on Amazon. It is made of a durable stainless steel and has a control strip at the bottom that directs water into the gutter. The fine mesh also keeps small particles out of the gutters. The guard can be bought as 100 feet or 23 feet, or a sample size can be purchased to ensure a good fit. In addition to being able to fit multiple gutter sizes, the LeafsOut system also claims to fit a variety of gutter types and a variety of roofs. The back edge fits underneath the roof shingles, while the front edge can be reinforced with the included screws.
Key Features:
Durability
Control strip keeps water in gutter
Holds up in heavy rain
8. FlexxPoint 30 Year Gutter Cover System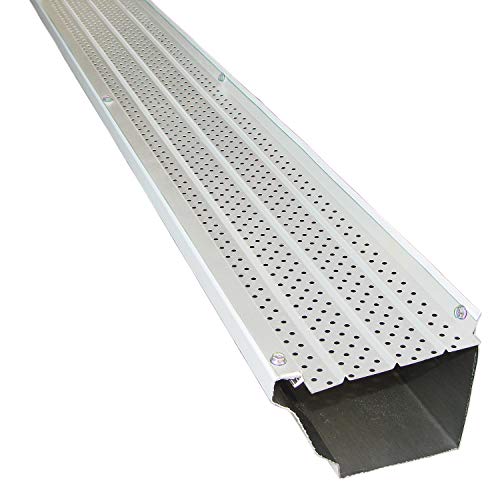 Price: Around $105
Our Review: The FlexxPoint 30 Year Gutter Cover System capitalizes on its low visibility; the guard is available in four colors – black, white, brown and silver – that blend in with the gutters and cannot be seen from the ground. All colors are made of a durable stainless steel and come with stainless steel fasteners to secure each panel in place without rusting or warping from heat. In addition, the manufacturer provides a 30-year no-questions-asked warranty to give buyers confidence in its effectiveness. The FlexxPoint Gutter also promises to not void a roof warranty when it is secured underneath the shingles. The product increases airflow and keeps wet leaves and other debris from sticking to the top, allowing them to be blown off by the wind and adding to its "never clog" promise.
Key Features:
Durability
Odorless
Easy to use
9. Spectra Lock-On Gutter Guard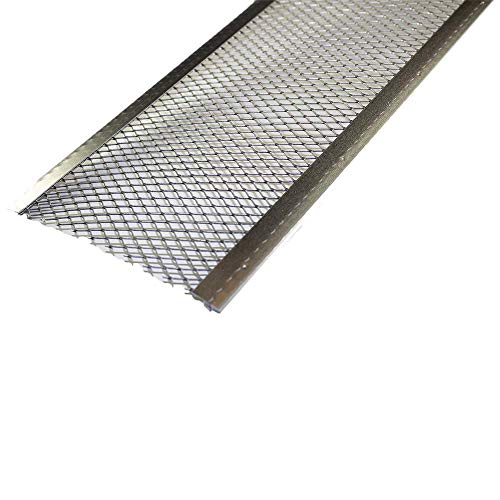 Price: Around $65
Our Review: The Spectra Lock-On Gutter Guard is made out of a durable aluminum and is designed to not only keep debris out of the gutter, but to blend in with the gutter system. It is simple to install, requiring only c-clip locks, which are included in the purchase, to hold it onto the gutter. The edges of each panel are double-reinforced, making the Spectra guard strong and rigid. Spectra also claims that their product is specifically designed to properly filter water, and the reviews don't suggest that there is any problem with water running off the top, but some homeowners say that the clips included are not enough to hold the guard down in high winds.
Key Features:
Easy to install
Inexpensive
Filters water easily
10. AmeriMax Hinged Gutter Guard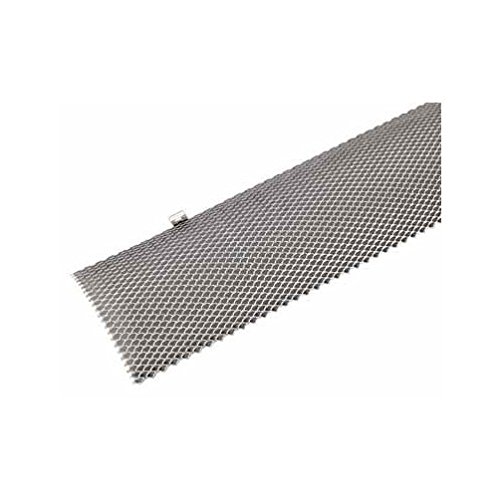 Our Review: Like many other top-rated gutter guards, the AmeriMax Hinged Gutter Guard looks like a simple metal mesh panel, but it is curved to better allow debris to flow off the roof. The galvanized steel promises to hold up in all sorts of weather without collapsing or breaking. Unlike other guards, the AmeriMax Hinged Gutter Guard sits on top of the roof shingles instead of being reinforced underneath and is simply clipped onto the front edge of the gutter with included stainless-steel hinges, making it easy to install.
Key Features:
Durability
Avoids debris buildup
Easy to install
Gutter Guard Buying Guide
How can gutter guards save money?
The more obvious benefit of using a gutter guard is that it reduces the amount of debris that needs to be cleaned out for proper use, thereby reducing the required manual labor and keeping the home safe from water damage. But these simple tools can also help homeowners save money, especially over long periods of time. Keeping water away from the house helps to avoid structural damage and mildew buildup, which can both be costly to fix. Repairing structural damage can cost thousands – or possibly even tens of thousands – of dollars. If water gets into the house, it can harm carpets, furniture and other belongings that may be valuable and difficult to replace.
In order to avoid manual labor, some homeowners choose to hire a handyman to come out to their house periodically and clean out their gutters. On average, gutters should be cleaned around twice a year, usually after the spring and fall seasons when trees are dropping leaves, sticks, pine needles or flower petals. Homes that have a large number of trees close by, particularly pine trees, may need to be cleaned up to twice as often. Paying for a handyman to clean the gutters multiple times every year can add expenses to the maintenance of a house that could be avoided by using gutter guards.
If a homeowner wants to avoid the cost of hiring a handyman, they can clean out the gutters themselves, but they will have to take safety precautions to avoid being hurt. In order to get to the gutters, they will often have to climb a ladder and move it along the side of the house. All of the climbing up and down, especially when unsupervised, can lead to falls or other injuries. Over 100,000 people fall off of a ladder every year and can sustain serious trauma. Hospital bills, doctor visits or even simple trips to the pharmacy increase the cost of cleaning gutters.
Types of Gutter Guards – Know Your Options
There are generally five different types of gutter guards on the market, all with their own pros and cons: brush, foam, reverse curve/surface tension, screen and mesh guards.
Brush gutter guards
Foam gutter guards
Reverse curve gutter guards (also called surface tension guards)
Screen gutter guards
Mesh gutter guards
Brush Gutter Guards
Brush gutter guards are some of the cheapest and simplest options for keeping gutters clean. The guards are exactly what they sound like – cylinder-shaped brushes with tall bristles that sit in the gutters. They are designed to act as a filter, keeping debris on top of the bristles and lifted out of the gutter, while water can continue flowing through to the downspout. Often, they are made from durable materials that can withstand weather changes and will not rust or wear down.
Other than the inexpensive price tag, one of the main benefits to using brush gutter guards is that there is very little effort required during installation; they simply sit inside of the gutter and don't need to be tied down with clamps, clips or screws. Because of this, brush gutter guards are one-size-fits-all and homeowners don't have to worry about not getting the correct guards for their gutters. However, the brushes can often hinder water from being able to flow through the gutter well and don't allow debris to slip off the top. Instead, leaves, sticks and pine needles end up sitting on top of the brush, meaning homeowners would still need to clean their gutters on a regular basis. Brush guard manufacturers often claim that their guards are simply meant to reduce the work involved in cleaning out gutters rather than eliminate the need to clean them altogether.
Foam Gutter Guards
Similar to the brush gutter guard, a foam gutter guard sits inside of the gutters and keeps debris lifted out while letting water flow through the sponge-like structure. Foam gutter guards are very common and can be found online or in a wide variety of home improvement stores. Often, manufacturers describe the foam material as being durable and able to withstand the weight of debris sitting on top and potential erosion from water flow. They are also inexpensive and, also like the brush gutter guards, require minimal effort to install.
Unfortunately, foam gutter guards have more downsides than benefits. The same problem that brush gutter guards have with debris needing to be cleaned out exists, along with the issue of water being soaked up into the foam (like a sponge) instead of flowing through. Grit from shingles can make its way through the holes in the foam and into the gutters. At the same time, foam guards are not as durable as the manufacturers may claim and often don't last more than a few years at the most. The inexpensive price isn't as attractive when the guards need to be frequently replaced. Any oil coming off the roof will cling to the foam and the moisture that they hold in can also breed mold and fungi in the gutters.
Reverse Curve Gutter Guards
Reverse curve gutter guards, also called surface tension gutter guards, are a bit more traditional in the sense that they sit on top of the gutter instead of inside it. The guard covers the entire open side of the gutter with a slight curve so that water and debris are directed toward the edge. The debris should fall off the curve, while surface tension pulls the water into a small opening on the outside. The design is over a century old and has been proven effective. As far as avoiding pests, the reverse curve gutter guard usually has a small opening that keeps large animals, such as birds and rodents, out.
However, because of its design, the opening on the gutter guard usually gets dirty easily as sediment and oil pass over it. The water pressure going into the slit isn't strong enough to clean it. Once the opening gets dirty, water won't cling to the surface to be guided inside and will instead run off the top of the guard. At the same time, heavy rains may give the water too much momentum to run into the slit, making it run off and pass right over the gutter opening. Also, while the opening may be small enough to keep large pests out, smaller bees or other insects could still find their way in. And if small insects can get in, smaller particles of debris (such as dirt or roof grit) may be washed inside along with the water, causing buildup in the gutters. On top of everything, reverse curve systems can be expensive and will most likely have to be installed by a contractor, adding to the overall expense.
Screen Gutter Guards
Screen gutter guards are perforated panels that filter water through small holes, which most debris cannot flow through. They typically come in two different styles: hinged or flat. A hinged guard is curved away from the gutter, creating a slope so that debris travels down and off the top of the guard. They are usually fastened to the outer edge of the gutter and can be lifted, allowing access to the inside of the gutter if it needs to be cleaned. A flat guard is, as the name suggests, a flat panel that covers the top of the gutter. It is often installed underneath the roof shingles, which reinforces the guard and makes it more durable but does not allow for easy gutter access like the hinged guard. Additionally, attaching a flat guard underneath roof shingles may end up damaging the shingles, adding another expense to gutter maintenance. Both styles are often made of metal, making them more durable than a flimsy plastic guard.
Whichever style of screen guard you choose, you can find a durable, inexpensive product that will keep gutters clear of major blockages. However, both styles come with some drawbacks as well. Because of the rounded shape that hinged guards have debris coming from the top of the roof may get stuck between the upward slope and the bottom of the roof, which would not only need manual cleaning but could completely block the flow of water into the gutter. Also, since they are usually attached to the outer edge of the gutter, they may fly up or even be torn completely off in the case of high winds or heavy rains. Flat guards prevent both of those problems due to their flat shape and ability to be reinforced underneath shingles but come with their own issues. As stated before, they cannot easily be lifted up to access the gutters like hinged guards can, and they may cause damage to the roof shingles. They can also collect debris on top since there is no downward slope for it to flow off the roof, which means the gutters would need to be cleaned more often. Both styles of screens may need to be cleaned manually if smaller particles, like pine needles or roof grit, go through the perforated holes and into the gutter.
Mesh Gutter Guards
Mesh gutter guards, also called micro-mesh guards, work in the same way that screen guards do – a super-fine mesh serves as a filter for water to flow through, capturing any debris and preventing it from clogging gutters. The holes in a mesh guard are smaller than those in a screen guard, fixing the problem of small particles of debris being able to get through. Also like screen guards, mesh guards can be bought in two styles, one that sits flat on top of the gutter and one that is slightly angled down, using gravity to pull debris down and away from the roof. A standard guard is made of metal, making it fairly durable and able to withstand extreme weather.
Although mesh gutter guards are able to keep most types of debris out of a gutter, the tiny holes that keep gutters clean can also prevent water from being able to easily flow through. The water might get caught on top of the guard and end up dripping off the side of the house, causing potential damage to the house and its foundation. Slanted guards, in particular, can run into this problem, especially if the water flow can gain enough momentum on the slant to bypass the holes and run off of the gutter. Oils and grime from the top of the roof can end up collecting inside of the mesh holes, causing blockages and preventing water from being able to get through. On top of all of that, the mesh can be too flimsy and can break under the weight of debris, the force of rough weather or by animals chewing through. Metal meshes aren't as breakable as plastic meshes are, but can still be fragile.
Clearly, all forms of gutter guards have their own issues. It's important to know what the potential problems could be so that you can take precautions to avoid them. Some problems may be easier to manage, which can determine which type of gutter guard would work best for you. Overall, each type can make gutters require less cleaning or may make them easier to clean.
What to know before buying a gutter guard
With such a wide variety of possible gutter protection products, it can be difficult to know how to narrow down the options. There are certain components to look for to ensure that your gutter guard will be efficient and durable.
Metal guards are more durable than plastic. They won't bend as easily over time, meaning debris running off the roof will continue to flow down instead of getting caught on top of the guard.
In the same vein, the guard should create a flat surface with the outside edge of the gutter. If the guard sits beneath the gutter edge, it will create a lip that captures debris instead of allowing it to run off.
Guards that have a lip on the inner edge (the side that sits closest to the roof) can be reinforced by screwing the plate underneath the roof shingles.
Guards made of sponge will wear down easily and trap debris, which will require manual cleaning. They will also collect water instead of allowing it to run through, leading to water damage in the home and possibly the buildup of mildew in the gutters. Sponge is one of the worst materials for a gutter guard.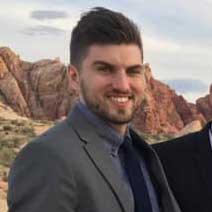 Hello, my name is Chris and I was born and raised in Western Pennsylvania. I'm an engineer with experience in medical technology, steel and materials, and nuclear power industries. I have been with my current employer for more than 5 years developing digital control systems for nuclear power plants.
I'm also a homeowner with a growing range of home renovation experience. My goal is to take all my technical knowledge and first-hand experience and translate it into high-quality content to support all of your home guide needs. Whether it be step-by-step guides, technical consultation, or product reviews, my aim is to make all your home projects a great success!