Cleaning grout can be a tricky and frustrating task if you don't have the right products on hand.
You'll likely find yourself spending too much time and energy on cleaning the tile's surface when, if you had the right tools, you could actually get it done within a few seconds.
Below, we will cover the best grout cleaners you can buy, how to make a homemade grout cleaner, our favorite brushes, and some time saving tips!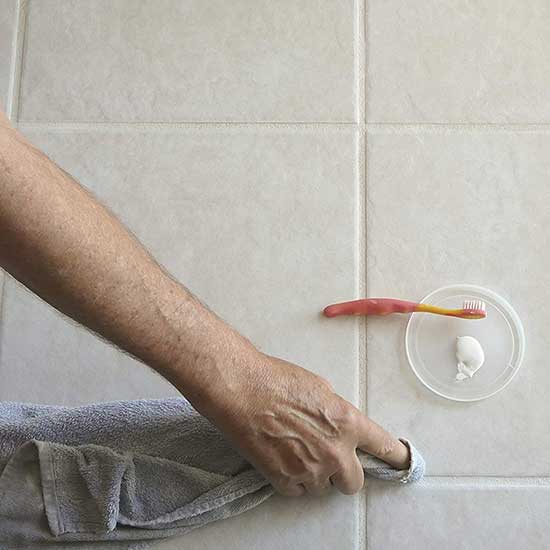 You've probably already learned that hot soap and water simply won't cut it when it comes to removing stains and grime between tile. In this guide, we will cover everything you need to know to get your grout looking like new!
Here is a List of the Best Grout Cleaners in 2021
1. Grout Refresh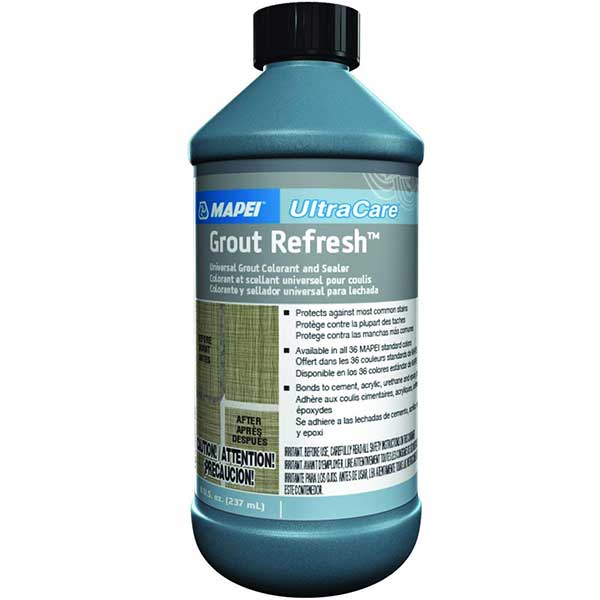 Our review: This formula is created to remove the dirt from the grout. Grout Refresh can provide deep cleaning for bathrooms and kitchens. This formula is non-toxic and is safe to use all over the house. The restoration of the color of the grout or even recoloring the existing grout color is possible. The product is available in a variety of colors which gives you plenty of options depending on your rooms color scheme. Cement, epoxy, and urethane grouts can be made to look like new with this product.
An "A to Z Guarantee" of the product and its efficiency is the part of the deal, which allows you to purchase with confidence. The product does most of the work for you, so you won't have to spend a lot of time scrubbing.
Key Features:
Works great for removing dirt from grout surfaces
Works on most types of grouts, including epoxy and cement grout
Comes in different colors to suit your needs
2. Black Diamond Deep Action Grout Cleaner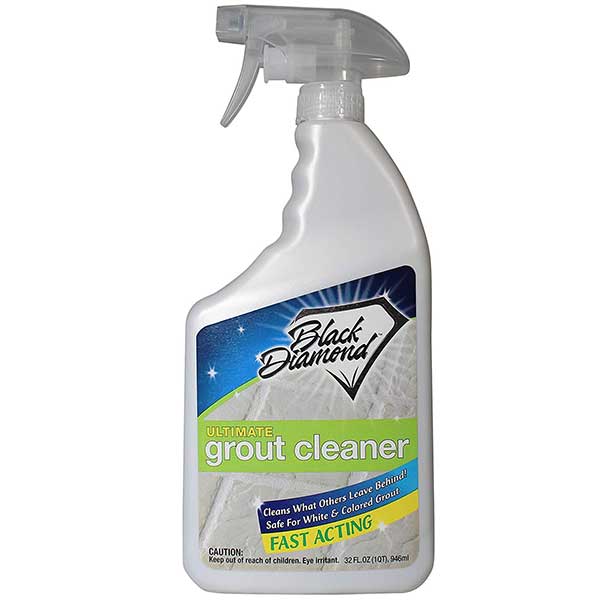 Our review: This grout cleaner provides deep cleaning for tiles, both ceramic and marble. It is an acid-free product to provide a safe cleaning option. Additionally, it works on both white and colored grout, so it can be considered as a one-product solution for all your grout related problems.
It can be used easily in commercial environments as well. With this Ultimate Grout Cleaner, grease, soap scum and even food spills can be easily removed. By using this product for cleaning grout, you don't have to use as much force and effort to get it really clean. The product is available in various sizes depending on how much grout you need to clean.
Key Features:
It works well on ceramic and marble tiles
Equally good for white and colored grout
Works for food spills, soap scum and grease
Acid-free product makes it a safe cleaning option
3. Color Restoring Grout Pen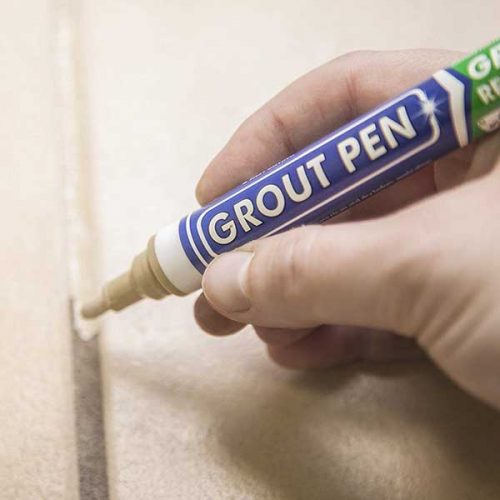 Our review: This Grout Pen cleaner can help in restoring the grout lines that are covered with mold or other dirt particles. Changing the color of the grout tile is another feature which is offered by this product for users. The pen uses antibacterial agents, which keep the titles protected from molds. The claim is that it won't allow the mold to reappear.
The pen works best on floor and walls. The odor associated with it is quite minimal. Additionally, it is non-toxic, thus qualifying as an eco-friendly product. Applying the serum on grout is easy because of the pen-like tip of the container in which it is packed. One pen can cover a large area (about 6-7 square feet). The cleaner's drying time is quick and makes it user friendly product for the customers.
Key Features:
Anti-bacterial nature keeps the mold from repapering
Eco-friendly, non-toxic
Easy to use and quick drying
4. Marbel Life Mold and Mildew Remover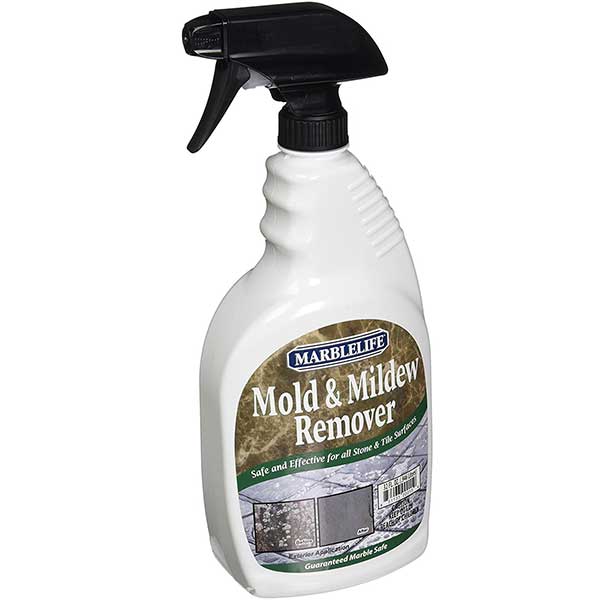 Our review: This product can increase the life of the marble tiles by providing protection from mold. Apart from mold, this product also works to help remove algae, mildew and fungus stains. In addition, it also offers a 100% satisfaction guarantee by the manufacturer. This is an environmentally friendly product. It has a very low odor which makes it easier to use. The product definitely works best on stone and tile surfaces.
Key Features:
Provides protection against mold, mildew, and algae
Great for stone and tile surfaces
Low amount of odor
Does not leave any residue
Will not erode marble or tile
5. Absolutely Clean Grout Cleaner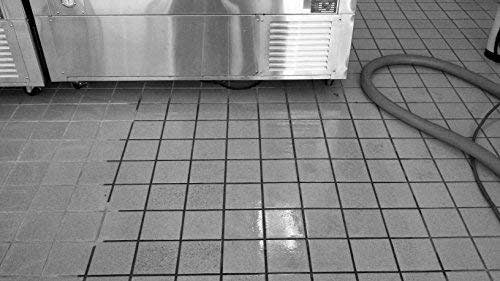 Our review: This professional-strength product is designed to protect all grout types. It's amazing how a little cleaning can improve the appearance of your tile surfaces floor and give them a new shine. This product is a fast-acting formula and does not leave behind any sort of residue.
This grout cleaner is also useful for the shining natural stone surfaces. You can use it on marble fixtures and ceramics. Absolutely Clean uses a natural formula which employs natural enzymes in order to remove stains and dirt. This natural formula means that you won't have to worry about fumes while cleaning.
Key Features:
Is non-tox and non-corrosive
Produced with natural enzymes
Effective for all types of stone
6. Goo Gone Grout and Tile Cleaner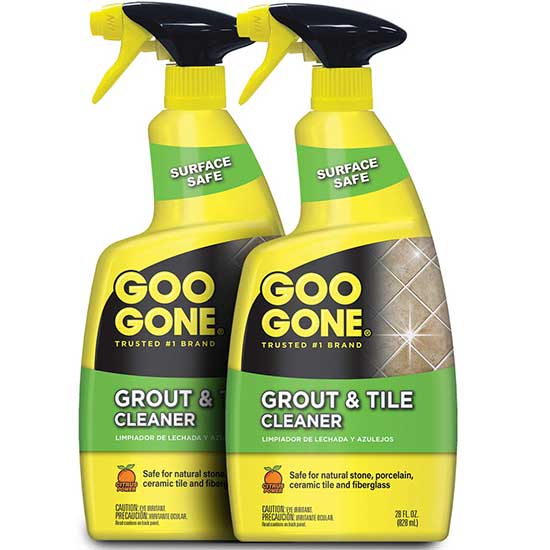 Our review:  This two-in-one product works as a grout and tile cleaner. It works great on soap scum, hardware residues, mold, and mildew. Additionally, it works well on dirt and grease, which can be handy if you have bathroom and kitchen tile to clean.
Grout, fiberglass, ceramic and porcelain surfaces can be easily cleaned with this product. This product is strong enough to take care of the tough stains and cleaning while still be mild enough to not damage these kinds of surfaces.
Key Features:
One of the newest products on the market
Works on both grout and tiles
Fiberglass, porcelain, and ceramics surfaces can also be cleaned with it
Tough on stains but safe for your tiles
Goo Gone is a legendary cleaning product brand
7. Granite Gold Tile Grout Cleaner with Brush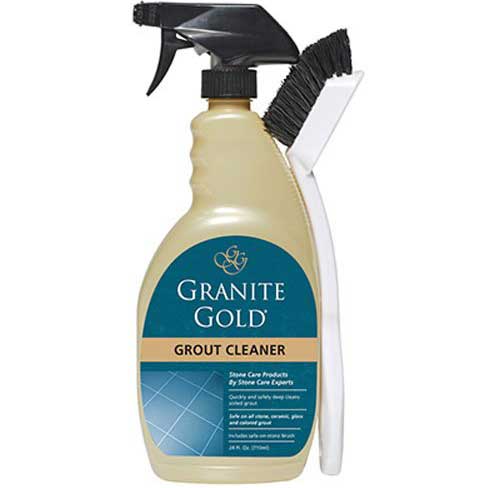 Our review: This grout cleaner works on mildew, molds, dirt, water stains and grease. It can provide deep and sustained cleaning for keeping the original color of the grout intact, whether it is white or colored. The sweet citrus scent makes it more pleasant to use than some of the other products available in the market. This product is usable on a variety of surfaces. Stone, porcelain, ceramic, glass, concrete, and slate are among the list.
A brush with strong poly fiber bristles comes with the cleaning product. It ensures that customers have all the necessary equipment for cleaning readily available. The cleaner is safe to use because of its non-toxic nature. It is also eco-friendly, and does not contain any phosphorus or ammonia.
Key Features:
Includes brush with soft bristle
Nice, subtle citrus scent
Does not contain ammonia or phosphates.
Useful for porcelain, glass, grout, stone etc.
8. Rejuvenate Grout Restorer Marker Pens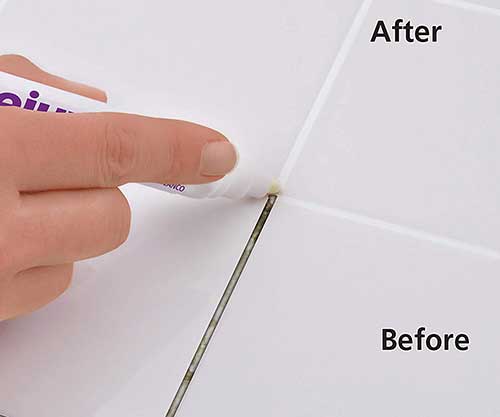 Price between: $5.97
Size: 320 linear ft
Weight: 1.6 Ounces
Our review: This product has been specifically designed for the restoration of white grout. The sealing of grout lines ensures that the results generated are long-lasting. The pen works for getting rid of mold and mildew as well as a protective barrier. The goal is to get rid of mold and make sure it doesn't come back anytime soon. With all these features, your tile and grout will look cleaner and brighter than before.
The quantity of cleaner/sealer provided in one pen will work for most normal sized rooms. The use of this product is easy because of the pen design. It is also non-toxic so you can feel comfortable using it all around your house.
Key Features:
Cleans and seals for long-lasting results
Non-toxic
Pen design makes for easy use
The quantity provided by each pen can take care of an entire room
9. Grout Eez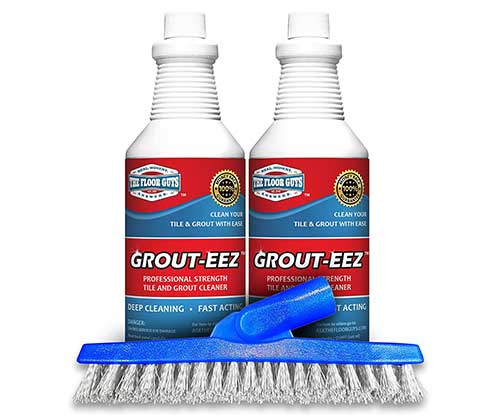 Our review: Whether you're dealing with ceramic, porcelain or normal tile, Grout-Eez has got you covered. This product is strong enough to handle pretty much any dirt or grease. It also comes with a grout brush that has an attachment for a handle, so you can use it without having to bend over or be on your hands and knees.
One bottle of Grout-Eez covers and impressive 250 square feet of tile/grout, which is a great value. The company touts the fact that professional cleaners employ their product and back up their claims with a 30 day money back guarantee.
Key Features:
Works on ceramic, porcelain, and tile
Comes with free grout brush
Comes with great instructions
10. Marblelife Marble & Travertine Cleaner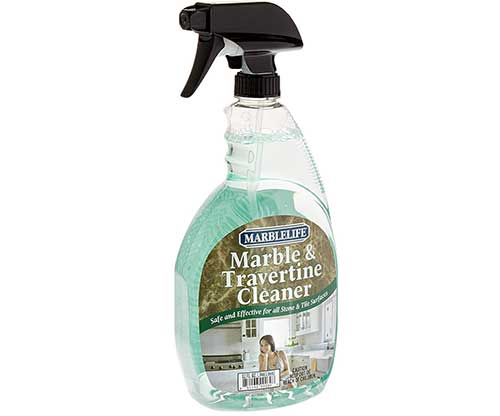 Price between: $19.75
Size: 32 oz
Weight: 2.2 Pounds
Our review: This product allows consumers to provide the necessary care to their marble and travertine surfaces. It is manufactured in United States and is designed to be eco-friendly. It is odorless and safe for use on marble surfaces. No harsh chemicals have been included in it which makes it easier to use and friendly for humans and pets.
Dirt particles can be removed using this product and the manufacturer provides a satisfaction guarantee. It can be used on all tile and stone surfaces.
Key Features:
Works for marble and travertine surfaces
Works great for removal of dirt
Has very minimal odor
It is not harsh on stone or marble
Best Grout Cleaning Brushes
While some of the above cleaners came with their own grout cleaning brushes, there are quite a few that do not. Therefore, you may need to do a bit of searching to find the right brush for your grout cleaning needs. A great grout cleaner will be even more effective when paired with a great grout cleaning brush. These brushes are inexpensive and will save you a lot of time and money, along with giving you giving you a better end result. A detailed description regarding some of the best brushes is provided below.
11. OXO Grout Brush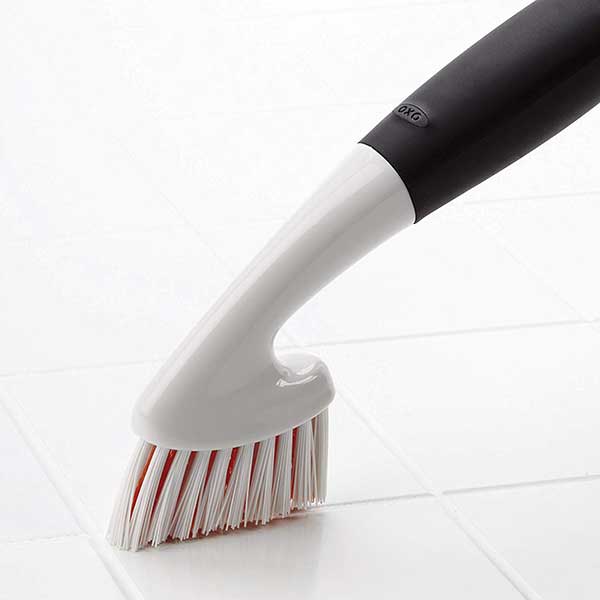 Our review:  OXO Good Grips grout brush is perfect for cleaning your kitchen or bathroom grout. Moreover, it is also useful in fixtures and door tracks. The brush has strong and sturdy bristles which can help clean the dirt from tile grouts. The brush is designed thoughtfully to make it easy and comfortable to use. It also contains non-slip grip which means you can comfortably hold it while cleaning.
12. Long Handle Tile Grout Scrubber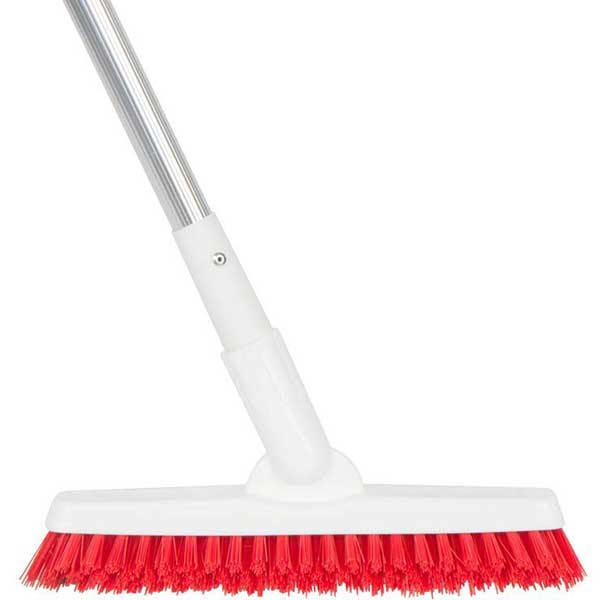 Our review: On the other hand, sometimes short handle is just not what you need. That's where a brush like this one from Foxtrot Living can come in very handy. This grout brush has a long handle which opens up a lot more options for cleaning.
This brush is made for customer comfort and can be used by anyone in the house. The long handle makes cleaning grouts easier. This lightweight brush makes it so you no longer have to crawl around on your hands and knees to get your tile floor clean. Or if there is a tile wall with grout that needs to be cleaned, you will not have to balance on a foot stool to get all the way to the top.
13. Hiware Grout Joint Scrubber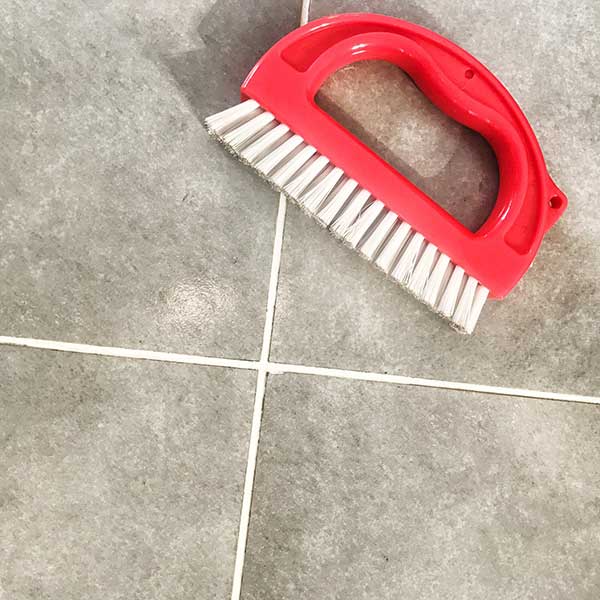 Our Review: The set of Hiware Grout cleaner brush consists of two brushes including a large and a small brush. The large brush is great for bigger areas, whether grouts, showers, toilets, and other places. On the other hand, the small brush is useful in cleaning the corners, hard to reach spaces and any other place that the large brush can't go.
Both of the brushes have flexible, comfortable handles which make them easy to use. Bristles of brushes are stiff and can clean the grout nicely. The rounded design of the handle allows you to get a nice, full grip. Depending on what you are cleaning or where it is, this makes putting in the elbow grease easier than a long, extended handle.
14. Crown 3 in 1 Brush Set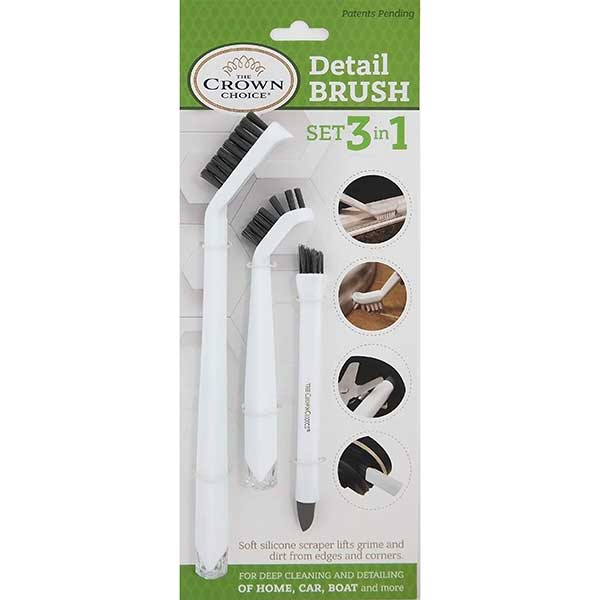 Our Review: This 3-in-1 Grout Cleaning Brush pack consists of 3 brushes which have different forms and can be used in different places. These 3 brushes included in the pack include one with a long handle that is for deep cleaning, one that is more of a medium size and designed for corners & edges, and also a 2-in-1 detail brush.
All of these brushes have their own unique function instead of trying to have a one size fits all approach. This allows you to clean all different kinds of grouts and other fixtures as well. These brushes also have a competitive price when compared to other grout brushes, especially considering the fact that you are getting three for the price of 1.
Many customers have preferred to buy this pack of brushes and get the benefit of the different styles and designs included.  Moreover, all of the brushes are easy to use and are great for all kinds of different cleaning jobs (not just grout) such as boats, cars, and more.
Cleaning Tips and Homemade Grout Cleaners
Having tile in your house is a great thing – it looks good and can really add to the style of your home. However, cleaning it is not always the easiest or most fun thing to do. With the above listed grout cleaners and brushes, you will have the tools you need to get your grout looking its best. However, sometimes simply having the right tools is not very helpful if you do not know exactly what to do with them.
That is why we are providing you with some helpful tips to make sure you have the cleanest grout with the least amount of work.
Choose your grout cleaner wisely
This is considered the most important thing as you look to get your grout looking fresh and clean. It is essential for homeowners to choose their tile grout cleaner wisely.
As it is discussed earlier, that there are tons and tons of different types of grout cleaners available in the market. Therefore, you have tons and tons of choices. However, it can be a bit overwhelming at times. What kind of grout cleaner is best for your situation?
Grout cleaners come in a variety of delivery methods – pens, spray bottles, and non-spray bottles. Which type you choose depends on how much grout you need to clean and where it is located. Pens work great for smaller areas and for walls and ceilings. Spray bottles are great for all-around use. Non-spray bottles work best on level surfaces like floors.
Also, remember that grout cleaners are designed specifically for different types of surfaces. Know what kind of surface you will be cleaning and find out if your specific grout cleaner will work on that kind of surace.
Keep your floors dry
It is recommended for homeowners that they try to keep their tile floors dry in order to minimize the amount of dirt and grime that gets in the grout. If something spills on the floor, it should be cleaned up as soon as possible in order to avoid dirt and grime settling into the grout. Liquids can attract and hold in dirt which then, in turn, becomes the cause of dirty grout. Therefore, it is strongly recommended to homeowners to keep their floors dry.
Place mats or rugs in high traffic areas
When it comes to tile floors, foot traffic is the primary cause for wear and tear and the main culprit when it comes to dirt being worked into your grout. Therefore, it is strongly recommended for the homeowners to place mats or rugs in mostly used passages in order to prevent the grout from getting dirty.
Seal cleaned grout
If you want to keep your grout looking good and not spend tons of time cleaning it, it is essential for you to seal your cleaned grout every couple of years. Sealing will help to keep the dirt away from the grout and you won't have to worry about it absorbing dirt. If you've ever cleaned it before, you know that grout is porous which is one of the reasons it can be a difficult thing to keep it clean. If you seal your grout, then you can greatly cut down on the amount of time you have to spend cleaning it.
Move Furniture Wisely
Moving furniture around can cause scratching on the surface of your grout and crate places for dirt to get stuck. Therefore, it is strongly recommended that you move furniture carefully and do what you can to make sure you do not scratch the grout.
Keep grout dry
Mold, mildew, and fungi all thrive in warm, wet environments. Making sure you keep areas like your kitchen and bathroom dry and ventilated will go a long way in making sure that your tile grout stays as clean as possible.
Follow instructions on the grout cleaner
Whatever grout cleaner you purchase will most likely have instructions on the bottle. Make sure to follow them carefully. This will ensure that you use the product in the way it was intended. This will result in less work!
Following these tips will make sure that cleaning grout is as seldom, quick, and painless as possible!
Frequently Asked Questions
How does Grout get dirty?
Grout usually gets dirty due to dust, grit or spilling of liquid. Apart from this, soil builds up over time and changes the color of grout and discolors it. Therefore, it looks faded and dirty. A tile grout cleaner is the best solution to tackle this problem and to prevent the dirt from degrading your grout.  Tile grout cleaners clean the grout rejuvenate the shine of your tile.
How to clean tile grout lines?
There are a lot of different ways to clean grout lines. Some different methods include: grout cleaners, steam cleaners, magic erasers, and more. In addition to this, homeowners can also contact grout cleaner experts who clean the dirt from grouts with professional equipment. They usually use machines and while it can be more effective, it is also more expensive. But if you have a big enough area or dirty enough grout, this may be a good solution.
How often should I use grout cleaner?
We've already discussed that the major reason for dirty grouts is dust, dirt, and moisture over time. Therefore, it is recommended for the customers to keep tile areas dry and prevent the dust through mopping or vacuum on a regular basis, especially in high traffic areas like entryways, bathrooms, and kitchens.
Is it possible to get rid of mold and mildew using tile grout cleaners?
Yes! Mold and mildew are common problems when it comes to keeping your grout clean. There are several cleaners in the market which are designed specifically to remove mold and mildew. Use a grout cleaner to get rid of the mold and mildew, then make sure to use a grout sealer to make sure the mold and mildew don't come back.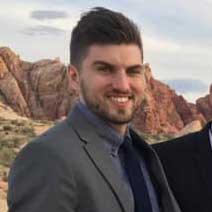 Hello, my name is Chris and I was born and raised in Western Pennsylvania. I'm an engineer with experience in medical technology, steel and materials, and nuclear power industries. I have been with my current employer for more than 5 years developing digital control systems for nuclear power plants.
I'm also a homeowner with a growing range of home renovation experience. My goal is to take all my technical knowledge and first-hand experience and translate it into high-quality content to support all of your home guide needs. Whether it be step-by-step guides, technical consultation, or product reviews, my aim is to make all your home projects a great success!