If you're in the market for a new hammock, then you probably know as well as anyone how relaxing and comforting a gently swaying place to rest your head really can be.
While the traditional hammock is ideally located on a deserted island tied between two palm trees – most of us have a day job.
Luckily, there are still many options to get yourself in a hammock at home.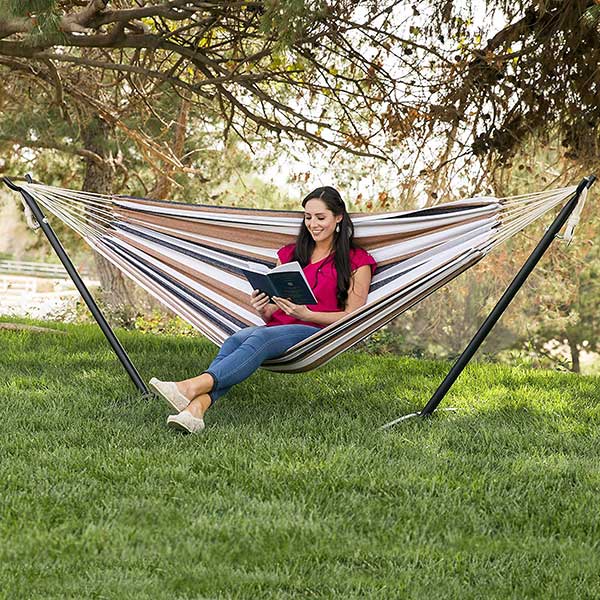 My goal here is to guide you through some of the best hammocks stands on the market and get you lounging in style. There are actually more types of stands out there than you might think.
They vary greatly in size, shape, design, and portability. Some are beautiful stationary wooden hammock stands, others are meant for indoor use, others are foldable and perfect for camping, and a lot of hammock stands come with a carrying case for increased portability. I think you get the point… your ideal stand is out there, we just need to find it for you, and more than likely it's on the list below.
Here is a List of the Best Hammock Stands
While your personal needs and preferences will be the ultimate decider on what is right hammock stand for you, there is a set criterion you can use to judge and rate each offering. I will go through some tips below. They will give you an idea of how we choose the stands on the list below, and then I'll get into reviews of the top hammock stands.
1. Zupapa Hammock Stand Fit for 12-15ft. Hammock, 2 Person (Portable)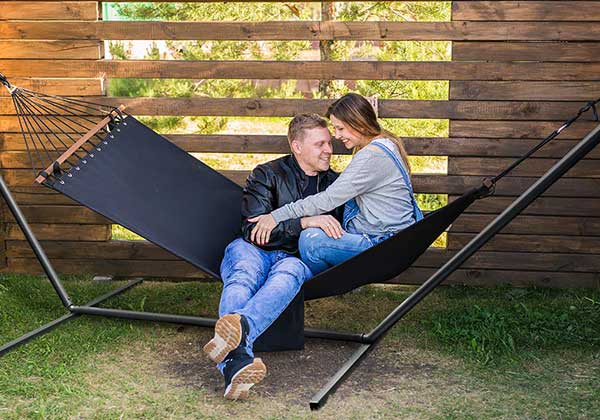 My review: This Zupapa hammock stand is a solid frame made from heavy-duty steel tubing covered in a weather resistant coating. It's relatively easy to take apart and assemble, while durable enough for long-term stationary use. Given the predicted lifespan and overall cost, this is rightly consistently found to be one of the best-valued hammock stands out there.
Capable of handling up to 550lb, either a single or double nest, and both spreader and non-spreader bar hammocks, this stand was specially built for relaxing with family or a loved one outdoors.
Read more

The stand isn't the most fun to take apart and build back up, but the spring pins help reduce the need for tools, and the carrying case helps out a bit as well. The stand measures in at 181 x 45.5 x 52 inches fully assembled and weighs in at about 50 lb.

Price between: $105 and $125
Type: Portable or Stationary (Stand Only)
Size: 12-15ft. Hammock
Hammock Included: No
Key Features:
Comes with a portable carry bag
Durable enough to withstand the elements
Great value
2. Sunnydaze Universal Multi-Use Heavy-Duty Steel Hammock Stand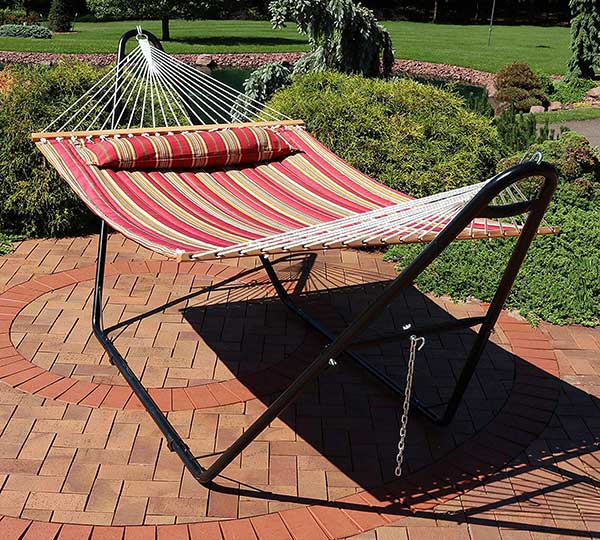 My review: The SunnyDaze Hammock stand is another tubular powder-coated steel design capable of being taken apart and put back together with little effort. This design, however, has an even larger size capacity than many of the competitors coming in at 440 lb. The stand comes with a series of additions like heavy gauge hanging hooks and 3" S-hooks allowing you a large amount of leeway in the hammock you can suspend. It can fit both small and large hammocks from 9.5" to 14".
Read more

If you want something suitable for both indoor and outdoor use and is capable of handling the weight of multiple people, this stand provides a unique and cost-effective option.

Price: Under $100
Type: Heavy Duty Steel Hammock Stand
Hammock Included: No
Size: 10.33 feet
Fits hammocks: 9.5ft to 14 feet.
Key Features:
Sturdy
Easy to put together
Basic but functional design
3. Petra Leisure 14 Ft. Wooden Arc Hammock Stand.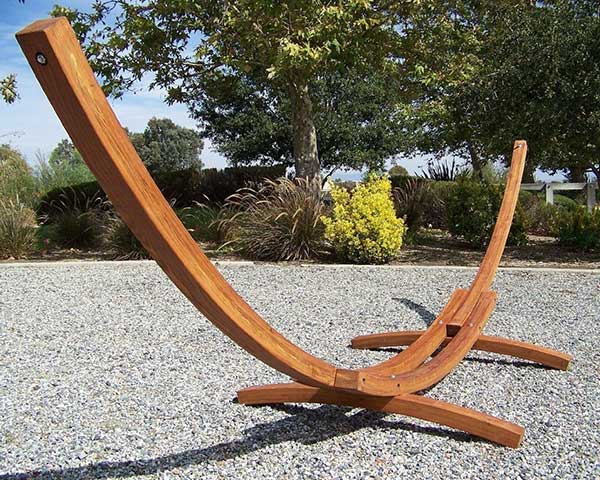 My review: The Petra hammock stand is the perfect combination of style and leisure. In my opinion it's best hammock stand made of wood. Specially, it is made from European Larch with a Teak stain finish. It is a beautiful and stylish piece capable of fitting into a wide array of decor styles. Standing at 14' (fitting hammocks ranging from 9-11 feet long) and weighing in at 450 lb, just make sure you have the room for it. The 18" chains give you some flexibility in the fitting.
Read more

The elegant curved arc design really helps this Petra stand, stand-out, if you will -and allows for additional levels of stability and durability. This is the hammock stand for you if you expect people (or dogs) to be regularly hoping in and out. A fantastic addition to any backyard looking to add a unique and straightforward lounging area.

Price range: $215 and $250
Type: Stationary Stand (Wooden)
Hammock Included: No
Size: 13 foot (hook to hook)
Fits Hammocks: 9-11 feet
Key Features:
Beautiful and functional
Unique design
4. Best Choice 9ft Hammock Stand w/Carrying Case (Best Seller)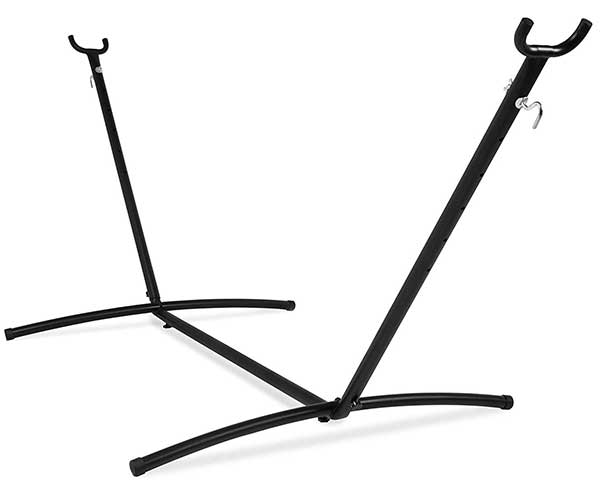 My review: This standalone stand from Best Choice gives you the portability, ease of use (and the added carrying case) as well as the option to set up your hammock no matter where you are. Measuring 9 ft long fully set up and made from rain-resistant powder-coated steel for long-lasting comfort; this stand is a favorite for camping trips.
Read more

Measuring 115″ x 48″ x 43″ and able to handle up to 450 lb, it is surprising when you see the area saved by the space-saving design when not in use- and it all fits neatly into the added carrying case.

Price between: $50 and $60
Type: Portable steel hammock
Includes Hammock: No
Size: 9 foot
Key Features:
Highly portable
Space saving design
Cost effective alternative
5. Vivere Double Hammock & Space-Saving Steel Stand (Highest Rated)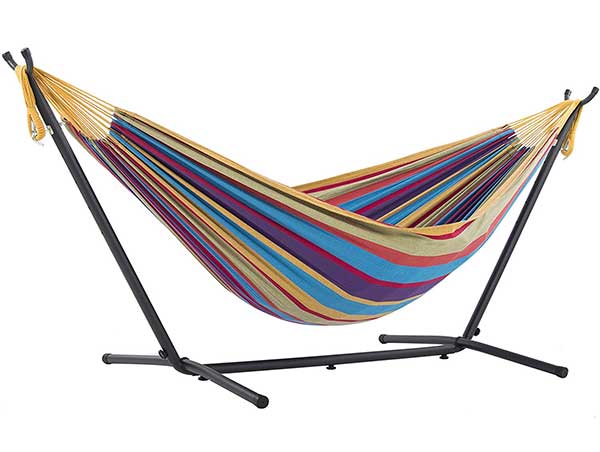 My review: This Vivere hammock set is a fantastic combination of price and function. The stand is 9 ft long and made from heavy steel, but can still be broken down without any tools. The entire set can be put into a case and weighs in at about 30 lbs – making this a very portable hammock stand. You can order the hammock that is included from various materials depending on your needs.
Read more

This is really just a refining of a decades old tried and true design, and they pull it off well. The hammock bed itself is 63 x 94″ while the total length is 130″, meaning it has enough space to accommodate two adults (450 lb capacity).

Price between: $80 and $95
Type: Portable hammock with stand
Includes Hammock: Yes
Size: 9-foot stand
Key Features:
Highly portable
Very Stable
6. Best Choice Double Hammock With Steel Stand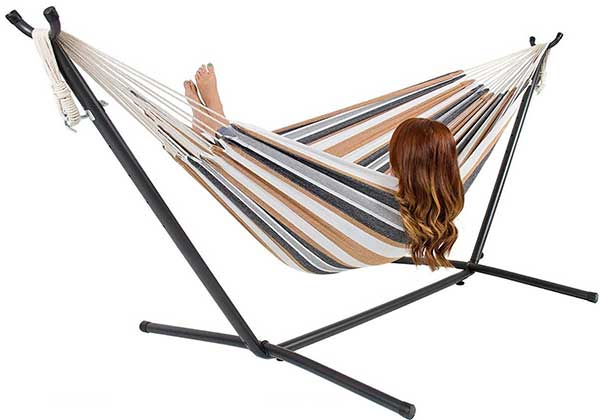 My review: The BestMassage Hanging Hammock Chair Stand is our favorite when it comes to compact, sitting style hammock stands. The stand is relatively easy to assemble and disassemble, yet can still handle a good deal of strenuous use. Definitely counts as a portable hammock stand. Admittedly more suited for children when indoors due to the lower hang, this stand is still a favorite for all manners of outdoor use.
Getting into the metrics, the stand reaches a height of 7ft and can support up to 300lb. The swing allows for a near full 360-degree rotation.
Read more

All in all the fantastic value and the powder-coated steel and a rust-resistant finish make this compact chair stand perfect for patio and garden placements.

Price between: $60 and $70
Type: Portable hammock with stand
Includes Hammock: Yes
Size: 9-foot stand
Key Features:
Comfortable hammock included
Easy to set up
7. Best Massage Hanging Hammock Chair Stand (Stationary)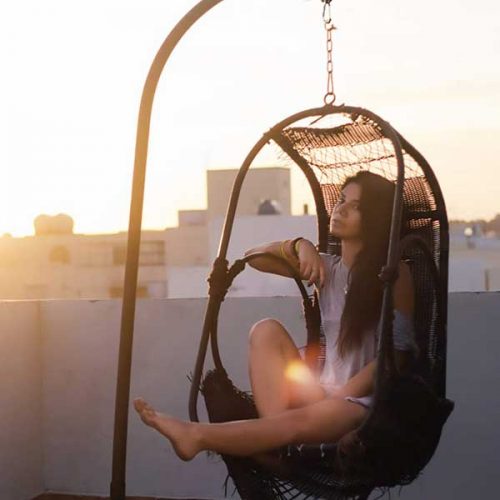 My review: If you're looking for an ultra-portable option, then I recommend a folding hammock. With this puppy you can pull it out of the tent or back of the van and be lounging in style in literally seconds.
The cloth part of the tent is made of a durable 600D polyester and the frame is made of a durable steel. There is a pillow attached to one side of the tent. A lot of people who don't think they will use this feature simply cut it off, and it doesn't cause any damage to the hammock itself.
Read more

The bottom line is, if you're looking for a foldable hammock stand for the backyard or camping that will leave everyone else jealous, this stand is a home run.

Price between: $60 and $75
Type: Chair stand (portable or stationary)
Hammock included: No
Size: 44" (L) x 31"(W) x 85.5"(H)
Key Features:
Awesome space saving design
Durable
Easy to set up
8. Kamp Rite Kwik Set (Best Folding Hammock Stand)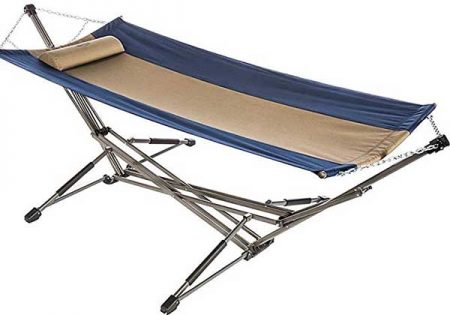 My review: If you're looking for an ultra-portable option, then I recommend a folding hammock. With this puppy you can pull it out of the tent or back of the van and be lounging in style in literally seconds.
The cloth part of the tent is made of a durable 600D polyester and the frame is made of a durable steel. There is a pillow attached to one side of the tent. A lot of people who don't think they will use this feature simply cut it off, and it doesn't cause any damage to the hammock itself.
Read more

The bottom line is, if you're looking for a foldable hammock stand for the backyard or camping that will leave everyone else jealous, this stand is a home run.

Price: Under 100 dollars
Type: Folding hammock
Hammock included: Yes
Size: 76 inches (6.33 feet)
Key Features:
Sets up in seconds
Foldable design
Convenient carrying bag
9. Lazy Daze Portable Steel Hammock Stand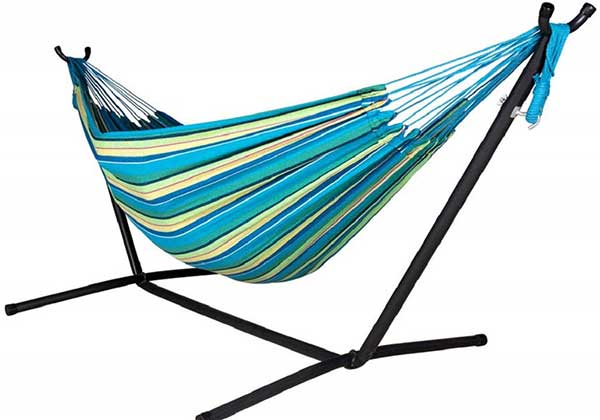 Our Review: This portable hammock and hammock stand from Lazy Daze is a great choice for any outdoor adventure. The set breaks down into five manageable pieces that fit snugly inside the included bag, weighs in at a 35 lb carry, but can support over ten times that weight at 450 lb. Perfect for double outdoor lounging.
The steel hammock stand goes up and down with reasonable smoothness without any tools needed. For added durability, the stand is "Powder coated in either a charcoal or oil rubbed bronze finish." When stood up the stand covers an area of 115 x 48 x 30" with a bed area of about 84 x 59" meaning you shouldn't have any issue spreading out.
Read more

If you are looking for a full hammock set that can get you through an outdoor adventure and make it back in one piece – or something that can really let you splay out outside – this Lazy Daze set is for you.

Price between: $200 and $225
Type: Portable Hammock with Stand
Hammock Included: Yes
Size: 102"(L) x 38"(W) x 35.5"(H)
Key Features:
Includes carrying case
Easy to assemble
Durable
10. Sorbus Free Standing Hanging Chair Stand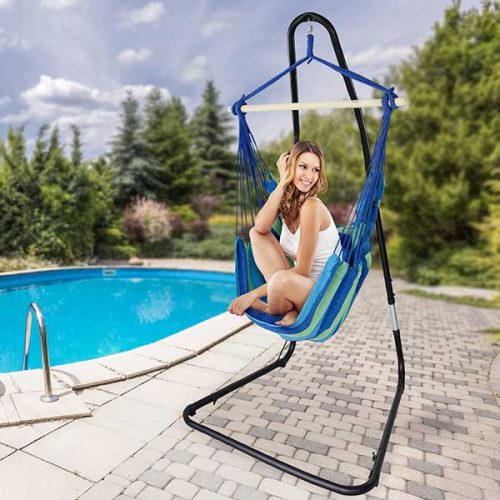 My review: This free-standing frame from Sorbus is an ideal way to hang a chair or swing with little to no hassle. The functionality allows you the option to change chairs depending on placement or season – giving you full control over the look of a room or patio. Perfect for flat surfaces indoors – the design allows for a near full rotation giving you many placement options.
Read more

Height adjustable, from 79 to 93 inches and capable of supporting over 300 lb. The vast array of chairs that can be used in this swing, its overall durability, and the price point make it a brilliant buy for those continually looking to remake a room.

Price Range: $80 and $90
Type: Hammock chair stand
Hammock Included: No
Size: Adjustable height (79 to 93 inches) x 45" Wide
Key Features:
11. Giantex Wooden Curved Arc Wide Hammock Swing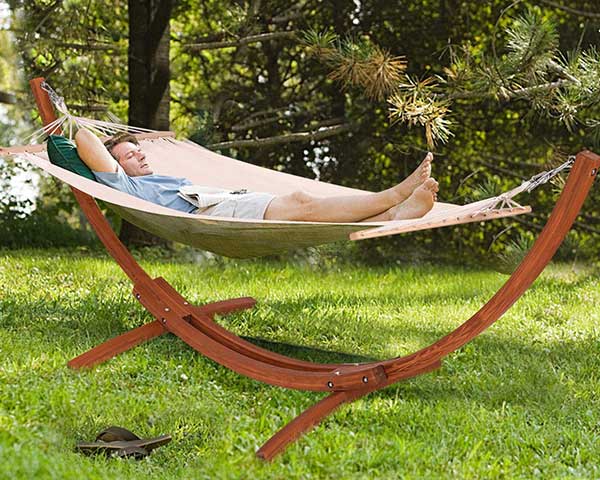 My review: A finely crafted and elegant wood stand made from Russian Larch that will go perfectly in your patio, backyard or garden – or even makes a bold statement indoors. The stand provides a sturdy base and can withstand weights up to about 260 lbs.
With a little extra attention paid to preserve it in winter, this stand should last quite a while in even rougher outdoor weather. The attached hammock is made from polyester cotton.
Read more

This is a cost effective option for placing something a bit classier in the room.

Price between: $135 and $150
Type: Stationary solid wood hammock stand
Hammock Included: no
Stand: 123.2" x 45.3" x 47.2"
Key Features:
Great durability
Elegant wooden design
12. Flexible Flyer Lawn Hammock Swing Stand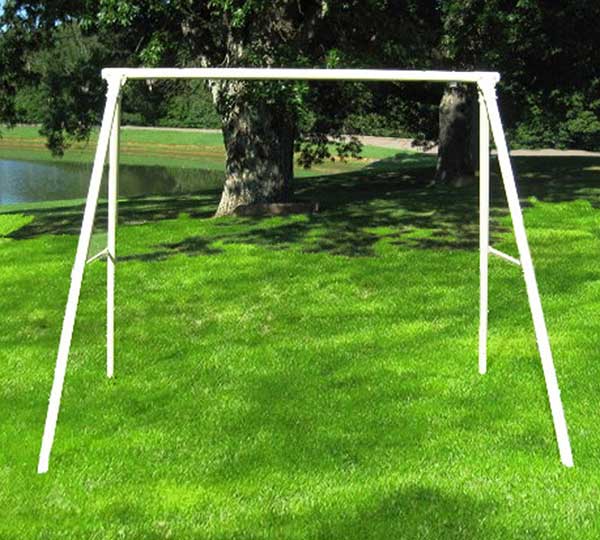 My review: Whether you are trying to hang a larger lawn swing, a hammock, yoga swing, or even a couple kid swings, the Flexible Flyer is an inexpensive and durable choice. The latter may require a little extra handiwork, but the point remains the frame itself can support a solid amount of weight and can handle extended outdoor use – at a low cost.
The Flexible Flyer Lawn Swing is a simple design made with a high level of care and attention to detail. The powder coat painted 2" steel tube frame is capable of holding up to 600 lb and can handle both 4' and 5' wide lawn and patio swings. The entire structure comes in at 97 x 64 x 72 inches yet stays at just above 30 pounds.
Read more

If you are looking for a reliable swing frame or something you can really customize, this frame has been a  consistent favorite.

Price between: $110 – $130
Type: Stationary Hammock Swing
Hammock/Swing Included: No
Size: Top bar 6ft off the ground (97 inches long)
Key Features:
Great backyard hammock swing option
Durable enough to hold up outdoors
Basic look but still appealing
If your looking for cool DIY hammock stands, I have included a few of my favorites below. Doing it yourself can save some money and you can even customize them to you needs. So, If you're looking for a way to finally get that hammock and get some piece and quiet, here are your best options.
13. DIY Option 1 (Easiest and Fastest):
#13. DIY Option 1 (Easiest and Fastest): The first video is an easy way to make your own stand without having to have a lot of of power tools. This is probably the least time consuming option on the list.
Key Features:
Easy to make
Fast to put together
Few tools needed
14. DIY Hammock Stand Option 2
My review: This is the second easiest DIY hammock stand on this list. It still takes some tools and supplies, but you should be able to complete the project for under $25.
Key Features:
Can complete project for under $25
Still pretty easy to build
15. DIY Option 3 (Folding Design)
My review: Here is an awesome video of a guy making a DIY Foldable Hammock Stand. This takes a little but of work, but I mean look at the end product, this this is amazing looking!
Key Features:
Foldable DIY Hammock
Looks amazing
You will get lots of compliments
Buying Guide: Considerations to Find the Perfect Stand for You
These tips are not only helpful advice if you are hunting for hammocks on your own, but they also give you an idea of the baseline criteria I used to pick and judge the hammocks I listed below.
Design
After researching hammocks I was blown away by the number of unique design. Some are simple and heavy duty, while others a little too far off the beaten path for their own good, while others are legitimate improvements on the tried and true design.
Some are highly situational, or niche and it will be up to you to determine the value of that design and if it's a good design for what you plan on using it for.
Materials Used and Overall Strength
This is somewhat self-explanatory, hammocks are traditionally outdoor furniture and should be expected to withstand a relatively high amount of wear and tear.
That said, I recommend checking what the max weight the tent is rated to hold. Although most tents hold far more than you'll ever need them to, if you plan on cramming 2-3 person on a stand designed to hold 1 person, this is something you need to pay attention to.
Easy to Set Up
This is an important consideration for both stationary and portable hammocks. Some have a simple design that makes them super easy to put together and set up. Some have adjustable heights, and you don't want to be continually be pinching your fingers and straining yourself trying to get it up and down.
Size and Portability
While fixed stands are nice due to their overall stability and durability, portable hammock stands are a must have if you want to be able to move it around the yard, take it with you somewhere, or are looking to relax on a mountaintop somewhere.
While stationary wooden hammock stands look amazing, you may not have or want a hammock that takes up a large amount of space in your backyard or on your patio.
Cost
This may not be as readily straightforward as it first seems. Price isn't always correlated with quality. I eliminated a lot more expensive hammocks on this list because their were cheap hammock stands that were just as good for half the price.  Longevity, functionality, and other functions are far more important than cost.
What you're using it for
Take into account what you are using it for such as:
Camping: Durability and portability are likely the key factors you will be looking for.
Patio: Durability, size and overall look will likely be major deciders.
Indoors: Size and design will be key for indoor use.
Backyard: If you're planning on placing your hammock stand in your backyard and leaving it there, size isn't as big of a deal. What's more important in this case is overall look, durability, and ability to withstand the weather.
Frequently Asked Questions
What sizes should I look for in a Hammock?
Single
These hammocks are generally around 76 inches to 79 inches in length and are usually just under 5 ft in width. These, as the name suggests are mostly suitable for one full sized adult.
Double
These hammocks are generally 5'3" in width. This is also pretty self-explanatory – double hammocks are geared to hold two average sized adults.
Large (Queen)
These hammocks are generally between 5' 3" to 5'11" in width. These hammocks are made to be large enough for two average sized adults with some room to spread out or include a small child or dog.
Family (King)
Hammocks wider than 5'11" in are typically called family hammocks. These hammocks are very large. They are made to accommodate around three average-sized adults. These are an excellent choice for rowdy backyards with kids and pups hopping in and out -or for a large and spacious place to sprawl out.
Are Polyester or Cotton Hammocks Better?
Since this series was on the best hammock stands, it is worth it to approach it from that angle. If you are looking to set your hammock up inside, or perhaps use a hammock chair stand, then a cotton material with a wood hammock stand is a popular choice. Cotton is more comfortable, but won't last as long in outdoor conditions.
If you are pairing your hammock up with a camping hammock stand or portable hammock stand, then polyester will match your purposes much more closely. Polyester these days is much higher quality than it used to be, and the higher priced pieces can be very very soft.
How Tall Should My Hammock Stand Be?
It is hard to say exactly how tall a stand should be, since the hammock itself and the use of spreader bars can significantly change the dip the hammock has at the point in which you sit. Generally speaking,  you want the point in which your hammock meets the stand to be around 3.8 – 5 ft in height from ground level. Depending on the cord or chain tension, that should keep you around 18" off the ground, which is the preferred height.
Should I Buy a Hammock Stand or Hammock Chair?
This is another question that seems to get asked a lot, but it just comes down to preference. Most of the concerns seem actually to revolve around safety. Mothers who want to have a relaxing nurse their child on the back patio, for example, they will prefer to swing in a  hammock chair rather than a typical hammock since the back support and the inability to flip over. It's also hard to fall asleep in a chair. These seem obvious, but you would be surprised.
Final Thoughts
Hammocks are a great way to relax. There are so many out there it can be decide which is actually the best. I hope this page saved you some time and you were able to narrow down your search.
Let me know if you have any questions or comments below, or if you feel there is a hammock you feel should be added to the list!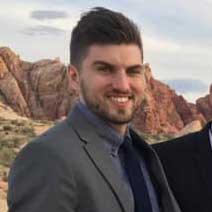 Hello, my name is Chris and I was born and raised in Western Pennsylvania. I'm an engineer with experience in medical technology, steel and materials, and nuclear power industries. I have been with my current employer for more than 5 years developing digital control systems for nuclear power plants.
I'm also a homeowner with a growing range of home renovation experience. My goal is to take all my technical knowledge and first-hand experience and translate it into high-quality content to support all of your home guide needs. Whether it be step-by-step guides, technical consultation, or product reviews, my aim is to make all your home projects a great success!