Home security is one of the biggest concerns on new and seasoned homeowners alike. Many homeowners find themselves asking is my home safe from intruders?
How will I know if an intruder gets into my home? What evidence can I provide to find out who an intruder is?
If these are questions on your mind, a home security camera system may be the perfect solution.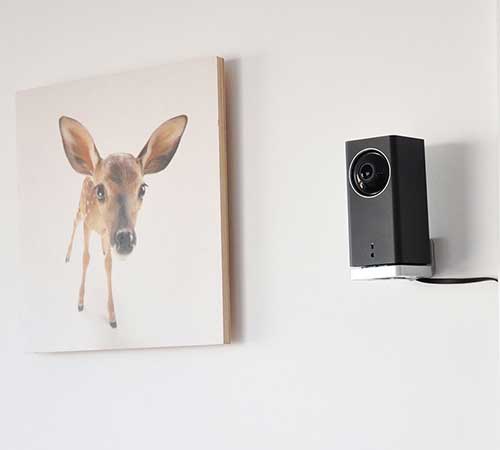 A good system can provide peace of mind to a homeowner, whether they are at home or away.
Here Are the Best Home Security Cameras
1. Ring Spotlight Camera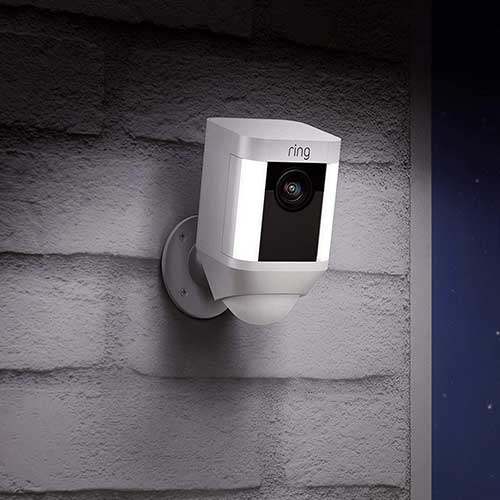 Type: Wireless or Wired
My Review: Ring makes a great line of home security products and their exterior camera is no exception. The Ring Spotlight Camera is one of the best options because it has so many great features and options. It starts at $200 per camera, making it one of the pricier options. But for all that money, you really do get some pretty incredible technology.
The camera has 1080p HD video with IR night vision and live coverage. The field of view is an impressive 140 degrees. It comes with LED light strips and a siren that can be activated if it detects unusual activity. You can communicate with individuals nearby through the camera and get alerts on just about any smart device (iOS, Android, Mac, Windows 10). It also works with Amazon's Alexa products to provide video playback and monitoring, all voice-activated.
One of my favorite features about the Ring Spotlight Camera is how many options customers have for install. The camera comes in a battery-operated version, a standard wired power outlet version, a rechargeable battery option, and a solar panel option. Users also have the option of subscribing to Ring's monitoring service, called Ring Protect, at the Plus level ($10 per month) or the Basic level ($3 per month). This makes it one of the most customizable options on the market.
Ring customer service is excellent. The Ring Floodlight Camera comes with Lifetime Theft Protection, meaning that if anyone steals the camera, EVER, the company will replace it free of charge
Key Features:
Variety of install options
Excellent video and audio quality
Remote activation and monitoring
2. Nest Cam Outdoor Security Camera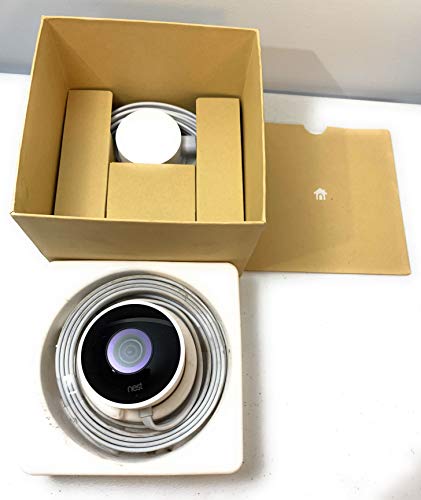 Type: Wired
My Review: The Nest Camera has a great round-up of advanced features and works with a variety of home automation devices. It retails for around $180 per camera. It has 1080p HD video and a 130-degree field of view. It also includes night vision that is advertised to work up to 30 meters away. It also has a microphone to allow you to communicate with those near the camera and alerts you via your smartphone if any unusual activity is detected. Nest also points out that the camera lens is glass, compared to other products that have a plastic lens, meaning a better overall picture.
One of the best features of the Nest is the robust app infrastructure that the company offers for all of its products. Using the app on your smartphone, you can monitor the camera 24/7, including recording. You can share connectivity with other family members, so both parents can monitor the camera on their smartphones. You can also provide access to a trusted friend or neighbor when you are out of town so that they can check on any alerts until you return.
Users will need to pay a monthly fee for this service, called Nest Aware. It starts at $10 per month or $100 per year for just one camera. When you add additional cameras, that cost goes up. It is one of the pricier monthly costs for products on the market but comes with a variety of advanced features and coverage.
Key Features:
Reliable and user-friendly app monitoring
Superior video quality due to glass lens
Works with other smart home technology
3. Wyze Cam Pan Indoor Smart Home Camera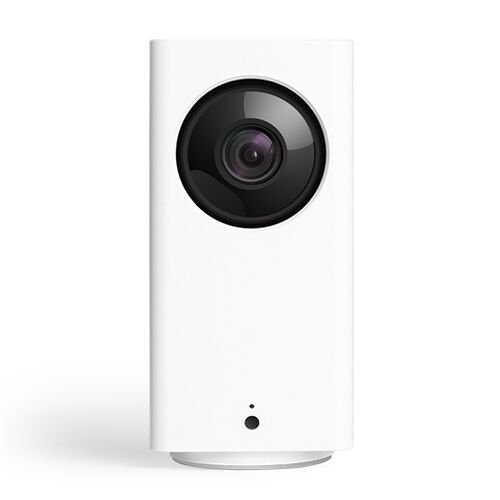 Type: Wireless
My Review: This is my top budget-friendly pick for a home security camera system. The Wyze Cam Pan system has 1080p video, is able to be controlled remotely to pan, tilt, and zoom the camera, has IR night vision up to 30 ft, and 2-way audio communication technology, and works with Amazon's Alexa digital assistant device. That's a lot of features for a $38 camera!
It works with 2.4GHz Wifi networks, so make sure that your set up is able to support the Wyze camera system. Using the pan feature, you can see a full 360-degree field of view. You can even set it to automatically scan the room.
Cloud storage costs can quickly add up and the Wyze Cam Pan offers free storage for up to 2 weeks of alerts sent to your smart device. It also has a space for a microSD card if a continuous recording is what you need.
If you need a reliable, high-quality home security camera system that won't come with a huge price tag, the Wyze Cam Pan is the way to go. Customers were blown away by the great features included for such an affordable price.
Key Features:
Pan, Tilt, and Zoom the camera, including a scan
Affordable without sacrificing performance
Works with other smart home technology
4. Amazon Cloud Cam Security Camera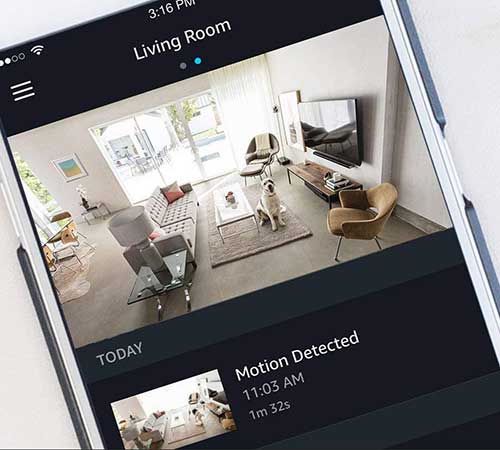 Type: Wired
My Review: I admit that I'm something of an Amazon addict. I like the reliability of their products and how often they seem to incorporate feedback and design changes to update and perfect them.
The Amazon Cloud Cam has 1080p HD video, IR night vision, and two-way audio communication. At just $120 per camera, it has a lot of great features from a reliable company. It can also be controlled by Amazon Alexa products, including the basic Alexa tower, Amazon Fire TV, Fire Tablet, and Echo Show. Want facial recognition technology? The Amazon Cloud Cam can do that. Want customizable notifications? The Amazon Cloud Cam can do that. Just be aware that you may need to pay an additional subscription fee for some of the most advanced services this camera can offer. The basic plan starts at $7 per month, which is one of the more affordable options out there for monthly monitoring.
The Amazon Key version, which is more expensive, connects to the Amazon Key smart lock. This means you can lock and unlock your door using the touchpad or app. It also means that some users in certain areas can get Amazon in-home delivery, with packages dropped off just inside their front door instead of left outside.
The free storage tops out at the last 24 hours, meaning you have to jump on reviewing any stored videos before they get erased. If you want additional storage or other features, you'll need to subscribe to one of the offered Cloud Cam Plans. The app is constantly being updated to bring more advanced features and detection options, which is what I love about Amazon's commitment to excellence.
Key Features:
Designed to pair with other Amazon smart home products
Customizable notifications
Works with Amazon Keyless Entry System
5. Ring Floodlight Camera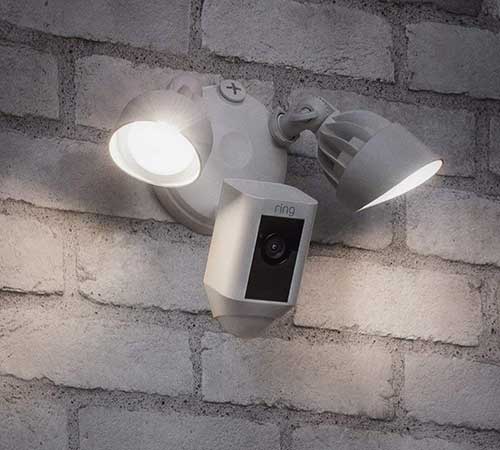 Type: Wired
My Review: At $250 per camera unit, the Ring Floodlight Camera is not a cheap option but it is one of the few that comes with so many extras that you would normally need other devices for. The Ring outdoor camera has built-in floodlights and a siren. When motion is detected, you can set the system to trigger the floodlights, sound the siren, or both. It also has 1080p HD video, IR night vision, and live monitoring. Users are able to remotely zoom the video and pan.
Ring products integrate seamlessly with the Amazon Echo line of digital assistant speaker systems. You can ask the Ring Floodlight Camera to show you the video through your Alexa set up, as well as speak to those near the camera unit using your smart device and the in-unit speaker. As a bonus, the camera comes in both black and white, making it a good choice for those interested in the aesthetic of their outdoor camera. It does require hard-wiring to an exterior electric box.
Ring is known for excellent customer service and standing behind all of their products. Like other Ring products, the Ring Floodlight Camera comes with Lifetime Theft Protection. Customers did note some problems with the nighttime coverage, saying that it was less than advertised.
Key Features:
Included flood light and siren with remote activation
Works with other smart home technology
Excellent video quality and ability to control remotely
6. Arlo Pro 2 Wireless Home Security Camera System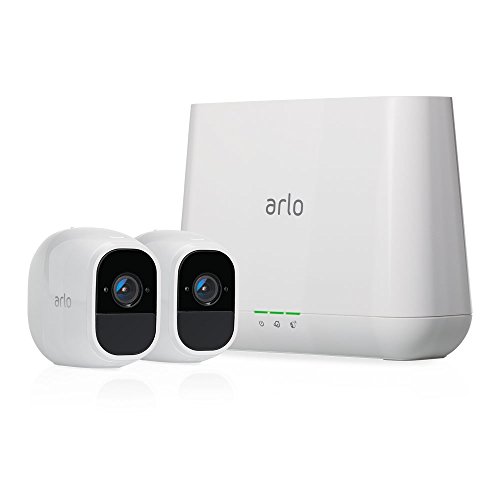 Type: Wireless
My Review: The Arlo Pro 2 system is a great option for a buildable system. The initial 2 camera set up is 100% wireless, with no wires for power or connectivity.
It is also a great option for extreme weather conditions. The cameras are able to operate in 32 degrees F to 122 degrees F without any problems. This makes it perfect for locales that get extremely hot. It has 1080p video with night vision that activates automatically. The night vision advertises a range of 25 ft. It also works with a variety of home automation devices, including Amazon Alexa and Echo Show, Fire TV, and Google Assistant. It has a 130-degree field of view, one of the higher ones available.
The cloud storage service does have some free options, which is unusual with high-end home security camera systems. It comes with 7 days of free cloud storage for video and audio. This means that at any point, you can review and stream the last 7 days of coverage without paying a monthly upkeep cost.
The Arlo Pro 2 is not a cheap option, starting at $380 for a 2 camera system. Packages are available for 2, 3, 4, 5, or 6 cameras. This makes it a great option for those needing a customized set up from the beginning. Customers are also able to purchase add-on cameras as needed, extra mounts, and a compatible doorbell. The Arlo Pro 2 is a big investment in your home's security but comes with a lot of great features.
Key Features:
100% Wireless set up
Works in hot and cold temperatures
Ability to purchase in bulk or add-on cameras
7. Canary All-in-One Indoor Security Camera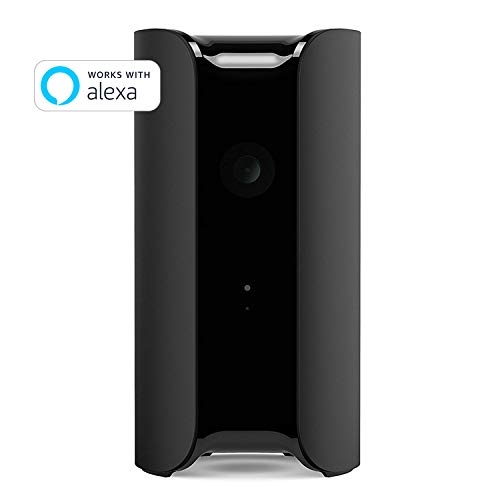 Type: Wired
My Review: This home security camera system does it all. If you want a system that will monitor with video, has a built-in siren, will test for air quality, and works with other smart devices, this is the system for you.
You would expect all of those features to come with a pretty steep price tag, right? At the time of writing this, the Canary All-in-One Home Security System was available on Amazon for just $65! That's down from its retail value of $170. The price of this unit really varies based on where you are buying from, so make sure to shop around for the best deal.
The Canary system has 1080p HD video, a 147-degree field of view, sound and video recording, a built-in siren alarm, and two-way communication technology. It also monitors for things like air quality, temperature, and humidity in your home to let you know if there are any hazards. For those with pets or children at home alone, this may be a critical feature that you want. It is also able to distinguish people in the video and doesn't charge extra for this feature.
How much storage does it have? The Canary system is able to store up to 24 hours of clips for free, with up to 30 days available with a monthly subscription. Customers complained that many of the features that Canary advertises are only available with the subscription. It costs $10 per month for the first 5 devices, with an additional $5 per month for each device above 5. That is a typical monthly subscription price for this level of features, but something to consider in the overall cost.
Key Features:
Air quality, temperature, and humidity monitoring
Can distinguish between people and background objects in video
Low cost per camera
8. YI 4pc Home Camera, Wifi IP Security Surveillance System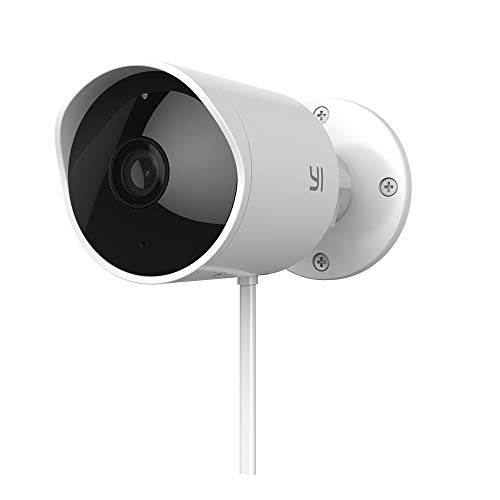 Type: Wired
My Review: If you are looking for a home security camera system on a budget, this is a great option for you. It has the basic necessary features at a price that will make your wallet happy. At just $118 for 4 cameras, it is one of the more economical ones available.
The system uses Wifi to provide the ability to communicate both ways (to and from the camera unit) through an embedded speaker and microphone. It is powered by a hard-wired connection. It has a 111-degree field of view, an IR night vision sensor good up to 3 meters, and the ability to zoom up to 4x. The camera settings are customizable, including defining regions of activity, sharing the feed with other devices, and customized alerts. It works with both iOS and Android smart devices.
The monthly video cloud storage service, YI Cloud, is one of the more economical options on the market. It starts at $5.50 per month for 5 devices as well as a one-time $66 cloud storage payment. The company offers other storage and monitoring plans to suit a variety of needs.
The camera records in 720p HD, which is good but not the top of the line. It is sufficient, however, for most basic needs. Customers recommend purchasing the pack on Amazon Prime Day, when prices are cut even further, for the best deal.
Key Features:
Great price for multiple cameras
Variety of monthly subscription options
Good video quality, field of view, and night vision
9. Blink XT Home Security Camera System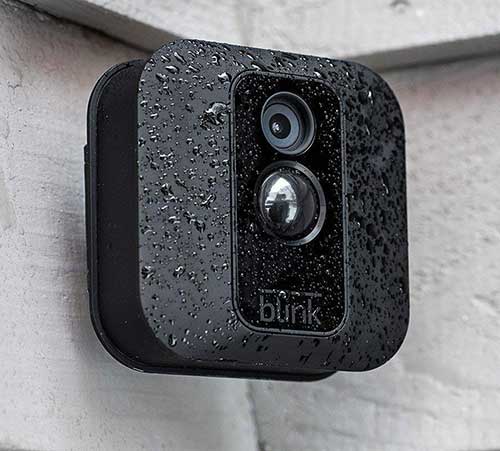 Type: Wireless
My Review: Another Amazon product alert! When Blink, an Amazon company, offered a home security camera, I was intrigued. Historically, Amazon and its companies have made excellent products and provided amazing customer service. Both good things if you are a potential customer! It is a good product from a good company at a decent price point, just over $100 per camera with discounts given for larger initial purchase packages.
This home security camera system has a motion sensor alarm that can send alerts straight to your smartphone and record, storing the video to the cloud. It is battery powered but the batteries promise to last 2 years. One of the biggest benefits is that there are no monthly storage fees required, making the ongoing costs very low compared to other competing cameras.
The Blink XT can be used indoors or outdoors and can be built up to a 10-camera system using a central hub, the Blink Sync Module. I like how customizable the system is and that you are able to grow it as your needs increase. Blink does offer a more basic model, the Blink Indoor 1 Camera System. But at just $5 less, the loss of weatherproofing and night vision seems a steep tradeoff for the lower price of the lower tier model.
As expected, it can be controlled by Alexa, Amazon's line of digital assistant devices. But so can many other products on the market these days, so Blink doesn't have a special advantage there. It is not as aesthetically pleasing as some other products on the market, with a boxy wall-mounted shape.
Key Features:
Expandable system
Superior weatherproofing in outdoor camera
No monthly storage subscription required
10. Swann Outdoor Wifi Security Camera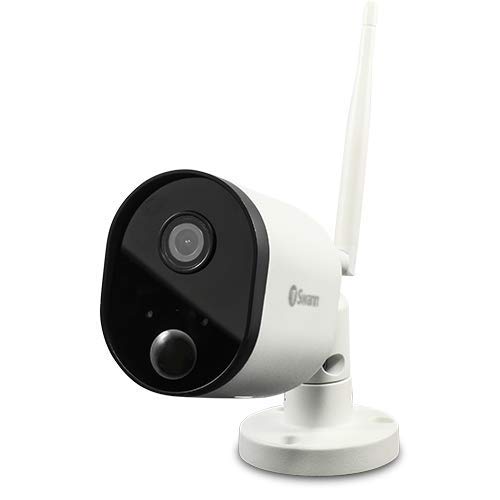 Type: Wireless or Wired
My Review: The Swann Outdoor Wifi Security Camera has all the features you would want in a good home security camera system. It has a 1080p HD camera, connects to both Amazon and Google's digital assistant devices, and can be used outdoors or indoors. It has a 110-degree field of view and night vision up to 100 ft.
This camera system has some built-in storage in the actual unit. It can store up to 7 days of short clips (i.e. the alerts or motion it detects) to the camera's memory. Want to store more? You can use cloud storage services to store 2 days for free, and up to 30 with upgrades.
It starts at $100 for 1 camera, with significant discounts if you buy 2 or 4 cameras. There aren't a lot of customer reviews but the ones that are there are generally positive. As a company, Swann focuses on DIY home security systems so if you are looking for a robust external monitoring system, this may not be the one for you. They do offer a wide range of home security devices, including cameras for just about every space and need.
Key Features:
Built-in storage in the camera with optional cloud storage service
Works with other smart home technology
Wide range of home security products available from the company
11. Tend Insights Lynx Indoor 2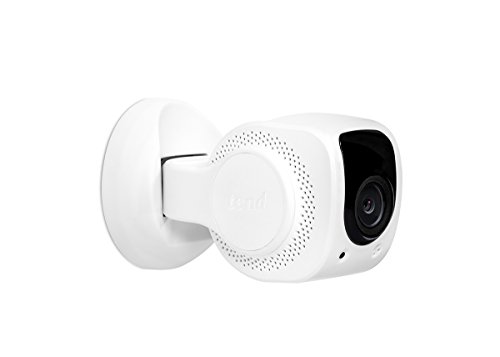 Type: Wired
My Review: Another mid-range pick, the Tend Insights Lynx Indoor 2 camera system starts at just $60 per camera.
This camera has all the great features you would expect at this price—motion detection that triggers alerts, 1080p HD video, two-way audio, and night vision. It also has some neat extras usually only seen in the most expensive home security camera systems. It is able to do facial recognition and only alert you when an unknown or unexpected individual is detected. It also has free storage in the cloud for up to 7 days of clips.
One of the biggest selling features the company focuses on is its ease of setup. They promise the camera will be ready to use within minutes using Bluetooth to set it up. Customer reviews reinforce this saying that the setup with very straightforward and quick. Criticism came from the lack of connectivity to other devices, including a computer or Echo Show. To monitor the video, you have to use the company's app on your smartphone. If you were planning to primarily use your smartphone anyway, this may be a non-issue for you.
It does need a place to sit, such as a table or shelf, and access to a wall plug. This can limit the places that you can actually place the camera. Customers said that it was very discreet, though, which you may need. Overall, it's a good camera with some great extra features at a good price.
Want a black version to fit your decor? It's available as an Amazon exclusive.
Key Features:
Facial recognition software distinguishes known and unknown individuals
Free cloud storage up to 7 days
Easy Bluetooth set up
12. Xiaomi Wireless IP Home Security Camera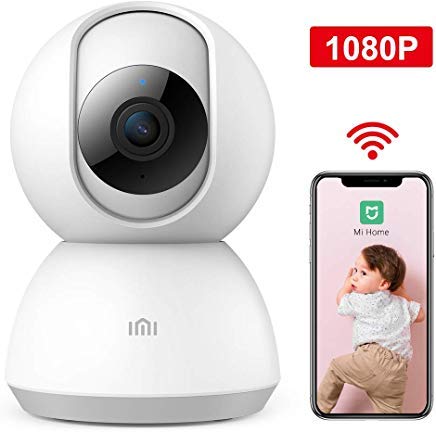 Type: Wireless
My Review: The Xiaomi home security camera system may not be the fanciest and most technologically advanced, but it is a reliable little camera that will provide safety and security for your family. At just $50 per camera, you can invest in your home's safety without spending a ton of money.
The camera has 1080p HD video. You can use it with either iOS or Android smartphones. It can also be controlled remotely to adjust the field of view, allowing for full 360 degrees of coverage. The system is also expandable, meaning that you can add additional cameras to monitor other areas of your home. Keep in mind that this is an indoor camera and will need to be placed on a stable, horizontal surface. It is a great option to use in a baby's room or to keep an eye on a particular location in your home.
It also has easy to see notifications and alerts, a 20 ft. night vision range, and two-way technology. It does not have video recording or forwarding technology, which makes it ideal for keeping an eye on children as it is less vulnerable to outside interference. If you are in the market for a product that can record and store video surveillance, this is not the camera for you. If you want to keep an eye on your loved ones or property without the need to review the footage, consider the budget-friendly and reliable Xiaomi Wireless IP Home Security Camera
Key Features:
Low-cost per camera
Remote monitoring via smartphone
No video recording or forwarding, making it less vulnerable to malicious intrusion
13. D-Link DCS-8000LH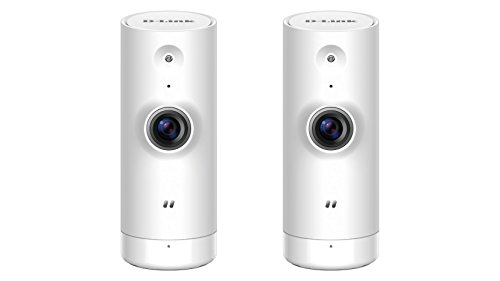 Type: Wireless
My Review: These sleek, cylindrical home security camera units just look cool and "techy." I almost expect to see Men In Black's Agent K to be standing behind it telling me to look into the camera. But it also comes with great features and a great price—just $90 for a 2 pack of camera units.
It has a 720p video, 120-degree viewing field, 4x zoom, and HD video resolution. Night vision mode is good up to 16 ft. It is also compatible with Amazon and Google products, with live video streaming available for Amazon Fire TV, Echo Show, and Google Chromecast. Picture quality promises to be outstanding, which is one of the most important things you want in a good home security camera system. Using the company's app, Mydlink, you can choose from a variety of cloud storage plans. The app is also used to set up the system, make changes, get alerts, and view the live feed.
If you want a good product that also looks cool, the D-Link DCS-8000LH is a great option. A home security camera system is part of your overall home's aesthetic and you should be happy with how it looks, as well as how it performs
Key Features:
Sleek design fits in with modern décor
Compact size makes it less obvious
Outstanding picture quality
14. iSmartAlarm iCamera KEEP Pro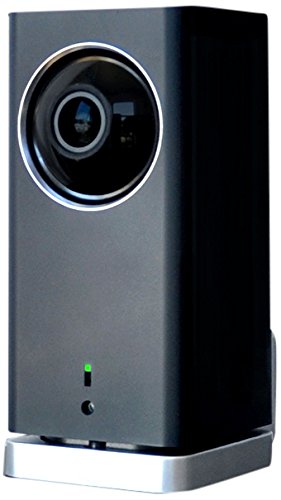 Type: Wired
My Review: Another high-tech looking option, the iSmartAlarm iCamera KEEP Pro is a reliable camera that has good features to go with its futuristic look. It is more expensive than the D-Link, at $100 per camera, but still a wallet-friendly option for this type of investment in your home.
It has 1080p HD video, free local and cloud storage up to 32 GB, and the ability to customize activity zones and alerts for motion and sound detection. It has night vision, 2-way audio communication, an 8x zoom capability, and works with both 2.4 and 5GHz Wifi networks. It can be controlled through Amazon's Alexa devices once the special skill is enabled.
It advertises that it can track motion, but many users experienced some issues with this feature. This was especially true when the motion was close to the camera. Some users solved this by placing the camera higher in the room, away from potential motion. But because it requires access to a power source, this may limit the options available for placement and the actual effectiveness of the motion tracking feature
Key Features:
Affordable camera units
Auto-cruise and room scan feature for additional coverage
No light pollution from the camera unit
15. YI Dome Camera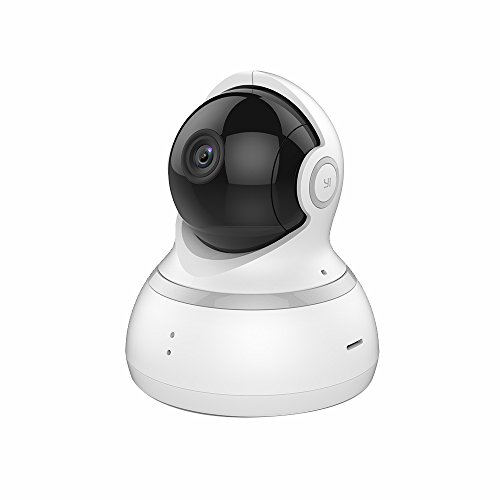 Type: Wired
My Review: This little dome camera packs a mighty punch in such a small and affordable package. It offers 1080p HD video, 112-degree wide-angle coverage with the ability to tilt and pan for a full 360 degrees of visibility. The night vision boasts a range of 3 meters with no light pollution in the room to potentially wake up a sleeping baby or pet. The two-way audio can be used in intercom mode, where each speaker pushes a button to take their turn to talk, or in hands-free mode, where both speakers are able to talk and listen simultaneously.
The YI Home Family app allows you to monitor multiple devices, including the YI Dome Camera, in a single interface. You can receive alerts, review video playback, and check in on preset favorite positions within the room. You can also set it to auto-cruise and scan the entire room without having to manually adjust the camera. The costs of the cloud storage through YI Cloud are comparable to other similar services at $10 per month or $100 per year for 15 days of storage.
Some customers had issues with the security of the system, hearing unknown voices using the two-way communication feature. This is clearly a big concern, especially if you are using the camera in a room with children or other family members. You may need to reassess your home's internet connectivity and firewalls to make sure that your connection remains secure.
Want an even better value? If you are okay with 720p resolution, you can purchase a single camera for under $50
Key Features:
Affordable camera units
Auto-cruise and room scan feature for additional coverage
No light pollution from the camera unit
Why use a home security camera system?
Once you make the decision to provide additional security and monitoring for your home, a camera component is an essential part of designing a comprehensive system.
You don't need to have a house full of priceless antiques and high-value items to need a home security system. According to the U.S. Department of Justice, "an estimated 2.7 million household burglaries occurred each year on average from 2003 to 2007." In data collected from 1994 to 2011, household burglaries went down by over 50% over that 17-year period. There were still over 3 Million household burglaries in 2011, making a reliable monitoring system very important for the informed homeowner.
So why cameras? Simply put, a home security system can only do part of its job if it does not have a visual monitoring component. Sensors that alert homeowners to breaches in security, such as an opened door or window, are important. But without being able to see what is happening, the homeowner must physically investigate every instance of an activated sensor. This can result in a loss of time and, potentially, money if an external monitoring service needs to check for the homeowner. Including cameras in the overall home security plan can help the homeowner feel confident that their home is secure without needlessly worrying about every sound or sensor in the home.
Wired v. wireless systems
Home security camera systems are available in both wireless and hard-wired technology. Which is better? Well, it depends on what you are looking for in a system, how long you plan to use it in your current home, and the power supply you plan to use.
Wired home security cameras
These systems are more reliable from a power standpoint. After all, they don't rely on batteries but have an external power supply that won't run out. But getting that continuous, reliable power comes at the cost of ease of install and portability. Wired systems often require professional installation that can add to the costs of the system itself. During installation, a professional will drill holes in walls, run power supplies, and conduct the other work necessary to install the system into your home. You do have the option to remove the system if you sell your home and move, but it comes with the costs associated with removing it and patching up the holes left behind. Most wired home security camera systems are considered permanent once they have been installed.
Wireless home security cameras
The other option available is a wireless home security camera system. These units are more portable, making them a great option for rental properties or homeowners who want the additional flexibility to take their system with them if they move. The installation often consists of hanging using adhesive strips or small nails or mounts. But they are not connected to an external power source and must be powered by batteries. Some advertise longer battery-life than others but you should check those specifications on any unit you want to purchase to make sure that it suits your needs.
Continuous monitoring technology
If you are looking for a home security camera system that provides monitoring 24/7, you will probably need to go with a monitored home security system that is run by an external company. You can put together your own components and monitor them yourself, but you will probably be limited to the amount of cloud or drive storage on the components themselves. It may also be harder to alert emergency services in the event of an emergency. Monitoring providers do charge additional fees and some have restrictions on the type of equipment that they will connect to the system. But it is worth considering if you want the added security that comes with 24/7 monitoring.
How much does a home security camera cost?
Buying a home security camera system is a big investment in the security of your home. Many of the costs come up-front with the purchase and installation of security technology. Costs vary based on a lot of factors: connectivity of units to other devices, continuous monitoring or limited storage space, and other special features.
Before purchasing a system, you should carefully consider what features you want and are willing to pay top dollar to get. Some home security camera units come with advanced night vision while others have a lot of cloud storage to keep footage long term. If one aspect of home security is more important to you, you may need to give up other features to keep your new system in your budget.
A big consideration to remember is the additional costs of keeping the system up and working. If you opt for continuous monitoring by a home security company, you will almost always have a monthly fee for this service. This is in addition to the cost of the home security system components themselves. Even systems that you plan to monitor yourself come with added fees for cloud storage if that's something that you need.
Before purchasing any home security camera system units, make sure that they are compatible with any other components that you have or plan to purchase. Most are able to work together within an overall home security system, but that is not something you should take for granted. The last thing you want after making the investment in your home by adding a home security system to have components that don't "talk" to each other and won't work together.
Home trends and adding value
If you are a homeowner thinking about the resale value of your home, you are probably wondering what sort of home security camera systems and trends that potential buyers like to see. Will adding this system to my home make it worth more?
Home security systems are becoming more popular, especially as home automation picks up and more homebuyers are looking to add this "smart technology" into their homes. If you have a hard-wired system, you may be able to market your home at a slightly higher price because it is a feature that potential buyers want. Having a system already installed means fewer costs for a new homeowner to set it up and use it. It can also mean lower homeowner's insurance premiums, another great selling feature.
Keep in mind that many home buyers looking for smart technology want systems that they can control from their smartphones and that integrate with other smart aspects of the home, such as light bulbs, smart speakers, or garage door openers. If you want to make the most of the added value that a home security camera system will bring to your home, make sure that it is able to connect to these other devices.
Types of home security cameras
There are a lot of features that can differentiate home security systems but the one with the most impact is a wireless or hard-wired system. Many units are compatible with other technology and have the option to be continuously monitored or not. But the installation of a wired system varies greatly than a wireless one and is something to consider before purchasing.
Wireless:
A wireless system uses battery power and does not need a complex, permanent installation. It is one of the more cost-effective and portable options. It also looks more streamlined, as it does not rely on intrusive and dangling cords to get power. If you are installing exterior home security camera units, wireless technology can help you avoid the need to drill into the side of your home and potentially cause damage.
Pros:
Usually costs less than hard-wired systems
Able to add components to the system without rewiring or reconfiguring
Easy to have the system move with you if you relocate to a new home
Cons:
Uses batteries for power, which may run low or die
Requires installation by the homeowner
Wired
Hard-wired systems require professional installation that often comes with drilling holes to run power wires. This can make installation more expensive and permanent, but does result in a more reliable power supply. Some units are able to utilize existing power outlets to get power. But even the best options have a finite cord length. You will need to position the camera so that it is able to plug into a power outlet. This may limit the field of view that you are able to achieve. In rooms that small children and pets frequent, a dangling cord plugged into a power outlet may be a hazard that you want to avoid.
Pros:
Reliable, continuous power from a hard-wired power supply
Installation by a professional, with minimal work from the homeowner
Cons:
Installation can be costly
If you are installing a system from scratch, expect to pay a lot to run the actual power wires, as well as need to touch up your drywall and paint
Hard to uninstall, often considered a permanent part of the home
Special features
Home security camera systems come with a variety of standard and special features available. Consider how you plan to use the unit, including where it will be set up and what it needs to monitor, to decide which features are essential for you. Some features will be included in any reputable system, while others go above and beyond what is considered standard in the market.
HD video
High definition or "HD video" is something to look for in your home security camera. If you purchase a unit that does not have a high-quality recording, you will not only sacrifice picture quality, you may be stuck with such unreliable or indistinguishable video that it is not useful monitoring at all.
Most home security camera units on the market today have at least 1080p resolution, with some going even higher. You will most likely pay more for higher resolution, but if that is something needed in your situation, it is worth making the investment. Home security camera systems that have 720p resolution are still sufficient for most needs. The video will not be quite as clear but it will still be easy to distinguish people and animals from other items in the picture. Buying a system with lower, but still good, video resolution can help cut costs.
Keep in mind that if you plan to record video on another device, such as your DVR, it will also need to be compatible with HD technology to the full advantage of that high definition picture quality. Make sure that all of the components used in your overall home security system include the features that you need. It may mean an upgrade to other parts of your home if HD is something that you absolutely must have as part of your home security camera system.
Night vision
If you plan to use your home security camera system to monitor the outside of your home, you absolutely should have a unit that has clear night vision capabilities. This is even an important aspect of home security camera technology for interior monitoring, as homeowners are increasingly vulnerable to home intrusion at night when they are sleeping and not actively monitoring the safety of their home.
Infrared, or IR, technology is used to provide clear video at night. Most models are able to automatically switch from night mode to daytime mode without input from the homeowner. This makes monitoring home security at night as easy as during the day. This is especially important when you are away from your home for prolonged periods of time and unable to make any adjustments to the system but want it to keep monitoring the safety of your home.
Many models that include night vision technology advertise the available range of monitoring at night. This means that they are able to provide a clear video up to a certain distance at night. To increase the distance, the camera must have more IR LEDs in the camera itself. A distance of 100 feet is good, with some products able to monitor even further.
Remote control
A home security camera unit that is able to be controlled remotely can be used to monitor larger areas without installing a large number of cameras. This is especially useful if you want to monitor a room with multiple entrances or a large outdoor area. You will be able to zoom in on anything that looks out of the ordinary or pan around to get a full video picture of the space.
Keep in mind that as you move the camera, you lose coverage on other areas in the field of view. If you want or need to continuously monitor an entire area without having to choose which area to aim the camera at (and therefore, sacrificing coverage in another part of that area), you may need to install more cameras rather than choose ones that can be remotely repositioned.
Many camera units can pan around, tilt up and down, and zoom in on an area. How do they do this? Through a connected app on your smartphone, tablet, or computer, of course. This requires them to be smartphone compatible and have the app infrastructure established by the manufacturer. This can mean a higher price tag, which is something to consider when designing your system. You will have to decide whether the higher cost per unit is worth the convenience of being able to control them remotely.
Wide Angle View
An alternative to repositioning the camera picture remotely is to purchase a home security camera system with a wider field of view. Cameras range from 100 to 180 degrees of coverage. For larger areas that you would like to continuously monitor, consider getting a unit with coverage on the upper end. It may be more costly for each unit but if it cuts down on the actual number of cameras you need to purchase, it may amount to more savings in the end.
If you see a home security camera system that advertises 360 degrees of coverage, it most likely relies on the pan and tilt function to provide all that video. It is a great option for full-room video coverage, but just know what you probably won't be able to see all of those angles at the same time. Some require you to manually scan the room using a control on an app while others have an auto-scan option that you can enable.
Smart technology
Speaking of smartphones, not all home security camera systems are compatible with today's smart devices. Most on the market today are, but you should always double check before making your purchase.
The ones that do work with smart devices often come with a higher price tag and more features. They can be connected to other home automation systems and software. If this is something that is important to you, look for units that are compatible with a wide variety of brands and devices. You don't want to limit the other home automation components that your home security system will work with unnecessarily.
Some of the best ways to incorporate home security camera systems into an overall home automation plan is to use the camera sensor as a trigger for other devices. For example, when your camera detects motion outside, it may cause a smart light bulb to turn on. This can help prevent break-ins from intruders who think they have been spotted or scare off any animals that may be bothering your home.
Smart technology does come with its own vulnerabilities. Many components use Wifi technology to stay connected. Anytime your home automation components connect to the internet, you introduce additional vulnerabilities for malicious users, or "hackers," to gain access. Make sure that your internet security is up-to-date and you have the appropriate firewalls in place to mitigate that risk.
Automatic Face Detection
One of the coolest features today's home security camera systems offer is the ability to distinguish faces in their video coverage. Some even go a step further to differentiate between known faces and unknown faces automatically. They send you an alert when they detect a new or unknown face in their video coverage. This means fewer false alarms when it is simply a family member coming home from work or school, rather than an intruder.
As expected, this advanced technology means higher costs. But it can mean less unnecessary worrying and fewer alerts sent to external monitoring services or local authorities (which sometimes come with a bill, especially for false alarms). Sometimes these additional features only come with monthly subscriptions, so make sure you look into any additional costs that you may have if you want to take advantage of this technology.
Air Quality Monitoring
Some home security camera systems can keep track of more than just your home's physical security. They can also alert you if the fire or CO alarms go off, tell you what the room's temperature or humidity levels are, and even measure internal air quality. These additional features can help you get the best overall picture of how your home is doing. This is especially useful if you are out of town or away from your home but have pets still holding down the fort. You can check to make sure that they are comfortable and safe at any time.
Reliability
While not a special feature, it is important to look at customer reviews for reliability before purchasing a home security camera system. Even the coolest bells and whistles don't amount to much if you can't count on the camera to cover the area that you need when you need it.
Home security camera units that drop the signal frequently, cut in and out, or don't reliable record their video will not bring you much peace of mind or provide timely updates in the event of an emergency. Reliability does not necessarily come with a high price tag, as even many simple, budget-friendly options are made by reputable companies that stand behind their products. Look for a company with a long track record of creating high performing products and great customer service. Customer reviews are a great place to find out which cameras you can count on and which ones you should skip.
Uses for Home Security Cameras
Home Security:
It makes sense that a home security camera system can be used for home security. This is by far the top reason that consumers purchase and use these units. If you are interested in providing comprehensive video surveillance at your property, you can't go wrong with a good, reliable home security camera.
Business owners also use home security camera systems to make sure that their business stays safe and to monitor what is happening when they are away. In the event of a break-in, a home security camera system that can record and store video is especially helpful to law enforcement. Using the video coverage, they are often able to find the guilty parties and hold them accountable.
Monitoring when away:
It is important to watch for intruders at your home when you are away, but a home security camera system can also be used to monitor other aspects of your property when you are not there to check in. For example, using just your smartphone, you can check to see if you have had a water leak in the kitchen while on vacation. Knowing about potential issues right away can save you thousands of dollars in repair costs if you are able to minimize the damage. The next time you hear about a big storm that hit your area while you are away, you can rest easy knowing that you'll be able to check in on your home with just a few clicks on your smart device.
Monitoring exterior areas:
The interior of your home is not the only area you may want to check on while you are away. A home security camera system allows you to see what is happening outside of your home as well. This can include getting alerts when packages are delivered to your door, checking on vehicles that may be parked in the driveway, and monitoring pools, hot tubs, or other outdoor equipment.
You can also use your home security camera system to keep an eye on these areas while you are inside your home. If you have an unexpected visitor, a quick glance at your camera feed will tell you if it is someone you should open to door to or not.
Communication:
Some top of the line home security camera units come with a communication function. They allow you to speak directly to individuals near the camera through your smart device, much like an intercom. This can be especially helpful when you have someone waiting at your door. You can give them directions, such as telling a delivery person to leave the package in a certain location. This can prevent you from being interrupted during an important task to answer the door when simple instructions and a thank you are all that is needed.
Checking on family members:
Home security camera systems are useful for those wanting to check in on children or pets when they are away from home. You can monitor your pet from your smartphone at work, even talking to him if you have a unit that offers communication capabilities. If you have children playing in the yard, you can keep an eye on them from inside your home.
Just keep in mind that a home security camera system is not a substitute for necessary adult supervision. Never use your camera to watch a baby or small child who should be supervised by a responsible individual in the home.
Wrap Up
Home security is becoming more and more important. Today's technology makes it easy to know what is going on in and out of your home, whether you are there or not. Smart technology and home automation are things that many homeowners appreciate having and potential home-buyers want. Investing in your home and family's safety can bring you peace of mind and add to the value of your home.
Home security camera systems on the market today have a wide range of features wireless technology, connectivity with other smart home devices, high definition and IR night vision. Some even offer the ability to communicate with those near the camera. With cloud storage and external monitoring options available at a variety of price points, there is sure to be a solution for every homeowner interested in adding a home security camera system to their property.
Have you added a home security camera system to your house? Love it? Hate it? Let me know about your experiences with home security in the comments!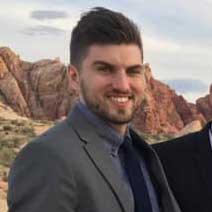 Hello, my name is Chris and I was born and raised in Western Pennsylvania. I'm an engineer with experience in medical technology, steel and materials, and nuclear power industries. I have been with my current employer for more than 5 years developing digital control systems for nuclear power plants.
I'm also a homeowner with a growing range of home renovation experience. My goal is to take all my technical knowledge and first-hand experience and translate it into high-quality content to support all of your home guide needs. Whether it be step-by-step guides, technical consultation, or product reviews, my aim is to make all your home projects a great success!