Many homeowners are beginning to utilize electric space heaters to cut down energy costs and heat small portions of their home more efficiently than central heating.
Electric space heaters have been around for quite some time now, however, their utilization rates have been a bit low historically due to malfunctions causing fires and a plethora of other issues.
Nowadays, the technology found in electric space heaters has been improved upon greatly, resulting in a very high level of safety and efficiency.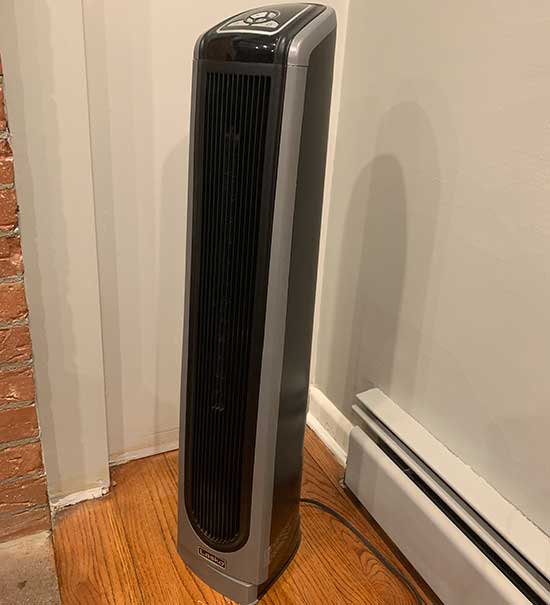 Gone are the days of electric space heaters exploding, burning your entire neighborhood to the ground! There are still risks and dangers are certain precautions are not taken though, so keep reading for more on that later.
Determining Operation Costs
Your choice on whether or not to purchase and use an electric space heater may hinge heavily on what it costs to use said heaters. Of course, there is no possible way I could tell you exactly how much it'll cost due to the fact that there are a bunch of factors that change depending on where you live, which heater you buy, how much you use it, etc.
As a general rule of thumb, you can use this formula to get a rough idea of what running an electric space heater will cost per hour:
Wattage x hour(s) / 1,000 x Cost per kilowatt
The wattage can be found on the packaging or labels included with the heater.
The hours are dependent on how long you wish to use the heater. If you plan on running the heater for entire days at a time, use 24 to find out what your daily costs will be.
Dividing by 1000 turns watt-hours into kilowatt hours, which is typically what most power companies use to calculate the cost of electricity.
Cost per kilowatt is based on where you live and the rates at which you are charged per kilowatt.
As a very rough estimate, if you don't feel like doing the math, electric space heaters can cost between $0.03 and $0.80 per hour. Obviously, this range is vast and will have significant effects on cost over long periods of time, but I think most peoples cost per hour in the US will land somewhere between those two figures.
If you're wondering if it would cost less to use central heating system versus electric space heaters to heat your entire home, there is no one answer for that either. With that said, though, a study conducted by the Department of Energy estimates that heating an entire average sized home is 43% less expensive using a central heating system than using electric space heaters.
It's fairly safe to say that using electric space heaters is only more cost-effective when used in small spaces.
Turning down the thermostat on your central heating unit to the lowest possible temperature while still being somewhat comfortable and then using electric space heaters to supplement that system in rooms you frequent the most seems to be the most efficient method of utilizing space heaters.
Here is a List of the Most Efficient Space Heaters
1. LifeSmart Infrared Quartz Fireplace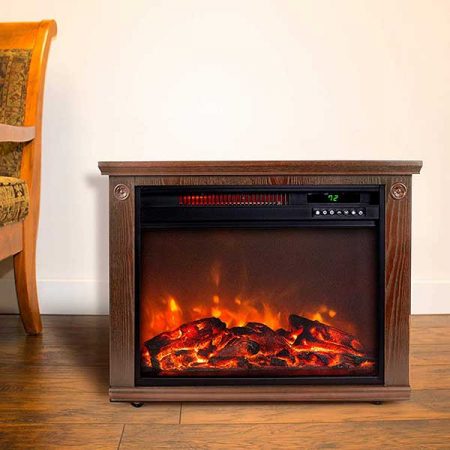 Our Review: As more people ditch their conventional fireplaces, heaters that are designed to look like a fireplace become more popular. WIth a nice ambient effect and your choice of 4 fabulous finishes, this should fit into most peoples decor quite nicely while offering exceptional full room heating capabilities.
Heater type: Indoor infrared fireplace
Key Features:
Heats 1000 square feet
Two realistic fire glow settings
Quiet and efficient infrared heater
2. Air Choice Electric Space Heater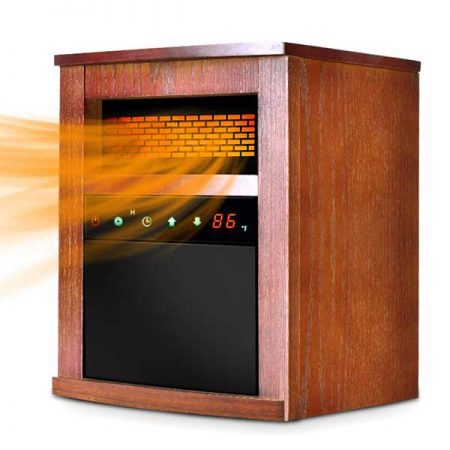 My review: Heaters designed to appear such as furniture have been around awhile but Air Choice has taken it one step further offering a touch screen control panel, multiple heating levels, and an eco mode that automatically cycles on and off to use the lowest amount of energy possible.
Something that really stands out about this particular heater is its ability to produce viable heat in just five seconds! It comes with all the safety features you could ever ask for including a tilt kill switch and auto shutoff timers and includes an easy to use remote.
Type: Indoor infrared furniture
Key Features:
1500W portable heater
High efficiency
3 heating modes with automatic timer shut off
3. Vivohome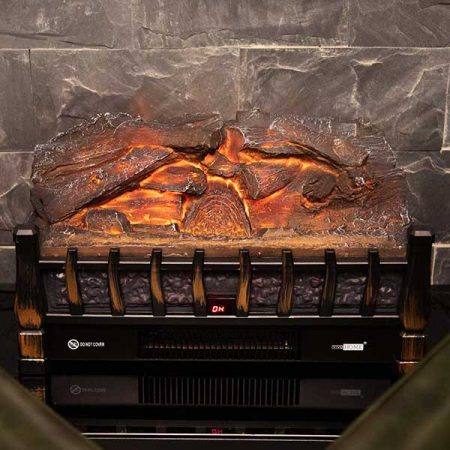 Our Review: I'll admit, the logs aren't very convincing, however, the heater certainly does its job well and for a bargain of a price! It's tough to find heaters that really impress me under $100 but after seeing how quickly (less than a minute) this thing pumps out heat, I'm sold!
It also includes one of the most silent fan operations in any home decor model at this price point and with a nice remote controller and all the modern safety features, this offering by Vivohome is an absolute steal.
Heater type: Home decor infrared radiant heater
Key Features:
Realistic looking log fireplace space heater
Includes a intuitive remote controller
Efficient and quiet
4. Klarstein Bornholm Convection Panel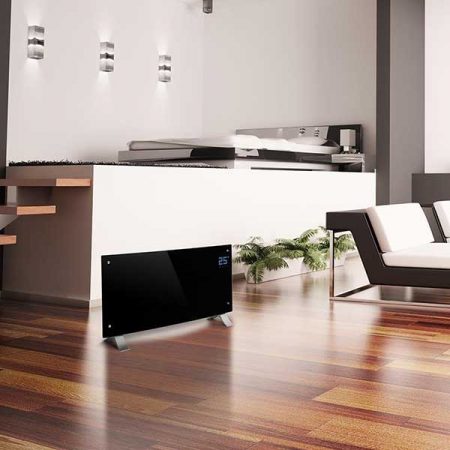 Our Review: This is perfect for those modern futuristic style enthusiasts offering a beautiful gloss black panel design that seamlessly blends in without really appearing like a heater at all! A nice touch capable digital display showing the temperature is really the only thing that gives it away! The Klarstein Bornholm is capable of utilizing 2000w to produce massive amounts of heat in just a few seconds, more than enough for a bedroom! It comes with a sleek stand but I think this heater is best paired with a wall mounting solution, especially because it has a remote control.
Packed with the usual safety features, this panel heater also offers a parental control locking mechanism and the unit as a whole is splashproof. Eco mode does a fantastic job of keeping you comfortable while keeping your energy bills to a minimum and at just $115, this heater is by far one of the sleekest value heaters on the market today.
Heater type: convection panel
Key Features:
2000 Watts
Energy Efficient Electric Space Heater
Can be wall mounted and programmed
5. Valuxhome Armanni Recessed Fireplace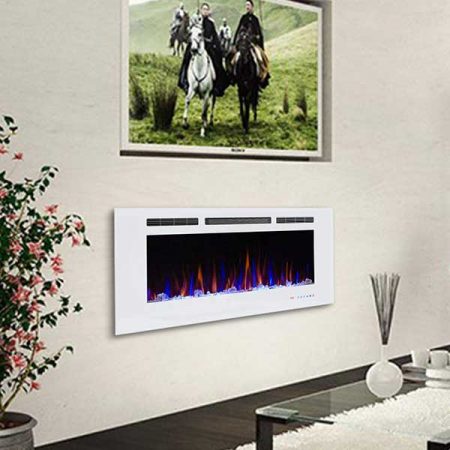 Our Review: My last fireplace look-alike that I'll add to this list is the Armanni 42" in-wall 1500w heater. This thing is an absolute monster, but if you don't want a heater that requires a little handyman skill and house modification, this may not be for you. The installation work is most certainly worth the effect this heater offers your home. It's downright beautiful implementing a modernist style and sleek recessed design. Of course, it comes with the usual safety features and a nice remote controller. Just about everything can be configured including the very color of the flames which I find to be totally awesome! Furthermore, you can use the flame effects without having the heater activated, leaving your home with a beautiful fireplace effect even in the summertime. The heater is capable of keeping a room that is 450 square feet in size perfectly cozy with two different heating modes and includes an easy to use timer, set by using the remote or the touchscreen panel on the front of the unit.
Heater type: 42" wall mounted infrared space heater
Key Features:
Wall recessed electric fireplace space heater
Many sizes available
Supplemental heating for rooms up to 450 square feet
6. Trustech Tower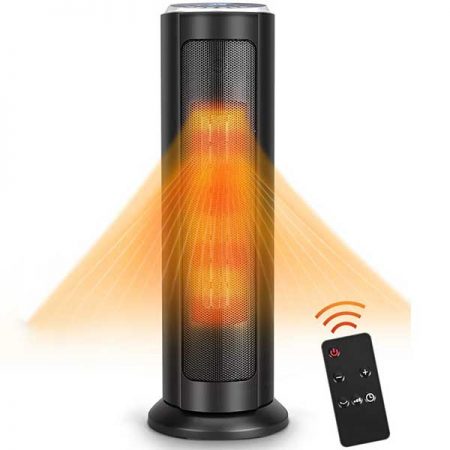 Our Review: A sleek tower of power for under $70? It sounds too good to be true. Fortunately for us, Trustech is all about offering cheap heaters that simply get the job done without breaking the bank. They have a ton of products that all seem to leave their customers happy, so feel free to check them out! As for this review, we'll focus on their 1500W tower that includes a very simple remote, a timer, adjustable thermostat, and our usual safety features. It'll stand roughly 24" off the ground and can be placed on a desk or table without taking up much space. What really surprised me about this heater is its capability of producing heat in just a few seconds and despite its relatively small size, this thing really pumps out some serious heat! If you're still not sold but you want to give it a try, I highly encourage it as it's basically risk-free with a 12-month warranty (double check the manufactures page to make sure this is still valid before you buy).
Type: Oscillating ceramic convection heater
Key Features:
1500 watt ceramic heater
Adjustable thermostat
Safe and effective design
7. Lasko Designer 6405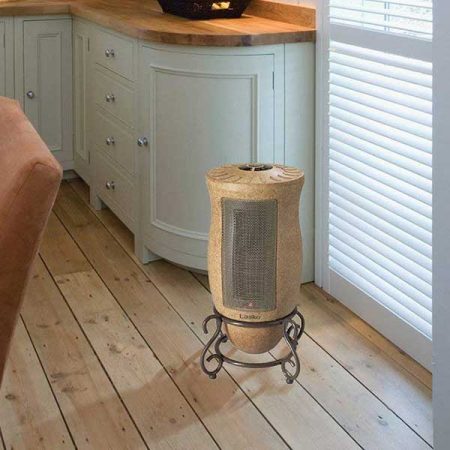 My review: This is one of the most rated and discussed portable heaters on the market today and for good reason. It looks great and offers incredible power, all in a relatively small package that is portable and easy to use. I will tell you that upon first using this product, you'll get a horrible plastic smell.
I'd recommend running it near a window or outside for an initial break-in period. The plastic smell should go away after just a few minutes at max temperature. After breaking it in, this heater can be placed just about anywhere in the home and offer heat within just a minute of being turned on. It really does do well to heat the room evenly, of course, it includes all of the recommended safety features. It does utilize a fan which isn't exactly silent but certainly not distracting either!
As a final note, Lasko is a long term player in the world of heaters and has a very good reputation throughout several of their products. If this particular model doesn't fit in with your decor, feel free to check out the other heaters they offer!
Type: Portable oscillating ceramic heater
Key Features:
Oscillating Space Heater
Made by a reputable company
1500 watts with adjustable thermostat and shut of timer
8. Green Tech Space Heater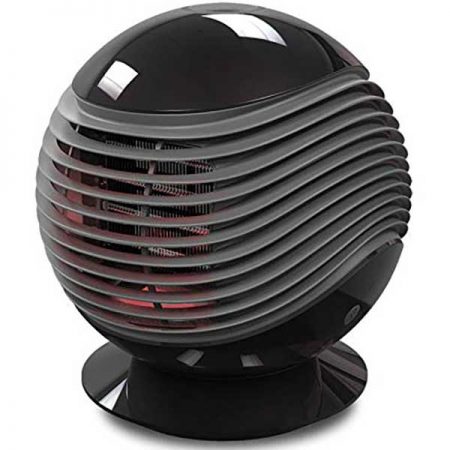 Our Review: This thing looks like an alien orb of doom to be honest, but I think it looks cool and would fit in nicely with most modern decor. It's insanely small and compact, making it perfect for those of you lacking a lot of space.
It seems to spew out heat rather quickly and given its several circulation modes it should heat up any small room fairly well. They claim they are the safest heater on the market, which probably isn't true, but this tiny heater does come equipped with all of the standard safety features I'd expect to find.
Type: Oscillating Infrared
Key Features:
Small enough to fit just about anywhere
Very energy effecient
Oscillating heater with air circulating fan
9. Oittm Electric Mini Space Heater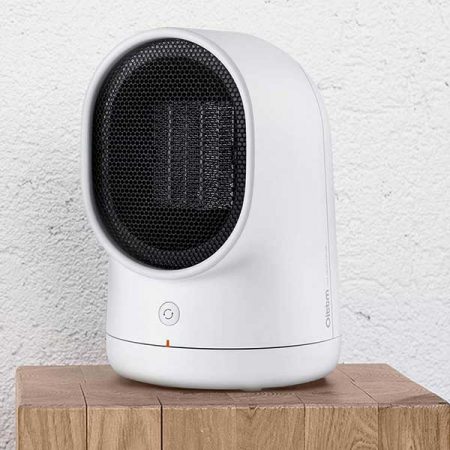 Our Review: This thing is TINY! Perfect to warm up your hands when working at the desk, the offering from Oittm is just so darn awesome! It's got a great modern design that, despite being incredibly small, really heats up its surrounding area very quickly.
It only uses 500w and most certainly isn't meant to be used to heat up entire rooms but it will keep you toasty as you're typing away at your desk and works great for keeping your feet warm in bed. All the safety boxes are checked and although not silent, it's operable sound levels are only 45db, which is hardly noticeable.
Heater type: Oscillating Infrared
Key Features:
High rated mini space heater
500 watts
Overheat protection and safe tip-over protection
10. NiLeFo Outlet Heater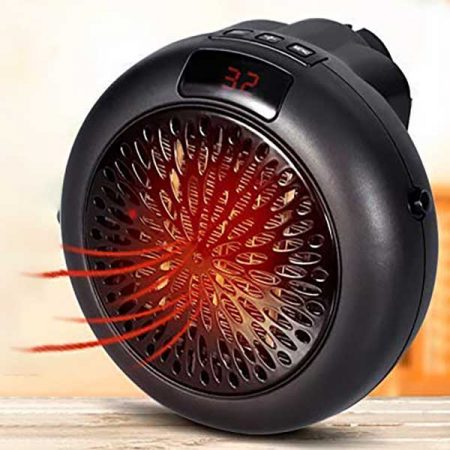 My review: Probably the smallest heater available that is worth buying, this tiny little thing plugs directly into the outlet and uses such a small amount of energy that your monthly energy bills will hardly notice a difference.
This bad boy will utilize its 1000w power limit to become piping hot within 10 seconds and will warm small spaces with ease. It includes our recommended safety features and a nice timer function that you can set anywhere between 1 hour and 12 hours.
Type: Mini outlet plug-in infrared
Key Features:
Wall outlet heater fan
Perfect for home, office, or garage
Adjustable thermostat
11. Stanley ST-222A-120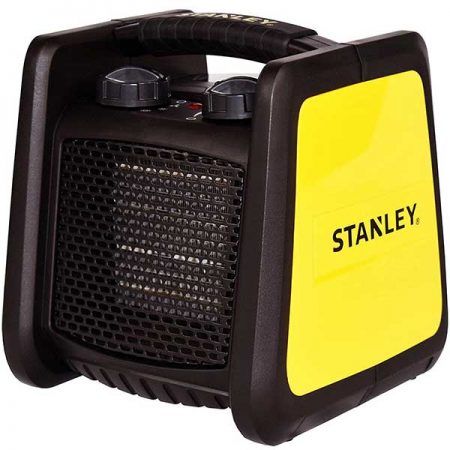 My review: Stanley has long been recognized as a powerful and rugged "gets the job done" kind of brand. They aren't especially fancy and they won't contain the cool tech-nerd functions that I typically look for but this thing is near indestructible. Utilizing 1500w, this thing can pump out some serious infrared heat in a flash. It's got a nice little carry handle and is purpose-built for portability and ruggedness in mind.
It works, plain and simple. It's got the standard safety features and it also comes in 3 different shapes and designs that are all pretty much the same, just different shapes. For under 50 bucks, this thing is perfect for a small workspace or a little late night garage tinkering.
Key Features:
Low profile electric heater
Space saving design
Easy to carry handle
12. Jomarto Portable Electric Space Heater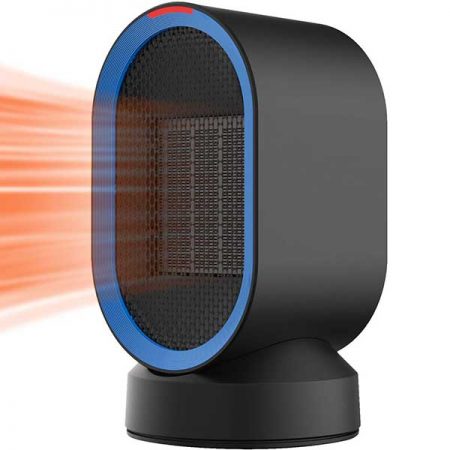 Our Review:  Do you know those cool and expensive Dyson fans that don't have actual fan blades but still manage to magically fling air out of it? Yeah, this looks kinda like that, minus the magic part and adding a ton of heat! With only a 2 second heat up time and a power rating of 600w, this little thing packs some serious power. What… it's only $35?
This thing is a steal! Now, admittedly, it won't heat up any large rooms, but it will most certainly keep you cozy in the bedroom. Safety boxes checked, a sleek design, powerful heat production, and a super low price tag, what is there not to like? Oh yeah, it also oscillates and doubles as a fan (no heat) during the summer if need be!
Heater type: Radiant fanless
Key Features:
Portable space heater
Powerful but quiet
A good budget option
13. Ener-G HEA Indoor/Outdoor Table Heater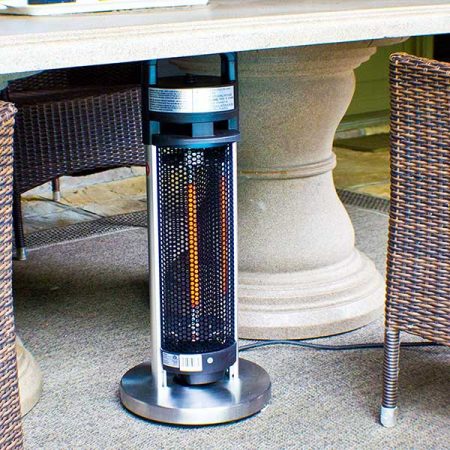 My review: This little heater is surprisingly powerful and even when used outside on a patio it still delivers some serious heating capabilities. It's got a fairly large maximum output of 1500w while maintaining a slim and sleek tower design that could fit on a small work desk! Better yet, it's water (IP24) and dust resistant and is ETL certified. Tiny but mighty, this is a fantastic little 360 degree heater for use either inside or out, offering a nice ambient glow to boot.
Heater type: Radiant fanless
Key Features:
High efficiency heater
Compact design
900 watts
14. Star Patio Parasol Electric Patio Heater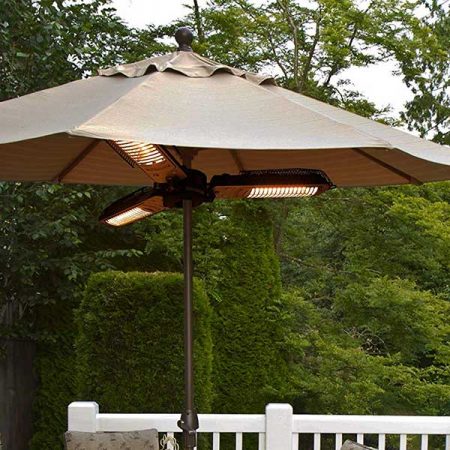 Our Review: For those of you who aren't familiar with patio slang, a parasol pole is what typical patio umbrellas and shades are attached to. What makes this little electric space heater so awesome is that it uses a clamp which situates it right under your patio umbrella and generates a ton of downward facing heat, right into where you'd be sitting! With settings from 500w to 1500w, this thing can keep your outdoor party going no matter the weather situation. It's got the safety features, it's got the pole mounting hardware, and it's got some serious power to offer, I'd say it's one of the top patio heaters on the market today! Oh, it's also IP34 water resistant and includes a 1 year warranty.
Since it's infrared, very little heat is lost with the breeze. The heat absorbs into your clothing and skin directly, making this one of the best space heater designs to be used outdoors.
Key Features:
Great for outdoors and patios
Umbrella style heater
Foldable design
15. Sundate Patio Heater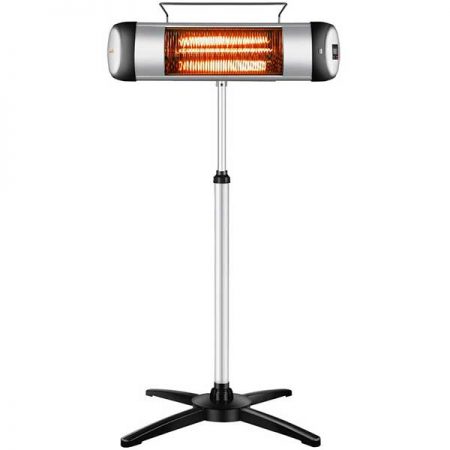 Our Review:  A rather modern looking stand up design, this patio heater utilizes the wonderful power of radiant heating to ensure you're cozy even in the winter time. It includes a remote, a telescoping mounting pole, and checks all the boxes for safety features.
Even better, if using the stand isn't your style, you can wall mount this bad boy giving your patio a very modern and minimalist feel. This is one of the most modern and stylish outdoor patio heaters for under $150 the current market has to offer and it includes 3 power options and along with an adjustable timer.
Key Features:
Awesome design
Free standing or wall mounted
Electric infrared heater with remote control capabilities
16. Honeywell HHF360V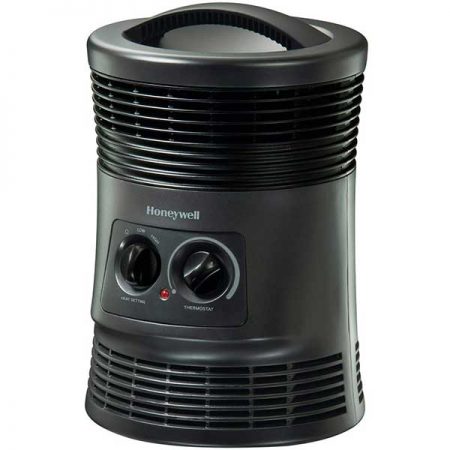 Our Review: Honeywell is a well known long standing brand that has been manufacturing heaters of all types for quite some time now. This offering is cheap and tiny but does produce a hefty amount of heat in a 360-degree configuration. It does well to heat up within just seconds and although especially tiny, can easily heat up a bedroom within just a few minutes. Theres not a whole lot to talk about with this unit as it was purpose built to simply just work. It includes the standard safety features we like to see and has a little easy carry handle sitting on top of the unit. Perfect for those of you who don't need or want a fancy looking piece but instead prefers a get r' done approach for the lowest price.
Key Features:
360 degree heat distribution
Easy to use
Honeywell quality
Buyers Guide – Find the Best Electric Space Heater for Your Needs
There are SO many options! The purpose of this guide is to aid my readers in finding the perfect electric heating solutions for their situations, however, there are so many factors and so many options that it is absolutely impossible to list them all and/or cover each situation you may find yourself in.
This guide will focus on the best electric space heaters for a wide variety of applications and price points. Using my recommendations in tandem with all of the information we've learned in this article, I hope these suggestions will make winter more endurable and enjoyable while perhaps saving you some money!
Why Use an Electric Space Heater?
Heating your entire home throughout the entire duration of the day can be quite costly and not very efficient. As a quick fix to literally letting your money dissipate throughout your home, using an electric space heater to simply heat the area's you're actually using has proven to be cost-effective and a bit more environmentally friendly.
Most Americans use central heating cores that burn natural gas to heat the entire home. This means that every time you open the door to the outside world, you're letting precious money flow into the environment, cooling down your home and wasting your hard earned money! By using a space heater, you'll be able to turn down the thermostat on your central heating system and only heat rooms that you frequent, such as your bedroom or office space, leaving less heat in the main areas to escape.
Speaking of burning natural gas, electric space heaters have the capability to be run off of cleaner sources of fuel. At the time of writing, it's obvious most people probably won't have renewable sources of energy flowing into their homes, however, in the near future, we'll see more and more homes equipped with solar panels, wind turbines, etc. Once your home has access to renewable energy, you'll be running your electric space heaters with little impacts on the environment! Hopefully, we can all move away from burning natural gas and utilize the true potential of renewable energy sources.
Furthermore, if you have multiple occupants in your home, there's a good chance that there are differing opinions on what the temperature should be for maximum warmth and comfort. Electric space heaters allow each person to choose their desired amount of heating for their personal space, alleviating the constant battle over the house thermostat. Lower the home's thermostat to a minimum comfort level, buy everyone a nifty little electric space heater for their birthdays, and alas, peace!
And to our readers who haven't yet had a central heating system installed in their homes or offices yet, buying and using electric space heaters may be incredibly cost effective! Installing central heating systems carries much higher upfront costs than investing in space heaters and if you know the space you'll need to heat is small and only needs heat for a small portion of the year, a full heating system simply just might not be worth it. Electric space heaters also come with significantly lower costs of maintenance and with how cheap they've become, it's easy to replace them without having to contract professionals or breaking the bank.
Just about anyone can operate a space heater without any heating and cooling expertise by obtaining just a few minutes of reading. The units you'll find in this buyers guide should offer you several years of solid usage before requiring any maintenance or replacements, making them prime substitutes for those of you who simply don't want to hassle with a central heating system.
How Do Electric Space Heaters Work?
It's not as simple as just explaining the inner workings of one model as there are several different methods manufacturers use to achieve relatively the same goal. Not all electric space heaters have the same functions and features or use the same heating element(s), despite them all being lumped together in one category.
More on Efficiency – The BTU's
Most of the electric space heaters you'll find for consumer purchase will range between 10,000 BTU and 40,000 BTU. One Btu is equal to roughly 1055 joules of energy.
BTU stands for a British thermal unit, which is a fairly traditional measurement for the amount of heat being produced. The BTU measurement was created and based on how much energy is required to raise the temperature of a pound of water by one degree Fahrenheit.
Most, if not all electric space heaters will contain this measurement, both for marketing purposes and technical specifications. Determining how much you need is a bit tricky as there is no one size fits all.
Most electric space heaters should be able to heat a small office or bedroom to your desired temperatures despite the BTU rating, but of course, the heaters that have higher ratings should be able to heat these rooms at a faster rate. Higher ratings are also more suitable for larger spaces, which the top end of the spectrum being capable of heating entire garages, barns, and even your entire home!
If you really want to dial in on the perfect electric space heater for a room you already have access to, you first need the dimensions of that space. Once you have the square footage of space you'd like to apply heat inside of, you can safely assume that each square foot needs roughly 20 BTUs.
If you don't have the specifications of the room, you can follow these tips as a general guideline to calculate the space of the room.
For a room that is a rectangle or square, multiply the length and width.
For a room that is triangular, multiply the length and width, then divide by two.
For a room that is circular, measure the radius r (the distance from the edge to the center). Calculate πr2, or (3.14)r2 if you do not have a calculator with a π function.
If your room is an odd shape, you can try sectioning it off and measuring each piece individually, then adding them together.
So, for example, if we want to heat a room that has 100 square feet of space, we would want to look for electric space heaters in the area of 2000 BTUs. Since most space heaters on the market today start at 10000 BTU, I have little to worry about which product I choose and I will likely choose a very small unit.
Electric Space Heaters: Are They Dangerous?
There are roughly 25000 residential fires a year thought to be derived from space heaters. This statistic certainly seems staggering, however, it's important to note that nearly all incidents resulting from space heaters that are built within the last few years with the proper safety equipment installed are due to improper use. As always, education is among the best prevention and you should always read the manual that comes along with every space heater you purchase.
It goes without saying that old space heater designs are not worth using as they likely do not have the leading technology and safety features that new space heaters have. Purchasing an updated space heater is always recommended and is well worth the money to save your home, your life, and preventing an incident.
Using space heaters that are significantly more powerful than what the room requires also poses a risk as the room will heat up incredibly quickly and the heat has little time to dissipate. The space heater should also be used in open space, away from contact with anything but the floor.
Another common mishap when it comes to utilizing space heaters is placing them on uneven or unsupported surfaces. If a space heater is knocked over or falls over, it will send the heat directly into whatever it is facing, meaning if it's facing down on carpet or a rug, that material will become incredibly hot and the risk for a fire rises astronomically.
Along with the prior piece of advice, you can also find electric space heaters that come equipped with tip-over safety shutoff switches. To be as safe as possible, I would recommend limiting your potential purchase options to units that contain these safety features. They are popular and do not seem to add much, if any, to the overall price tag, but are more than worth it!
Space heaters of all shapes, sizes, and types will likely be hot to touch when in use, so make sure to place them properly before turning them on and keep them away from children and pets. There are some heaters that will direct heat to specific portions of the outer shell to further increase circulation of heat and decrease the time it takes to heat up the room. That's great, but if you touch those areas accidentally, it may burn you!
As a general rule of thumb, buying a space heater with a user-controlled thermostat is always advisable. Not only will you save money and have a heater that better suits your needs, but a thermostat can also be the difference between a rogue runaway heater and a heater that simply shuts off when it becomes too hot.
Although it's advisable that you do not sleep with a space heater on, it does offer peace of mind in the event that you accidentally fall asleep that the heater will shut off and only operate within safe temperatures that you set.
Since we are focusing only on electric space heaters here, there is no need for a venting system. Other heaters, such as combustion heaters, require ventilation to remove the fumes created. Electric space heaters do not burn anything, thus giving off no fumes and no carbon monoxide.
If you're like me and you have a ton of electronic devices in just about every inch of the house, you probably have extension cords and outlet extenders. Most electronics are safe to use with modern day power extensions but electric space heaters are not ever advisable to use with them. Plug electric space heaters directly into the wall socket! These heaters require far more power than normal appliances and electronics and do not play nicely with other devices.
Space Heater Side Effects
Utilizing space heaters in your home is a great way to create a comfortable environment but it will come at a cost outside of just monetary value. It's long been known that space heaters dry out the air around them, which can irritate your skin, nose passages, throat, eyes, etc.
When running a space heater, I advise you to operate it far away from where you'll be spending a lot of time at and only use them when absolutely necessary. Using them intermittently also gives the air a chance to replenish the water molecules inside your room and helps to keep the air from becoming extremely dry. Space heaters can also wreak havoc on sensitive plants and even pets when used too much or when a space heater that is too powerful is used in a room that is too small so really pay attention and plan out where you'll be placing your units.
To minimize the negative effects of using space heaters, make sure you choose the right one for the job at hand! This guide contains everything you need to make the most educated purchasing choices so continue reading and take notes! When used correctly, space heaters should have a very little negative impact, if at all.
Electric Space Heaters Versus Other Alternatives
In recent years it has been made quite clear that using electric space heaters is the way to go and with more and more homes being supplemented or fully powered by renewable resources, I think it's safe to assume electric space heaters have a place in our lives for the long haul.
There are many different ways to heat a home and in this article, we've already discussed central heating systems a bit but what else could you use to heat your home and are there any better alternatives to electric space heaters? Here is a good article on when using an electric space heater makes sense.
The quick answer is no, not really. Central heating is central heating and we won't touch on that here, however, you could use a wood furnace. A wood furnace is exactly what the name implies and basically consists of a safe area to burn wood, create heat, and circulate that heat into the house using a ventilation system to rid the system of the smoke.
Obviously, a wood furnace is going to require a constant supply of, you guessed it, wood! You'll have to load that sucker up each and every time you need heat and unless you're a natural born lumberjack, you'll be buying wood for as long as you want to stay warm. In many ways, this is the more vintage way of heating a home and likely won't be on the forefront of any modern-day housing plans. Installing them is costly, maintaining and cleaning takes a lot of time, and feeding them just flat out isn't economical or practical for most people.
Moving on, we have kerosene heaters which burn very slowly and produce a significant amount of heat, but again, you'll need to actively fuel them and remain stocked up on kerosene. You'll need a gallon roughly every 12 hours which is much better than a wood furnace but still not nearly as easy as plugging in an electric space heater.
Similarly to kerosene heaters, we also have propane heaters. My main complaint with the prior heating methods is having to constantly feed them and with a propane heater, you could hook into your current propane storage solution (if you have one) and it would be fueled semi-autonomously so long as your propane reserves are filled every so often. Better than wood, better than kerosene, still not as easy as plug and play space heaters, though. These are also the most dangerous as propane is a highly volatile gas that should only be handled by professionals. Propane heaters do have their place though, for instance, if you don't have electrical outlets in an unattached barn and you need instant heat, you could simply carry your heater and a propane tank with you and set up shop anywhere you like.
To date, there are no better heaters that aren't central heating systems for someone to use to heat their home. Electric space heaters are by far the safest, most efficient forms of heating you can implement inside your residence.
Types Of Electric Space Heaters
Convection Space Heaters
Convection heaters work by utilizing electric current to heat up a special heating element, which is typically some kind of heat absorbent oil and then pushing air over the heating element, thus resulting in warm air filling the immediate space around the heater. You can find convection heaters both with and without fans as it really depends on the design and types of heating elements used. Of course, heaters with fans typically allow better heating of large spaces but come as a noisy tradeoff.
Pros:
Being the most popular type allows for many options, styles, colors, sizes, etc.
One of the most energy efficient options.
Typically the cheapest options.
Cons:
Heaters with fans can be noisy and some produce a humming sound.
Not the fastest electric space heaters for large spaces.
Heater surfaces can become extremely hot and unsafe to touch.
Radiant / Infrared Space Heaters
By far one of the fastest and most powerful, radiant space heaters essentially blast energy through the atmosphere that is then absorbed by clothing, skin, and basically any materials in its path. These started out using Nichrome wires but have since been re-engineered to be used with tungsten tubing containing quartz material. You can identify these by their reflective appearance. They glow bright and usually shine backward onto a reflective panel or film. They don't heat up the air around them (at least not very much) and instead you'll feel what somewhat simulates the sun if it were significantly smaller.
A 100% radiant space heater technically doesn't exist and some heat will be dissipated into the air surrounding the heater, however, radiant heating technology has come a long way in development and has a very high efficiency rate.
Pros:
The heat can be made to be based on a specific direction or "spot heating".
Much higher range than the competition.
Completely silent operation.
Cons:
They glow extremely bright and if you're a picky sleeper, these may become quite bothersome.
On average, less durable and have less longevity than convection heaters as the heating elements break down over long periods of time.
Micathermic Space Heaters
Micathermic heaters are essentially the middle ground between radiant and convection. They produce roughly 80% convection and roughly 20% radiant heat. By utilizing a split in how the heat is created, the heater more effectively heats up entire spaces.
Pros:
Completely silent
The best of radiant and convection heaters in one package
Unlike radiant heaters, these have little to no glow or light production
Cons:
Can become extremely hot to touch
Styles Of Electric Space Heaters
There are tons of different makes and models available to you. Most of these fit inside of five main categories: Personal heaters, room heaters, portable space heaters, panel space heaters and outdoor heaters.
Personal Heaters:
These are typically your compact style heaters that are purpose-built to take up the least amount of space as possible. Personal heaters are best used next to a desk or your bed for comfort in small spaces. They heat up very quickly but do not have the capabilities of warming entire rooms.
Room Heaters:
The name pretty much suggests what these are for! These heaters are similar to personal heaters only much larger and generally more powerful. They're best used to heat entire rooms in your home and usually come equipped with fans to help spread the joy of that wonderous heat!
Portable Space Heaters:
The hero of the day when electrical outlets aren't available, portable space heaters are the on the go heating solution. These usually have a battery that must be charged to use and allows you to take them basically anywhere! Perfect for heating a duck blind, tents while camping, etc.
Panel Space Heaters:
Combining technology found in convection and radiant heaters, panel heaters cozy up to the wall and are designed to be sleek and slim. These are especially handy because you can mount them on walls, clearing up your floor space and creating a nice modern looking appeal. These are best utilized when you know what room you'll need to be heated and won't need to move the heater often.
Outdoor Heaters:
I think the name implies where you'd use them but it's important to note that you really should only purchase waterproof heaters with a minimum level of waterproofing of IP24. Heaters that are dust resistant also should be at the forefront of your list as outdoor heaters can accrue lots of dirt and grime very quickly.
Wrap Up
Keeping warm has never been easier with a massive amount of options that are not only perfectly viable heat sources but also contain beautiful and modern designs that fit nearly every style of decor. I've done my best to include heaters for a wide range of applications but of course, I haven't covered them all, so if there are any home run electric heaters out there I've missed that you enjoy, let me know in the comments section and I'll do my best to check it out!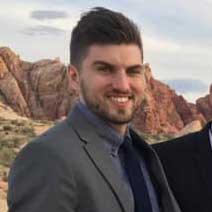 Hello, my name is Chris and I was born and raised in Western Pennsylvania. I'm an engineer with experience in medical technology, steel and materials, and nuclear power industries. I have been with my current employer for more than 5 years developing digital control systems for nuclear power plants.
I'm also a homeowner with a growing range of home renovation experience. My goal is to take all my technical knowledge and first-hand experience and translate it into high-quality content to support all of your home guide needs. Whether it be step-by-step guides, technical consultation, or product reviews, my aim is to make all your home projects a great success!