Garage door openers have come a long way since first being introduced to the general public.
The old traditional methods of getting out of your vehicle and hand-opening the garage door in the rain and extremely cold conditions is a memory of the past. Garage door openers of today are the introduction to the latest in technology that is designed for convenience and efficiency.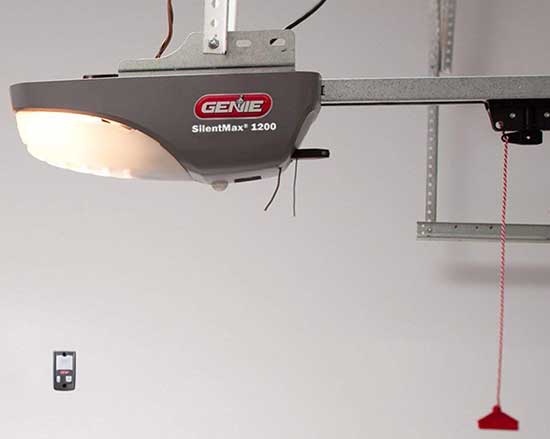 In the following review, we will cover a large variety of garage door openers each designed with specific features for years of continual maintenance-free use.
Your garage door opener is used over 1,500 times a year based on a one-car garage. Multiply by two or three times, depending on the number of vehicles results in figures that are staggering and surprising.
In this article, I will introduce you to the best garage doors available today that have a long history of performance and dependability. These garage door openers are designed to make life a little easier while providing safety for your family with the latest in wireless controls.
Here Are the Best Garage Door Openers
1. Chambering Group B550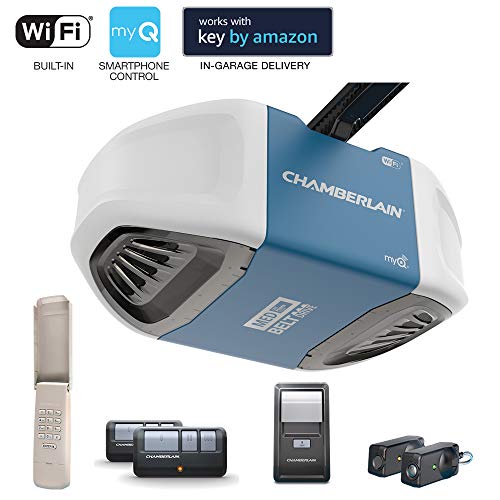 My Review: This Chamberlin B550 garage door opener is not only quiet but offers durable steel-reinforced belt drive for years of continual reliability.
This well-deigned and easy to install opener makes managing your home more comfortable with smartphone MyQ technology (sold separately).
Powered by Chamberlin Lift Power System this opener has the highest lifting capacity with a ½ hp motor and a higher dependability factor.
This garage door opener features designs with the latest in security and safety, including a dual-function wall control panel and wireless keypad for optimum performance in all weather conditions.
With the most recent in encryption and monitoring, this garage door opener, when paired with your home Internet Service Provider, guards against all hacking of personal accounts including banking.
Chamberlin also offers unmatched security with over one-billion code encryptions that automatically changes the code of this premiere garage door opener each time the door is opened. Posilock anti-theft protection securely and automatically lock your garage door, making it impossible for forced entry.
Key Features:
Built-in wi-fi technology
Triband technology with 1,500 superior range
Effortless, quiet lifting
Quiet and Functional
Easy to install
Designed for 7 ft garage doors
Works perfectly with Smart Home app
Great opener for attached garages
2. Chamberlin Group 970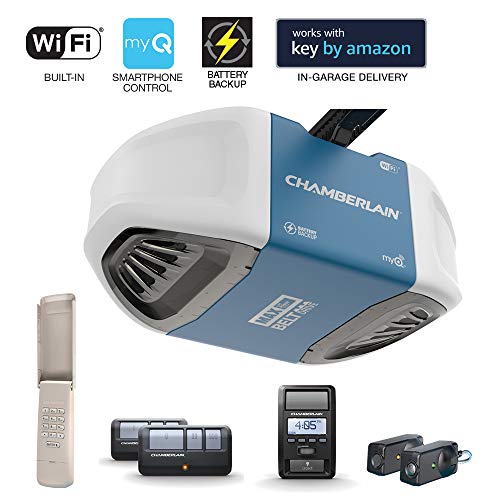 My Review: Chamberlin continues to lead the way with the latest in innovative garage door openers on the market today. This 970-garage door opener offers the most recent features with a powerful motor that can easily lift standard size seven-foot garage doors with ease.
Chamberlain garage door openers are designed to not only open and close your garage door but solve many other additional common household problems with sophisticated leading wi-fi technology.
This garage door opener features a strong, well-designed rubber, steel-reinforced belt that is built to last a lifetime. The whisper-quiet operation makes this garage door opener ideal for bedrooms that are located directly above the garage. Receive notifications via your smartphone any time your garage door goes up or down, to ensure 24/7 security.
This garage door opener may well be the last opener you will ever have to purchase, constructed with the finest materials available. The included wireless feature allows you to set your four-digit code without the use of a remote. One-touch is all you need for immediate access to your garage door.
The motion-detecting control panel allows for easy programming of all remotes, keypads, and MyQ wireless lighting accessories. All lights turn on automatically when motion is detected for additional security. Protector System sensors with Rapid-Snap brackets project an invisible beam across the garage door opening with automatic reverse keeping children and pets from possible injury. The opener lights turn on and flash when the infrared beam is broken from blockage of any object.
Key Features:
Battery backup, Included remote lithium battery
Powerful 1-1/4 dependable motor
Rolling security codes for increased safety
Amazon Key delivery (requires additional set up)
Two, three-button remotes included
Easy Installation
Convenient operation and very reliable
Powerful and efficient
3. Genie Silent Max 1200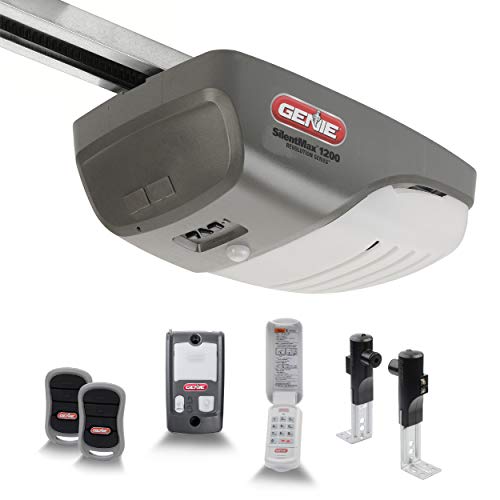 My Review: Genie is a staple of the garage door industry for generations. Genie continues to be one of the most trusted names in garage door openers that are reliable, affordable, and durable. Genie's 1200 model is a prime example of the heritage that has made Genie garage door openers one of the most preferred openers on the market.
The powerful 14-volt motor of this opener is lighter, providing ample power to lift standards size garage door in nine seconds.
Superior ultra-quiet operation is smooth, accurate with a higher dependability factor over the more conventional AC motors used by other manufacturers.
The advanced lighting system of this opener is geared towards your safety with the 2-bulb lighting system with space for 2-100-watt bulbs (not included).  The motion detector of this openers turns lights on automatically preventing tripping or looking for light switches in the dark.
Genie Intellicode rolling code system automatically produces a new code each time your garage door is opened.
This opener is easy to install saving you more money by professional installation. Included step-by-step installation guides are easy to read and follow with minimal experience required. Low overhead profile c-channel of this opener is easy to install presenting a clean line that protects garage door rollers from accumulating dirt and debris.
The flush-mounting capability allows for low headroom applications, just one of the features offered on this rugged but dependable garage door opener. Genie's SmartSet programming makes for easy setup with the simple push of a button.
Key Features:
Super-fast opening and closing speeds
Designed for 7' foot residential garage doors
Safe-T-Beam with automatic reverse
Soft start/stop control
Aladdin connect advanced remote
Battery backup for power outages
Operates on standard 120V household current
Simplified programming
Very quiet and fast
Colored coded hardware bags made this opener easy to install
4. Genie Quiet Lift Model 3053-TVK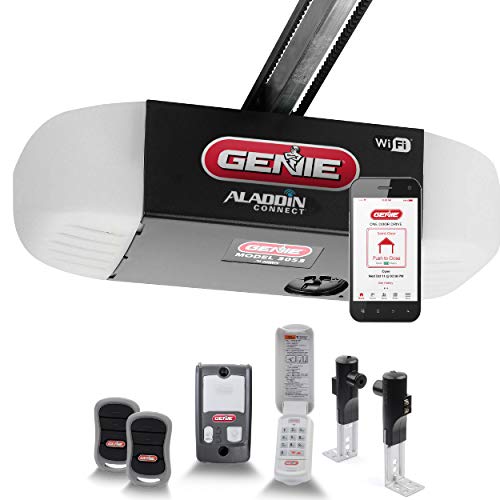 My Review: When you need a little extra power to lift a heavy garage door, you can count on the lifting ability of this ¾ hp Genie Quiet Lift garage door opener. This garage door opener with an impeccable quiet operation is often preferred and chosen by consumers with garages attached to living spaces eliminating vibrations any annoying noises.
The Aladdin connect feature of this well-engineered garage door opener features built-in wi-fi connectivity with no additional hardware to purchase.
This Genie opener is compatible with the latest in voice-activated controls, including Amazon Alexa and Google Assistant for the absolute best in convenience and security.
This complete garage door opening system arrives at your house with everything that is needed to install. The reliable 5-piece rail system snaps together for ease of installation requiring no additional specialized hardware. Included remotes are preprogrammed right out of the box eliminating extra steps during installation, a feature not found on similarly styled garage door openers.
High power ¾ hp DC motor of this opener is all the lifting power that you will ever need for lifting a standard 7'garage door with weights capacity up to 750 lbs.
Steel reinforced belt drive system is reliable in all temperature conditions from excessive heat to brutally cold winter conditions. The drive belt is designed with anti-slip grooves that provide for excellent traction on the advanced 5-piece snap-together rail system. ( Affordable 8' and 10' tall door extension kits sold separately)
Wireless included keypad with independent light button features a vacation safety lock that prevents opening your garage door from outside forces.
Key Features:
Three-button remote included
Easy installation
Safe-T-Beam with automatic reverse
Works with HomeLink or Car2U apps
Model # 4042-TKH
Remote batteries included
No vibrations
Remote works from a long distance perfectly
5. LiftMaster 8500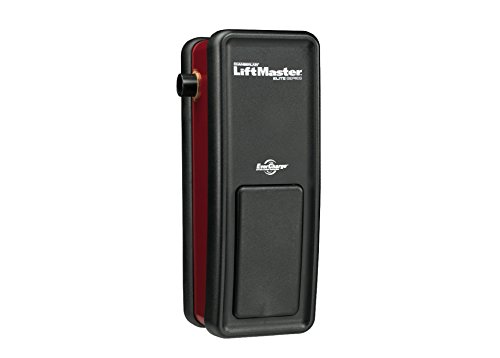 My Review: Short on ceiling space? Consider this LiftMaster 8500 space saving wall mounted garage door opener.
Free up limited ceiling space and install one of the best wall-mounted residential or commercial grade garage door openers available. Through product innovation and designing, this wall-mounted garage door opener is a precision designed opener that is included in all LiftMaster garage door openers.
Installation requires front mounted torsion springs, typically located above the garage door.
This wall-mounted garage door opener is recommended for garages with either cathedral or obstructed ceiling heights, commonly used in commercial applications with growing residential installations. The high-performance p3 motor of this unit has sufficient power to lift 14'high sectional doors straight up with ease.
MyQ technology enables you to monitor and control this garage door opener carefully, including all interior house lights with the use of a smartphone, tablet, or computer. LiftMaster Internet Gateway internet subscription service is required. Vibrations or annoying noises are eliminated with the quiet operation of this wall-mounted unit.
Remote light delivers an astonishing 200 watts of light with adjustable time delay. This wall-mounted unit is capable of producing over 1,500 lumens of bright light that is similar to daylight. The automatic garage door lock feature of this opener firmly locks the door in the closed position via deadbolts and can only be opened with remote, wall-mounted or wireless keypad.
Never leave Amazon packages vulnerable to thieves again with Amazon secure in-garage delivery. The opener is shipped complete with everything needed including wireless lamp, wall control, motor, coupling, tension sensor and one remote control for the car. All wiring and other associated hardware. Included installation instructions are well written, easy to read, and follow making installation of this opener virtually painless.
Key Features:
Battery back up
Installs easily and quickly
Built-in wi-fi
6' power cord
Shipped complete with security 2.0 MyQ security
Not bulky or an eyesore
Great customer support center
Super quiet
Saves headroom in the garage
Works perfectly and easy to install
6. Craftsman Chain Drive Opener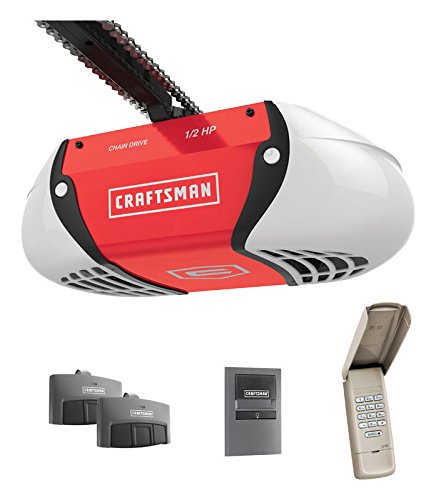 My Review: The name Craftsman carries with it a name for quality products that have spanned generations. This chain drive ½ hp garage door opener is symbolic of the quality that built into every Craftsman product. This unit will provide years of dependable service designed with security, safety, and convenience.
Tri-frequency of this dependable and rugged garage door opener eliminates the effects of interference caused by surrounding and other household items, giving you access to your garage when needed.
Anti-Burglary coding technology guarantees you the secure operation of this door opener every time the remote-control button is used.
Wireless keyless entry pad allows entry into your garage with specialized, easy-to-remember 4-digit PIN codes that you select.
This unit features a quick-install rail system that is fast easy and shipped complete with all the associated hardware needed. No need for specialized tools or complicated instructions with this unit. Simple interface monitors automatically sets and adjusts the force required to open and close your garage door during temperature fluctuations keeping your garage door in the proper downward or upward position.
Compatible with HomeLink in-vehicle remote control system where available. Open and close your garage door with Smartphone apps, another convenient feature offered by Craftsman garage door openers.
Three-button remote controls allow you to program up to three garage doors with a frequency range up to 1,500 feet. No need to purchase or program additional remotes for each garage door. Included standard Safety Sensors automatically reverse up or down motion of your garage door when obstructions are evident.
This garage door can lift standard, roll-up garage doors of 7′ feet in height. Eight-foot and ten-foot garage openers are also sold to accommodate homes with larger garage doors.
This Craftsman garage door will project end-to-end lighting throughout the entire interior of your garage. The opener features dual-lens panels each holding a maximum 100-watt CLF bulb (sold separately)
Key Features:
Two light lenses
Two-three function 2.0 remotes
Wireless, keyless entry pad
Premium multi-function wall console
Safety sensor rail
Energy Saving using less than 1-watt of power
Detailed owner's manual
7. Chamberlin Group 870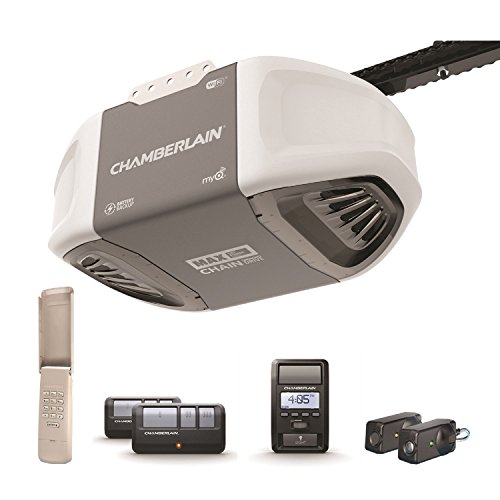 My Review: The Chamberlin, 870 chain drive garage door opener, features a powerful 1-1/4 hp motor that is quiet and vibration-free. This compact unit delivers the highest lifting force capacity in the industry. The durable and precision chain drive is precision fabricated for years of continual use, requiring little to no maintenance.
Extra security is assured each time that you open and close your garage door opener. Code encryption protects against hacking with over two-billion codes changing the code to your Chamberlin 870 opener each time the door is opened or closed.
The Chamberlin 870 garage door opener is precision engineered for years of regular, daily use. Built-in wi-fi sends alert notifications to your smartphone each time your garage door is opened with the MyQ app. Programmed correctly; this app is capable of turning on the lights in your home as well.
Installation of this garage door is easy with step-by-step instructions included. Snap-lock rail system makes installation of this opener easy with no specialized hardware to buy. Online video installation presentation is helpful should a question arise. Of course, Chamberlin has qualified local installers available should you decide to have your opener professionally installed. There is an additional charge for this service.
Key Features:
Battery backup
MyQ light controls
Maximum lift capacity 750 lbs.
Maximum height of door 7.'
Remote lithium batteries included
Posilock deadbolt security
Solid, reliable unit
Quiet chain operation
Smartphone control works perfectly
8. Chamberlain RJ020 Direct Drive Opener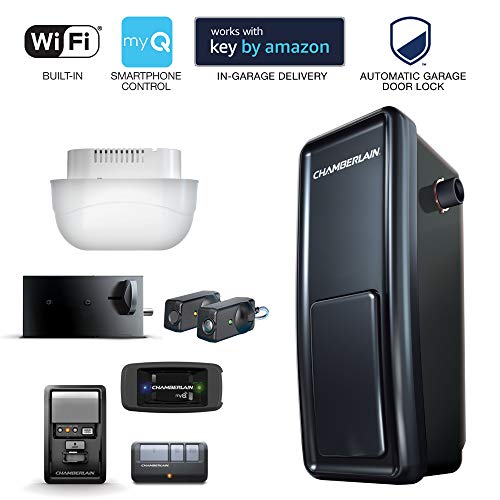 My Review: Lacking headroom to install the traditional garage door opener is not a problem with this wall-mounted, direct-drive garage door opener from Chamberlin.
This compact garage door opener mounts to either side of your garage door, freeing up overhead ceiling space. This unit virtually eliminates typical garage door vibrations with a smooth, quiet operation that makes this unit one of the best wall mounted garage door openers on the market.
This garage door opener features deadbolt security that firmly locks your garage door in the down position that is clearly heard. When opening your garage door, the deadbolt automatically releases your garage door allowing for the smooth opening operation that all Chamberlin garage door openers are known for.
Full-encryption security technology prevents hacking of codes and other personal information when using the built-in wi-fi on the provided smartphone MyQ app. Direct drive technology is the latest in innovation from Chamberlin. This garage door opener is designed to work in conjunction with the overhead spring tension bar located directly above your garage door. No drive belts or chains are needed with the installation of this premiere wall-mounted garage door opener.
Mounting and operation and positioning works only with garage doors with overhead tension spring bars.
Installation is simplified when following the detailed instructions that are included with this unit requiring only minimal do-it-yourself mechanical experience. If preferred, professional installation is also available for a nominal additional charge.
All controls, settings are enclosed within the opener with easy frontal access for changing configurations and settings as desired.
Key Features:
Automatic door lock
Remote light
One, three-button/band remote
Lithium batteries for remote
Multi-functional wall control
Easier to install than a chain drive
Solid, dependable opener
Perfect installation instructions
9. Chamberlain Group Quiet 370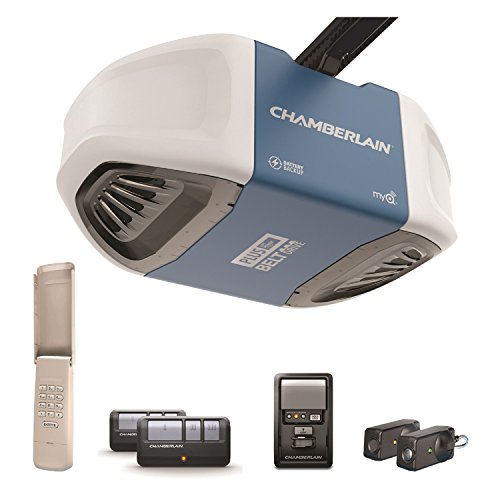 My Review: This garage door opener has the power to precision lift even the heaviest of garage doors. The rugged and reliable ¾ hp motor runs efficiently, quietly due to belt drive, reducing noise and vibrations from other more traditional chain drive openers.
The steel-reinforced belt of this opener is constructed with the highest-grade materials that retain tension levels without additional adjustments.
This unit opens garage doors with standard heights of seven feet with an actual rail length of 9.4 feet. Extension kits are also available for larger height garage doors from 8-10 feet for an additional charge with ample power to handle all oversized doors.
Posilock protection keeps your garage door in the down position with additional deadbolt security eliminating forced entry into your garage. This garage door opener opens and closes your garage door quickly, a nice feature for heated garages. Exclusive Triband technology boots opening range of up to 1,500 feet for quick entry.
Installation requires some mechanical ability, however, made easier with the easy to follow included installation instructions.
This unit accepts two 100-watt max non-halogen or 26-watt light bulbs (not included) that will provide ample light to the sides of your vehicle for easy entrance and exiting.  Replacing bulbs is easy with pull-down light shields on both sides of this unit.
Never be locked out or in your garage with the included battery backup of this garage door opener. Battery backup has sufficient power to open and close your garage door until power is restored.
Programming of remotes is simplified by following the included owner's manual requiring less than five minutes. Smart Garage Hub allows for control of garage door opener from your smartphone from work or on vacation (MyQ-Go301 required and sold separately).
Key Features:
Virtually silent
Unbelievably smooth
¾ hp great for double doors
2-3 button remotes
Multi-function wall control
Wireless keypad
Online tech support
Two premier safety sensors
10. Genie Smart Garage Door Opener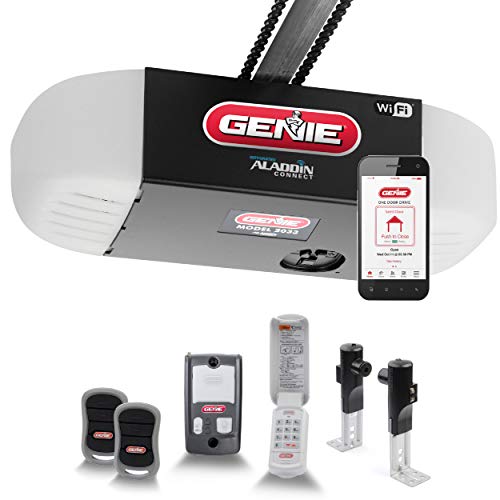 My Review: This garage door opener is perhaps one of the most affordable and dependable garage door openers on the market.
The long legacy of superior performance and tradition of Genie supersedes other garage door openers with an overall higher price yet remains competitive.
This garage door opener is designed to work in conjunction with the dependable Amazon Alexa and Google Assistant for the ultimate in convenience and hassle-free operation.
This opener also works very well with the latest in technology including HomeLink and Car2U without any additional hardware.
Don't let the ½ hp motor of this garage door opener fool you. This motor has plenty of power to lift garage doors of seven feet with ease despite door configuration with a total maximum weight of 500 lbs. This DC motor is dependable and has a long history of superior performance in all weather conditions with little to no maintenance or readjustments of chain drive required.
Compatible with the latest in wi-fi technology, simply download the free app, follow the on-screen instructions, and immediately be connected to your wi-fi in minutes.
Chain guide connects features of this garage door opener allows multiple users on smartphones or other devices. Create Virtual Keys for immediate access to the functions of your garage door. Great for parents that want to "track" other members of the family late night or sunrise activities.
Installation of this garage door opener is easy and installs with minimal do-it-yourself knowledge. No other hardware is required or needed saving time and money eliminating running to the local hardware store for additional mounting bolts or other hardware. Professional installation is also available through local professional garage door opener installers for an additional charge.
Genie's SmartSet programming makes set up fast and easy with the simple push of the included remote-control button. It does not get any easier than that.
Intellicode security continually changes the codes of this opener each time the remote-control button is pushed. With billions of codes, duplication or interference of the transmission code is permanently eliminated.
Other models of this garage door opener are also available on Amazon which includes the Genie  500, 550 and 750 each with specific features for a variety of installations and applications.
Key Features:
Smooth and very quiet
Well written installation manual
Easy install for an average DIYer
Powerful
Wireless keypad
Multi-functional wall control
Light and Vacation lock button
Batteries Included
What to Look for When Buying a Garage Door Opener
Getting the most value from your hard-earned dollar often involves spending time looking for a versatile product that is affordable and dependable. Such is the case when selecting the right garage door opener that will best suit your current individual needs.
There are many garage door openers on the market today, each offering the latest in customized features that often tend to accelerate the overall price of the unit.
My review of the best garage door openers for 2020 is designed to point out the many features that are available on garage door openers today. Before venturing out into the growing inventory of garage door openers, take a moment to thoroughly review the following guide on what to look for when buying a garage door opener. What you learn and discover may save you from making the wrong decision.
Types of Garage Door Openers
All garage door openers are basically designed the same way each with a sole purpose or function, to open and close your garage door. Even though garage door openers appear similar in design, the drive mechanism differs significantly.
Today, there are five kinds or types of garage door openers, which include:
Belt drive
Chain drive
Screw drive
Direct drive
Jack shaft drive
When looking for a new or replacement garage door opener, many factors need to be taken into consideration.  Horsepower and drive are perhaps the most important aspects of any garage door opener. Buying a garage door opener with too much horsepower is wasting money. The same applies to an opener that does not have the lifting capacity needed.
It is my intention in this section of my review of the best garage door openers of 2020, to bring to light some important information in selecting the right garage door opener.
Belt Drive Garage Door Openers
Belts for garage door openers are made from a variety of durable materials including steel-reinforced rubber, Kevlar polymer, fiberglass of polyurethane. Reinforced steel belts are the most commonly used on garage door openers manufactured today and with a higher degree of longevity.
Belt drive garage door openers are typically very quiet with less vibration.
Chain Drive Garage Door Openers
Similar to a bike chain drive, chain drive garage door openers wrap around a loop that pulls the trolley fastened to the garage door. Chain drive garage doors are versatile, affordable, and quickly lift old and oversized doors.
Direct-Drive Garage Door Openers
Stationary chain drives the motor with only one moving part. Direct-drive garage door openers have become less common than years in past however are still available by special order. Wall mounted garage door openers used direct-drive operation.
Jack Shaft Garage Door Openers
Commonly referred to as wall-mounted garage door opener, these units are typically installed in areas with minimal headroom. These wall-mounted units have steadily increased in popularity due to advanced onboard computerization, durability, and ease of direct connection to overhead high-tension spring rails.
Today, the two most commonly used garage door openers remain the belt-drive and the chain-drive openers.
Garage Door Motors and Horsepower
Garage door opener motors are either labeled AC or DC. Either style will operate on regular 120V household current. You may find that AC motors are more reliable and the most affordable. However, DC motors are less noisy. Always look for a garage door opener that has a battery backup when the power goes out. You will be surprised how often you will use this feature.
Adequate horsepower for a standard sized garage door ranges from ½ to 1 ½ hp. A ½ hp garage door opener motor is sufficient for raising and lowering the majority of door types. Higher-powered ¾ hp motors are typically used on heavier doors made from wood or other composite materials. Smaller horsepower garage door openers are typical in commercial garage door openers due to the lightweight construction of the doors
Features and Accessories
From wi-fi capability to the more traditional standard features, garage door openers offered today carry with them a long list of features and accessories. From battery backup to rolling code security, the options selected will often determine the overall price of the unit.
With the advancement of modern technology, consumers today place a greater emphasis on home automation, which includes the operation of the garage door. Voice activated garage door openers might not be for everyone but continue to gain in popularity for busy lifestyles.
The most predominate feature and accessory offered on most garage door openers today are remote control buttons with one to three button control and a wireless keypad. These features are often standard on most garage door openers sold today.
Regardless of the garage door opener selected, safety remains a primary concern mandated by state and local laws. Crushing injuries to children and pets have brought about the addition of safety sensors automatically reversing the garage door opener when the invisible laser light beam is broken. Significant fines and penalties can be levied on the homeowner without the installation of these motion, safety detectors.
Common Garage Door Problems
There are times when even a new garage door opener has some issues. These problems are often minor and can be easily repaired in a few minutes. Other times, a qualified professional may be required if the problem with your garage door appears to be something of the more serious nature.
Remote controls or wall switches do not operate at all seems to be one of the most common garage door problems. It is important to remember that your garage door opener operates on standard household 120V current. Always check to see if the garage door opener is plugged in to the appropriate outlet. There are times when the opener will come unplugged due to maintenance when working on the garage door or simply has not been plugged in correctly.
The wall switch is also dependent on your garage door opener for power. It might also be advisable to check the electrical panel of your home. Garage door openers should be on a dedicated circuit, with no other uses. Over loading of the garage door circuit will cause the circuit breaker in your electrical panel to "pop" preventing  fires.
If you notice that the circuit breaker in the electrical panel is "popped" DO NOT try to reset the circuit breaker until the cause is determined. Call an licensed electrician to find the cause of the disconnect before proceeding.
Another common problem with garage door openers is often related to remote controls or wireless keypads not working. Both these units run on batteries that require annual replacement. Replacing the batteries on both units should solve this problem.
Other associated common problems with garage door openers is the adjustments on the opener itself. Not all garage door openers come preadjusted as not all garage doors are the same. Referring to the included manual with your new garage door opener will provide specific instructions from door not closing al the way, to reversing halfway up or down and many other similar situations. A well written owner's manual should indicate the location of the adjustment's screws with specific detailed instruction on how to repair your garage door opener problem.
When in doubt, look on the Internet for your specific manufacturer and model of your garage door opener. There are videos and step-by step instructions on these websites that will guide you through the common problems with most garage door openers.
Making the necessary adjustment is easy and only takes a few minutes. These do-it-yourself tips requires no specialized tools or training. Save yourself time and additional funds spent calling a garage door opener repairman to do what you are fully capable of handling yourself.
The FAQ
I have a 2-car garage, and I want to install a new garage door opener. How much horsepower should a garage door opener have for my door?
One of the best garage door opener models on the market is Chamberlain B550. This popular and highly rated belt drive garage door opener is affordable and comes with a nice set of included options. It also fits in the quiet garage door opener category and is suitable for garages with living space above or adjacent to the garage.
You will find a complete listing of Chamberlin garage door openers on Amazon at some very attractive and affordable pricing.
When I close the garage door, it goes down to the bottom, barely touching the cement and comes back up. What can I do to resolve this issue?
All garage doors today have door sensors mandated by law. These door sensors project an infrared beam across the bottom of your garage door that stops and reverses the garage door when it encounters a person or object in its path. Look for obstructions near the sensors located at the bottom of the garage door rail.
If this does not correct the issue, adjust the downward force slightly located on the opener control panel.  Turn the downward force adjust screw slightly until the door closes and remains closed. These adjustment screws are typically located behind the light bulbs on most garage door opener models and marked very clearly with one adjustment screw for upward force and one for downward force.
Q. How heavy a door can my 1/2-HP garage door opener lift?
A ½ hp garage door opener can lift a door up to 18 feet wide and 8-10 feet high, with extensions that are sold separately. Garage door openers manufactured today are capable of lifting garage doors with weights up to 500 lbs. Your garage door springs lift most of the weight of the door, while your garage door opener itself only assists in the opening or closing of the garage door.
How many garage door opener motor sizes are on the market?
Garage door opener motors come in two primary sizes ½ hp up to ¾. You should be able to raise the door with just one hand, and that's all the force that a garage door opener will provide. However, be aware that a ¾ horsepower opener delivers enough power to lift a door up to 750 lbs. maximum weight with the same amount of downward force.
Always determine the approximate weight of the garage door to be lifted. This will give you a good idea as to the correct garage door horsepower needed.  Residential garage doors are typically 7′ tall. A 1/2 hp or 3/4 hp openers should provide more than enough lifting power.
Where should I buy my garage door opener?
You have an unlimited amount of choices available. You can most certainly buy your garage door opener from a big box DIY store; however; these stores only carry 3‑part trolley garage door openers. That may not be an issue of your garage door isn't used all that often. However, if you use your garage door daily, these models can wear out and fail quickly. We recommend going with a single‑piece trolley to ensure greater durability. These garage door openers are featured on Amazon with a higher degree of performance and reliability.
Conclusion
There is much more in selecting the appropriate garage door opener than expected. Garage door openers are more of a convenience than a necessity although it may be hard to find a garage today without some form of an opener.
Since the initial invention of the first garage door opener in 1926, garage door openers continue to set a precedent for placement of expensive vehicles in a secured area.  Garage door openers protect boats and other recreational equipment in a secured area that offers protection from all inclement weather conditions. Convenient perhaps, however, garage door openers today have become a part of everyday life with the simple push of a button that welcomes you home from vacation or after a hard day at the office.
Garage door openers have certainly come a long way with the invention of smart features. Garage door openers today not only open your garage door but monitor home activity and security as well with the latest in wi-fi technology. What the future holds for garage door openers remains to be discovered with possible additional features that will change opening a standard garage door forever.
It has been my pleasure to bring you valuable information on my selection of the best garage door openers of 2020. Please take a moment and review all the information provided if you are looking to purchase a new or replace your old worn-out opener. The information contained in this review is a valuable resource in locating the best possible garage door opener that will meet and exceed all your expectations for years yet to come.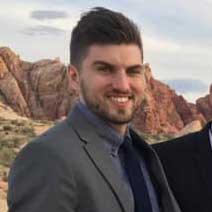 Hello, my name is Chris and I was born and raised in Western Pennsylvania. I'm an engineer with experience in medical technology, steel and materials, and nuclear power industries. I have been with my current employer for more than 5 years developing digital control systems for nuclear power plants.
I'm also a homeowner with a growing range of home renovation experience. My goal is to take all my technical knowledge and first-hand experience and translate it into high-quality content to support all of your home guide needs. Whether it be step-by-step guides, technical consultation, or product reviews, my aim is to make all your home projects a great success!